Disclosure:
Just to be open and honest the buttons and links you click on in the website will in most cases take you to another website where you can purchase the products I am reviewing. As an Amazon Associate I earn from qualifying purchases.
November 14, 2019
Redington Sonic Pro Womens Waders Review – Four Layer Protection
Temperatures drop and cool towards the crisp fall weeks. For those who know what the waters hold, it is time to ready your tackle gear and fish.
Still, it is the right time to upgrade your fly fishing gear. After prolonged use, sometimes these companions have slow leaks which let in enough water to make you miserably soggy.
Women are very sensitive and such things annoy them. Designed by women for fellow women, the Redington Sonic Pro Women's Waders boast a four-layer fabric construction.
They offer ultimate waterproofness and durability. If you are looking for a pair of waders to boost your confidence as you throw your lures, you can have hook on this one and hit your fishing spot.
How is the cut? Does it sag in the derriere?
These are among the commonest questions that fisherwoman would like to obtain factual answers. This one doesn't, especially if you are very hippy.
Such positivity excites women to put on their waders even before they are out to the waters. How well they wrap around your lady lumps is impeccable.
You will thank the manufacturer for designing these waders with a functional side panelling with some stretch properties.
If you have had several waders on, you will realize that waterproof fabric with stretch mechanisms is becoming one of the greatest technological innovations of current times. The wader's top section has an elastic drawstring to counter any instances of gaping out.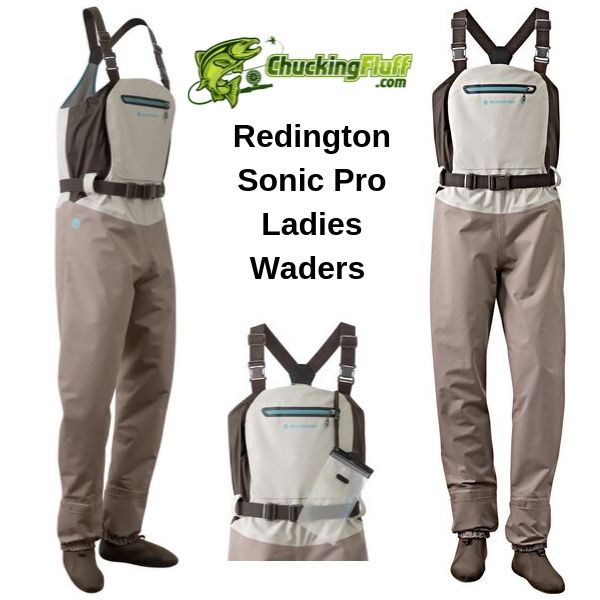 ---
Check Sonic Pro Price on Amazon
---
It can be daunting to get a good pair of waders that fit well. Only a few retail stores stock a few pairs for fitting. We are glad that you will find more options on the internet.
Assessing their quality will be the trickiest part. However, scrutinizing the user reviews on various reputable sites will aid in a tactful purchase.
Does the fabric construction match the question of price?
Absolutely! Slipping and stumbling as you play the fish game are common happenings. They are among the critical aspects to confirm whether the fabric construction is justifiable.
Part of the top-secrets why these waders will keep you desert-dry after a fall on wetness is the four-layer fabric construction.
Some cheaper waders have either a three-layer or two-layer construction with a reinforced layer in the knee areas for articulation.
The Redington Sonic Pro Waders for Women are from sturdy, breathable, and waterproof four-layer material.
The extra layer could be the reason for the higher price than what their fellows, the Redington Willow Series Women's Waders.
All in all, the waders are worth their price. We don't advocate for 'a little dry' but 'totally dry'. The fourth layer aids in keeping you leak-free.
The booties are superb. Improved from a 3mm thickness to the high-grade, extra-warm, and durable 4mm. as the rest of you remains dry, so does your feet in the thicker stockingfeet.
Some functional features that most manufacturers ignore in waders are present in the Redington Sonic Pro Waders.
Among them are handwarmer pockets that are lined on both sides with high-quality fleece. They act as defrosters when your fingers are losing dexterity when the weather is cold.
The interior mesh pocket is also a bonus to the wader system for the purpose of secure content storage.
Another one is the bucket-style pocket to allow you to drop and take gear out easily and quickly.
Securing it with some Velcro material was generous to highly counter the entry of water.
The convenience and ease of use that it offers are unimaginable. It comes with what we could term as a heavy-duty transparent waterproof pouch made from high-quality plastic.
The pouch has a fold-over top that attaches to the front area on the left side. You can use the pouch to store your fishing license or cell phone.
---
Key Features of the Redington Sonic Pro Women's Waders​

Material – Redington manufactures these waders using four layers from 100% nylon material which is highly waterproof and breathable.
Besides the tough fabric construction, the manufacturer uses a durable water repellent coating on the outer shell to boost the nylon material's waterproofing properties. Until this point, there are no reports of water leakages.
Fit – The waders fit correctly and are true to size. The sizing chart has been proven accurate by users and rates at 90% which is highly dependable compared to others.
There is enough room in the right places. This makes the cut ideal for all wading movements without any restrictions. You will love how well it allows for underneath layering when you need a little more protection from the cold.
Sizes – Wader size is available from short to extra-large. In between the sizes are variations that are short, long, and tall. The medium size has all the three variations while the small and large have them in short.
Application – It is an advanced wader and boasts reasonable versatility. It allows for use during all fly fishing seasons. You will have to play around with your choice of underneath layers depending on the season and weather conditions.
Side Panelling – Side panels are made from waterproof material which is stretchy for easy wader wearing and removal. The panels also add to the comfortable fit and strive towards accepting almost all body types.
Back – The rear is made from a durable stretchy mesh fabric which is for high breathability when the sun shines brighter on you. More so, it is for easier mobility and adds to a secure fit without compromising comfort and functionality.
Zippers – Its zippers are all high-grade and the chest pocket features the high-quality YKK Aquaguard zipper which is water-resistant. Besides the zippers, other hardware used on the waders is very high quality to allow for use in all environments.
Suspender System – Redington takes the simplest design in the suspender system of these waders. The straps are very high-quality and have adjustable clips and quick-release buckles for an easy bib drop-down when need be.
Wading Belt – Boasting a slim yet highly functional wading belt, it passes through loops for a more secure fit.
The belt acts as an attachment point for most of your tackle gear and equipment like pliers. The best part is the possibility to convert the waders to a waist-high level with the help of the wading belt.
Pockets – The Redington Sonic Pro Women's Waders has a simple pocket system that allows for easy gear access.
The handwarmers are closer enough to toast icy fingers and act as storage for water-friendly gear when the weather is favourable.
A frontal chest pocket with a durable YKK zipper is for your fly boxes and small gadgets. The inner mesh pocket is large and a good drop-in pocket. It has a key clip for quick and easy content accessibility.
Redington is generous enough to include a water-resistant pocket which is removable. It comes with a clip attachment for easy placement and removal.
Booties – These ones are an improved version from the initial 3mm neoprene stocking feet to 4mm. The thickness is for extra warmth and a more sensitized yet comfortable fit. Ergonomics are well in place and durability isn't an issue of concern.
---
Customer Thoughts on the Redington Sonic Pro Women's Fishing Waders
The waders are wearable throughout the day because of their unbeatable comfort. They don't keep in any moisture from body perspirations neither do they allow in water from the environment.
Thicker 4mm neoprene stocking feet provide above-average insulation when the weather is gloomy and threatening to freeze. They strike a good balance between comfort and protection.
Despite the manufacturer using 100% nylon during the choice of material and construction, the waders don't feel plastic and have no static energy that you will find irritating.
The waders are quieter than many waders of the same material. This ensures that you don't spook fish with the noise from the nylon material. Forget about swooshing.
The detachable waterproof pouch is a big inclusive of the waders. If you are sure that you aren't going to wade deeper or will remain on the kayak, it will serve as a safety pouch for your license and phone.
At least, you don't need to make a separate purchase for it like you would in the Orvis Ultralight waders.
One nit-pick is the gravel guards that fit very snugly of your wading boots. You will need to have eaten some more to wrestle the guards over the laces. The good news is that these gravel guards stay right in place as you wade.
---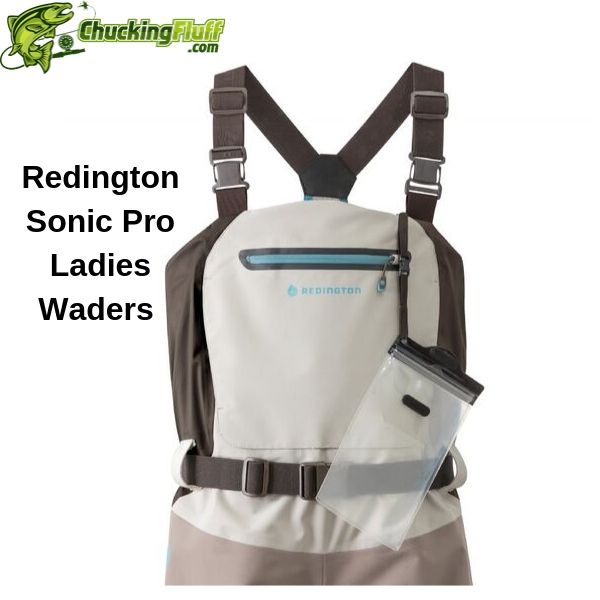 Pros

– Things that shine on the Redington Sonic Pro Waders for Women​

Available in different sizes and variations
Durable four-layer construction
Best daylong and advanced wader
Stretchy side panels for a great fit
Stretch and mesh back
YKK Aquaguard zipper and anti-corrosive hardware
Spacious chest pocket
Fleece-lined handwarmers
Large inner drop-down pocket
Slim wading belt
Simple yet functional suspender system
Detachable clear water-resistant pocket
Thicker 4mm neoprene booties
Cons

– Things that are not so cool!
The Gravel guards are a little difficult to handle over the laces. They need more energy and some wrestling.
---
FAQ's – Questions about the Redington Sonic Pro Women's Waders
Q) Are they extremely roomy in the feet?
A) The legs feature a more tapered cut and have three seams-one in the back and one on each of the sides for a rather tailored shape.
Q) Does Redington hide the seams in the waders?
A) Not quite. However, the seams are more articulated for a body-skimming construction that doesn't give a constrictive feel.
Q) Are the booties spacious or fully fit?
A) The stockingfeet have a good trim, a perfect hugging, fit enhance feet comfort, and allows for layering like thick neoprene or wool wading socks.
Q) Do the waders have taped seams?
A) Redington constructs these waders with welded seams to stave off water leaks over long hauls. Welding the seams eliminates holes and counter the likelihood of leaks.
Q) Can one buy these waders in size 20 to 22?
A) Unfortunately, the waders are only available in size 14 to 16 as the last size which is extra-large. Redington hasn't specified whether they customize these waders.
Q) How is the packability of the waders?
A) The waders are highly packable and compress down fairly into a sizeable package.
---
Final Verdict on the Redington Sonic Pro Women's Waders
Getting to the bottom line, these waders are top-rated. The package is overflowing as it is stylish, comfy, breathable, fully functional, and reasonably versatile.
For their tag, they do even more. If you intend to make a gear upgrade, these waders are a fully-fledged waterproof toolbox.
Many may think that the four layers of nylon fabric will restrict breathability. No, in fact, the waders breathe like they have a respiratory tract. So, layering in the cold isn't an issue.
The storage system may not be really intense but that isn't what it is meant for. However, what is available is still functional and stores a considerable amount of tackle gear and equipment. Our overall verdict of the wader is positive because it deserves a cupful of praise.
Don't freak out when exploring the flats and other saline areas. The construction allows for brutality like in these situations.
Once you realize that the waterproof coating if wearing out, you can use your store-bought durable water repellent spray to revive the proofing power.
There is a wide option of waders in the same price category as the Redington Sonic Pro Women's Waders. You can check out the Patagonia Spring River Regular Waders for Women, Simms Freestone Women's Waders, Simms Women's G3 Guide Waders, and Orvis Ultralight Convertible Waders for Women. Get a pro experience with the Sonic Pro!
---
Check Sonic Pro Price on Amazon
---