Disclosure:
Just to be open and honest the buttons and links you click on in the website will in most cases take you to another website where you can purchase the products I am reviewing. As an Amazon Associate I earn from qualifying purchases.
February 11, 2020
Best Fly Fishing in Florida the Sunshine State
While Michigan is famous for freshwater angling, Florida boasts exemplary spots for saltwater fly fishing. No fly fisherman or woman will put down an offer to visit either or both states. Florida has a wide range of inland waters and each is worth checking out.
If you have a thing for bass, you can find these chaps almost anywhere in this state. It doesn't matter if you are fishing one of the city-side canals or sampling quiet ponds. Take time to visit the mangrove swamps, flats, and estuaries to find out what they harbor.
Florida is well endowed and surrounded by what Mother Nature offers as fly fishing spots. Statistically, the state boasts more than 10,000 miles in rivers, 7,700 miles of lakes, and about 2,300 miles of the tidal shoreline.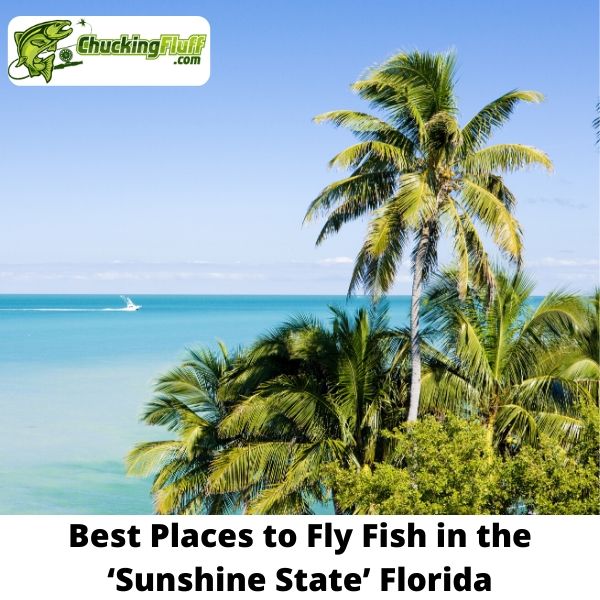 On one side is the Gulf of Mexico and the Atlantic Ocean on the other. Have you heard of a river in an ocean? This is what the Gulf Stream is like. It is basically a current mainly warm-watered that pushes the temperate tropical waters to the northern waters via the coastline.
It runs over 60 miles and goes about 1000 feet in depth. It hosts pelagic marine life like Wahoo, Billfish, Bluefin Tuna, and Mako Sharks. If you'd like to chase big game fish, this super-highway is an ideal spot.
Eddies wind down the Florida shores leaving spectacular flats for Permit, Pompano, Bonefish, Snook, and Tarpon. Mangrove swamps and bays beautify the Gulf side and what you mostly find here are Redfish and Speckled Trout.
We can say that the sublime settings in Florida are a bonus to the saltwater angling opportunities that you won't find in any other state in the USA.
In a bid to make it less daunting while picking spots to visit in Florida, we have put together this article after intensive research.
This article is to aid our readers in making up their minds on interesting points to check out and test to confirm if they really deserved a mention on our site. Read to the end and let us know what other destinations that count.
---
Best Fly Fishing in Florida – The Sunshine State's Best Spots to Explore
Destin – Okaloosa County Florida
Let's get into a history class. Captain Leonard Destin and Billy Marler were the founders of Destin in the mid-1800s. The area got its name from the Captain who was a master angler who came to exploit the waters in the area and find out what they harbor.
Floridians who reside near Destin beaches know that it is the Luckiest Fishing Village in the world.
The jetty and numerous beaches are frequented year in year out by anglers and sightseers. You will be marveled by the surfeit of fishes like Channel Bass, Speckled Trout, Redfish, Bluefish, Flounder, and Sheepshead.
You don't have to go wading since they can get hooked on your combo while at the shore. Offshore anglers can exploit the waters for Tuna, Sailfish, and Marlin.
Hotspots in Destin are areas around the Old Guard Base, the Inlet Beach and Navarre Beach. The spot is special for its deep waters cut 20 yards off the main beach. You can spot a reef in almost 20ft of water.
What could pose as a hindrance and dangerous is the speedy currents? However, good comes from it as the waves push a plethora of fish towards the shore.
Season: All-rounded from Spring, Summer, to Fall and Winter
Main Species: Cobia, Tuna, Sailfish, Redfish, Bluefish, Bass, Marlin, Snappers, and Mackerel
Nearest Towns: Warrington, Brent, Ferry Pass, Pensacola, Crestview, Wright, Niceville, and Fort Walton Beach
Nearest Tackle Shop: Bass Pro Shop, Old Florida Outfitters, Destin Marina, Orvis, Adventure Marina
Ownership: Public Beach
Fly Patterns: Size 1/0-6 small flies will so white, grey/white, chart/white baitfish fly patterns are doers here.
Must Carry Gear: Shock Leader
Guide Services: Slow and Low and Kayak Fishing Destin
---
---
Naples – Collier County West Florida
Situated on the South-Western Coast of Florida, Naples is a must-reach spot for any fly angler.
You will love how well the fishing hotspots are near each other. Big Cypress National Reserve, Ten Thousand Islands, and Everglades are awesome commencing points for your fly fishing journey here. Naples has more than 10 miles of the best beaches in Northern USA.
Inshore buddies are the most prevalent in this area. Sample the legendary Tarpon, Barracuda, Amberjacks, Flounder, Spotted Sea trout, Spanish mackerel, Permit, different types of Snapper, Pompano, Redfish, and Snook.
Offshore species have you hooking Mako the Pelagic Sharks, Tuna, Marlin, Sailfish, Cobia, and Grouper.
Ten Thousand Islands are a beauty to behold. This wilderness muddle is full to the brim of fish species which you can attest to when casting your streamers and poppers in the mangrove shorelines for Tarpon, Snook, and Redfish.
The famous Captain Jim Grace frequented this place to hone his dock light angling tactics. As a bonus to anglers who enjoy sightseeing, the feeder creeks, and oyster bars are striking marine aspects of nature and provide food for the soul.
Season: January to July and September to December
Main Species: Tarpon, Barracuda, Amberjacks, Flounder, Spotted Sea trout, Spanish Mackerel, Permit, different types of Snapper, Pompano, Redfish, and Snook. Mako, Tuna, Marlin, Sailfish, Cobia, and Grouper.
Nearest towns: Bonita Springs, Estero, Fort Myers, Marco Island, Everglades, Immokalee, Cape Coral, Sanibel, and Punta Gorda.
Nearest Tackle Shop: Captain Bill's Bait and Tackle, Master Bait and Tackle, Bass Pro Shops, Whitney's Bait and Tackle Shop, Lehr's Economy Tackle, Captain Rob's Bait and Tackle, Big Boys Bait and Tackle
Fly Patterns: Crab, Shrimp, Baitfish patterns
Guide Services: Naples Florida , Everglades Guides, Naples Gone Fishing
---
---
Mosquito Lagoon – Brevard and Volusia Counties
Winter and fall months are when the water levels are lower and fish species are enthusiastic and daring enough to aimlessly roam the grass flats. You will need the help of an experienced guide to explore this location.
If you are looking for the best spot for black drum, redfish, and sea trout, the Mosquito Lagoon is your ideal destination and if you get your timing right you may witness the launching of a rocket at nearby Kennedy Space Center.
Season: Winter and Fall
Main Species: Black Drum, Redfish, Sea trout
Nearest Towns: Edgewater, New Smyrna Beach, Kennedy Space Center
Nearest Tackle Shop: Mosquito Lagoon Bait & Tackle
Fly Patterns: Sliders, Small Merkins
Guide Services: KBB Outfitters, Orlando Redfish Fishing
---
---
Palm Beach County Florida
Palm Beach County is the home of this famous barrier island. The town is on the state's Atlantic side and the intercostal waters bring in plenty of offshore and inshore fish. Some you can easily find here are Spanish mackerel, Kingfish, Groupers, Snappers, Jacks, and Snook.
As you advance to the outer side, your battles stiffen as deep-marine species like Swordfish and Sailfish hope to find something to eat-maybe your favorite fly.
The beach has more to sample like the numerous porpoises, turtles, manatees, and shorebirds. Fly fishing highly depends on a flourishing ecosystem and besides focusing on your combos and throwing your lines, a little goodness of nature to the eyes won't hurt.
Palm Beach has been able to stand out because it hosts the 4 primary saltwater fishing environs any marine angler would wish to fish.
Just within a 10-mile diameter, you can shift from the flats, reefs, beaches, to the estuary or backwater and offshore fishing. In one location, you can be lucky to catch Billfish, Tuna, Pompano, Yellowtails, Mackerel, and Albacore. If you are looking for a location with versatility and where you will make minimal movements, Palm Beach is it.
Season: Peaks in October and November, January to April,
Main Species: Spanish Mackerel, Kingfish, Groupers, Snappers, Jacks, and Snook
Nearest Towns: Lantana, Boynton, Palm Beach Gardens, Wellington, Jupiter, Kings Point, Delray Beach
Nearest Tackle Shop: R and J Bait and Tackle, The Rod Room, Seven Seas Bait and Tackle, Juno Bait, Florida Tackle
Fly Patterns: Weightier bonefish flies, red/white or chartreuse/white clousers, baitfish patterns, shrimp patterns
Guide Services: Seacretspot Guide Service, Hamilton Fly Fishing Charters
---
---
Big Pine Key – Monroe County
This place is famous for turtle grass meadows that stretch out miles over the shallow flats that are closer to the Big Pine Key. If you are familiar with forage for aqua life and the ecosystem, you will confirm that turtle grass is a primary feature of the marine ecosystem.
Baitfish and crustaceans lay eggs and breed here. Backcountry game fish find this as their perfect forage. For this reason, you can hunt bonefish, tarpon, and permit here. Ensure to have your Florida fishing license when you decide to fly fish in this area.
Season: All year round,
Main Species: Big Tarpon, Permit, Bonefish,
Nearest Towns: Summerland Key, Cudjoe Key, Pirates Cove, Perky, El Chico, Marathon, Bay Point, Valhalla, Duck Key, Stock Island
Nearest Tackle Shop: Jiggs Bait and Tackle
Fly Patterns: Fly patterns that imitate shrimp or crabs
Guide Services: Ghost Hunter Fishing, Tarpon Trips
---
---
Boca Grande – Lee County
In the Southwest of Florida and along the Gulf Coat, behold is the Boca Grande on Gasparilla Island. Spaniards call it the Big Mouth. This is because it comes from Boca Grande Pass. Boca waters are good for game fish. However, the legendary Tarpon is what puts this prime spot on the fly fishing map globally.
Yearly, anglers catch more tarpon here than elsewhere in the world. Myakka and Peace Rivers feed the Boca Grande which is 80ft deep or thereabout. This makes it the deepest fully natural pass in the canals.
Game fish and baitfish populate it because of the mighty currents that create a super-highway for them from the mouths of the Pass. Tarpons still find these waters their favorite.
We are yet to find out why. Farther off 17th Street is the right spot for beach fishing. It is a walking distance between houses to the beach. Florida laws allow access to these waters however, CAUTION: DO NOT TRESPASS.
Some yards out, you can spot a sandbar which is an excellent spot to cast for Pompanos and catch Snook about 6 feet of the beach.
Season: April to May and September to October
Main Species: Gamefish, Baitfish, Tarpon, Snook, Pompano
Nearest Towns: Pineland, Rotunda-West, Cape Haze, Bokeelia, Placida, Gasparilla, Cayo Pelau
Nearest Tackle Shop: Boca Grande Outfitters, Chatham Associates Inc., Capt. Mike's Fishing Charters, Living the Dream Fishing Charters, Carter& Co, Florida Inshore Adventures
Ownership: Public Beach
Fly Patterns: Crazy Charlie, Gotcha, Yellow/white and red/white Clouser, tiny-shrimp-looking things
Guide Services: Boca Grande Guides Englewood,  Boca Grande Guides Bayou Ave
---
---
Islamorada – Village of Islands
Islamorada is another enticing fishing village with 6 islands each located along the Florida Keys. Tea Table Key, Upper Matecumbe Key, Plantation Key, Windley Key, and Lower Matecumbe Key.
The Gulf Stream and the Florida Current both make the Islamorada punchy for angling. Until now it is the only place in the world named as the Sport Fishing Capital.
It is among the fewest places globally that allow you to hunt sailfish and marlin at dawn and head downwards to the flats for Tarpon, Redfish, and Snook. For flat fishing, a hotspot is the beach sides in the Long Key State Park.
Sea Oats, Anne's Beach, and Highway Flat are also prime areas. Home to the world-famous Cheeca Lodge and Spa which holds many fishing competitions including the all American backcounty tournament where you have to catch 5 different species.
The Hotel is well worth the visit even if you are not an angler for its decor and fine dining. The best way to enjoy fly fishing is to hire a guide and a skiff and try the Tarpon in the lagoons.
Season: March to September
Main Species: Sailfish, Marlin, Tarpon, Permit, Trout, Snook, Bones, Redfish, Dolphin, Grouper
Nearest Towns: Sunset point, Thompson, Craig, Tavernier, Lower Matecumbe Beach, Plantation Colony, Plantation Key, Matecumbe
Nearest Tackle Shop: Tackle Center of Islamorada, Abel's Tackle Box, Islamorada Outfitters, Caloosa Cove Resort, Key Largo Rods, Zane Grey Lounge, and Vera Vita Sportfishing.
Guide Services:Capt. Geoff W. Colmes and A Fishing Guide
---
---
Florida Keys – 120 miles of Tropical Islands
The USA brags about the existence of Florida Keys as one of the most superb fly fishing spots. Fishing is all-round and tourists frequent this location and there is a beehive of activities throughout.
Those who love aqua life go on the hunt for oceanic trophies. Fly fishermen and women love to come in in early spring and late winter. As the mild winters bid goodbye, Keys becomes a harbor for prime species that anglers eye like bonefish and tarpon.
Season: All year round through early spring and late winters for anglers
Main Species: Bonefish, Tarpon, Snook, Redfish, Permit, Trout
Nearest Towns: Homestead, South Miami Heights, Leisure City, Key Largo, Key West, Marathon, Richmond West
Nearest Tackle Shop: Florida Keys Outfitters, The Tackle Box, Tackle Center for Islamorada, Key West Bait and Tackle Shop
Fly Patterns: Crab patterns, Shrimp Patterns
---
---
Rodman Reservoir – Putnam and Marion Counties
This is one of Florida's best bass lakes. It has so much in history as a traditional fly fishing spot. Such an aspect makes it a perfect place to test your rods and reels.
It may be shallow but you will be surprised at the number of fish species it homes. However, it is famous for largemouth bass but can find sizeable speckled perch.
Season: Cooler Months
Main Species: Redbreast sunfish, bluegill, Perch, Largemouth, black crappie
Nearest Towns: Bostwick, East Palatka, Moriston, Hastings, Fairfield, Gradin, Melrose, Ocklawaha
Nearest Tackle Shop: Rodman Reservoir Bait Shop
Type of Waters: Manmade lake 9500 acres
Fly Patterns: Gold shiner****
Guide Services:
---
---
More Spots to Consider in the State of Florida
Lake Tarpon which homes various sizes of Tarpon. It is small, shallower, and a tranquil place and one of the spots with no crowds. You can also find bass here.
Lake Kissimmee is another location. Florida depends on this lake for most of its fish. Bass thrive here in abundance and anglers take less time to bag fish while on the Kissimmee. This is incomparable to any state in the USA. It has wading spots and areas you can dock and boat fish. Spring and summer are the best times to be successful. You can land black crappie and bluegill once in a while.
Orlando's Little Econ River is surrounded by amazing tourist attractions and destinations. It is scenic with the surrounding theme parks. It is safe to wade here and try your luck on bass.
Generally, the Everglades is a superb destination with various saltwater fly fishing opportunities. As you move about the area, species to put in your bucket list here are trout, redfish, tarpon, and bass.
Lizard Flats just west of Tamba Bay north of Gandy Bridge is not crowded and yet to be discovered by many anglers. Sea trout and redfish are plenty in these murky waters.
Lake Okeechobee is one swarming spot. It isn't known vastly as a fly fishing spot. The few who do are the adventurous buddies with traditional combos. Bluegill and bass are in abundance here.
Flat fishing in Miami is like soul food. Tarpon fishing is seasonal while permit and bonefish frequent the area in the day. Enjoy sight fishing on the grassy flats of the Biscayne Bay. Disco fish in the night with bridge lights illuminating your spots to catch tarpon and large snook.
---
Tips to Have in Mind before Your Fly Fishing Trip to Florida
Florida is diverse and is endowed with saltwater, freshwater, landlocked lakes, reservoirs, streams, coastal shorelines, and rivers. Selecting the right gear can be daunting. Head to our gear buyer's guide to see what will be suitable, where.
Keep track of fishing records and reports to ensure you are abreast of weather conditions and other must-know pointers before leaving for Florida. Also, if you are a novice in fly fishing, getting a guide to hold your hand in each destination you go to is ideal.
On random assessment, you will be safer with a fly fishing rod of 7 to 10 feet. The weight will vary with the fly rod.
Florida's state laws demand that anyone who is 16 and above years should get a valid fly fishing license if they intend to fish anywhere within the state. Ensure to check the state quotas, limits, and other permits before packing your gear to avoid going contrary to laws.
---
To DO and NOT To Do
Fishing regulations are dynamic. In Florida, they keep changing and at least yearly, you will find an updated chart on the Florida Fish and Wildlife Conservation Commission.
Non-resident saltwater fishermen and women MUST buy the regular saltwater fishing license for non-residents that costs $17 for 3 days. For 7 days, it costs $30 and $47 for a year.
Violating license laws warrants you a fine that equals the cost of your license and $50 extra. There is a potential jail term as well.
You are prohibited from fishing with over three rods or three poles in any waters within the state. Hooks are restricted to 10 or less.
The use of cast nets in freshwater is limited to catching mullet up to 14 feet only. You aren't allowed to catch freshwater game fish using a cast net.
---
FAQ's – Frequently Asked Questions on Fishing in Florida
Q) Do freshwater fish vendors need licenses to sell live bait?
A) Apart from freshwater fish or frogs, no Dealer's license is needed to take or vend freshwater live bait.
Q) What exempts you from having a Florida Fishing Licence?
A) Age- children below 16 years and elders who are Florida residents and are above 65 years. You must have proof of residency and age-a driver's license or government ID.
Q) Can you use circle hooks to fish in Florida?
A) Only non-offset hooks can be used if fishing in Gulf waters for reef fish and using natural bait.
Q) If I catch a fish in Florida waters can I keep it?
A) Harvesting shark species in Florida is prohibited so keeping it isn't an option to consider.
Q) Does Florida allow throwing fish guts in the waters?
A) No. Dumping any bloody fish gut into the waters to trap sharks and bring them closer to the shore is banned.
Q) I have a disability. Do I still need s fishing license?
A) Disabled residents of Florida should apply for the resident's disability hunting and fishing license. This is found at the Tax collector's office.
---
Wrap Up to the Best Fly Fishing in Florida
In many scenarios, an avid caster can outdo pros using the usual conventional gear. The margins can escalate and might be a surprise.
The best things a fly angler possesses are stealth, potential to excellently match forage with what looks like live patterns with the perfect tools to make awesome fly line presentations in the most natural way at any time.
We have a section on the best buyer's guide for fly fishing where you can read and confirm the basics and extras that you will require to make your angling expedition fruitful.
We mightn't have exhausted all the spots to check out when in Florida but have covered the most highlighted. If you discover any areas that we missed out on, please share it with us in the comment section.
Let us also know what species you bagged where, the equipment and gear you used, and your overall experience. See the location section on the website to see where next to book your flight to.