Disclosure:
Just to be open and honest the buttons and links you click on in the website will in most cases take you to another website where you can purchase the products I am reviewing. As an Amazon Associate I earn from qualifying purchases.
November 1, 2019
Patagonia Mens Rio Gallegos Regular Waders Review – Slim Fitting
There is always an endpoint to every good or bad thing so they say. For now, this will be a rumour. Great waders live long. Longer than you can think. Their lives remain in magnificent fashion and impressing enough, it always ends up winning your trust.
Something like the Patagonia Men's Rio Gallegos Regular Waders is what we are talking about here. As you burst through streamside bushes, crawl over the jagged rocks, and keep jumping out and in of your kayak year in year out, you will wait for a burst seam in vain. Well, if you don't have it yet, you must be financially anxious to spend some more on an extra pair.
The RIO Gallegos Regular has been well designed for 2016. You know, roughing up everything and creating a new, striking, and fully functional wader was just the right thing to do when anglers discovered that the Patagonia line of waders was beginning to be problematic.
This one doesn't fail out of the gate. Quite a good thing for the manufacturer to create an enthusiastic task force and identify areas of concern, eliminate variations, and correct the issues in the manufacturing chain. Straight from the abyss, the New 2016 version was born.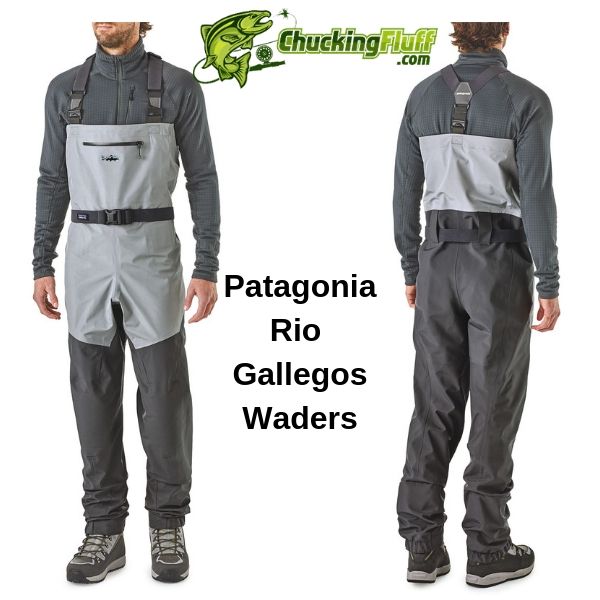 ---
---
There are functional upgrades in the new version that are worth applauses than in the previous model. Noticeably, the lighter material construction and single-seam construction are the first features to wow any avid angler. It has been a claim by Patagonia that the special craftsmanship gears towards abrasion resistance. No claim, FACT! This is a truth that most brands are yet to discover to double wader durability, comfort, and performance.
The chest area, hips, and waist areas are less by 2 inches resulting in a slimmer design though not too tight. Who still loves baggy waders anyway? The trim is better and the streamline designed not only entices slim fellas but also the heavy chaps. Boy and very large waders impact comfort and functionality since the excess material results in more drag as you wade in deeper water.
Keeping water out is a vital feature to consider when choosing a good pair of waders. Patagonia incorporates their four-layer H2No fabric construction which is a competitor to the Gore-Tex technology in reliability and performance. You'll dread hypothermia. If you value safety and comfort too, you'll appreciate the Patagonia Rio Gallegos Regular Men's waders.
Regardless of where you fish, on local waters, neighboring lakes and streams, or are a traveling angler hunting for exotic fish species. If you ruled out the previous version of the Gallegos Regular waders because of malfunction, take a second look at the new design.
The new design isn't constrictive and if you wade above the waist, it feels like a second skin. There is a great range for motion around the crotch area. You easily toss your legs here and there without any insecurities.
Hang in there to discover what more Patagonia has in the new Gallegos design.
---
Key Features of the Patagonia Men's Rio Gallegos Regular Waders ​​
Material – The kind of material Patagonia uses combines other aspects like durability, comfort, waterproofness, and breathability. Most importantly, the fabric incorporates the durable H2No performance standard shell which works together with the Durable Water Repellent (DWR) finish which has breathability and waterproofing barriers. The upper fabric has a 4-layer construction weighing 5.8 oz. is made from polyester microfiber with a specialty of high-density taffeta. What is under this, is a 4-layer 9.1 oz. true polyester microfiber with a specialty of high-density double weave taffeta.
Fit – No matter the level of construction or superiority of any high-performing wader, your day on water won't be memorable if the waders don't fit properly. Patagonia avails a range of fit options in short, long, regular, and king. Each fit has its own size running from extra-small to double extra-large.
Location for Use – Lightweight, breathable, and true to fit, these waders can be used in both shallow and deeper waters because of their construction. As an all-rounder, you can go fishing in summer, late spring, and early fall for light layering. If looking to step out in winter, heavier layering will still do.
Zipper – Patagonia uses highly water-resistant zippers on this wader for comfort and functionality. Zippers are on pocket areas only. They are rust and corrosion resistant making these waders ideal for saltwater fishing.
Seams – Nothing beats the benefits of innovation and advancements. You will notice that the new version has single seam construction in the leg area. This style eliminates all seams from the inner leg because this is among the highest points of wear and tear.
Wader Style – Stockingfoot waders are the commonest and the Gallegos Regular wader falls in this category. The booties have very low volume and are lined with poly-grid for extra warmth and comfort. 4mm neoprene is resistant to compaction for more durability. The suspender system is mounted on the waist and has an EZ-lock design allowing the wearer to convert it to waist high waders and back to chest waders at their convenience. This saves you the hassle of removing the jacket.
Belt – A full elastic wading belt secures your waders to the body without any looseness. It has a strong and durable clasp that doesn't fail even once.
Attachment Points – A small daisy chain is stitched at the top section of the waders to attach your hemostats or zingers. The Hypalon rubber tabs are on the front buckles of suspenders with two holes to attach different types of clamping on hemostats and zingers.
Pockets – The inner side, right under the arms, there are two stretch mesh pockets to stash your handwarmer gloves. They also hold small water cans. Handwarmer and chest pockets have built-in drainages to allow for free water flow in case you go on impromptu swims or a beer or juice spills. The chest pocket has a high-quality and water resistant zipper which can accommodate a large fly box, snacks, tippets, and a few accessories you will need on the water. There is a waterproof pocket inside the waders to hold your electronic gadgets and other valuables.
Gravel Guards – The outer side of the guards have elastic and a high-quality stainless lace hook which is recessed to prevent catching line and this gives it a good detail. The half elastic guard allows for quick draining to enhance durability and prevent wear and tear.
Knee Caps – You easily run into the knee pads if you look at it from a distance once you come closer to the Patagonia Men's Rio Gallegos Regular Waders. They are removable and streamlined for aesthetics and comfort. If you don't like them, feel free to remove them. This is an individual's choice. No pressure!
---
---
Customer Thoughts on the Patagonia Men's Rio Gallegos Waders – Regular​
Certainly the best waders for the money on the current market. Unlike the older version that had frequent leakages in every session, this one is the surest deal.
Six stars for this RIO winner. They beat the winter season because of their thickness and warmth. Pockets are perfect and the kneepads endure all the abuse on your behalf leaving you safe and sound.
The new suspender system is superb and for now, you can forget those clumsy clips and the loose straps on the old waders.
A great fit if you choose the right category and size. You can have plenty of insulation underneath without hindering your room for movement.
Engineering is perfect and the waders look really amazing. There is no reason to question quality since these ones passes the test. If you look forward to plenty of sessions staying comfortable and dry, this is the right choice.
---
Pros

– Things that shine on the Rio Gallegos Regular Waders for Men​
Excellent fabric construction
Breathable and highly waterproof
Lighter than the older version
Puncture-resistant fabric
Convertible design with the new suspender system
Durable full elastic belt
Single seam construction for functionality and longevity
Spacious storage and handwarmer pockets
Attachment points for more accessories
Center back hanger loop when you need it to dry
High-quality water-resistant zippers
Removable knee pads
4mm neoprene booties with compaction resistance
Cons

– Things that are not so cool!
So far, so good, the only major complaint is from anglers shopping on a budget. These waders are costly for their liking. But what else? Pay more, get more!
---
FAQ's – Questions about the Patagonia Men's Rio Gallegos Waders – Regular

Q) Which type of warranty does this pair of waders come with?
A) Patagonia issues a lifetime warranty on these waders for any replacement and defects in workmanship or material.
Q) How lightweight are these waders? Are they packable?
A) The waders weigh 43 oz. and is very packable to fit in a backpack for travelling anglers.
Q) Are the storage pockets enough for your small gear and equipment?
A) 7 pockets in total. All of them are reasonable and can fit a few of your items. 2 stash, 2 chest zip, 1 internal zippered, and 2 drop-in stretch pockets.
Q) Is this a Gore-Tex constructed wader?
A) No. Patagonia uses the H2No technology to make these waders which are way lighter and more abrasion resistant.
Q) Can't the Patagonia Men's Rio Gallegos Regular Waders fit female anglers?
A) These are unisex waders though the product name describes it as a wader for male anglers. If your measurements match those on the chart, why not? If not, the Spring River is a female-specific model which will be an excellent cut.
Q) Is it easy to wear and remove? For the sake of nature calls?
A) Very easy. In fact, the design is convertible and for quick relief, no stress.
Q) Are these waders leaking even a little bit?
A) No leakages until now. Not unless you burst a seam, everything is fine.
---
Final Verdict on the Crosswater Chest Waders
There is no gamble here. Definitely a catch! We might give more time to determine durability but until now, there are no shortcomings on this. The Men's Rio Gallegos Regular Waders can pass the test and live up to the longevity standards set by other remarkable waders from reputable brands like Simms and Orvis.
So far, for comfort, breathability, and style, these waders have managed to blow away most of the models. You need to be very fair to your gear. Regardless of whether you beat on it in the fields, assume its presence when you wade out of the water, and even after reaching home. You have nothing to careless.
Though not at everyone's asking price, these Patagonia waders are high-quality. Well, with reviews from current users, it is wise to invest more up front for excellent wading gear especially if you are an angler who wears waders often.
These waders can withstand bushwhacking along the rivers, climbing out and in of kayaks and drift boards. Their endurance levels are on another crazy level. The manufacturer has a good reputation for high-quality products especially when it comes to angling apparel. The Gallegos adds to it.
What next? Make an order before these goodies run out of stock and the manufacturer takes months to have more for sale. If these Patagonia Men's Rio Gallegos Regular Waders are not in your reach, by all means, worry not. There are great alternatives in the same price range with rich features and top-notch performance.
Patagonia Skeena River Breathable Waders, Simms Freestone Z Stockingfoot Waders, Simms G4 Pro STFT Waders, Simms G3 Guide Stockingfoot Waders, and the Patagonia Rio Gallegos Men's Zip-Front Waders are other options you can consider. You need not wade minus a wader.
---
---