Disclosure:
Just to be open and honest the buttons and links you click on in the website will in most cases take you to another website where you can purchase the products I am reviewing. As an Amazon Associate I earn from qualifying purchases.
January 24, 2023
How to Store Fly Fishing Rods Between Sessions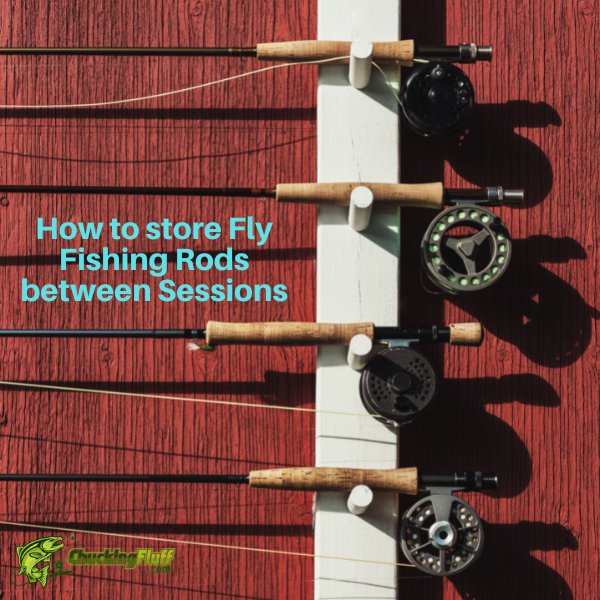 Everyone is reviewing these rods, but you will hardly find detailed information on how to store fly fishing rods on the internet.
Unfortunately, if you all were to do your own, fly fishing rods would never serve you beyond a month.
Good quality and high-performing rods aren't cheap, and properly storing them ensures they are in good condition and take you through several seasons, years, and decades of angling.
Some anglers have fly fishing rods passed down to them by older relations in their lives, which we hope we could do too.
These must have been stored like gold to be in the hands of more than one generation.
Fly rods are your companions each time you hit the waters to catch a fish on a fly, and carelessly storing them threatens their integrity.
You want to protect these rods from moisture, temperature changes, babies, pets, and potential causes of damage.
Here are insights on how to store your fly rods for longevity and optimal performance.
---
Fly Rod Storage Options
---
Different rod storage options exist and what you choose depends on your storage area and exact spot.
It could be in the garage, basement, a wardrobe in your storage room, or whatever you call where you dump everything you don't need in your vision.
Some manufacturers pack their fly rods in rod cases and tubes to help with storage.
Others come without, and you can make separate purchases online or at your nearest tackle store.
While these are excellent for protecting your rod against moisture, dust, sand, and grit, you still have to figure out how to store your fly rods in their cases or tubes.
Ensure the rod tube you want to buy fits all your rod pieces properly if yours didn't come with one.
You don't want it short, too tight, or too loose.
---
Can you Store Fly Rods Horizontally?
---
No rule forbids anglers, sellers, or manufacturers from storing fly fishing rods horizontally.
These poles are delicate, and you can't store them lying flat anywhere as it increases the chance of damage.
Horizontal rod storage units exist, and you should get what suits your space.
Plus, it should be for fly rods, not golf or hockey sticks.
The horizontal storage unit should offer as much support and be steady.
Instead of getting migraines about which position to store your fly rods, think more of having them clean and dry.
Besides, loosely pull the line if you have to store the rod with it.
Wall-mounted racks mostly hold fly rods horizontally on the wall or ceiling without losing valuable space on the floor, but vertical racks are also available.
The garage or basement is most anglers' consideration when storing fly fishing rods, other gear, and tackle.
There are numerous inventive ways and storing styles for these poles in the garage.
But here are a few things to do and avoid:
---
Avoid Storing Fly Fishing Rods in Direct Sunlight
---
Spend the entire day out in the scorching sun chasing steelhead, trout, or whatever pleases your soul that day, as it is what enthusiasts do when free.
You will have your fly rod with you under the direct sun.
Contradicting but wait, these fishing rods are built for outdoor casting (right in the sun), but it doesn't mean you should constantly expose them to sunlight even when not in use.
Preserve the life of the rod for the best results.
---
Keep Fly Rods Dry as a Bone
---
I mean it! Most fly rods have foam or cork on their handles, which are prone to rot or mold damage with prolonged exposure to moisture.
Clean them and allow them to air dry after your last fishing session before storage.
Be careful with humidity and dampness in garages.
---
Avoid Extreme Heat and Cold
---
Anglers staying in areas with intense blazing summers or winters should reconsider storing their fly rods elsewhere and avoid the garage.
A temperature-controlled place is ideal as extreme temperatures could cause warping, rot, or rust.
---
Off the Ground is the Rule
---
Store all fly fishing rods off the floor.
These poles are susceptible to mold or rot if they are in contact with the ground.
Hang the fishing rod rack vertically or raise your rod holders higher, preferably two feet above the floor level.
---
Goture Vertical Fishing Rod Holder, Horizontal Fishing Rod holder, Wall Mount Fishing Rod Rack Hold up to 12 Rods or Combos
Keep Rod and Combos Organized: Are you worried about not finding your favorite fishing rods among the many messy fishing rods when you go fishing? Our vertical fishing rod holder will return your fishing rods to the right place after fishing. These fishing rod rack can keep your fishing rods and combos organized in your garage , home, etc.
Take up Less Space: Each Goture fishing rod holder can store up to 6 rods and combos neatly and securely in less than 11.69 inch space. Our wall-mount fishing rod rack can make your all fishing rod at handy and add more space to your narrow garage or home. Perfect gift for fisherman.
Fit All Most Rod & Combos: With an adjustable arc-shaped design, our fishing rod holders can fit all most types of rods up to 0.83in/2.1cm in diameter. Our fishing rod rack can meet all your needs. You can store your saltwater/freshwater fishing rods, fly rods, ice fishing rods, surf fishing rod, etc.
Durable & Sturdy:Made of high strength nylon material, its durable construction ensures that this fishing rod rack a great support to hold your fishing rod and combos. Non-slip EVA foam can better protect your fishing rods and combos from being scratched.
Easy to Install: There are two ways to install the fishing rod holder, including vertical fishing rod holder and horizontal fishing rod holder. Just mark the location of the fishing rod holder and drill a hole in the wall, then use a hammer tuck in the plugs and finally tighten up all screws of fishing rod holder.
---
Keep Fly Rods away from Objects that Could Easily Fall.
---
Don't think your fly fishing sticks are safe if they are near things that can easily fall – it could be anything from a can of dry maize to a storage box of Christmas décor.
Anything you think could come tumbling off high shelves is risky, as rod breakage and heartbreak are to be expected.
Avoid tragedy by storing fly rods in their own space away from such objects.
---
Preparing a Fly Rod for Storage
---
We prepare ourselves for work or bed, so should you when storing your fly rod.
Preparing your fly rod before storing saves you from worrying about its condition even if you don't go out to cast for several seasons.
Here is how to do it at home.
---
Take the Rod or Combo Apart
---
Take the fly reel and line off the rod if you intend to store it for extended periods – these have a different way of storage.
Loosely coil the line to avoid getting memory from a tightly wound position.
It prevents corrosion if fishing in the flats from salt remaining on the line.
Have the rod pieces separate from each other for compact storage.
---
Clean your Fly Rod
---
Fishing is an outdoor activity that makes you get in contact with all elements you can find there.
You want to ensure you are starting with a clean fly rod.
Remove all the dirt, mud, sand, scum, oil, and anything that didn't come with the rod when new.
A proper rinse under fresh tap water will do the magic if you are short of time.
Anglers casting in saltwater know it is a must because salinity can corrode your rod and wreak havoc on your stick.
We shouldn't be talking much about cleaning tackle, as this should be mandatory whether you are fishing in salt or fresh water.
---
Rod Maintenance
---
Rod maintenance is the last step after taking apart and cleaning your fly rods.
You want to thoroughly check your stick for any wear, tear, and damage you didn't know existed.
Pay more attention to rod tips and guides.
Sand down any nicks on rod guides to smoothen them.
Replace them if the damage is unresolvable to avoid the fly line from being caught by them or damaged during storage.
---
More Tips for Fly Rod Storage
---
Rod cases come in handy if storing your poles for extended periods. Disintegrate the pieces, clean them and place each in its section in the case before hanging them by the tag.
Even storing rods when damp in their cases –air dry or use the rod cloth to clean them dry.
Protect the rod tip at all costs by having it first in the rod tube with the cork handle up.
Remove any thick wax or ferrule lubricants on the blank, as these attract and trap grit and dust that can scratch the blank.
Avoid storing fly rods on the dashboard, as the heat there can boil an egg in a few minutes and deteriorates the rod faster than you think.
Rub the fly rod ferrules with paraffin or candle wax to prevent friction when you put the rod pieces together later. It also protects against wear and makes separation easier.
Avoid exerting a lot of pressure on your rod blank – ensure the tube isn't too small and avoid putting the rod extremely close to other tackle.
Cover rod blanks with padding or bubble wrap if storing closer to other gear to prevent bruises and bumps.
Coating or waxing metallic parts of the rod if you live in areas with extreme winters is essential to prevent corrosion and rust.
While rod racks save you from migraines, ensuring your poles fit well before buying is ideal – confirm diameter measurements before purchasing.
Not all praying eyes see and leave – cover fly rods if stored in areas with human traffic, and if you must have them displayed in your living room, necessary security measures should apply.
NOTE: DON'T store fiberglass fly rods horizontally for prolonged periods.
The material is susceptible to heavy wear when in this position, and the structure and flexibility of the rod won't be the same.
Graphite rods can take whatever position since their structure is built to be resilient to such wear, but vertical methods are preferable.
---
Wrap Up
---
Knowing how to store fly fishing rods ensures you prolong their lives and maintain their performance each season.
But before storage, clean and maintain these masterpieces so that your reasons for storage don't become meaningless.
Store fly rods vertically or horizontally, depending on their material.
Keep them away from sand, dust, dirt, moisture, dampness, and other potentially damaging elements and items.
Last update on 2023-09-28 / Affiliate links / Images from Amazon Product Advertising API
This product presentation was made with AAWP plugin.