Disclosure:
Just to be open and honest the buttons and links you click on in the website will in most cases take you to another website where you can purchase the products I am reviewing. As an Amazon Associate I earn from qualifying purchases.
December 5, 2018
Wild Water 7/8 9ft Rod Saltwater Fly Fishing Combo Review – A Complete Starter Package
Stick here and confirm that this starter pack is indeed great for anyone taking on the fly fishing journey. Wild Water 7/8 9ft Rod Saltwater Fly Fishing has all features needed in an excellent fly rod. It has fly patterns proven to work effectively in a high-quality small fly box. The 4-piece fly rod dis-assembles into four sections of equal measure – 28.75'' lengthwise for easy and secure storage in its rod sock and the protective cordura case.
Made of IM6 Graphite, this rod is perfect for 7 or 8 wt. lines and with its slow action, a novice will find it comfortable to use. 6.1 ounces is about the right weight for a good beginner fly rod like this one. Exclusive as it is, this pack comes with a booklet from Wild Water called 'How to Fly Fish'. Even if you have never taken on fly fishing before, you will not fail on the first attempt. How good is it for Wild Water to give a reference guide where you can quickly rush to when you need to be sure about assembling your fly rod and how to attach your fly reel? You will learn more about different knot tying techniques and how to care for your combo. Now you know how much a catch it is you will have made if you decide to invest in this combo.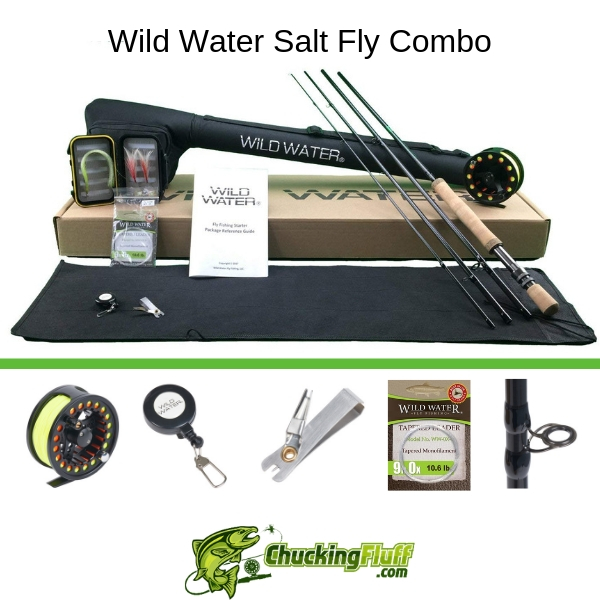 [button link="http://amzn.to/2CwPaJh" type="small" color="green" newwindow="yes"]Check Salt Combo Amazon Availability[/button]
Main Features of the Wild Water Salt Fly Combo
Too many goodies in one package to ensure you spend very little on the purchase but get quality items. Wild Water 9' 7/8 Wt. 4pc rod, a cloth rod sock, Wild Water small fly box and fly assortment, two spare leaders, Wild water 7/8 Die Cast Aluminum reel, a starter package reference guide on fly fishing, a monofilament leader, a line nipper tool and a retractable zinger. Read more below on the specifications and features of each component. 
---
Wild Water 9' 7/8 Wt. 4pc Fly Rod Key Features
Slow Action – As a slow action rod, a beginner can be able to make short, accurate and gentle casts. The rod is very flexible throughout the cast and is very forgiving if you haven't become a strong caster yet. You will have great control of your fly line too.
Guides – All rods from Wild Water are designed with stripper guides made of Silicon Carbide. These type of guides have stainless steel frames. The single foot snake guides are also made of stainless steel.
Case – Wild Water provides a 32'' case with a zippered pouch. For storage purposes too, you get a cloth rod sock that is sectioned into four to store your rod.
Reel Seat – The reel seat is made of machined aluminum and has an anodized finish to ensure it is resistant from corrosion and rust. Usually, saltwater speeds up corrosiveness and the rusting action. By this, you will be guaranteed durability.
---
Wild Water 7/8 Die Cast Aluminum Fly Reel Key Features
Large Arbor – The size of the arbor allows you to reel the line twice faster unlike the traditional standard designs. Its high tech look is something to enjoy.
Spool – You can easily remove the spool from the frame by using the quick release tab
General Use – The reel is designed with stainless components that allow for use in both salt and fresh water.
Retrieve – Like earlier said, all reels from Wild Water come with a standard left hand retrieve but for this one, you can easily make conversions to the right side and vice versa.
---
Wild Water Weight Forward 8 Floating Fly Line Key Features
The Wild Water 7/8 9' Rod Saltwater Fly Fishing combo includes the weight forward 8 fly line that measures 81 feet which is slightly below the standard length for fly lines. Its bright chartreuse color makes it visible at all times and easy to detect strikes. As a floating line, mending and pick up off the water are very easy.
The line comes with a monofilament leader which is excellent for steelhead, largemouth bass, and redfish. To get it straight, you can stretch it a little bit. 
---
More to Carry Home – Wild Water Small Fly Box
Seal – The fly box has a waterproof seal to ensure everything in it remains dry and undamaged. During the action, you can put it in your wading jacket's chest pocket for easy accessibility.
Foam Inserts – These ones are customized to allow you to store your flies.
Upon purchase, the package comes with five different flies with different hook sizes. 2 swimming crabs of size 4, 2 red and white deceivers of size 2/0, and a long tail green Eel of size 2/0
---
Wild Water Reference Guide
As a starter, you might be looking for information and tutorials left, right and center. To save you the resources, Wild Water includes a fly fishing reference guide for starters in the package that will help you kick-start your fly fishing sessions.
There are diagrammatic instructions to show you how to assemble the fly rod and how to attach the fly reel step by step. You can learn how to tie different types of knots through illustrations. While you can take it out for your fun sessions, it needs proper care to ensure it lasts longer. You can find tips on how to do this in the reference guide.
---
Line Nipper Tool – If you need your tippet, line or leader trimmed, you can do it on your own using the line nipper. To clean the hook eye, use a needle that comes with this package. It has a nail knot too.
Retractable Zinger – The zinger is durable and can be used for attaching your forceps or nipper tool for easy reach. It is easy to use. You need to attach the reel to your vest, shirt or wading jacket using the clip on the rear of the reel. 
---
Other Aspects of the Wild Water Salt Fly Combo
Main Materials – The fly rod is made from IM6 Graphite which is durable and makes it efficient for both salt and freshwater environments. Stripper guides are made of Silicon Carbide, snake guides are made of stainless steel and the reel seat is made from machined aluminum with an anodized finish. The reel is made of Die Cast Aluminum.
Handles – The rod hand is made from Full Wells Cork and has a butt extension to allow you to get a good grip and handle the rod with ease. The cork trim rings add to the aesthetic features of the rod.
Rod Length – The rod measures 9 feet and is designed to disintegrate into four equal sections of 28.95'' each to allow for easy storage in its sock and the case.
Drag System – This A-Series Die Cast reel from Wild Waters has a disc drag at the centre and has a drag adjustment knob that is easy to grip and comfortable on your palms.
Capacity – This combo has a WF-8F 120 yards 30lbs backing and capacity
Weight – The rod weighs 6.1 ounces and the line is of WF-8F.
---
Consumer Thoughts on Wild Water Salt Fly Combo
Wild Water 7/8 9' Rod Saltwater Fly Fishing is a good rod and reel combo for the money. It literally catches more fish.
One user found the action too soft making casting for distance very difficult. He further says it was not effective in deeper streams. Looks like he did not go through the general use as indicated by the manufacturer. It is for casting shorter distances and use in shallow streams
The fit and finish are excellent and it has lasted much longer than expected despite frequent use.
---
Pros

– Things that shine on the Wild Water Salt Fly Combo!
Great value for money
Complete package for starters
Easy to set up and use
Limited lifetime warranty on the rod
Durable construction
Great for both fresh and saltwater
Cons

– Things that are not so cool!
Intermediate and expert anglers will get turned off considering their advanced experience
Limited to casting for short distances only
---
FAQ's – Questions about the Wild Water Salt Fly Combo   
Q) Are the flies that come with the package excellent for fishing salmon or should I order my usual type?
A) The deceiver is a good pattern to catch salmon. If you have egg patterns you can tag them along.
Q) Will this combo be perfect for steelhead fishing because I would like to purchase one?
A) The black wooly buggers though not in the combo, will make it perfect for steelhead. If you need specific flies for steelhead, Wild Water can give the switch rod package that contains an assortment of flies used for steelhead only.
Q) What are the sizes of hooks available?
A) The hook sizes of flies that come in this combo are the red & white deceiver, 2/0, and swimming crabs size 4
Q) Does the manufacturer have a 5/ wt. that is in a 4pc rod?
A) Yes, this is available.
Q) Can the reel in the Wild Water 7/8 9' Rod Saltwater Fly Fishing Combo be easily converted to the left or right hand retrieve?
A) Yes, all reels by Wild Water come with a retrieve on the left hand but there is more on how to switch sides on the manufacturer's website.
Q) How many leaders does this starter pack come with?
A) The combo package comes with three 9' 0X tapered Monofilament leaders one on the reel and the rest as spares.
Q) Which kind of fly box does it have?
A) The pack comes with a small fly box from Wild Water
Q) Does it have a medium arbor reel?
A) No, this combo has a large arbor reel
Q) Looking for a combo with a medium-fast action to test my skills. Is this in my description?
A) No, this rod has a slow action which is very good especially for starters in fly fishing.
---
Final Verdict – A Combo for Beginners but is it worth the Price?
Have you done a rough costing of buying fly fishing equipment and accessories as single pieces? If you haven't then know that the total amount will leave you with an option of breaking a bank or something close to it. EXPENSIVE is the word. That is why Wild Waters decided to make this Combo affordable yet exclusive for newbies who are turned off by huge prices of fly fishing equipment. What is left is you, your fishing apparel and zeal to see your efforts put you on the expert level.
You will love how well the package prepares you to start off. The starter package reference guide is an excellent source of information to read on the basics of fly fishing and gives diagrammatic steps on how to assemble the rod and attach the fly reel. This and more on this website will get you ready to advance your skills in the shortest time possible.
For this great price and considering that it comes as a complete package, it is a combo that is on very high demand. To make sure that you get this Wild Water 7/8 9' Rod Saltwater Fly Fishing Combo, make orders so that they are delivered to you at the right time. For walk-in lovers who might find this out of stock in the nearest fly fishing shop, the Osage River Prospect Complete Fly Fishing Package – 5/6, 9'0 or the K&E Outfitters Combo both great starter combo packages with accessories included in them. You do not have to think twice!
Still not convinced then check out our list of other beginner fly combo here.
[button link="http://amzn.to/2CwPaJh" type="small" color="green" newwindow="yes"]Check Salt Combo Amazon Availability[/button]