Disclosure:
Just to be open and honest the buttons and links you click on in the website will in most cases take you to another website where you can purchase the products I am reviewing. As an Amazon Associate I earn from qualifying purchases.
July 30, 2019
Loop OPTi DryFly Fly Reel Review – Saltwater Ready
Loop has been in the fly fishing industry for decades. All this time, the company has been dedicated to satisfying its customers by producing high-quality fly fishing equipment. Some of the finest for that matter.
Founded in 1978 as a European Tackle Company, you are sure to bet on performance each time you hold a LOOP. No doubt, after sampling the Loop OPTi DryFly Fly Reel. Nothing else compares to its fineness.
Most anglers will associate the Loop Company with their medium and medium-fast fly rods. They are everywhere on the shores and river banks. The company has gained credibility in the industry through its rods.
Less than a decade ago, the Loop Company became famous for one of the greatest innovations in the fly fishing industry. The craftsmen innovated the first large arbor fly fishing reel. Well, the reel was met with a lot of skepticism.
This created an opportunity for other leading companies to start producing reels that have faster line retrieve rates. Have you noticed that the large arbor reel is a norm today?
The Loop Opti Series Fly Reels are totally saltwater ready and waterproof. The components are well-built with anodized aluminum and stainless steel. Saltwater is harsher than freshwater but no problem for this reel.
Loop has screws that are secured with Loc-Tite. Loc-Tite creates a dense layer of defense against the tough elements.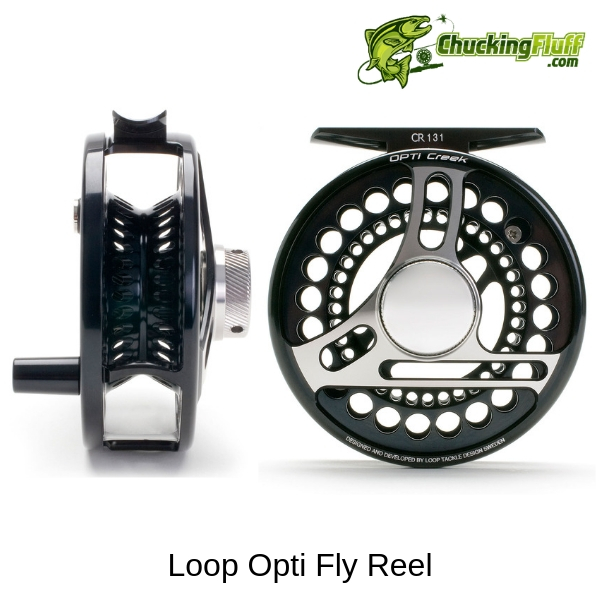 ---
---
The Opti DryFly is the best fly reel for anglers in pursuit of a large arbor reel that can handle trout effortlessly. In terms of durability, this reel is the ninja.
Its construction was done with rigidity in mind. Most reels, especially freshwater specific need delicate handling with regards to care and maintenance for them to last long.
Frequent rinsing and lubrication. Save that for those types. The Opti DryFly Reel is maintenance-free.
Don't look any further because this Loop Opti Series fly reel increases line retrieval at the same time greatly reducing memory especially during cold weather.
Hold your breath and imagine a reel made from one piece of high-quality aircraft-grade aluminum. The strength is incomparable. The material promises scratch resistance with an extra-large diameter spool.
Not really to entice you to make a purchase but why should you take a gamble with other reels with usual drag systems?
Its power-matrix drag system is adjustable and fully sealed to lock out all the grit, sand, scum and other substances that can affect performance. This translates to great stopping power.
The DryFly like other Opti reels can accommodate right or left hand retrieve. It is easy to quickly change the spool.
This attribute is excellent when you need two different fly lines-a floating and a sinking line- for different actions.
The counterbalance of the reel is guaranteed so that as you take trout on it, each revolution remains smooth and consistent.
Aesthetics on the outer side ass to its distinctive look that confirms the cutting edge design of the Opti DryFly Reel.
While the porting is visually striking, it is also fully functional. The port also optimizes the lightweight nature and performance giving it one of the most prominent profiles.
There is more about this reel below.
---
Main Features of the Loop OPTi DryFly Fly Reel
Drag System – The Power Matrix drag system is one of the most reliable and smoothest drag systems available.
It doesn't matter whether you are battling large saltwater fish or hooking small creek trout, its startup inertia and control power is very outstanding.
The system is completely sealed for protection of the inner parts and gives it the ability to subdue the strongest fish.
---
Housing – The DryFly reel has a spool and frame well machined from high-quality one-piece aircraft-grade aluminum. This is tough! Really Tough!
Reels are prone to dropping on rocks under water. Most that are made from plastic will have scratches or even break. This one is one of the toughest reels that is impact and scratch-resistant.
---
Reversible Retrieve – The OPTI DryFly Fly Reel is easy to change the retrieve side. You can change from the left hand to the right and vice versa in a snap. The spool change is also quick and allows for two lines for varied conditions.
---
Counterbalance – When handling big fish that can take out the line from the reel, this feature becomes very important. For smaller size fish, you might not find it useful. The counterbalance counters the effects of a quickly rotating spool handle to ensure that there is added stability.
---
Spool – Loop Opti series fly reels have the V-shaped spool as their benchmark. The large arbor spool is allowing quicker line pick up when the fish charges towards the fisherman at warp speed. The design allows for efficient positioning of the fly line on the fly reel during retrieval. Its design also directs and distributes the fly line and backing evenly across the spool's width as you land the fish.
---
Usability and Environmental Specification – This is a trout reel. It has a waterproof construction that allows it to be used in both fresh and salt water without any difficulties. The stainless steel components and the anodized aluminum features prevent the effects of agents of rust and corrosion.
---
Other Aspects of the OPTI DryFly Fly Reel
Main Material – Opti Dry Fly reel's spool and frame are made from machined one-piece aircraft aluminum which for strength and durability. Components are made from quality stainless steel and anodized aluminum to withstand harsh environmental conditions. ​
---
Drag System – Fully sealed, the power matrix drag system is dependable in smoothness and control power. Sealing it was wise to allow for use in both fresh and salt water. It has very little startup inertia and good stopping power. It is maintenance-free but once in a while, you can give it a quick rinse with tap water.
---
Specifications – This reel doesn't have other models. It is a single choice with a diameter of 102mm and width of 20 mm.
---
Handle – Its reel handle is of a reasonable length and thickness to allow the angler to hold onto it while turning the reel's spool to retrieve the fly line. It has an excellent finish that minds your palms even for long hours of use.
---
Weight – The Loop OPTi DryFly Fly Reel weighs 4.76 oz. This is within the average supposed weight of a good fly reel and so far, it isn't as heavy.
---
Capacity – When paired with a weight forward 5 fly line, the backing capacity of the reel is about 190 yards of 20lbs backing.
---
Warranty – Loop Fly USA issues a limited lifetime warranty to the original owner of the fly reel. In case of defects in material and workmanship, the manufacturer will get a replacement for you. Other repairs in the course of time will be attended to by the service team as long as the warranty terms and conditions are not breached.
---
Customer Thoughts on the Loop OPTi Dry Fly Fly Reel
The unique matrix drag system being completely encapsulated, salt resistant and waterproof nature makes its reliability very dependable. Considering the fatigue after a trip, getting time to clean your reel is rare. Kudos Loop!
A triangular-shaped large arbor spool allows for effective and quick cranking while reducing the line's memory when it starts to freeze. It is difficult for the string to slip. Thanks to the extra stability provided by the closed coil cage.
This reel is an eye-catcher. The characteristic L that has been integrated on the brake button is everything to make everyone know that you are reeling a big label. The components and how well they have been processed don't give any room for defects.
The grip-progressive drag knob is easy to grip. Its construction doesn't have any blemishes and it is safe to grip it even if you don't have protective gloves on.
Most left-handed anglers who love to reel on the right side will find this reel very useful. The retrieve can easily be changed to whichever side. It is simple to change the spool.
---
---
Pros

– Things that shine on the OPTI DryFly Fly Reel
Silent sound when reeling in
Silent outgoing drag sound though there is sound as it sets
Excellent spin
Great counterbalance
Easy to adjust drag knob
Reasonable range of drag
Durable construction
Rubber-grip handles
Very large arbor for quick retrieval
Cons

– Things that are not so cool!
You will be required to palm for larger fish

A high-end reel and the price might be high when shopping on a limited budget

The spool cap needs to be checked often since it comes off easily and can get lost
---
FAQ's – Questions about the Loops OPTi Dry Fly Fly Reel
Q) Generally, how does the fly reel feel when reeling in fish?
A) The feeling is smooth and since the reel has a Rolls Royce quality build, handling it is effortless.
Q) How are the drag detent capabilities?
A) So far, excellent. It must take a pretty hard whack to knock off the drag setting by accident.
Q) Is the reel noisy and irritating to sensitive ears?
A) There is no sound as you retrieve line. Going out is silent but you can hear as the metal hum knocks a bit on a higher drag.
Q) How is the handle of the Loop OPTi DryFly Fly Reel like at the end?
A) The grip is made from high-quality rubber and doesn't flare or swell towards the end.
Q) Is the spool a quick-release?
A) Yes, this one is a quick release. However, the spool easily comes off.
Q) What could be the possible capacity when you have a weight forward 7 fly line?
A) The backing capacity is WF7F+ 105 yards 20lbs
---
Final Verdict on the Loop OPTI Dryfly Reel
Loop's great innovation has seen the Opti series being termed as the fanciest fly fishing reel and falls in the top category when it comes to quick line retrieval. The DryFly is still standing tall even with the extra-large arbor that reels the fly line quite faster compared to its sister, the Evotec. It feels absolutely smooth when you start reeling in.
The L symbol engraved in a bright chrome color against the reel's jet black spool reaffirms the company's thirst to make the user look high in class. It might take time, but not too long for an amateur to get used to how big the reel looks especially on a 5 weight fly rod. Don't worry, it will grow on you.
Ergonomics get a five-star rating with the rubber handles that give an angler excellent grip even when the handles get wet. The counterbalance features a tippet storage O-ring is something you will love about this fly reel. The spool release cap can easily come off. You need to be extremely careful when you remove the spool because it might get lost. The drag, though meant for trout, can still catch larger fish but you will have to palm your spool because the drag doesn't go past 1.3 pounds. The Opti DryFly spins well.
Loop hasn't done this on its own. It attributes its efforts to other fly fishers worldwide who have added great input to ensure the company satisfies all its anglers who reel in tougher environments. The expert combination of efficient power and ergonomics integrated into a seamless and striking exterior. It sports all the great features you would wish in a high-quality fly fishing reel.
You can preorder this fly reel to test its performance and durability in your next fly fishing session. If you find LOOP OPTI DryFly Fly Reel unavailable in your nearest store or online shop, you can settle for her sister the Loop Evotec G4 Featherweight Fly Reel or any other from our price category section on the website. Throw tight loops with a reel from LOOP!
---
---