Disclosure:
Just to be open and honest the buttons and links you click on in the website will in most cases take you to another website where you can purchase the products I am reviewing. As an Amazon Associate I earn from qualifying purchases.
February 7, 2017
Lowrance Hook-3x Sonar Fish Finder Review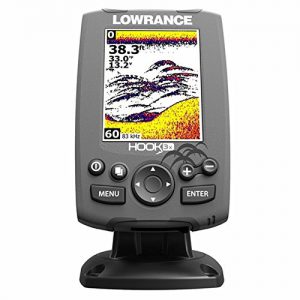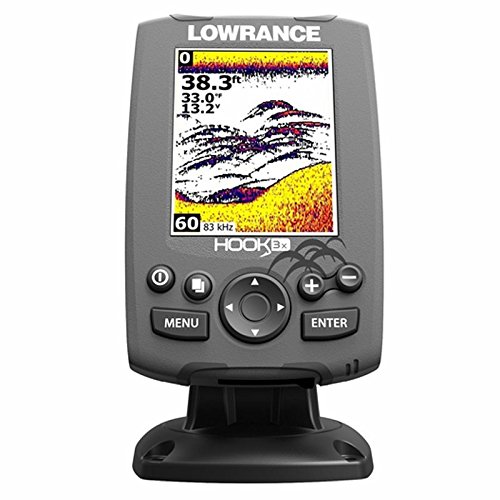 ---
Dual frequency and advanced signal processing make it a powerful tool.
---
User buttons make using a breeze.
---
Very economic perfect for first time buyers.
---
Lowrance's Hook-3X Sonar: For an Incredible Fishing Experience
Fishing is not everyone's cup of tea and therefore the device to be used by a fisherman or an angler also has to be unique. For someone who loves water and fishing, the experience is novel every time they enter the open water.
---
In the olden days when there were no devices or technological miracles, fishermen and anglers had to trust their intuition or develop techniques when they fished.
However, the world has moved on and every day, technology gets better. And this is why anglers now have something to trust to find the right spot for fishing or for detecting danger: Sonar technology makes this possible
---
The Hook-3X Sonar, a creation of Lowrance Marine Electronics, is a fish finding device that uses sonar technology to detect fish and schools which are otherwise not visible.
Lowrance Marine Electronics has time and again proven itself as one of the leading companies in marine technology and industry. It has also garnered multiple awards within the marine industry.
You can rest assured about the quality of its products due to its high standards and high-end technology.
Features of the Lowrance 000-12635-001 Hook-3X Sonar, W/ 83/200 XDCR
Advanced signal processing that makes it possible to get the most accurate image and details of the waterbed
Two frequencies so users can switch between the two, thus enabling them to get maximum information.
Water resistant to 1m, can take a quick dip or a heavy shower no problem, important when out in a boat.
LED Backlight—The device provides a 320 x 240 resolution on a 3" display, thus making images crisp and clear
Dual role of the power button—The power button also plays the role of controlling the backlight to make the display visible in both daytime and the night
Broadband sounder detail—This feature makes it easier to target fish while also detecting bottom contour, the hardness of the waterbed and minute detailing of all objects beneath the boat
Alarm—This device is incredible as it also offers the option for setting alarms, and at times, works as a tracker too
4x zoom—On the display screen, users can zoom the standard view up to 4 times to see finer details of the images
Comes with its own transducer
Fish ID—With this feature, you can create illustrations of the fish detected on the display screen. Users can either view fish as curvy lines or through specific fish symbols to make it more real.
One-year warranty
Understanding sonar technology
Lowrance's Hook 3X Sonar offers the benefits of two frequencies. These help in detecting objects both around the boat and beneath it. The two available frequencies are 83 kHz and 200 kHz.
The latter offers almost twenty-degree conical coverage while the former can give up to sixty-degree coverage. Thus the 83 kHz frequency helps in covering larger areas and colonies of fish.
Customization possible
Users will find a menu button on the device that lets them customize various features according to their interest.
These features include controlling the frequencies, the range, the Fish ID and the noise reduction options. Users can also directly make changes by accessing the settings
Attachment to make the device more accessible
With your Hook 3X Sonar Fish Finder, you will also get a bracket along with it. This will help you to adjust the device on the hook to get a better view of the fish environment. This will help in attaching or detaching the device from your boat.
All-season optional pack available
If you want to make the device portable and use it whenever and wherever you like, then purchasing an all-season, additional pack will enhance your overall experience.
This pack will comprise some technical devices and instruments that will help you in carrying this device along on your adventures
Technical details
2 pounds in weight
3.75" in length, 1.85" in width and 6.5" in height
Water resistant to 1m.
Zoom button on image x 4
Has its own transducer
Advanced signalling
Two frequencies
Mounting bracket included
Customer reviews
For any product, however great it is, the customers are the final critics, and therefore their suggestions and comments are vital.
For Lowrance's Hook 3X Sonar fish finder, most customers have happily expressed their satisfaction barring a few. The product gets top marks from most of the reviewers.
Out of the existing reviewers, More than half have given it 5 stars while only a small percentage have rated it as a 2-star product. One 2 star review made a comment that the wiring harness was too short for his use. Worth considering if you need distance.
Those who gave positive reviews are mostly happy with the user-friendly features that make even non-professionals comfortable with the device.
Pricing
After analysing the quality of a product, the next thing to bother any consumer is its price. But no need to worry when you plan to buy this sonar fish finder as it is very economical and perfect for first-time buyers or entry level fishing professionals. It provides great value for your money.
Verdict
To sum it up, Lowrance's Hook 3X Sonar is a great product with its distinguishing features. As it can fit in everyone's budget, it is available for every fishing enthusiast.
The dual frequency and advanced signal processing features will definitely grab the attention of other anglers.
The developers of the product have made it easy to use. With one button, users can change the settings or change frequencies.