Disclosure:
Just to be open and honest the buttons and links you click on in the website will in most cases take you to another website where you can purchase the products I am reviewing. As an Amazon Associate I earn from qualifying purchases.
March 19, 2019
Costa Del Mar Fantail Polarized Sunglasses Review – Clarity in Saltwater
New to Costa? The Fantail lineup makes use of the 360-degree co-molded technology. The key detail in construction is in the non-slip Hydrolite lining which is along the interior of the Fantail frame to help the sunglasses stay put at all times.
Costa Del Mar Fantail Sunglasses have a tough, rectangular frame with a medium fit but can fit a few wearers with slightly large heads. The co-injected nylon construction guarantees comfort and durability. In fact, it takes up to the challenges in saltwater environments.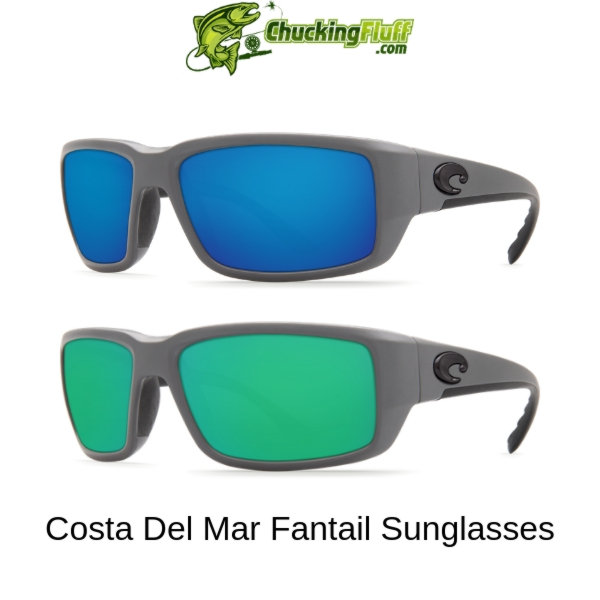 ---
Costa is an American manufacturer of high-quality polarized sunglasses. Though a subsidiary of the Essilor, their sunglasses have gained popularity in the sports market and have been rated among the best for outdoor activities like fly fishing.
Costa takes a very keen interest in environmental conservation and sustainability through recycling plastic waste from the fishing nets collected in the ocean. Through a partnership with Bureo Company, the nets are recycled to pallets which are used by Costa to make the frames.
Fantail Sunglasses are available in a wide range of frame colors. If you intend to buy them, you can select a lens option that fits your outdoor lifestyle. Colors for polycarbonate lenses are amber, copper, and gray while glass is available in silver mirror, green, blue, copper, amber, and gray. 580 lenses by Costa are among the clearest so far.
---
It doesn't matter whether they are glass or polycarbonate. Glass remains most optically clear and highly scratch resistant. Polycarbonate is lightweight and impact-resistant.
Costa uses different material and coatings to make their lenses. What cuts across all of them is delivery- amazing clarity, color, and contrast and the deepest part is seeing your world in the purest form.
Normally, yellow light is a known enemy to eyesight. It becomes difficult for the eyes to process and change how you see things when yellow light hits your eyes.
580 lenses make the blue, green, and red prominent while greatly reducing yellow light. What you get is sharper contrast, deeper colors, and purer vision.
---
Main Features of the Fantail Sunglasses
Lens Material – Upon identifying your perfect fit, you can decide on the Lightwave or polycarbonate lenses. Fantails are available in polycarbonate lenses and glass lenses. Polycarbonate is lighter, less costly and more durable, unlike glass lenses. Remember, your taste and preference are important here.
---
Lens Color – Costa lens tints guarantee you full safety from the effects of intense sunlight. The ones in this review are Blue Mirror and are excellent on open water and offshore.
Other available lens colors are Green Mirror for high contrast, Gray Silver Mirror suitable for everyday activities, Copper Silver Mirror for natural contrast, and Gray for everyday activities.
---
Sweat and Heat Management – Fantail's new model allows for a sufficient flow of air through the end of the frame. This allows for cooling and reduction of fogging on the lenses. Nose pad ventilation hasn't been introduced on this model but is present in the Tico and Broadbill.
---
Nose and Temple Pads – Nose and temple nose pads on the Costa Del Mar Fantail Sunglasses are made from textured Hydrolite to help in managing sweat and heat. They also ensure a secure fit necessary for all-day comfort.
New models have durable pads, unlike the older Fantails that had the pads dropping off after a few months.
---
Hinges – Costa makes amazing hinges that are well-crafted from high-quality stainless steel that is corrosion and rust-resistant. Flexibility is a pass to ensure the frame's shape is maintained.
---
Coating – The Costa C-WALL lens coating actively repels water, dust, oil and dirt. It is also responsible for the lenses' scratch resistance feature.
---
Polarization – Fantails have a record of excelling in fishing by cutting glare off water allowing anglers to see a greater distance beneath the water. It is easy to identify fish, rocks and other aqua life when having the polarized glasses on than without.
---
UV blockage – We recommend lenses with 100% UV protection and Fantail falls here. It blocks all harmful UVA, UVB, and UVC rays. This keeps your eyes safe from cataracts, pingueculae, and photokeratitis.
---
Frames – Costa uses the co-injected bio-based TR-90 nylon type frames on Fantails for increased toughness and durability. The material offers a comfortable and amazing fit. This makes them usable in saline environments because they don't rust or corrode like metallic frames. The fusion of Hydrolite and nylon prevents slippage hence great optical alignment. They stand up to the challenge.
---
Accessories – Once you purchase legit Fantails, they come with a zipper storage case and a microfiber cleaning cloth. Costa recommends the C-mono retainer for the Fantail, the Costa strap, a clarity kit, a halyard wire retainer and a dry case. They aren't compulsory for use with the Fantails but you can get them if your budget allows.
---
Fit – The manufacturer has adjusted the Fantail to fit medium-size heads. The new model has improvements in the distance between the lenses, has a flatter head curve and nose pads that are deeper and adjustable.
---
Warranty – Costa issues a limited lifetime warranty to the original owner of every pair of sunglasses. In case of defects in construction and other issues causing malfunction stated in the warranty, the manufacturer will sort it out.
---
Customer Thoughts on the Fantail Sunglasses
There are so many reviews criticizing the authenticity of these Fantails. Remember that there are original Costa Fantails and imitations which are made by quack companies.
Fakes don't fold completely when you close the arms, springs that hold the arms will back out very soon and everything about them is not real.
ALWAYS buy from authorized dealers. These customer thoughts section is based on the original Costa Fantail Sunglasses and not the fakes that come cheap and full of garbage.
Plastic lenses are lighter than glass lenses on the bridge area when worn and have good visual aspects like the glass one. The glass lens is superior on acuity.
To check on authenticity, keying the numbers on Google brings the Costa Del Mar Fantail Sunglasses picture. You can't be spending so much on trash.
The coating is awesome and very difficult to scratch. You can't compare the polarization and filtering with other big names out there. They are excellent on the bright ocean and the reflective features on snow and water are incomparable.
Fantails are excellent for cutting glare on water and are comfortable for all-day wearing.  They take away the eyestrain and sooth the eyes wonderfully. If you are zealous enough you can catch more than your limit.
No wear and tear on the zipper case a few years down the line. The nose pads make the sunglasses stay put at all times even without the retainers on. The frames too fit comfortably and don't press on the temples.
Temporal fogging on the lenses has been witnessed by a few users especially when room temperatures change dramatically.
Older models of the Fantail had issues with the rubber nose pads falling off but the new model has greatly been improved and this doesn't happen anymore.
The sunrise lenses are yet to pass the ANSI Z80.3 traffic signal recognition requirements and are not recommended for use while driving.
---
Pros

– Things that shine on the Fantail Sunglasses
Stylish and versatile design
Lenses are scratch resistant
Hydrolite construction with non-slip capabilities
Mirrored lenses offer full sun protection
Complete polarization
Exceptional clarity lenses
Strong and durable construction
Lightweight lenses
Comfortable fit
Comes with a microfiber cleaning cloth and a zippered case
Lifetime warranty
Cons

– Things that are not so cool!
Available in medium frame fit only
The glass lenses make it expensive especially if you are shopping on a budget and only for fishing
---
Costa Del Mar Men's Fantail Polarized Rectangular Sunglasses, Blackout/Grey Blue Mirrored Polarized-580G, 59 mm
100% UV PROTECTION: All Costa Del Mar Eyewear lenses block potentially harmful high-energy visible blue light rays and protect against 100% of Ultraviolet rays (up to 400nm).
COSTA 580G GLASS LENSES: Costa's patented 580G glass lenses provide scratch-proof clarity. 580 lenses go further then normal polarized lenses by blocking the perfect amount of harsh yellow light and potentially harmful blue light while enhancing beneficial reds, blues and greens.
OPTIMAL USAGE: Costa's Blue Mirrored lenses are great for harsh sun conditions, being out on open relfective water and boating and fishing in deep water.
CO-INJECTED NYLON FRAMES: Costa's co-injected nylon frames are tough and durable, manufactured using the environmentally friendly bio-resin process. TR-90 nylon is a premier material for sports and performance frames as it is resistant to heat and cold.
VISIT THE COSTA DEL MAR BRAND SHOP: Visit the Costa Del Mar brand shop to view the entire Costa Del Mar eyewear collection.
---
FAQ's – Questions about the Fantail Sunglasses
Q) Do the Fantails have holes for use with a gripper cord?
A) No, they don't but Costa has a gripper cord design that works for the Fantail model
Q) Can you replace the lenses with those from Oakley?
A) No, They even don't fit. If you need any repairs or lens replacement, Costa issues a lifetime warranty to the original owner.
Q) Too many complaints of fake Fantails online. Where are these sunglasses made?
A) Costa says their sunglasses are made in the USA. Others without the original Costa logo are counterfeits. Purpose to buy your sunglasses from Costa registered dealers.
Q) Which is the recommended retainer for use with the Fantail?
A) Costa recommends the C-Mono retainer
Q) Are these Fantails plastic or glass?
A) You can buy these in either 580G- glass lens or 580P- plastic lens
Q) Can you confirm if they are RX compatible?
A) Yes, they are Rx compatible and a highly reputable Rx lens company will do good.
Q) What's the comparison between the glass and plastic lens?
A) Glass lenses have better visual acuity while the plastic ones are lighter.
Q) Do the sunglasses come with all the paperwork and the case?
A) Yes, all these come as a package.
Q) Are these Costa Del Mar Fantail Sunglasses for men or women?
A) They are unisex. Size descriptions are on the Costa website and the frame fits many women and men perfectly.
Q) Can they be worn over glasses?
A) No, they have a very snug fit over your face
Q) What is the difference between the blackout and black Fantail?
A) Majorly, the blackout has a 'C' logo on the arms and is black in color while the black has the Costa logo in silver.
Q) Are they like the older version with rubber delaminating issues?
A) These ones have durable rubber on them.
Q) What about the Silver mirror 580P lenses? Are they available?
A) Yes, you can find them in plastic or glass lens.
---
---
Final Verdict
You only get the best when you have the best. All Costa sunglasses are polarized and that is key when selecting the perfect pair for fly fishing.
The ability to eliminate almost all glare makes it a must-have for protecting your eyes from eyestrain and damage.
This manufacturer has set the bar higher in the sunglass industry with new technologies that work to ensure the result is a high-quality pair of sunglasses that serves you diligently and is worth more than the price tag.
You will love how perfect it fits- that is if you wear medium size sunglasses. The nylon frame is comfortable and doesn't squeeze the temples.
Thanks to the molded Hydrolite rubber lining, the frame rests on the temple and is immovable regardless of your energy and motion when fishing. It is not easy to remember you have them one because of the great comfort and fit. You know headaches can ruin an excellent day.
If you have seen or had the Blackfin or Corbina sunglasses, you can confirm that Fantail is their younger brother. The style is almost similar but the Fantail arms taper more than the Corbina.
Why not try them on and feel the comfort, test the performance and confirm if they are worth a five star or not? You can pre-order the sunglasses to save you the stress on hopping from store to store.
You risk buying fakes too especially if the dealer isn't authorized to sell Costa eyewear. Failure to get this exact model, other alternatives will not be a bad idea.
Costa Del Mar Blackfin Sunglasses will be a good option within the price range of the Costa Del Mar Fantail Sunglasses. If you don't mind spending slightly more, the Costa Del Mar Tuna Alley Sunglasses are excellent too.
All Costa sunglasses are saltwater usable. Time to try the Fantail!
Last update on 2023-10-03 / Affiliate links / Images from Amazon Product Advertising API
This product presentation was made with AAWP plugin.