Disclosure:
Just to be open and honest the buttons and links you click on in the website will in most cases take you to another website where you can purchase the products I am reviewing. As an Amazon Associate I earn from qualifying purchases.
March 23, 2022
Redington Run Fly Fishing Reel Review – Emphasis on Value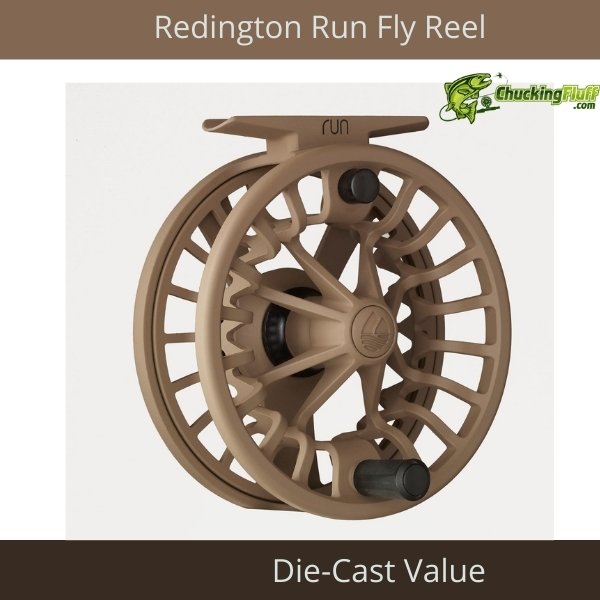 If you have fished or seen the Redington RISE Fly Reel, then its little sister the Run is its die-cast un-machined version.
Most fly fishers don't think so highly of die-cast reels. Others would have them just for display on their fishing aisles or wait to give as freebies to close pals and kin looking to start fly fishing.
There has been a total change in how things happen in the angling sector these days.
After Redington released the Behemoth whose reception was exceptional, the next die-cast fly reel was announced for release early in 2020.
The Redington Run Fly Fishing Reel was it.
The amount of refinement that the Run offers will amaze you and straight to its boot, the aesthetics are pretty.
Of all the Redington reels it is a stunner.
We know that machined fly reels are still the leaders in utmost ruggedness and precision but a die-cast one like the Run that is tantalizing and an affordable option, shouldn't make you cancel what was to be a fun day outdoors.

---
A Glance into the Features
---
Anyone who has seen the RISE might get confused on seeing the Run.
They almost look like identical twins but there are minimal differences.
Alterations are evident in the Y-shaped reel frame and the structure of the drag knob.
Redington designed the Run reel to be heavily ported and is non-machinable.
It looks similar to the RISE. We love how open and pretty the design is.
The manufacturer had to do this to ensure it is as in its description.
The porting extends to the spool's base-something that manufacturers don't do when designing lightweight fly reels.
Even before tossing your fly in the water, you will notice that the build of the reel is on another level.
Die-cast reels have a few points with seam lines or faint imperfections after several uses.
Otherwise, for the money, it is an excellent addition to an angler's collection.
---
Performance when Fishing
---
As usual, the drag is the heart of the fly reel and will justify its performance.
This one doesn't disappoint with the carbon fiber drag. Although it is not fully sealed, it does the job pretty fine.
However, being partially open means that the entry of water, sand, grit, scum, and other particles is a common occurrence.
To ensure that this servant continues to serve you longer give it a proper rinse with fresh tap water.
We love what the stet-up is when talking about its start-up inertia which is almost undetectable.
The line flows smoothly as you pull it off the reel's spool.
The drag setting doesn't affect it too. Regardless of how often you dunk the reel, the performance remains top-notch.
The drag knob description by Redington might sound like a marketing gimmick.
We are yet to come across complaints of the knob catching the excess line.
We will make updates if we find any. Redington calls it a recessed drag knob.
The knob is tall and has increased surface area and makes it easier for your fly line to get looped around it.
We love the height as it makes an angler grab and make adjustments easily.
The texture on its surface is ample to give the fisher a secure grip.
As you run the entire setting, the reel produces crisp click sounds all through.
The whole setting will need around 2 ¼ turns. Its spool is slightly loose to ensure that you can smack it easy and put together excess line in no time.
---
Main Features of the Redington Run Fly Fishing Reel
---
Material and Technologies – With a very lightweight build, the reel is made from Die-cast Aluminum that lowers the overall weight of the reel and is a good affordable option than machined aluminum. In its category and price range, the Run is the lightest. Porting on the reel is intense and goes to the base of the spools to ensure minimal weight. As with any other die-cast reel, you need to exercise caution as these don't take up mistreatment.
Arbor Design – The Run features a large arbor design that is sported. It takes a Y-shape to greatly increase retrieval rates. Because of its size, you will hardly experience line memory like with small arbors. Also, the porting on the large arbor ensures that soaked backing dries up quickly.
Drag Knob – Redington designs this one to have a recessed drag knob. Anglers who have used the reel agree that the knob is quite tall and the height is to their advantage when it comes to grabbing and adjusting it. The craftsmanship is superb as the grip is ample to enable you to secure it as you take it around all the settings. As the drag moves, it gives a pleasing click sound.
Drag System – These reels come with compact carbon fiber drag systems that are smooth yet very powerful in any type of environment. The Run reel boasts a heavy-duty type of drag that beats the other reels in its price point as it punches high above its usual weight. The carbon fiber discs increase drag strength and prolong its lifespan making durability worries a thing of the past.
Spool – Its spool is easy to release with the push button. The face of the spool has a small button at the center. If you own a Redington RISE reel, you can use its spool on the Run. So spare spools shouldn't be a problem to find. The spool is perfect for smaller trout lines or the larger ones for freshwater bass.
Reel Foot – Reels with feet that aren't rounded often damage lines because of their sharpness. To counter this, the manufacturer has a rounded foot on all RUN reels to ensure that your line is intact and reduce the risks of damage.
Handle – The handle on this reel is similar to that on the Redington ZERO fly reel and the Redington Behemoth fly reel. It is a plastic knob that is soft to the touch. It works fine and the comfort is what any angler would love.
Retrieve – Redington programs this fly reel for the left-hand side retrieve but you can easily change it to the right-hand side and back.
Case – Even if it is made from nylon material, the reel case comes in handy especially to protect the drag that isn't fully sealed. Covering it helps to prevent the entry of sand and other hindrances that can affect the drag.
Sizes – You can find the reel in three sizes. The 3/4 reel size has a diameter of 3.2'', a weight of 4.4OZ, and 75 yards on 20lbs backing capacity. Reel 5/6 weighs 4.8OZ, has a diameter of 3.6'', and 100 yards on 20lbs backing capacity. Size 7/8 weighs 5.8OZ, a diameter of 4'', and 200 yards on 20lbs backing capacity.
Warranty – The manufacturer backs it with a lifetime warranty to the original owner. This warranty will cater for any defects in material and artistry. Other repairs from accidents will be charged at a small fee.
---
---
Pros – What Shines on the Run Reel
---
An affordable option
Backed by a lifetime warranty to cater for defects in material and craftsmanship
Comes with a nylon case
You can convert the retrieve to either side
Ergonomic soft handle
Line protection is a bonus from the reel foot design
Spare spools available and matches that of the RISE reel
Release the spool with a push button
Recessed drag knob that is easier to adjust
A pleasing click sound as you adjust the reel
Powerful carbon fiber drag system
Ported to ensure it remains lightweight
---
Cons – The Concerns
---
The drag system isn't fully sealed. You must rinse the fly reel especially when you take it to the saline areas.
Die-cast reels need a little more cautiousness because of the manufacturing process that doesn't result in something durable like the machined reels
---
Customer Thoughts on the Run Fly Reel
---
With the large arbor reel, you can focus the pressure on that catch regardless of how stiff the battle is.
How lightweight the fly reel is can leave you forgetting that the housing homes a carbon fiber disc drag. Also, the stopping power is immense always regardless of the situation.
It might not be a premium fly reel because of the die-cast aluminum material but will do the job pretty well. Especially, for the amount that it goes for, it beats the meaning of affordability.
We love that the reel can deliver a streamer, a nymph, or a dry fly without any limitations.
Having to use the spool on the Redington RISE Fly reel is such a great thing. It saves you money and time if you already own the RISE.
As you move from one spot to another with your reel, leader, and tippet, the rounded reel foot protects them and the line too.
Redington has one of the best warranty programs and a lifetime option for this reel is so generous.
---
---
FAQs – Questions on the Redington Run Fly Fishing Reel
---
Q) What type of finish does the Run reel have?
A) We can describe it as a three-color finish. This means that the reel comes in three different colors. The reel is available in sand, black, and burgundy. We love that the color schemes are excellent for saltwater fish, large freshwater fish, and trout in small water.
Q) Is the inner spool width of the 5/6 reel bigger like that on the Redington Grande Fly Reel?
A) No, this one has a smaller width that is approximately 1 inch.
Q) How much does a spare spool cost if one would like to order a few?
A) Depending on where you buy the spare reel spool from, a reasonable price range is from $50 to 60.
Q) Can you use this reel to catch some bonefish?
A) Sure, this is an all-water fly reel and has enough stopping power to handle these chaps.
Q) Will this reel be a good one for the beach?
A) How cautious are you? You need to ask yourself this because since the drag isn't fully sealed, sand can be a hindrance to the functioning of the drag system.
---
Wrap Up
---
Durable die-cast reels are worth trying out.
If you can't by one and badly need to experience it, you can be loaned by a fishing buddy.
Be very cautious about dropping this friend however, because of the construction, extreme ruggedness isn't something to expect.
Like the Behemoth can give action on huge false albacore and tarpon, this one also has its level of brutality that it can withstand.
All in all, cast reels are fine choices for many anglers.
Just like your next-door fishing buddy, we love premium fly fishing reels.
On the other hand, we also have a deeper interest in affordable pieces that have proven to work better than some high-end options.
Something like the Redington Run Fly Fishing Reel is what we are talking about.
It has been able to set itself apart from the competition, especially in terms of weight, value, and performance.
We love the reel pretty much and is one that we can recommend to any angler looking to get something surprisingly affordable yet high performing.
We have other Redington reels, rods, and gear up on the site that you can check out and grab before they are out of stock.
Also, stop by our buyer's guide section for more goodies from other brands.

Last update on 2022-05-27 / Affiliate links / Images from Amazon Product Advertising API
This product was presentation was made with AAWP plugin.