Disclosure:
Just to be open and honest the buttons and links you click on in the website will in most cases take you to another website where you can purchase the products I am reviewing. As an Amazon Associate I earn from qualifying purchases.
July 28, 2022
Orvis Battenkill Disc Fly Reel Review – Disc Drag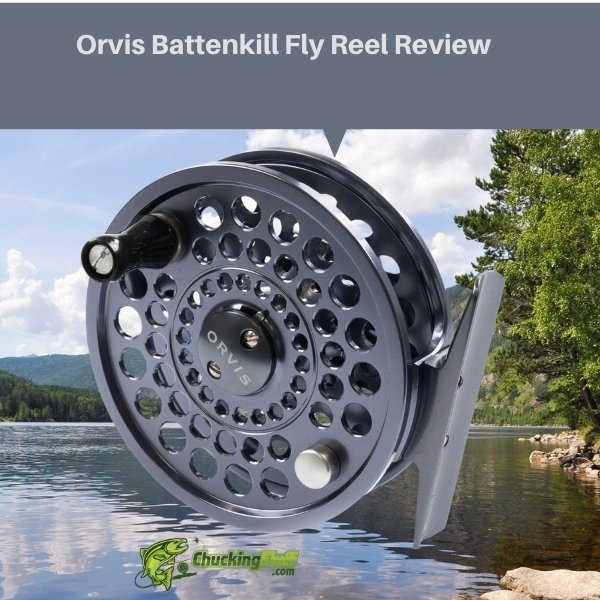 The Orvis Battenkill Disc Fly Reel is one of the staple reels from this legendary brand.
Orvis trusts in frequently updating and upgrading its equipment, gear, and apparel line anytime there are new technologies and developments.
The Battenkill disc fly reel comes right after the release of the company's well-received mid-priced Access Mid Arbor fly reel.
If you haven't had your hand on it yet, you probably have heard or read about it. Engineering is on a different level and so are performance and durability.
Freshwater anglers are gaining popularity because of the existence of numerous products that suit their field of adventure and the Battenkill is one of them.
---
A little about what Orvis did in the overhaul?
---
Being long in the Orvis's history, the iconic Battenkill fly reel underwent a major overhaul to what it currently is.
We love that it received a standing ovation and about four years after the new release, it still is a masterpiece.
Orvis machines this freshwater reel with the iconic disc drag system rather than the clicker drag system in the older design that has stood almost all abuse hence its popularity among anglers.
Its original design has been around for decades but the new model boasts the latest and best technologies that you'd admire in a modern fly reel.
It has since been very easy and effective to use.
Most anglers would love to know if it compares to the finesse of the older click and pawl drag reels.
The clicker drag system in the Older Battenkill has four positions and an option for internal adjustments.
The drag, in brief, can be described as classic but technically advanced. It might not be as top-notch as the disc systems but will sure do the job pretty well.
The good news is that with the drag's technicality, you still won't go bankrupt to own one.
Its price point is ideal for any novice angler or that buddy on a very tight budget.
---
---
Model descriptions
---
Reels available in different models allow anglers to choose the best that matches their needs.
The Battenkill disc fly reel is available in five models that are ideal for combo setups from 1 weight to 9 weight.
You can easily find a size for Ultralight setups on smaller waters and Spey options for those hunting for trophies.
For an Ultralight tackle, the Battenkill I will do. Battenkill II is the best for small streams and rivers.
If you love to go after wily wild brownies or brookies, this is a perfect size. Battenkill III gives more backbone hence its application for larger trout, bass, and others that live in freshwaters.
Trophy chasers will thrive with the Battenkill V or IV for Spey fishing.
---
More into its machining
---
The drag system on the Orvis Battenkill Disc Fly Reel is sealed for more durability and low maintenance.
Forget about the grit, scum, sand, and water getting into the system and seizing it. Orvis builds it from 6061 T6 aluminum for incomparable durability.
The construction is exceptionally neat and the team had a keen eye for detail from start to end.
Anodization on the final real is meant for longevity and for it to be rust-resistant.
The lighter weight is achieved by the drilled porting.
The new design features a mid-size arbor and the spool size is just right to counter line stacking for an improved fishing experience.
We can't dismiss it because it holds less backing. It is a fair amount but not what you find in other reels in its category.
One spectacular feature of the mid arbor is faster retrieval rates.
The retro look is cool and complemented by the laser-engraved logo.
Despite the sturdiness of the reel, the black finish after anodization shows scratches.
This isn't a primary concern but we thought was worth getting a mention for those who prioritize aesthetics.
Drag adjustments will need you to remove its spool and doesn't come with an external adjustment feature.
The benefit is a cleaner design but it could get fiddly sometimes.
Trout fishing is never about power all the time that is why the clicker drag system in the older is applicable for these species.
But for larger species, the new disc design works exemplarily.
The Battenkill is a timeless fly reel that offers simplicity at its best- a factor that most anglers and manufacturers often overlook.
You can stop a trout by holding against the spool to slow it down in the older reels and give optimum control and an angler can customize the drag depending on the situation.
The simplicity of this click and pawl system is guaranteed reliability.
This guy won't die on you, halt instantly, or break.
We love that the drag system is lighter hence making the overall reel's eight lesser because it has a pared-back design.
For instance, the Battenkill II weighs 2.9 ounces and is perfect for balancing shorter fly rods and the Ultralight options.
Making conversions to either side is easy and the Delrin reel handle is comfortable and very ergonomic to grip.
Anglers fishing for prolonged times will have something to love about the handle.
---
Main Features of the Battenkill Disc Fly Reel
---
Materials and Technology – Orvis uses high-grade bar-stock 6061 T6 aluminum which is one of the strongest and lightest to design the new Battenkill fly reel.
It is also bombproof and incorporated the patented Battenkill technology that makes the reel maintains the originality of its parent reel while adding new modern technologies where necessary.
The new reels are machined to improve durability.
It has a ported jewel finish that carries forth the legacy of the old Battenkill fly reel.
This is what gives it the retro classic look while maintaining its strong structure.
---
Arbor Size – The mid-arbor design gives the reel its authentic trout reel feel.
The backing capacity is enough but not comparable to what you find in large arbor fly reels.
But we love that it makes the reel very versatile and efficient.
---
Drag System – Don't get confused here.
The older Battenkill fly reel design had a click and pawl drag system which has since been reliable but not as powerful.
After the overhaul in 2016, the company built the new Orvis Battenkill Disc Fly Reel version of the Battenkill with carbon to stainless disc drag system hence the multi-disc design inside the reel frame cage.
This system is powerful and with adjustable settings.
Also, it is fully sealed to ensure that it remains low maintenance while maintaining durability.
Another benefit is zero startup energy despite the abuse you expose it to and will protect lighter tippets
---
Handle – Orvis designs the new model with a Delrin handle that has been crafted and contoured to improve comfort and complete its ergonomics.
Gripping it doesn't need hand gloves for protection against blisters.
From the majority of anglers, it has no play, doesn't wobble, and gives precise control
---
Sizes and Other Specifications – The Battenkill disc reel comes in five sizes to use with line weights from 1 to 9.
The Battenkill I is for line weights 1 to 3, weighs 4.4OZ, and had a diameter of 2 ¾ ''.
Size II weighs 4.6OZ with a diameter of 3'' and will be ideal for line weights 3 to 5.
Battenkill III measures 3 ¼'' in diameter, weighs 4.9OZ, and is for lines from size 5 to 7.
Size IV weighs 5.9OZ with a diameter of 3 ½'' and will work perfectly for line weights of 7 to 9.
This size has a Spey model that weighs 8.9OZ and has a diameter of 3.7''.
Size IV is another Spey reel weighing 9.9OZ with a diameter of 4'' and works with line sizes from 9 to 11.
---
Pros – The Good!
---
Available in various sizes to suit various applications
A sealed low-maintenance carbon to the stainless disc drag system
A fully machined and comfortable Delrin handle
A versatile and efficient mid-arbor design
Easy to make conversions to either side
A ported jewel finish for a classic retro look
Made from anodized bar-stock aluminum
---
Cons – The Concerns
---
Has slightly less backing
Scratches are visible on the black nickel and might be worth noting for those who are more into aesthetics
---
Customer Thoughts on the Orvis Battenkill Disc Fly Fishing Reel
---
The fly rod has excellent machining and will balance pretty well if you pair it with the right fly rod.
It has a more traditional shape and feels like the older Battenkill reel.
Something that double taper guys should not is going a size high when buying this reel especially if you are planning to put some serious backing on the line.
But if you fish in small streams and rivers, this will not be a very big deal.
There has been no start-up energy that could risk breaking your 5X tippets.
It gives a smooth drag that you can easily adjust and being low-maintenance, it saves you on time and energy.
Spey fans have something to smile about as the bigger reel size doesn't give any line burns or rapped knuckles.
Their hefty weight will balance well on various rod sizes and the stopping power of the new drag is innovative yet as immensely as Spey anglers love it.
The option of the reel coming with a mounted spool and fly line is such a great deal and having to pay considerably less is what most anglers love.
---
FAQ's – Questions about the Orvis Battenkill Disc Fly Reel
---
Q) What do the Battenkill disc fly reels for salmon look like?
A) There are Spey or Salmon sizes Battenkill disc reels with solid backs and come with entirely caged spools.
Q) How do you apply extra drag when using this fly reel?
A) For additional drag, palm the spool rim using your palm or fingers.
Q) Is this a push-button release spool?
A) No. To release the spool, depress the spool latch while at the same time lifting your spool to remove it from the body.
Q) Does the reel need prior lubrication before fishing it for the first time?
A) The reel has been well lubricated before shipping and won't need topping up on the lubricant.
Q) Should I tighten the drag when storing my fly reel?
A) No. Orvis advises that you completely loosen the drag when the reel isn't in use.
---
Conclusion
---
Anglers looking for high-quality but affordable fly reels for trout can consider the new Battenkill disc reels.
You can also get larger sizes for salmon if you are after large size fish.
The bargain price point might make you doubt its performance but customer reviews speak otherwise of it.
It is one of the most affordable yet high-performing options available in various sizes to cater to various angler needs.
Craftsmanship and ergonomics are admirable when you compare it to its parent design.
Although they share a lot in common, the differences in the latter are worth spending on.
We love that Orvis maintained the look but improved the drag system, handle, and other relevant features to better your fishing experience.
Orvis carrying forth the retro classic aesthetics was excellent.
Lovers of aesthetics will need to be cautious while using this reel as the scratches are easily visible on the black finish.
However, if such minors aren't an issue, fish on and fish more with the Orvis Battenkill Disc Fly Reel.
If the reel fascinates you, grab it here.
Once you feel like you can adventure more using Orvis fly fishing products, check our site for an entire section of the same.
The collection is wide and you won't miss a gear or two for your upcoming trip.
---
Last update on 2023-09-28 / Affiliate links / Images from Amazon Product Advertising API
This product presentation was made with AAWP plugin.