Disclosure:
Just to be open and honest the buttons and links you click on in the website will in most cases take you to another website where you can purchase the products I am reviewing. As an Amazon Associate I earn from qualifying purchases.
July 20, 2022
Redington ID Fly Fishing Reel Review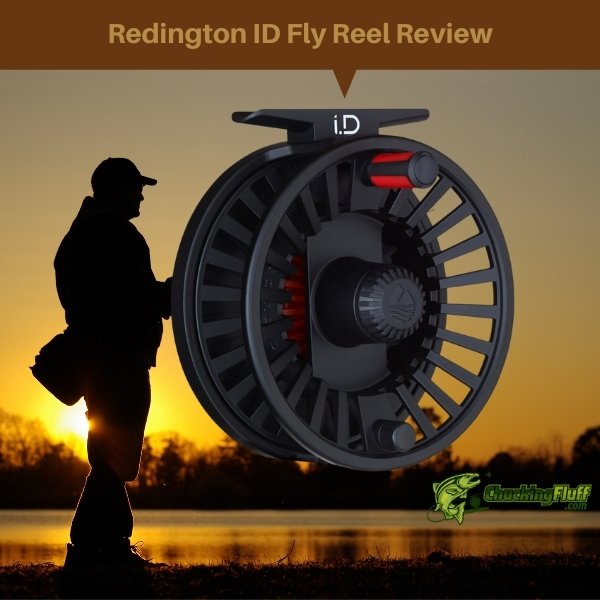 Apart from affordability being the company's core sensitization, Redington is striving to bring anglers compelling fishing reels.
A few years back, right before the release of the Redington I.D Fly Fishing Reel, the brand had made pretty nice upgrades to the Redington Rise Fly Reel.
This came after the release of the Behemoth fly reel– a very affordable, well-constructed die-cast fly reel.
The I.D brings the 'high-end' reels closer with more customization in artistry and at a very affordable price.
Artistry and customization are the norms in the fly reel-making industry.
Brands like Tibor and Abel were among the first to start reel personalization with hand-painted finishes.
The downside is that the resultant fly reels were damn expensive.
Redington saw it fit to play a tougher game but make such a pleasantry quite affordable.
Sale
Redington Reels I.D 7/8/9 Reel, Black
Sturdy die-cast construction with full-frame back which allows easy personalization with decal application
Large arbor design for speedy line retrieve and tippet protection with smooth and strong rulon disc drag
Soft-touch, twin-molded dual Density handle offers supreme grip and control
---
What's the Redington I.D Fly Reel Like?
---
This one doesn't sport a hand-painted finish with superior anodization but comes with a good-looking decal that you can affix to the reel.
The manufacturer makes the decals from highly weatherproof vinyl that is unshaken by the scorching sun or endless storms.
Not unless you want the decal off forcefully, nothing can bother it.
---
A Sure Concept
---
Redington has more than 30 decals with a wide range of designs from summer riffs, the USA state designs, banana jokes, American flags, and fish artwork.
Just like one of its predecessors the Behemoth, this one is also from cast aluminum and the spool defines modernity in the fishing sector.
Inside the sturdy frame, you will notice a Rulon to stainless disc drag system that has been one of the dependable things that Redington swears by.
You can easily remove, swap, or stack the decals anytime you want to update the look of your i.D fly reel.
Redington considers the change in mindset, growth, and a longing for anglers to express their styles in their original form.
Who knows, soon you might spot decals from Tom and Jerry, Mickey Mouse, SpongeBob, and everything intriguing.
---
A few More to Admire
---
The I.D fly reel almost resembles the Redington Crosswater Fly Reel but comes with a back that has a full frame.
It carries forth the large arbor designs from its older cousins for the best line retrieve rates and more tippet protection.
The reel's ergonomics are top-notch with a soft-to-touch handle that has high-quality rubber pads to ensure you are comfortable as you fish.
Since Redington became part of the Far Bank Umbrella, the company is just starting and we haven't been hit by its bag of surprises yet.
The company's experience is evident in the customization and this brings its closest approach to what the fly fishing business is.
The fly reel looks awesome and functionality is on another level. Tests on the various reel sizes confirm of the reel's sturdiness.
The larger fly reel size has no critics of drag hiccupping until now which is good news.
You can bank on its smoothness and for this size, you can chase bonefish and feel like a pro while at it.
Despite being made from cast material and featuring a matte finish, the reel doesn't feel compromised in any way.
It was Redington's way to cut the cost of manufacturing while maintaining affordability for all anglers.
---
The Goodies
---
The company extends its generosity and customer reward program to anyone who buys this reel.
It is backed by a functional and reliable lifetime warranty.
Anglers have an option to choose from the three sizes that the reel comes in-3/4, 7/8/9, and 5/6 all at the same price tag.
However, if you'd like yours to come pre-spooled, this category comes already pre-spooled with the Rio Products Mainstream Fly Fishing Line.
Also, for every i.D fly reel that you buy, Redington includes one decal for you to try out and later come back to pick more that fit your style.
---
Key Features of the Redington I.D Fly Fishing Reel
---
Material and Construction – Simple yet striking, Redington makes the reel from durable die-cast material in black.
There are understated logos as accents on the frame and you can spot some red inside the reel's frame-just where the drag is located and on the reel's handle.
Both the inner and outer sides of the spool have porting but don't extend to the arbor's center.
The slight porting is to tone down on the reel's weight.
---
Frame Design – The back surface of the frame is fully covered and designed to be flat.
Its positioning is quite lower than the reel's rim.
---
Decals – Redington already has over 30 decal designs that anglers can purchase.
They come for cheap and you can own as many as you can afford to lift the look of your i.D fly reel.
You can find them in cool, artistic, or goofy designs. Attach the decal at the rear of the reel and you have a whole new look and mood.
The decals are swappable and stackable meaning there are no limitations to rocking a customized reel anytime.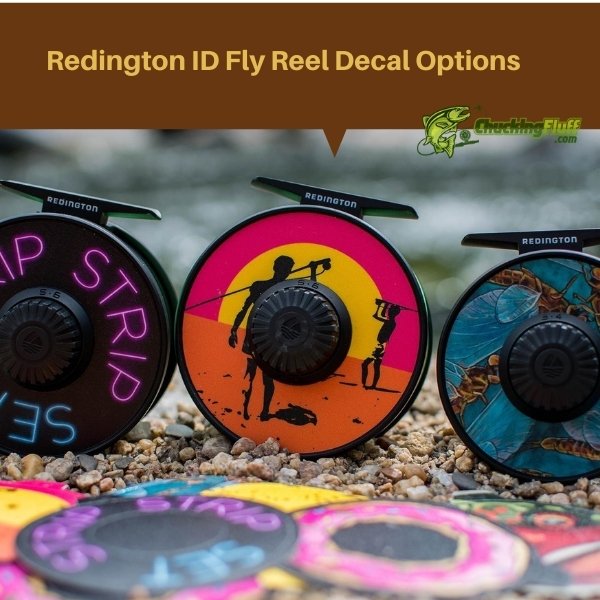 ---
Arbor Design – The reel sports a large arbor design to improve line pickup.
Anglers pairing these i.D reels with freshwater, saltwater, or single-handed rods can reel in the largest buddies quite well.
The design allows for proper line management and tippet protection.
You don't have to think about where your line lands as you play that chap.
---
Drag System – It has a Rulon to stainless disc drag system.
There is very little start-up energy as you gently pull the fly line off the spool.
However, this improves as you pull a little fast. You will not experience any binding or jerking at a higher pace.
The drag system is semi-sealed and you have to be cautious about this as you fish.
Particles entering the drag system can cause hindrance.
---
Drag Knob – The drag knob on this fly reel protrudes out and is visible from the frame.
We find it just fine as it is easy to grab and manipulate when you have to.
Adjusting it comes with a click sound for the 5/6 reel, you will take two rounds or thereabout to adjust the setting from zero to the highest.
---
Spool – Removing the spool is pretty easy.
You have to unscrew the cap and slide your spool off its position.
You need to be cautious as the cap can drop if you are frequently unscrewing.
Spare spools are available for quite less if you want to interchange your lines while maintaining your i.D fly reel. In its class, the spool is the smallest.
---
Handle – Redington designs this one with a twin-molded soft to touch handle with dual density to ensure that the angler gets a secure grip of it.
This handle is similar to the one on the Redington Behemoth, Redington RISE, and Redington Zero fly reels.
It has a slight taper and rubberized inserts.
---
Available Versions – The Redington i.D Fly Fishing Reel is available as a reel only and others come pre-spooled.
If you choose the latter, it comes with a RIO Products Mainstream Fly Line.
Sizes and Specifications – You will find this fly reel in three sizes. Size 3/4 has a reel diameter of 3.1, a weight of 5.7OZ, and 75 yards on 20lbs backing capacity.
Size 5/6 has a reel diameter of 3.5, weighs 6OZ, and has a backing capacity of 100 yards on 20lbs backing.
Size 7/8/9 has a reel diameter of 3.9, weighs 6.7OZ, and has a backing capacity of 200 yards on 20lbs.
---
Warranty – The manufacturer backs this fly reel with a lifetime warranty to cater for defects in crafting and material.
Redington will repair or replace the fly reel depending on the intensity of the situation.
We love that other accidental issues can be fixed a small fee.
---
---
Pros – The Good
---
Customizable design with decals of your choice from Redington
Faster line retrieves
Smooth drag system
Ergonomic handle
Functional drag knob
Pre-spooled reels with the RIO Mainstream line available
Backed by a lifetime warranty
Various sizes available
Excellent fit and finish
Affordable choice
Durable construction
---
Cons – A few Concerns Highlighted by Anglers
---
Slightly heavy than other reels in its category
Slight inertia if you pull the line at a snail's pace
The semi-sealed drag system isn't maintenance-free
---
Customer Thoughts on the Redington i.D Fly Reel
---
There are better reels in the market but don't perform exceptionally or cost quite below $100.
Most anglers won't drop 100 bucks on a trout piece.
They'll do this for a salmon, steelhead, or saltwater reel whose drag is top-notch.
Redington did all the good things with this one.
The drag on this fly reel is pretty tight and the 7/8/9 size can take up any challenge in the freshwater end.
It is beyond the average for trout and fishing for other species in the same environment, it smacks the job.
A few friends have gone drifting with this fly reel and while reels for drift fishing require more drag, the i.D hasn't shown any signs of problems until now.
We love how easy it is to adjust the drag on your fly.
Also, the sensitivity will impress you.
Noticing change sin tension isn't difficult.
Redington designed the spool on the 5/6 reel pretty well to hold a floating or sinking line.
Space is plenty and the arbor design strikes a great balance in weight and balance.
You will enjoy the grip on the reel's handle and hand fatigue becomes a thing of the past even if you will be fishing longer than usual.
---
FAQs – Questions about the Redington i.D Fly Fishing Reel
---
Q) If was to buy the pre-spooled version, should the reel come with a fly line and backing or with the line only?
A) It will come with both the line and backing.
Q) Is this a left-hand or right-hand fly reel?
A) You can set it to any side of your choice ad convert easily depending on the situation.
Q) Will Redington include a fly reel pouch or you have to get how to find one?
A) Redington gives a fly reel pouch for every i.D fly reel you buy.
Q) Is the spool removable with tools?
A) You don't need any tools to remove the spool.
Q) What is the approximate spool width of the 5/6 fly reel?
A) This will be about 1 ¼''.
---
Sale
Redington Reels I.D 7/8/9 Reel, Black
Sturdy die-cast construction with full-frame back which allows easy personalization with decal application
Large arbor design for speedy line retrieve and tippet protection with smooth and strong rulon disc drag
Soft-touch, twin-molded dual Density handle offers supreme grip and control
---
Conclusion
---
While meaning to bring back artistry and personalization to the fly reel, Redington maintained the basic design of the fly reel and included all the vital features any angler would need.
Creating a customized reel is costly and no one expected the i.D to fall below 100 bucks.
But yes, it is Redington and we are proud of the fun reel.
Still simple and functional, we love the decals that you can separately purchase to accompany your style and mood.
It might not be a high-end powerhouse but comparing it to reels in its category is almost off as it has set itself apart from the competition.
We know that there are a few critics here and there but the good aspects still make it shine.
Redington is generous enough to include one decal when you buy the Redington i.D Fly Fishing Reel.
This gives you an experience of what it is like to stock up on more.
The fashion aspect was well thought out and for any angler looking to personalize the look of their wheel will not lack a few pieces.
Still need more fly fishing gear and equipment? We have a buyer's guide section that highlights various brands and their products.
Also, there is more to learn about fishing destinations, tips, tricks, and know-how on various aspects of fly fishing.
Check that out!
Last update on 2022-08-10 / Affiliate links / Images from Amazon Product Advertising API
This product was presentation was made with AAWP plugin.