Disclosure:
Just to be open and honest the buttons and links you click on in the website will in most cases take you to another website where you can purchase the products I am reviewing. As an Amazon Associate I earn from qualifying purchases.
December 10, 2018
Orvis Clearwater Wading Jacket Review – Fishing Ready
You will never go wrong with any wading jacket from Orvis. For one reason, Orvis minds the health of all anglers and that is why the company has maintained its high standards in manufacturing fly fishing gear like the Orvis Clearwater Wading Jacket.
All jackets are designed to be fully waterproof and very protective against adverse weather elements as you enjoy your time in the water.
With professionalism and being in business for over 100 years, Orvis has maintained its top position in the market when it comes to the best manufacturer of wading jackets.
There is no doubt that spending on an Orvis brand equally gives you more than it's worth. Clearwater wading jacket is made from high-grade polyester material making it entirely weatherproof. Despite the heaviness of the storm, you can still rule the waters without getting wet or messy.
For individuals with cold-related illnesses and complications, do not forego your fly fishing sessions. Armed with this jacket, your health is preserved.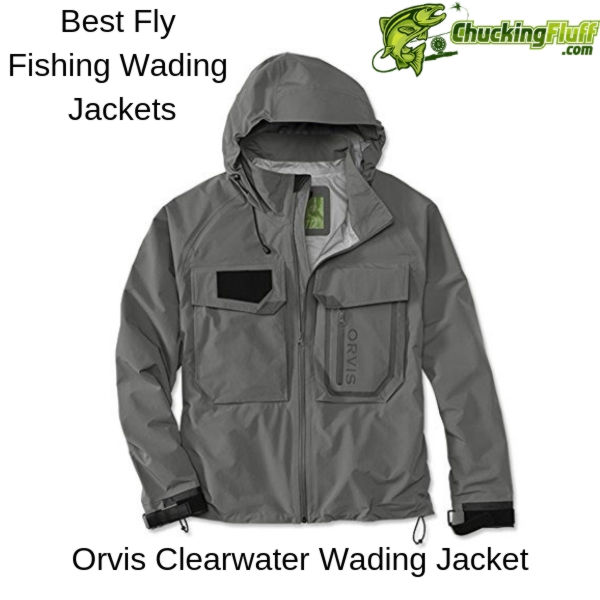 ---
Main Features of the Orvis Clearwater Wading Jacket
Waterproofness and Construction – The jacket is made from 100% polyester material rendering it fully weather resistant and can offer maximum protection against the harsh weather elements during fly fishing. It is usable regardless of the season.
Polyester makes the jacket very light and casting doesn't need you to strain and stretch so much. It features a breathable construction that makes it well ventilated to allow free air movement. You will remain warm and fresh.
Number of Pockets – Three pockets will do just fine as storage places for your fly boxes, valuables and a few small items you carry while going fly fishing.
Handwarmer pockets are lined with fleece to keep your hands warm when not engaged. The two bellow pockets are accessed via a flip cover and the other via a zipper that is weather resistant.
Jacket Length – The jacket has a reasonable length reaching the top of the waist. Your upper body and your pockets cannot get wet even if you wade deeper. All your items will remain safe and dry.
Cuff Closure Type – Velcro cuffs on the sleeves are totally sealed and adjustable. Depending on your wrist size, you can loosen or tighten the sleeves desirably to get a comfortable tension.
Hood Type – The hood features an E-Z design and is spacious enough. If you love rocking a mane or have big sized hair, it isn't limiting. The hood has a layer of fleece to keep your head and neck area warm. It encroaches to your forehead giving you maximum protection against the cold and wind.
Attachment Points – Unfortunately, there are no zinger attachment points on this wading jacket. Only a D loop. That does not mean that it can't perform its protective functions as you wade.
---
---
Customer Thoughts on the Clearwater Wading Jacket
The hood is of the right size and the fact that it is adjustable makes it even better if you have a big hairstyle.
The fleece in the hood was an excellent idea to keep the head area warm.
No leakages so far around the cuffs no matter how deep you wade.
Forget about an under layer of clothing when wearing this wading jacket.
Orvis Clearwater Wading Jacket is the best when it comes to warmth provision.
The inner pocket is smaller and with the new smartphone designs, they can't fully fit in it.
There are no zinger attachment points on the jacket where you can attach your landing nets. Still makes the jacket functional though.
On matters of length, the jacket exceeds the length of a deep wading jacket. Good news is that no matter how deep you go, the pockets remain dry.
The jacket is of a hard material and doesn't get heavier when it holds water. That is a plus to its comfortability when the weather gets bad.
Pockets are a bit larger than how they look in the pictures. Not a bad thing though especially if you have lots of accessories or personal items with you.
The hood keeps water off the eyes but doesn't affect your peripheral vision. Even in glasses there are no obstructions whatsoever.
The Velcro on the cuffs at times catch the ones on the top pockets making it difficult to cast with ease. You will have to keep confirming if they are well secured.
Despite the jacket being lightweight, it isn't enough to be packed in a bag as you head for the shores or banks.
---

Pros – This we liked about the Clearwater Jacket
Lightweight
Fully weatherproof
Breathable construction
Fleece lined hand warmer pockets
Comfortable fit
Adjustable hood
Cons

– Things not so good
Inside pocket is a bit small
Jacket isn't packable
No zinger attachment points
---
FAQ's – Questions about the Orvis Clearwater Wading Jacket
Q) What are the sizes available? I want a very small size for my son.
A) Sizes available are extra-small (30-32), small (34-36), medium (38-40), large (42-44), extra-large (46-48), double extra-large (50-52).
Q) What material is used to make the jacket and how long does it take to dry after a wash?
A) The jacket is made from 100% polyester material which gives it a very quick drying ability.
Q) Which categories of fits can I get this jacket in?
A) This one is available in three different fits- classic, trim and active fit.
Q) Can I machine wash warm?
A) No, this jacket is made of 100% material which will be affected if machine washed warm or hot.
Q) Do I need to dry clean and iron my jacket to remove creases?
A) No. you can air dry or tumble dry low.
Q) How many pockets does this jacket have?
A) The jacket has five pockets on the outer side- three storage bellow pockets and two handwarmer pockets.
Q) How much does the medium size jacket weigh?
A) The jacket is very light and weighs 1lb.
Q) Are items in the pocket safe even if I wade deeper?
A) Storage pockets are accessed via YKK Aquaguard zippers which are weatherproof and the other a flip cover. Your items will remain undamaged no matter the depth.
Q) Which type of cuffs are on the sleeves?
A) The Velcro cuffs on the jacket are fully adjustable and create very watertight seals.
Q) Does it have a tuck-away hood?
A) No, this one has an E-Z design that encroaches to the forehead area protecting your entire head from the effects of weather.
Q) Are there any attachment points?
A) No zinger attachment points there, but a D loop is present to perform a similar function.
---
---
Final Verdict on the Orvis Clearwater Wading Jacket
Orvis did not fail in this one. Despite a few critics from customers, it still is loved by many for its features. Mainly is the protective function against weather elements like wind, cold and water splashes.
Considering that it is made from Polyester, it is fully waterproof and breathability is enhanced by the mesh fabric in the jacket that allows for free air circulation leaving you warm and dry. You will love its closure types.
Especially the YKK Aquaguard zippers that are made from durable material and are all weatherproof. Your chest area accessed by a zipper remains dry and warm at all times. The upper pocket with a zipper can fit your fly box and won't be damaged by water or mud.
Orvis is concerned about how you handle the jacket after purchase. There are care instructions that come with it that should be followed to the latter to increase the jacket's durability and prolong its lifespan.
Wash it in cold water and use detergent made specifically for breathable and waterproof fabrics. Air dry or tumble dry low. Keep off fabric softeners, iron boxes and dry cleaners.
Anglers love to order good products with excellent features. Sometimes, your favorite only store could run out of the Orvis Clearwater Wading Jacket. No worries.
There are alternative wading jackets with almost similar features and in the price range of this one from Orvis. Hodgman Aesis Shell Jacket and Patagonia Minimalist Wading Jacket are good options.
---
Last update on 2023-12-08 / Affiliate links / Images from Amazon Product Advertising API
This product presentation was made with AAWP plugin.