Disclosure:
Just to be open and honest the buttons and links you click on in the website will in most cases take you to another website where you can purchase the products I am reviewing. As an Amazon Associate I earn from qualifying purchases.
March 2, 2021
Simms Freestone Wading Jacket Review – Layer Protection
Simms has gained worldwide recognition for its unmatched dedication to the outdoorsman's love for sports.
The angling side appreciates it even more because the company understands fishers' needs and delivers just that.
Since 1980 in the hands of John Simms, the company has been flourishing and to date, its reputation is what draws more novices to it.
As winter approaches, the Montana-based firm purposes to keep every angler stepping out dry and warm. Made by anglers for fellow anglers, their products have proven to be high-quality and very dependable.
For Instance, the Simms Freestone Wading Jacket is a must consider for this season because its type of construction and performance suits it.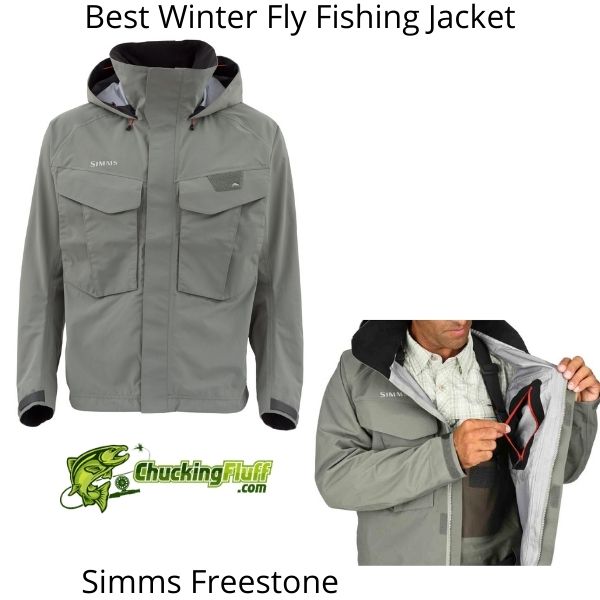 ​
A bit of History on the Simms Freestone Jacket
Fly fishing anglers are widely considering top-of-the-line jackets to cover their uppers and protect their chest areas from the effects of low temperatures and wind gusts.
Once a product is designed, it is rigorously tested for performance and durability before a few samples are issued to guides for reviews.
After passing this stage and Simms launched the wading jacket, the reception was exceptional.
Even in extreme conditions, Freestone jackets keep the wearer dry and with proper layering, warmth is guaranteed.
A little into its construction,
The Freestone line of products is one of Simms's affordable options. Affordability here doesn't mean cheap and crappy.
Its quality and performance live up to the company's reputation.
Besides being recommended for the cold weather fishing times, anglers have stepped out in it during other seasons and the feedback is awesome.
Currently, the Freestone jacket is available in Striker Grey and sizes from small, medium, large, extra-large, and double extra-large.
Most cold-water fish are spookier in the winter and the grey color isn't going to alert these chaps of your presence.
It features a frontal access zipper and large chest pockets with storm flaps. Such a feature is vital for storage reasons.
You will need several flies to toss to different species and a good place to throw your boxes is needful.
"We love the simple cut and minimalistic design"
Looking at it from the front area, what you see are the chest pockets with their flaps, the Simms Logo well-embroidered on the top of the right chest pocket, and the hood.
It is the minimalism yet full functionality for us here. It is one of the best rain and wading jackets for winter.
---
The Technologies Involved in Making the Freestone Jacket
There is so much that a company puts in a design to make a product what it is. Simms did it differently this time and so far, so good.
Most anglers are used to the Gore-Tex technology common in Simms apparel. The company tried a new one this time and anglers are loving it.
This is the Toray QuadraLam technology. If you haven't started angling yet, this term might not mean much but for a fervent angler, it is everything you need in a winter fishing jacket.
Simms manufactures a wide range of clothing and apparel but the Toray QuadraLam technology was specific to wading jackets and waders.
The fabric is heavy-duty and has a micro-porous coating known for its high waterproofness.
This construction uses two layers of coated fabric, one membrane layer, and a good-quality tricot backer for more durability.
Another technology you might have seen in other wading gear is the YKK. Metallic zippers are often affected by corrosion and experience breakage faster than other zippers.
YKK zippers are made from a high-grade nylon material to counter such occurrences thereby boosting functionality and longevity.
The guys at Bozeman describe it as an angler-driven jacket because they are designed to be functional and comfortable.
Simms uses the articulated patterning and center seam construction to prioritize every angler's fit.
Check Freestone Web Availability
Key Features of the Simms Freestone Wading Jacket
Fabric Construction
We must agree that it was a high pass for this design. The main material of the freestone jacket is pure nylon to enhance the weatherproofing properties of the wading jacket.
The three-layer Toray QuadraLam technology improves the fabric's breathability and waterproofness without interfering with comfort and durability.
Pockets
The pockets aren't so many like what you spot in other wading jackets. This one is for the minimalistic guy who needs what's enough.
There are two large chest pockets. One on each side for storing your fly boxes and other tools you will need closer to you.
Unfortunately, there are no handwarmer pockets for toasting your hands when they get icy. You need a pair of gloves for the colder months to avoid freezing fingers and improve dexterity.
Simms designs this wading jacket with an inner stash pocket for other items like extra layers and your personals.
Zipper
There is a frontal zipper that runs from the neck area to the hem of the wading jacket.
It is covered by a storm flap to prevent the entry of water and wind that will affect your health if you haven't layered properly.
For all the zippers on the Freestone Wading Jacket, Simms uses Aquaguard technology to make the nylon zippers that are corrosion-resistant and very durable.
Attachment Points
Not as many as you will find on a fly fishing vest, this one comes with one net D-ring and one fly patch.
A fly patch is excellent for keeping your go-for flies so that these favorites are as closer to you as possible.
Also, you can keep your used flies on them and allow for quick drying before storing them in their fly boxes. It is a good way to prevent them from staining and rusting.
You can attach your fishing nets on the D-ring or use it as an attachment point for your hanging tools and gear.
Seams
All the seams are fully taped and made to be waterproof to prevent any chances of leaks.
They are designed as low profile and almost inconspicuous to give a proper fit to the wearer.
There haven't any reports of leaks through the seams from previous and current users. This is a surety of dryness when out on the water.
Cuffs
We are used to seeing Dolphin Skin cuffs on most wading jackets but this one is different.
The manufacturer designs them with an anti-catch mechanism to prevent your fly lines from getting trapped by them.
Also, they prevent snagging as you go about the low-hanging forage. The fit at the wrist area is great and picking the right size guarantees that the cuffs will not run up your arms.
Hem
The hem is completely closed and doesn't have air pockets that can let in wind and cold air.
This is another waterproofing feature that has worked well especially when wading in waters high above your knees.
Hood
A hood is a good headwear when fly fishing in winter. This one is large enough and can go over your hat to prevent the rain from wetting your head.
Also, it has three adjustment points that you can choose from to get a proper, secure, and comfortable fit.
It is a stow-away design that can't get in your way when you don't need it on your head.
"Check out some of our other Buying Guides"
Pros – The Good about the Simms Freestone Wading Jacket
Excellent construction
Easy to clean and maintain
Available in various sizes
Minimalistic design
Lightweight and perfect outerwear for winter
High waterproofness levels
Great breathability
Easily packable
Cons – The Concerns though not Deal-breakers
Be careful when passing through dense thickets as the thorns and twigs could rip the Velcro on the cuffs.

No handwarmer pockets.

Customer Thoughts on the Simms Freestone Wading Jacket
You can't compare this wading jacket to most of the high-end winter jackets as it performs exemplarily.
It keeps you bone dry and has proven to be a solid alternative when it comes to affordability without compromising performance.
The quality is on another level. It could be because of the new technology that is working as well as Gore-Tex.
One concern is the lack of handwarmer pockets. Maybe, I brushed this off by concluding that their exemption was to maintain the jacket's minimalistic nature.
The good thing is you can save a few bucks for two or three pairs of winter fly fishing gloves to use with this jacket when the temperatures fall so low.
A few seasons of using this freestone wading jacket and to date, I cannot report any leaks.
This is one of the things to be watchful of if you mind your health more than the fun.
At a weight less than a kilogram, this is among the best options for a backpacking angler or one on transit.
It is very lightweight and packs down well. This also makes it dry very fast as compared to most winter fly fishing wading jackets in its range.
The hood looks smaller but it actually isn't.
Some of us with volumes of hair love to get a proper fit that covers the whole head and can extend to the fore-head-just in case the weather becomes nasty and you don't have a dryer to dry that mane.
For the colder mornings and late evenings, this wading jacket offers more warmth.
Its waterproofing feature ensures that you stay dry and the fabric construction retains your body temperature.
Also, with proper layering, you will have absolutely nothing to worry about.
FAQ's – Questions about the Simms Freestone Wading Jacket
Q) Does the Simms Freestone Jacket have vent pockets to dissipate heat when the temperatures inside your underneath layers are higher?
A) No, there are no side vent panels for this but breathability from the Toray QuadraLam technology is dependable. Also, ensure that you have the right types of underneath layers to prevent overheating.
Q) How do you adjust the hoodie on this jacket? Does it have press studs?
A) There are no press studs but the hoodie comes with a drawcord that you can adjust at three points. You can choose the one that is perfect and comfortable for you.
Q) Does the waistline have a way of securing to your body or it is left open?
A) If you are worried about the entry of weather elements through the bottom hem, worry not. The hem closure comes with a Bungie cord to ensure that you can secure the jacket properly and seal out any water or cold air. Even if you get dunked in water and back out, you can be sure to remain dry.
Q) Are the cuffs stretchable?
A) The inner wrist cuffs are stretchable and provide a snug fit in the wrist area. This also locks out all weather elements.
Q) Are there any points for your forceps and clams?
A) There are some useful inbuilt retractors for such gear that you need closer to you.
"Check out some of our other Buying Guides"
Wrap Up on the Simms Freestone Wading Jacket
Simms deserves a big thumbs up for this one. The material technology makes the Freestone wading jacket tough and very durable.
We love that it is tear-resistant and as you maneuver the thickets and forests to the mountainous streams, you need not worry as such.
However, be careful of your Velcro in the cuff areas as they can easily get ripped by hanging branches and twigs. But you won't fall victim to prickly bushes and briars that could ruin the jacket.
If by any chance yours gets a tear or is damaged, you can take advantage of the Simms warranty program.
One of the common praises from previous and current customers is an excellent fit.
The Simms sizing chart for this jacket is so accurate that there have been no complaints of an improper fit.
Finding the correct size shouldn't be a problem. The cut is also form-fitting and won't be tight and restricting.
You will be using it as outerwear over your underneath layers so it mustn't be too tight to hinder proper blood circulation.
If you have a few fly fishing locations on your bucket list this coming winter and need a bomb outerwear for your uppers, the Simms Freestone Wading Jacket is what you should drag to your cart.