Disclosure:
Just to be open and honest the buttons and links you click on in the website will in most cases take you to another website where you can purchase the products I am reviewing. As an Amazon Associate I earn from qualifying purchases.
August 10, 2018
Simms G4 Pro Wading Jacket Review – Gore-Tex Ultimate Dryness
Simms Fishing are the manufacturers of high quality fishing apparel, wading equipment and accessories. The Simms G4 Pro Wading Jacket is your all time protective wear when going fly fishing. Its ability to keep you warm, dry and protected from the adverse effects of a storm or cold are made possible by the various technologies used in designing this jacket.
From the cuffs to the hood, it is undoubtable that you can easily survive a mighty storm if you have it on. Simms has been in the recreational and sporting business since 1980. 38 years later, it has proven to be among the top listed manufacturers of fly fishing products in America and beyond.
The authenticity of their products including the G4 Pro Wading Jacket is a guarantee of their high regards and value to all customers. Any apparel from Simms has its logo on it to allow you to be sure when shopping.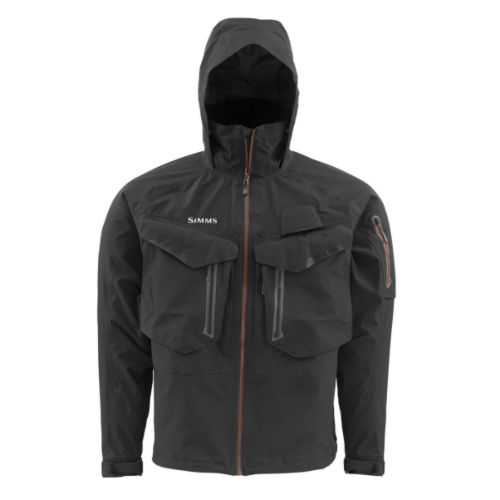 Check here for Upgraded Jacket
---
Main Features of the G4 Wading Jacket
Waterproof – Simms G4 Jacket is designed using the GORE-TEX® PRO SHELL technology that makes it fully waterproof. This adds to the jacket being light and ensures you are a float at all times. Count on the PRO SHELL technology for maximum breathability at all times leaving you feeling fresh while fly fishing during summer.
Number of Pockets – A jacket with many pockets is perfect to allow you store your valuables and small personal items. This jacket has 9 pockets that are easily accessible. On the chest are two bellowed pockets and two zippered pockets. Others are one sleeve pocket, two tippet pockets, one large storage pocket at the back and one internal pocket.
Length of the Jacket – The jacket has a reasonable length that reaches the waist area and is secured by a dual draw cord in the bottom hem. Wading deep doesn't get your pockets wet as they are on the chest position, even the large back pocket is placed high so out of the way when deep wading. This keeps your stored items dry and free from water damage.
Cuffs – This Simms G4 Pro wading jacket uses the Dry Cuff engineering technology that causes a water blockage at the sleeve so you can dip your hand into the water to release a fish without getting your undergarments wet.
Hood – A storm hood keeps your head, neck and face area protected from adverse weather elements when fly fishing. The hood is big enough to accommodate your head and any hairstyle you have on which is a great feature. The three points of adjustment allow you to get a perfect tension that is comfortable. Designed as a tuck-away hood, when you are not using it and need your head out, tuck it away for later.
Attachment Points – The Simms G4 Pro wading jacket has two tuck away zingers on the front of the jacket to attach clippers, forceps or floatant bottles. It also has a fly patch on the upper left chest which can be removed and tucked away when not in use.
---
Customers' thoughts
The tuck-away hood type is big enough to accommodate any hairstyle and with the three adjustable points, getting a perfect tension becomes easy.
The back pocket is large and can be used to store bigger sized things like lunch packs and boxes and you will not need to carry extra bags.
This jacket has three layers sewn together and the level of protection offered is incomparable. You also do not need an under layer of clothing to make you feel warm as the jacket is quite heavy, at 23oz one of the heaviest out there. The new model has been reduced as it was 15% heavier. When the rain is pouring you do not feel cold unlike other lighter showerproof jackets.
Cleaning and maintenance is easy because no bleach or fabric softener is needed.
Over washing the Wading Jacket will lead to damaged adhesives and tapes. There will also be a peeling effect which interferes with the quality, performance and durability of the jacket.
---
Pros – Things we liked
9 pockets to store your accessories and valuables
Waterproof zippers made using the YKK technology
Adjustable and tuck-away hood
Weatherproof dry cuffs
Adjustable bottom hem using a dual draw cord
3-layered jacket for maximum warmth
Woven backer construction for breathability
Fully waterproof jacket
Comfortable and durable
Easy to clean and maintain
Dry on warm to reactivate DWR coating
Lightweight jacket
Cons – Things not liked
The main thing customer complained about was the price. However if this jacket can last you 5 seasons which is common its comparable to cheaper jackets that are nowhere near as comfortable and waterproof.  So its an investment that will pay you back in the long run you just need to make sure you look after it and take special notice of the washing and care instructions.
---
FAQ's – Questions about the Simms G4 Pro Wading Jacket
Q) The last G4 Pro I had didn't last long. It began peeling after the second season why?
A) It is important to read the manufacturer's care and maintenance instructions on the tag of the jacket. Peeling is brought by over washing the jacket with the wrong detergents. If it isn't so dirty, just wipe it.
Q) Can I use a bleach or softener on it? I love my jackets stain free, less static and smelling nice.
A) No. It is not advisable to use bleaches and fabric softeners. Use a mild detergent recommended by Simms and its quality will remain the same for a long time.
Q) How big is the back pocket?
A) The rear pocket is big enough that you can drop in your water bottle or lunch pack.
Q) Where are the attachment points so that I can be sure they are reachable before purchasing a few pieces?
A) The front part of the jacket has two tuck-away zingers for your floatant bottles, clippers and forceps. There is a fly patch positioned on the upper region of the left chest.
Q) My head is small in size. Does the hood have adjustment points?
A) Yes, the hood has three adjustment points that you can use to find the right tension.
Q) What sizes does the jacket come in?
A) You can get it in small, medium, large, extra-large and double extra-large.
Q) What is the approximate weight of the jacket? Is it bulky?
A) The jacket weights 23 oz. and is light when worn.
Q) Is the bottom hem adjustable to make a good fit at the lower body area?
A) The bottom hem is adjustable using a dual draw cord and you can find a good tension by drawing the cord towards your body.
---
Final Verdict on the Simms G4 Pro Wading Jacket
Quality and performance are what Simms had in mind when designing this jacket. In this Simms Pro Wading Jacket Review, you confirm that every feature works towards your protection and comfort. The three layer GORE-TEX PRO SHELL construction is an excellent feature and technology of this jacket that you will love. This makes the whole jacket warm to wear anytime. No extra under clothing is needed.
The waterproofing levels are very high, this jacket is what you need for the perfect fly fishing experience. For durability and maintaining the high quality of this jacket, following the manufacturer's instructions on the tag is important. Things to note when cleaning the jacket notes should be strictly followed to ensure the jacket is well maintained to last longer. Simms made this jacket with 9 pockets at different positions to give you enough storage space for your fly fishing accessories, valuables and lunch boxes at the back compartment. This is a great feature of this jacket.
Not only is the jacket a usable wading jacket in that you have all the main items required in a fly fishing wading jacket, for instance good large pockets, zinger attachments, good cuff waterproofness so when casting the water doesn't run up your arm. Also, the ability to keep you out fishing in really bad weather when others are turning for shelter so you can catch more fish.
However, a really good and probably a life saving feature is the ability for you to take a dunk by slipping off rocks into cold water to be relatively dry when you get out. A pair of breathable waders and the jacket over zipped up will give you a really good waterproof protection so as long as you scramble out quickly there is a good chance you will still be dry and able to continue fly fishing. Not a feature on lower priced jackets as their waterproofness is not as good.
There are a couple of alternative jackets but still of the same quality and performance as the G4 Pro Jacket. The G3 and Guide wading jackets by Simms are in a similar price range of the G4 Pro wading jacket and are options in case you miss the Simms G4 Wading Jacket on the online stores. Other wading jackets in the top range are found here. The protective features of this jacket are a guarantee that your health is a major concern to Simms Fishing.