Disclosure:
Just to be open and honest the buttons and links you click on in the website will in most cases take you to another website where you can purchase the products I am reviewing. As an Amazon Associate I earn from qualifying purchases.
June 10, 2019
Orvis 2019 Clearwater Fly Fishing Combo Review – Rebuilt Better!
You might be familiar with fishing because you love to devour roasted trout or salmon in coconut milk.
However, you might be missing how it got to your plate. It could have been caught by a fly fishing avid angler who finds the sport fun.
If you find interest in it, you need to brace yourself with patience and dedication towards nurturing the skill.
All this is made easier by a good fly fishing outfit like the 2019 Orvis Clearwater Fly Fishing Combo.
If you are a novice, don't purchase those colorful or fancy fly fishing combos from an unnamed retail store with the cheapest price tags.
Instead, you need to try a proper and reputable company like Orvis with perfect fly fishing outfits for beginners.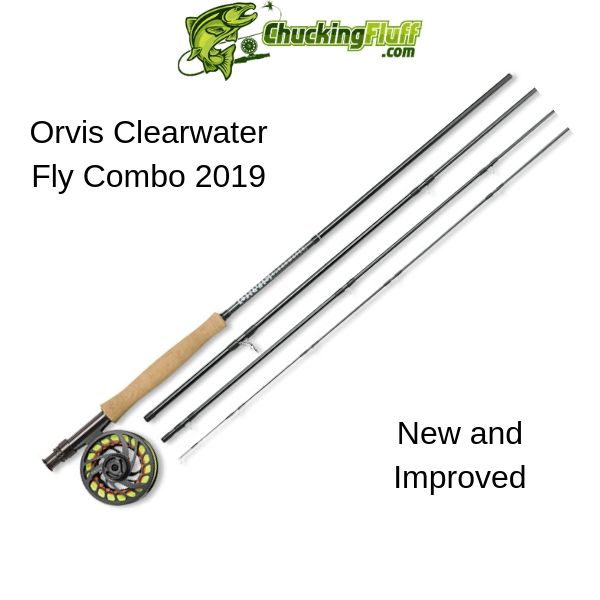 Back to our golden package from the legendary Orvis. Nothing makes things easier like a well-crafted full package that comes ready to use.
Amateur and pro anglers will agree that it is time-saving and cost-effective. The 2019 Clearwater 9' 5wt outfit deserves accolades.
Even with everything else, it has proven a surprising truth despite being new in the market.
Top to bottom, the manufacturer has taken a leap to the front by redesigning the famous Clearwater series.
Its offerings to this great step have outdone their fiercest competition and this is one of the manifested examples of this resurgence.
The 2019 Clearwater 9ft 5wt fly rod is a bargain. Join to that everything inclusive of the pre-rigged 2019 Clearwater IV Fly Reel and you get an entire package that comes ready to use.
This combo is a fantastic all-rounder and excels at all casting distances. Fly rods are major tools in angling.
Well, anything even the bamboo-made fly rods will catch a fish. But do they get the job well done when all factors are considered?
This doesn't mean you need something very expensive. You just lucked in one heck of an excellent tool if you buy this package.
I can't be really sure if this rod and reel combo is impressive to all professional anglers because of their level of skill.
But hey, once in a while you need to remember how you started crawling until now that you can hop, skip, and jump.
This could be an entry combo but any angler with experience won't deny its excellence in performance and construction.
We are talking of the new upgraded version of the last generation of Clearwater combos.
It is interesting that Orvis brings out simplicity in the packed Rulon disc drag in the die-cast large arbor fly reels.
The whole thing is damn almost bombproof. The reel has a silk smooth pickup and is way above the value you'd expect in an outfit kit fly reel.
Let us find out what components Orvis has in this outfit.
---
Main Features of the 2019 Orvis Clearwater Fly Rod Outfit
This combo has been built a new and with the new technologies used during manufacture, the result is a ready to use outfit that needs you to attach your favorite fly and hit the waters.
The package consists of a 2019 Clearwater 9ft 5wt fly rod, a 2019 Clearwater fly reel, a Clearwater WF fly line, a Dacron backing, a tapered leader, a sectioned rod tube, and the famous 25 years Orvis warranty.
Read further to enlighten yourself on features of each component.
---
Key Features of the 2019 Clearwater Fly Rod
Rod Action – There is no magic in how well a medium action rod like this 9ft 5wt functions.
Apart from the sturdy construction, the medium action allows the rod to load pretty fast.
It casts well at longer distances and if you are using nymphs for trout, you easily feel the strike unlike when using fast action rods.
Reel Seat – Leave alone, how appealing the seat looks. Nickel aluminum is a high-grade material that is lighter and works well in trout rods.
There haven't been any issues of corrosion or rusting with exposure to saltwater until now.
Handle – Full Wells Cork handles are durable and the commonest in lighter fly rods without fighting butts.
This one is comfortable to grip for longer periods without feeling fatigued or getting bruises. Thanks to the filler and finish that makes it smoother and prettier.
Pieces – This 5wt is a 4pc rod. Sectioning it was a good idea to make storage and transportation easier and safer.
Once you disassemble the rod and put each piece in its place in the tube, it can fit in a backpack or trunk without difficulty.
---
Key Features of the 2019 Clearwater II Fly Reel
Retrieve – Both the Clearwater II and Clearwater IV fly reels are programmed with the left hand retrieve.
No worries if you'd like to retrieve from the right-hand side. It is easy to change sides using the spool and reel on your convenient side.
Large Arbor – This is to your advantage since this size greatly increases retrieve rate hence less reeling.
As you reel, bigger coils of the fly line come off the reel making it easy to cast with the fewest possible tangles. Large arbor reels have consistent drags.
Drag System – Orvis chose the Rulon to Stainless stacked disc drag for the Clearwater fly reels.
This combination is powerful and allows you to stop very large fish and have wide options of operating ranges with regards to drag settings. The smoothness is superb and consistency in retrieve performance is one of its own kind.
---
Orvis Clearwater Fly Line Key features
• Environmentally fit packaging – The paper pulp spool, the newest by Orvis is made from purely recycled cardboard and high-quality craft paper. The entire thing is easily biodegradable protecting natural resources
• Orvis Line ID – you can easily identify your line because it is well printed with taper, functionality, and weight. No more guesswork.
• Braided core – the core is braided with multi-filament for out-performance in any condition whilst sporting in any waters.
• Welded loop – its welded loop is enhanced, durable and new and makes the leader quickly and easily attach. The loop allows for a better turnover.
• Tapered leader – Fully designed in Manchester Vermont, the tapered leader is of high quality and the tapers hardly wear off.
---
More Items in the Package:
Orvis Clearwater WF Fly Line – The fly line is efficient and high performing. There are several technologies like the micro-texture and a patent additive that are incorporated during craftsmanship. All these are responsible for reduced friction, high floatation ability, longer casts, clean lines, and easy rod loading. The welded loop allows for quick and easy rigging.
Dacron Backing – With a Dacron backing of 100 yards at 20lbs. for a 5wt, this is a reasonable size with low friction to give maximum insurance against the drag blistering species of fish like the bonefish and steelhead.
Tapered Leader – This specially designed leader has a long and heavy butt to increase turnover power. The front taper is supple for delicate presentations.
Rod Tube – The grey rod tube has a sectioned interior that allows for easier storage of the rod pieces individually in their own sections. This ensures you can transport it risk-free and protect it from exposure to dirt, dust, and moisture when not in use.
Orvis Warranty – Orvis issues a 25-year warranty on this outfit to cover any defects in craftsmanship and material. The remedy is an unquestioned replacement as long as you reach the service team within the first days of discovering faults. Other repairs and services are charged a small fee.
---
Customer Thoughts on the 2019 Clearwater Outfit
There has been nothing as awesome as this package in a long time. Orvis has the perfect combination that a learner or amateur can use to hone their skills. In fact, even a professional can use it without any problems.
Having this outfit is cost saving especially now that it comes already rigged and ready to use. At its price, this a lucrative deal for someone looking to spend reasonably without going overboard.
The cosmetics of each component are without blemish. The performance of this 5wt combo is beyond words. It is a versatile combo and if well taken care of, it can last many years.
Perfection is what any angler who has used this comb and others from different brands can say. It casts well at any distance and the smoothness in operation is ideal for anglers who are new to the game.
Backing the combo with the 25 years Orvis warranty is another bonus to help you save more especially if you are looking to venture into angling and are on a tight budget. The repairs cost very little and you will love this feature.
---
Pros – Things that shine on the Clearwater Combo!
Versatile combo
Comes ready to use
Affordable
Durable construction
Backed with a 25-year warranty
Usable by anglers of all levels
Low-maintenance combo
---
Cons – Things that are not so cool!
Like in the individual reviews, there hasn't been any drawback yet presented by current users or owners. In case of any setback, we will have you updated to ensure you make a good judgment before making any purchase.
---
---
FAQ's – Questions about the 2019 Orvis Clearwater Fly Rod Outfit
Q) Does the combo suit anglers in saline environments?
A) From the construction, it would work just fine. However, for longevity purposes, ensure you give the reel a good rinse to avoid damage since it is ideally made for freshwater use.
Q) How heavy does this outfit weigh?
A) Possibly lighter than the previous version. In the product details, Orvis says the remodeled version is lighter than what was in the last Clearwater generation.
Q) Could this new outfit be fit for beginners who know nothing about fly fishing? Especially with the kind of rod action?
A) This is a highly recommended combo for beginners because of how forgiving it is. You really mustn't start with a slow-action rod. Even the medium action will do okay.
Q) Does it need any assembling upon reception or before use?
A) No. This one comes as a ready-to-fish package. The reel is already rigged and you only need to attach a fly and fish.
Q) Is the Helios Taper technology still the same one used in the new version of the rod?
A) Certainly. This is among the technologies carried forth from the older version.
Q) Must you balance the rod in this combo with the Clearwater fly reel?
A) Not necessarily. If you have any other compatible fly reel, it can work with the Clearwater fly rod.
Q) Does it mean that Orvis Clearwater combo and 2019 Orvis Clearwater combo are totally different in structure and performance?
A) Yes. Orvis might have still maintained the price of the components of this combo like the previous one but the two have major differences in construction and performance.
---
Final Verdict – Is the new Combo a worthy deal?
We wouldn't say no. Especially after it has taken Orvis over two years to design and remodel the Clearwater into the new version for 2019. It deserves all hats off. For the much it goes for, it is a bargain-buy fly fishing combo and you won't find any matching quality at such a price.
Orvis has worked hard to put together this fantastic product. The action is already something that novice anglers would love to use. The softer tip for tippet protection makes it assuring for a beginner to take on the journey.
The combo handles a number of flies very well. If you check on the build quality, you will realize that you can't match it with combos in its price range. The new Clearwater combo is a true winner, especially in the beginner-level rod market. Its stellar performance is what anyone cashing out for this package would appreciate.
Whether a new or old angler this blue-collar fly fishing outfit has found its place in many angler's homes. There is no doubt that with proper care and maintenance, this fly fishing combo will last decades. You can order it and share with us your experience in the comment section.