Disclosure:
Just to be open and honest the buttons and links you click on in the website will in most cases take you to another website where you can purchase the products I am reviewing. As an Amazon Associate I earn from qualifying purchases.
November 10, 2021
Orvis Men's Clearwater Waders – Value and Function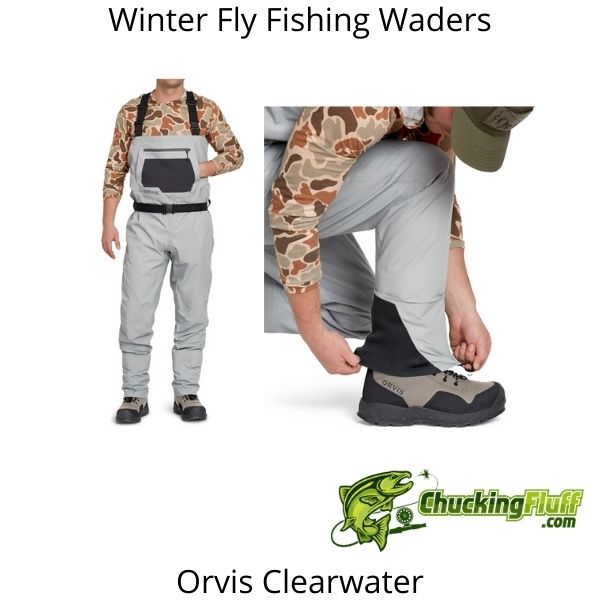 Winter is here and in the middle of a pandemic where lockdowns and social distancing are the norms, stepping out to fly fish with your buddies isn't a consideration.
Better safe than sorry!
We at ChuckingFluff are taking as much time to review gears and equipment that are proving to challenge the throne.
We settle on the Orvis Men's Clearwater Waders today and there is no doubt that our expectations were all shattered.
It is nothing close to what we had in mind when the legendary guys at Vermont announced a new upgrade for 2020.
Being a renowned company, there is a specific standard level that we expect from Orvis.
We are proud to say that we hold their new Clearwater waders in very high regard.
The brand's Ultralight product line beat so many of our expectations and this time, we are dumbfounded. What the company never compromises is gear performance.
Check Clearwater Web Availability
---
What to Expect from the New Version
You will love the new angler-relevant features that work towards comfort, efficiency, and durability.
What stunned us the most is that the company maintained the traditional durable water repellent nylon fabric.
Assessing all the waders in the market manufactured before the New Clearwater for men, these are among the most affordable.
Most anglers will agree that this sport can be costly if you are lazy to window shop for the best deals.
But why the change of things without any effect on the price? Nylon fabric is famous for its quick-drying feature and breathability.
If older waders your grandpa used are tough, then you haven't come across its competitor that is tougher yet very affordable.
These aren't marketing claims as the reputable company does none of that. After several seasons of intense usage and misuse, it still stands strong.
If you compare its strength to the other Waders that aren't made from Gore-Tex, it takes the throne. It feels more flexible and durable.
The heft is similar to that of the Simms Freestone Stockingfoot Waders but these Clearwater are a workhorse and will soon be the standard-setter in fly fishing when it comes to less pricey options.
Another similar feature of the Simms Freestone and Clearwater waders is their layering design.
Both feature four layers in the uppers and the lowers. For winter fly fishing, this layering style is perfect to last an angler longer on the water.
---
A Thoughtful Innovation
Design is everything in a pair of waders. This is what will determine the comfort, flexibility, and mobility levels of the angler.
The stealer feature here is the modern fit. It has no bulky fabric hanging aimlessly though has room in the relevant areas to allow for proper underneath layering.
If you fish in small creeks and streams often, you are often in a crouching position to cast a fly into the glossy pools, the waders still feel comfy.
These don't have knee pads like the Pro waders but aren't uncomfortable when squatting or kneeling.
We anticipate upgrades and new versions of products. We are always sure that they are better performing, durable, and feature-rich compared to their older ones.
The New Clearwater waders come after the Encounter waders but they are the waders that completely revolutionized function and fit.
---
Main Features of the Orvis Men's Pro Waders
---
Material and Fabric Construction – We take a break from the obvious Gore-Tex waders. They function pretty well but there is something new to try.
These waders feature the nylon fabric that is common for its great breathability and quick-drying aspect.
The uppers are made of four layers so are the lowers. This combination is perfect for anglers who fish in the toughest conditions.
The shell is from pure nylon with a polyurethane membrane. The tricot liner is made from pure nylon.
Overall, the construction of the wader makes it highly waterproof and breathable hence recommended for winter fly fishing. The waterproofing rating of these waders is 30K while the breathability is 8K.
---
Seams – All seams are low-profile. They are well made and sealed for performance and durability. After over 7000 hours of testing the waders before launching them, this was one of the aspects that the guides at Orvis were testing for.
---
Crotch Design – A gusseted crotch allows for enough freedom of movement and the wearing experience is very comfortable. The design disperses stress in the crotch area making your waders more durable. Crouching and making other positions that need bending will be easier.
---
Pockets – This wader is minimalistic hence the straightforward storage system. There isn't such a thing as so many pockets so we wouldn't have bothered if there were more. You will appreciate the spacious Kangaroo-style fleece-lined handwarmer pockets. The zippered chest pocket is waterproof and can fit several fly boxes.
There is a stretch panel on the inside where you can drop in your keys, wallets, and phones. We love that it is more practical and user-friendly. The organization of the pocket design shows that the manufacturer understands the exact needs of the angler while out on the water.
---
Attachment Points –The inner side has a hook and loop patch to allow the angler to attach the Orvis Waterproof pocket that is meant to be a separate purchase.
---
Suspender System – Its elastic suspenders are adjustable and come with opposing buckles to allow the angler to convert the waders from chest-high level to waist-high length at their convenience.
---
Belt – The belt loops are very low profile to remain functional. Orvis includes a 1.5'' webbing belt to secure the waders to your body and to aid with wader conversions.
---
Gravel Guards – The gravel guards on the Orvis Men's Clearwater Waders are attached to the anatomically engineered neoprene booties to do away with drag and any water collection. These guards fit loosely so you need readjusting though not often regardless of whether you pair them with the Orvis Clearwater Boots or any other brand.
---
Sizes – Orvis has these waders in small, medium, large, extra-large, and double extra-large with variations from regular, short, long, and extra-long.
---
Customer Thoughts on the Orvis Clearwater Wader for Men
We love that the waders are far much better than the Encounter waders and with the modern fit, they are slimmer compared to the normal waders. Doing away with the bulk, which was a major problem in other waders was the best solution.
If you stand waist-deep in fast-flowing water, you will not feel the cold if you have properly layered underneath. Your lowers will remain dry if your waders aren't punctured.
The chest pocket has proven to be waterproof. If you fall in the water while wading, there isn't much to worry about the safety of your items. For novices who are looking to invest in affordable yet quality waders, Orvis Clearwater waders got you covered.
The fit seems true to size. Something about the stitching and seams is that they are well-done. Just like they would be done in high-end waders. This was such a steal.
There have been several complaints about the gravel guards not staying in place hence failing at their duty of preventing water accumulation and the entry of sand, grit, and gravel. You need to readjust them.
---
Pros – The Good!
Excellent value for money
Available in a bootfoot design
Modern fit with less bulk
Can be converted to waist-high waders
Enough storage system
Functional handwarmer pockets
Well-fitting booties
Comes with a belt
Available in different sizes
---
Cons – The Concerns
There have been users with issues concerning the gravel guards not staying in place. If there is to be another upgrade, it would be thoughtful of Orvis to consider this.
---
FAQ's – Questions about the Orvis Clearwater Waders for Men
Q) How do you handle wader leakages in the first months of purchase?
A) First, it is unfortunate if you have to experience this as early. Orvis allows for free and non-questionable wader repairs, replacements, or refunds if you return within the first 60 days from the purchase date.
Q) Do the waders look immersed after 5 or so hours of fishing because of sweat?
A) No, these waders have one of the highest breathability ratings-18K and they allow the escape of sweat and moisture from inside pretty fast.
Q) I am 5'10''. What Size would you recommend?
A) Your size is hard to fit but the Orvis XXL short option might be the right wader for you. However, you can speak to the Orvis Customer Care Service to get help with sizing if you are unsure about the sizing chart.
Q) Do the waders seem tight when taking a full step?
A) If you pick the right size that fits well, these won't restrict movement in any way. Even with underneath layering, a full range of motion is achievable.
Q) Is there a version with attached boots to make it easier for a new angler?
A) Sure! You can buy the Orvis Men's Clearwater Bootfoot Waders. Ensure that the sizing of the bootfoot is correct and can allow for layering without affecting comfort.
Q) Does this one come with a waterproof inner pouch?
A) No, there is a hook and loop patch where you can attach your Orvis Waterproof Pocket (8G3H). This doesn't come with the waders. You have to separately buy them but they don't cost much.
---
Conclusion
Over the past couple of years, Orvis delivered a bunch of gear for the Clearwater line. The company terms this line as the value-priced one.
We love that the legend didn't rush the creation of their upgrade. At the heart of these affordable waders is the nylon material that makes the gear easily accessible.
Nylon fabrics are known for their breathability, waterproofness, and fast-drying nature. Despite the unchanged price point, the new wader remains flexible, durable, and lightweight.
For the feel, the wader from top to bottom feels pleasantly stout and gives a thickness that is confidence-inducing. The seam quality appears to be awesome.
However, we leave for time to judge durability in terms of seam bursts and leakages. The Company has rarely let anglers down and it seems to be maintaining its reputation even on these waders.
Orvis seems not to have paid as much attention to the new gravel guard design. We aren't sure if it is a defect in the manufacturing of some batches but the complaints are quite a handful.
Those on the Pro waders have gridded rubber-covered mesh in the back area to drain water quickly. The Pros have them trimmer and slimmer to counter drag in the water.
What we have on the Clearwater waders doesn't stay in place as stated by some anglers. You will need to readjust at least twice or thrice in a day.
This is a concern that the brand should note and correct.
The rest of the waders cover what we would want in a budget-friendly option. The mini features are excellent and make the gear angler-friendly.
If you are a novice who is kick-starting your journey and aren't looking to break the bank because of one piece of gear, settling on this one will be the best idea as you hone your skills and window shop for better options.
All in all, these waders are among the best in the market if you are on a tight budget but don't want to compromise comfort, function, and flexibility.
We appreciate and welcome the improvements. Fans of Orvis who are also looking for backup waders in case their main buddies fail will not regret having them as a spare.
We highly recommend the Orvis Men's Clearwater Waders.