Disclosure:
Just to be open and honest the buttons and links you click on in the website will in most cases take you to another website where you can purchase the products I am reviewing. As an Amazon Associate I earn from qualifying purchases.
September 4, 2013
Breathable Stocking Foot Wader Accessories
If you have read my page on the benefits of breathable waders you will most likely be thinking about purchasing a pair. Waders are important, and accessories are available that make wearing them more comfortable. There are a few things that I would say are essential and others that just add to the experience. We will discuss breathable stocking foot wader accessories and you can decide if you need them or not.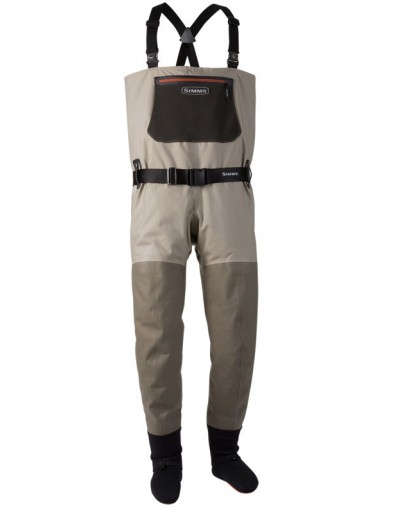 Wading boot are required for stocking foot breathable waders and come in various forms. The main type difference is the sole. Over the years different sole materials have been used to help the fly fishing angler keep grip on the wet mossy rocks on a river bed which can be ridiculously slippery. One of the earlier types was felt sole which worked very well but had the tendency to become detached from the boots after several months of wear.
Felt soles now banned, well almost!
However these are now being banned from most rivers as there is a concern that the felt harbors bacteria like Didymosphenia geminata which can be carried from one river to the next and causes cross contamination. Felt waders can still be used if they are cleaned properly between uses or better still only used on one waterway and negate the possibility of cross contamination. Some of these also came with steel studs, helping a great deal when wading over slippery rocks. They also helped on the grassy banksides which when wet are very slippery when only using smooth felt soles.
Now there are newer soles on the market with Vibram and Rubber grip now becoming more popular. Simms have now created the StreamTread™ and Guideline the Traction system which shows the manufacturers movement into developing better and better boots for the wading environment.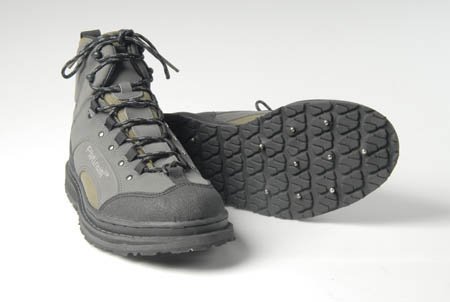 A good pair of comfortable boots will aid your enjoyment when wading. The boot needs to be thick enough to kick off river bed rocks without getting your feet hurt and supple enough to walk easily when on the banking moving up or down stream between pools. Also make sure they have drainage holes as a boot full of water is very heavy when walking out of the river or lake.
Can a wading belt can save your life?
A wading belt is always a good idea. There are several options available like the slim belt very similar to the straps that hold up the waders. These belts are light and when secured reasonably tight will help keep the water out of your waders if you accidentally go for a dip in the water. This can mean the difference to filling up with cold water and the possibility of being dragged down and being able to scramble to the safety of the banking or nearby boat.
Other types of wading belt install a support mechanism to help those with weak or problematic backs. Standing about for many hours on a river wading over rocky beds and casting flies is strenuous and will give your back a workout. The use of a supporting back belt like the Simms will help keep you fishing longer and more comfortably.
I use both, if only out for a couple of hours I use the lighter belt and if going for a long day on a Salmon river I will go for the more supportive option as I do suffer some back discomfort when fishing for a long time.
Wading staff help or hindrance?
Wading staff are either a help of a hindrance in my opinion. It really depends on the river conditions, if low and the river bed is sandy then there is no need for one as it will get in the way catching your line and causing more problems than helping. However if the river is rocky the water is high and you are not that steady on your feet then the use of a wading staff is recommended.
With it you can feel the river bed and see the differences in the water height as you work your way down stream. Working a wading staff correctly is all important as it can get in your way and trip you up or snag the trailing line. Make sure to get one that has a weighted end to keep it submerged in heavy flows and have a rubber bottom as a metal bottom will make too much noise in the river or adjust it accordingly.
What to wear while wading?
Another thing to consider is clothing, if you wear bulky heavy jeans for example your are not benefiting from the breathability of the waders and the bulkiness means they bunch up on your legs and can become uncomfortable. Ideally you want to wear a base layer under them in summer and add a mid and or heavy layer in winter or colder days.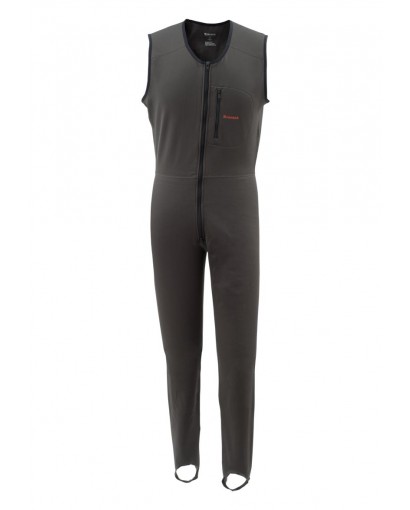 Most wader suppliers now have clothing designed for wearing under them. These are not bulky and the seams are smooth so not to catch you when wading when the water pressure pushes against you. These also allow the breathability of the waders to work better and take body moisture away from you to keep you dry and comfortable.
The addition of a fleece or thermal mid to heavy layers allow you to wade in zero temperatures without the need to keep coming out and in to warm up again. This also means you don't need two or three pairs of waders summer, autumn and winter one pair will do with the correct layering system.
So there you have the main breathable stocking foot wader accessories. It may seem a lot for a newbie starting out to purchase but once you do and you look after them you can get several seasons steady fishing without a problem.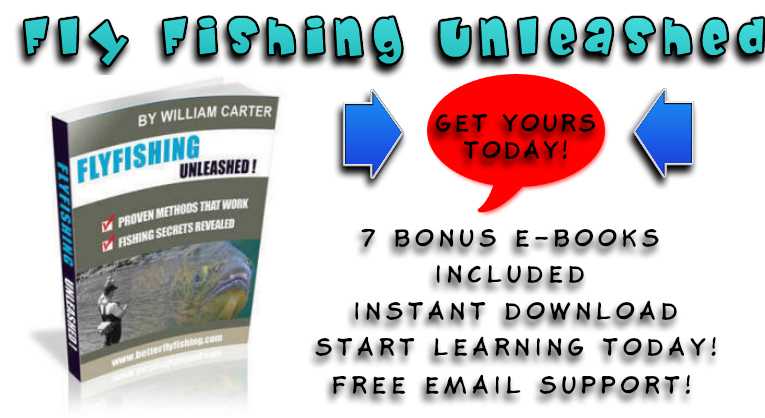 Please feel free to leave a comment below if you have anything to add or question within this article. I will do my best to get back to you in a timely manner.
Tight lines!