Disclosure:
Just to be open and honest the buttons and links you click on in the website will in most cases take you to another website where you can purchase the products I am reviewing. As an Amazon Associate I earn from qualifying purchases.
March 17, 2022
Orvis Men's Ultralight Convertible Wader Review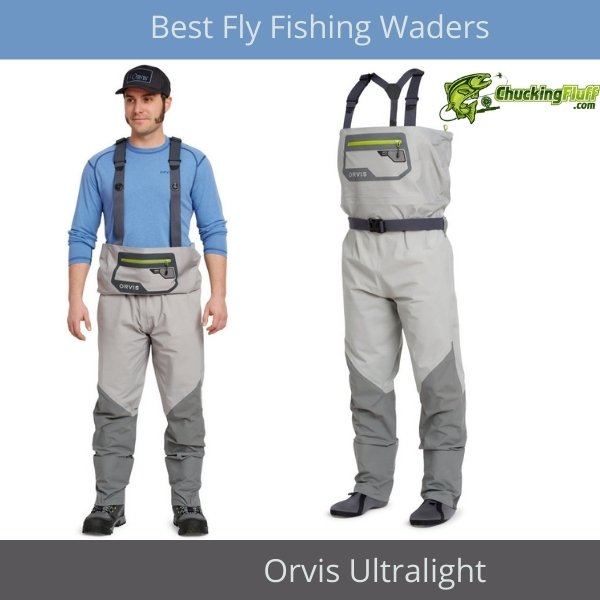 A fair part of a backpacker angler's life involves moving around with their luggage on their backs because their fishing lives depend on it.
Packing extremely light will make your journeys less burdensome and more fun.
But what you pack will determine your bag's overall weight, your walking or trekking pace, and how much energy you will use.
Orvis was thoughtful enough to create the Orvis Men's Ultralight Convertible Waders which pack down pretty well.
Check Fishwest Ultralight Price
It might be featherlight but the Vermont guys didn't compromise comfort and function.
Whether you make a full purchase or get a rental pair, this wader endures abuse like nothing you've seen before.
These waders have proven to be the backbone of the Ultralight product line from Orvis.
As part of this system, you can also purchase the Orvis Ultralight Wading Boots, Orvis Ultralight Wading Jacket, and the Orvis Ultralight Wading Vest.
All are lightweight yet fully functional.
Is it Ultralight or just a marketing gimmick?
Orvis does no gimmicks. It only states its facts and lets the anglers review their products and be the judges. Like in its name, these waders are extremely lightweight.
The regular waders for men weigh about 35 oz. which is among the lightest in the market.
Waders for women weigh slightly more.
We aren't just basing on the 'weight' here but other crucial aspects like breathability, packability, and operation.
All these highly depend on heft and Orvis has done well this time.
Moving anglers like backpackers, hikers, trekkers, drivers, and flight boarders will find this design very helpful as it has an impact on your luggage weight and charges where necessary.
Do convertibles fit well?
If any other convertibles don't fit well, then these do. Orvis cuts these waders in an athletic fit for a more modern look.
You will love how well they conform to the body in relevant places like the thighs and legs.
While at it, the designers allowed some space for underneath layering for colder days.
We love that the Orvis sizing chart for the Ultralight waders hasn't been bashed. This means that the accuracy levels are dependable.
If you are still skeptical, you can reach the company's helpline number or email for further assistance.
A few anglers who are vertically-challenged will feel like the manufacturer would have done with lesser inches in the suspender system and leg areas.
If you put the Ultralight waders alongside other Orvis fishing waders, these have slimmer legs.
The cut is more form-fitting too. You will notice this around the crotch, hips, and legs.
An angler can properly bend, kneel, squat, and make any movements. Remember, your waders mustn't be baggy to allow for proper movement.
The choice of the exterior fabric is similar to what Orvis uses in the Sonic waders.
It isn't noisy or stiff. The waders remain light, comfy, and very durable.
When it comes to breathability, the Ultralight waders outdo the Sonic waders as the former has an improved laminate.
Perspiration and body heat regulation is better in the Sonic waders.
Most anglers don't consider convertibility when choosing waders.
This however comes as an excellent bonus though not a concern.
The design of the Ultralight waders is perfect and very useful.
FIDLOCK snap magnetic fasteners together with the straps' routed crown the design.
These are effortless and what other brands should emulate.
You can wear this pair pulled down or fully extended and there are no fights whatsoever as you make adjustments.
We love how well the magnetic snaps unlock and lock with ease.
The waders slide independently thanks to its Y-shaped suspender system and you won't need as much fumbling as you would with other waders.
These don't gather at the waist area as the excess material will slide down your seat area and you can fold it at the waist intuitively.
---
---
Key Features of the Orvis Men's Ultralight Convertible Waders
---
Material and Fabric Construction – While the Orvis Pro waders had a four-layer fabric build in the uppers and a five-layer in the lowers, the Ultralight features four-layers in both the uppers and lowers.
The shell fabric is from high-grade nylon and a bi-component polyurethane. Its tricot is from pure nylon material.
Fit – This one features a modern athletic fit that is form-fitting and not overly generous in the cut.
The Ultralight fit. It is slimmer in the legs, crotch, and hips.
Suspender System – What makes them be called convertible waders is how well the suspender system has been designed.
The waders feature the unique FIDLOCK SNAP fasteners with magnetic function to help with effortless conversions of the waders from chest-high to wait-high level.
The back of the system is Y-shaped to allow the waders to slide up and down with ease.
Pockets – The outer storage pocket is accessed via a YKK zipper and is a good place to store your fly boxes and other accessories. An inner zippered pocket is from a four-way stretchable power mesh to store your personals and valuables. They don't have hand warmers like the Pro waders so a pair or two of gloves will come in handy when temperatures begin to fall.
Attachment Points – Its frontal pocket comes with an inbuilt tool docking station for lighter tools and a fly patch to attach your favorites or allow the used ones to dry before being stored in the fly boxes to avoid rust and corrosion. The inner pocket has a patch where you can attach a separately bought Orvis 8G3H waterproof pocket.
Wading Belt – This one comes with a 1.5'' stretchable wading belt to secure the waders to your body. The belt passes through the low profile loops to remain in place at all times.
Seams – Orvis uses its new low profile seams construction method to ensure that the seams lay flat for comfort and durability. High-stress areas are well reinforced to counter instances of early seam bursts and leakages.
Zippers – You will spot YKK Aquaguard zippers on the pockets of these Orvis Men's Ultralight Convertible Waders. They are easy to operate and durable. Their material is high-grade nylon to prevent corrosion and rust when exposed to moisture and salt.
---
Pros – What Shines on the Ultralight Waders
---
Excellent athletic fit
Available in various sizes
Waterproof
Highly breathable
Great conversion features
Rust-free water-resistant zippers
Good storage system
Excellent seam construction
Extremely lightweight
---
Cons – The Concerns though not Deal-breakers
---
These waders don't compare to the heavy-duty designs in terms of the amount of abuse they can take. A little more care will do good.
Most Orvis fishing waders have a patch to attach a waterproof pocket. This one doesn't have it.
---
Customer Thoughts on the Orvis Men's Ultralight Convertible Waders
---
With no mass and bulk, the convertible waders pack down very well and will be slightly bigger than a regular Nalgene Hydra Bottle.
Breathability is at its best. We tested the Ultralight waders and the fabric structure breathes well in all conditions.
When temperatures begin to rise, there is no sweat buildup in your underneath layers.
It comes as a traditional chest-high wader but we love that it can be altered with ease to reach waist-high length for days when you want fewer layers in your uppers.
The design is flexible to allow you to regulate your body temperatures when you need to.
The Ultralight waders to be like in their description trims down on secondary features. One of them is the pocket system.
This one lacks a patch for attaching the Orvis Waterproof pocket on the inner side. There is also no side slash pocket nor hand warmer pockets.
Its four-layer construction absorbs quite a handful of abuse and durability isn't much of a problem if you properly care for them.
It holds up well in most challenging environments. We love that the seams are well-sewn and firm enough.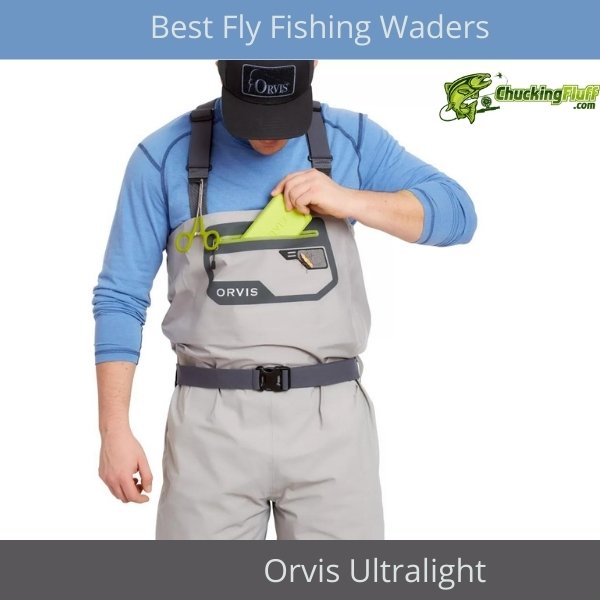 ---
FAQ's – Questions about the Orvis Ultralight Convertible Waders for Men
---
Q) My husband is 6' 1'' tall and weighs 185 pounds. Which size should I get that will fit him well?
A) If he wears a shoe of size 13 then the large long will fit him perfectly.
Q) Do the waders hinder movement for tall guys? Especially with the size of the inseam?
A) For instance, a tall guy of about 6'6'' will get a wader with an inseam of 36''. This will be the best fitting choice left. Although they won't be perfect, they won't restrict movement. The waders could use an extra inch or two on the inseam of waders for taller buddies.
Q) How secure is the gravel guards?
A) The guards don't remain hooked like they should on the wading boots. You need to hook them back a few times in the day.
---
Wrap Up
---
Being an Ultralight wader, one would think that durability has been compromised.
This isn't the case. You can intentionally try to break the waders but it won't go easy.
You can go bushwacking, rock sliding, bank climbing, and do all the basics of fly fishing and its journey.
These Orvis Men's Ultralight Convertible Waders are tougher than their weight.
As Orvis stated in the product description, the four-layer fabric boasts high abrasion and puncture resistance.
There are no sacrifices here. All seams are well-stitched and double taped.
The reinforcement is one of a kind and is among the stellar features of this pair. High-stress areas also have reinforced seams.
The guides at Vermont say that the seam design can take a force of about 77lbs before the seams can fail.
This is a range that most competitors are yet to meet as they are still within the 40 to 50 lbs bracket.
You can pair them with the Ultralight wading boots if you have an overall concern for your packability issues and weight.
The two are lightweight solutions and for an angler who is constantly on the move, you will have nothing to regret.
You could be having some stamps on your passport. Maybe your odometer has six digits or your hiking boots need you to go lots of miles.
These waders will be the best ones to pack. They also come in handy for people who want to stay cool under the sun as they fish.
Some anglers think that the Ultralight waders are one-dimensional.
Because they are lightweight, one thinks that they will only be perfect for warm days.
However, these features open these waders to numerous applications hence expanding their versatility.
They have proven exceptional in other seasons. We love that they pack down to a smaller size to fit properly into a carry-on bag.
One feature that most guides, testers, and anglers are talking about is the convertible design.
The thought that you could transform a chest-high wader into a waist-high wader for comfort and functionality is ten times awesome.
Other waders can do the same but these can be altered within seconds.
Time is of the essence here as we need to focus on the water and the happenings beyond.
The clip-on design in the uppers is simple and that means that you could easily and quickly drop this part to the waist belt.
Reattaching your uppers to the straps can be done with a single hand. How efficient is this?
The Orvis Men's Ultralight Convertible Waders weren't anything closer to what we had fantasized about when news hit us that there was a new release by the fly fishing legend.
It did not meet our expectations but exceeded them by far. Apart from the pocket system that was trimmed and made very minimalistic, we have no regrets whatsoever.