Disclosure:
Just to be open and honest the buttons and links you click on in the website will in most cases take you to another website where you can purchase the products I am reviewing. As an Amazon Associate I earn from qualifying purchases.
May 4, 2020
Orvis Men's Ultralight Wading Boots Review – Lightweight Option
The legendary Orvis is proving unbeatable in the fly fishing and outdoor sector. Since its founding in 1856, the family-owned business has been flourishing.
Not in secrecy, but through the hundreds of awards won in various competitions and showcases. This is evident through continuous satisfying service delivery from their products.
There is no doubt that product lines like the Encounter, Clearwater, and Ultralight have gained popularity just after launch.
We focus this piece on the Orvis Men's Ultralight Wading Boots which took the best of show men's wading boots award in the 2017 IFTD.
Among other titles are the 2019 Fish Alaska Editor's Choice awards and the 2018 Fly Fisherman awards in the best new lightweight wading boot.
Aiming at frequent traveling anglers and more avid fly fishermen who cover greater distances on foot hiking, and moving from one spot to another on brutal paths, there could be nothing better than a lighter pair.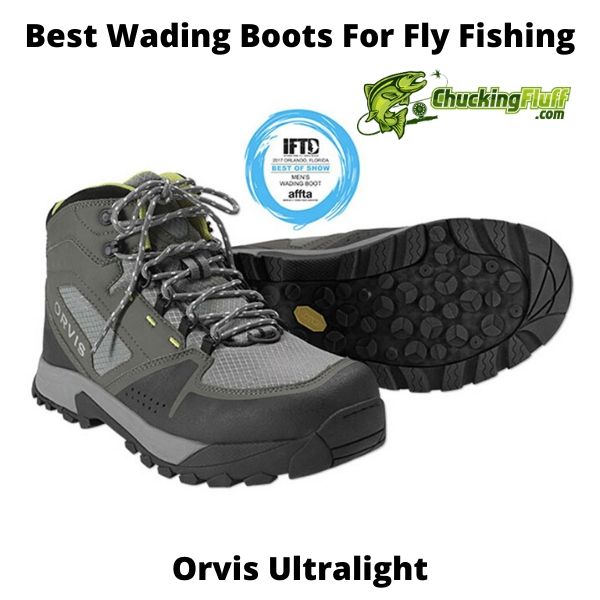 ---
Check Ultralight Amazon Availability
Check Ultralight Web Availability
---
The very first purchasers after the manufacturer released the first batch for sale can agree that these wading boots were extremely popular until now.
Because of this, demand shot higher than Orvis expected and in no time, their shelves were empty because of less supply. The immense love made Orvis embark on a manufacturing binge of the same to meet supply once more.
Do you loath tall and heavy boots? You will be more appreciative of the Ultralight wading boots for their lower height at the ankle. If you own the typical mid-height boots for hiking, they are slightly higher than these.
So, why the low-profile wading boots? We understand that to each their own but these boots are full performers and very lovable. Their nimbleness on different terrains is spectacular.
Your ankles and feet will be very responsive once in the wading boots. The overall balance is a great thing to experience. Burlier boots give more support. However, in the shorter boots, you will feel more easiness when walking.
Even if you hike for five hundred yards, pace down to the rivers, climb around the large rip-rap and boulders, the bottom line is that these wading boots are the most effective for overland scrambling.
Let us dive into the boot's construction and a brief on its performance. The exterior is made from high-quality synthetic material to ensure that its overall weight is lower than the traditional leather boots.
For a proper strength to weight ratio, the manufacturer uses Clarino microfiber. This is true because the boots are pretty strong. With thousands of miles into testing as you skid down the steep rocky banks and tromp through bushes and straight over the deadfalls, you will not identify any scuff.
If there are any, then you must have been very careless in handling, care, and maintenance.
Areas of high wear and tear like the heel and toe need proper reinforcement to ensure reliable performance and durability. Orvis adds a rubber spray coating with abrasion resistance. The coating is lighter and thinner than the full rubber rands.
There is a great blend between flexibility and support with panels from ripstop nylon. Vibram EVA midsoles offer maximum feet cushioning. Working hand in hand with the TPU plates, you are sure of stability on your sole increasing stud retention.
There has been so much gushing on the internet about these wading boots. Are they perfect? Let us see why anglers and more outdoor lovers are in a frequent buzz about them.
---
Key Features of the Orvis Men's Ultralight Wading Boots​
Sole Type – Rubber soles are the real deal when you need to walk and wade in areas that require more traction. Orvis uses its Dual durometer Vibram sole with its proprietary lug pattern for more treading in any condition. Rubber is very durable, unlike felt soles.
Wading Boot Material – Clarino microfiber allows for quick drying capabilities and once you wade deeper, or wade out, the water expulsion is very relevant to ensure your boots regain at least their normal weight. According to Orvis, the wading boot material creates a good strength to weight ratio that doesn't match the traditional leather wading boots which have a high absorbent mechanism.
Coatings – Orvis adds a durable rubber spray coating with special abrasion resistance on the toe and heel areas which are common high wear and tear areas.
Foot and Ankle Support – The Ultralight wading boots for men have a snug fit once you have your booties on. The heel cup is narrow and the toe box very roomy. As you walk or wade with toe compression, you are sure of a locked-in fit. If you don't have booties, a thin neoprene wading sock will be ideal for colder environs. The boots hold firm on the feet without slippage. Together with the lacing system, you are sure of comfort and safety as you slide down the muddy embankments to the river. The Vibram EVA midsole ensures you are comfortable and dry all day. Mini-ripstop inserts although not adding to the weight of the boots, are effective in the provision of sole comfort.
Traction – If you need more traction, the boot accepts metal studs in specific locations. The manufacturer calls them PosiGrip screw-in studs. The TPU plates are for more stud retention. They are easy to install and remove. They come at an extra cost though they aren't costly.
Sizing – Orvis understands the variation in body sizes hence creating a wading boot that can fit young anglers and more pairs for the older folks. The sizes are available from size 7 to size 13. Make efforts to confirm with the manufacturer of the dimensions and measurements to ensure that you don't get a smaller or overly big size.
Lacing System – Water-resistant lace closure systems are what the manufacturer uses on these wading boots. They are fully functional and their woven nature increases abrasion resistance. Not a downside though, most of the users wish Orvis used a locking lace-hook closure system on the wading boots for more security and greater performance. No offense, they are still duper!
Weight – Orvis gives an approximate overall dry weight of about 40 oz. per pair as from size 10. This is on the lower side because of the low-profile design, the choice of wader material, and the special technologies during manufacture. This translates to an extremely lightweight pair of wading boots.
---
---
Customer Thoughts on the Orvis Men's Ultralight Wading Boots​
Boots are lovable for their lightweight nature and ease of wearing because of the shorter design. They are rugged and for fly fishing, you will have no regrets if you select the right size and achieve a proper fit.
Toe sores are often a major turn off especially for buddies with longer toes. Orvis solves this problem by adding more room in the toe boxes of the Ultralight boots. This also allows for easy and quick wearing and taking off.
These wading boots are the perfect solution for slipping, frequent sliding, and falls on logs and mountains. They are super light and while they aren't real hikers, they still outperform most wading boots in its price category. The Vibram outsoles are everything you need in the best rubber pair.
The lacing system is a hit. In fact, it takes a shorter time to lace up these boots. Untying too is possible even if they are wet. You have everything in features to be proud of Orvis for such a functional pair of wading boots.
Ankle support is not something to doubt. Whether you have your neoprene booties or socks on or not, the inner cushioning and midsole allow for maximum support and comfort at the same time. There are no reports or leg breakages or sprains a few years down the line.
---
Pros

– Things that shine on the Orvis Ultralight Wading Boots for Men​

Award-winning pair
Ultra-light creation
Great performance and durability
Quick-drying capabilities
Abrasion-resistant exterior
Tight and durable laces
Great stud retention
Improved traction
Allows for use with PosiGrip screw-in studs in specific locations
Cons

– Things that are not so cool!
There are several complaints about sizing. To be sure of the size you intend to buy, especially if making an online purchase, liaise with the manufacturer to be sure of the measurements before placing an order.
Anglers with overly large feet like size 15 and 17 miss out on the Ultralight.
---
FAQ's – Questions about the Orvis Ultralight Wading Boots for Men

Q) What is the tread life of the outer sole like after hard use?
A) Although Orvis uses its proprietary lug pattern on the treads, they break down after frequent hard use. It is the reason you will need good metal studs to enhance traction.
Q) Does the grip compare to the expensive wading boots?
A) Yes. In fact, it beats most of them. The blend in the rubber material and the lug pattern together with additional studs ensure you achieve a firmer grip.
Q) Can women fit in these even if the design is for male anglers?
A) Yes, if you have your housemate's and they fit, why not? But there are specific Ultralight waders for women that you can purchase. The Orvis Women's Ultralight Wading Boots
Q) Do you install any type of studs to achieve traction?
A) Not exactly, the locations to be fit in are specific hence Orvis recommending their PosiGrip Studs only. However, if you find matching studs then give them a try.
Q) Are the Orvis Men's Ultralight Wading Boots a deal for individuals with previously operated on legs especially for something light?
A) Neither is it a yes nor a no. First, the wading boots are not recommended for anglers with weak legs and ankles. More concerns come in if you have worn such boots before or not. Just be cautious not to land in the theatre again.
Q) Is the nylon microfiber a water-retaining material?
A) No. The material has quick-draining capabilities and once you are out of the water, the material trues hard to ensure the boots remain light even when wet.
Q) Do these wading boots fit nicely with waders that aren't from Orvis?
A) They do. What matters is the thickness of the stockingfoot. There are many users pairing with waders from Redington, Frogg Toggs, and Caddis Systems.
---
Final Verdict on the Ladies Orvis Encounter Fishing Waders
Every angler takes pride in placing their favorite fly where the trout could be holding. However, as you have your equipment intact, more gear like wading boots give more reach, mobility, flexibility, and precision as you do your thing.
If you are an angler, you must have become a hiker in the course of your fish hunting sessions. Well, this brings us to this extremely lightweight and versatile wading boot that is making anglers become boot hoarders.
Fly fishing has become a nobble sport and nowadays, fishermen and women are flying to other localities to sample waters and see what they harbor. For this reason, you need to pack very light if you are a traveling angler.
The boots aren't burdensome and if moving by flight where every pound of your luggage counts and makes deductions from your pocket, you will be cautious to ensure that you have wading boots of about 40 oz. or thereabout.
When it comes to wading boots, the major concerns are comfort, fit, ankle support, and traction. Orvis achieves all these and more. For a product to have several awards a few months and years later after launch, it is a big deal.
We have seen the Orvis Men's Ultralight Wading Boots pose as a shiner in all aspects. Despite the few points of concern where customers are leaving feedback of things for Orvis to consider in case there will be an upgrade of this version, everything is outright and on point.
Since the demand is going higher each season, you might miss a pair if you haven't ordered. If you do, the Redington Prowler Boots, Korkers Greenback Boots with Felt and Kling-On Soles, Simms Freestone Men's Wading Boot, and the Frogg Toggs Saltshaker Wading Flat Shoe are great alternatives. No Trip Cancellations!
---
Check Ultralight Amazon Availability
Check Ultralight Web Availability