Disclosure:
Just to be open and honest the buttons and links you click on in the website will in most cases take you to another website where you can purchase the products I am reviewing. As an Amazon Associate I earn from qualifying purchases.
December 10, 2020
Orvis Pro Insulated Fly Fishing Hoodie Review – Toasty
Harsh winter days need some more loving to your overall self and if you are an angler, you have to do even more. Staying warmer during such times means you will be safer. You will also spend longer on the water.
Not all anglers prioritize self-preservation but they are eager to stay hours and hours fly fishing. We all love to log lots of hours. It doesn't have to be complicated especially with excellent products like Orvis Pro Insulated Hoodie.
Weather conditions in the icy winter months are varied both during the day and night. You will be living in single-digit temperature ranges that are harsh.
It could be harsh and breezy in the mornings, sometimes dimly lit, maybe with gusts and so much more.
The Options,
Some days are graced with dry air and you can leave your rain outerwear in the truck. Choosing outerwear that provides serious warmth and insulation is the best deal.
Most anglers if not wearing a waterproof outer rain jacket, are donned in an insulation layer made from synthetic while a few will choose the down options.
The insulation mechanism of a down jacket isn't comparable to anything. However, there is one weakness of the down jacket that anglers often put it to-wetness.
When down jackets get wet, they lose a lot of insulation power. Synthetic jackets on the other hand don't suffer from this.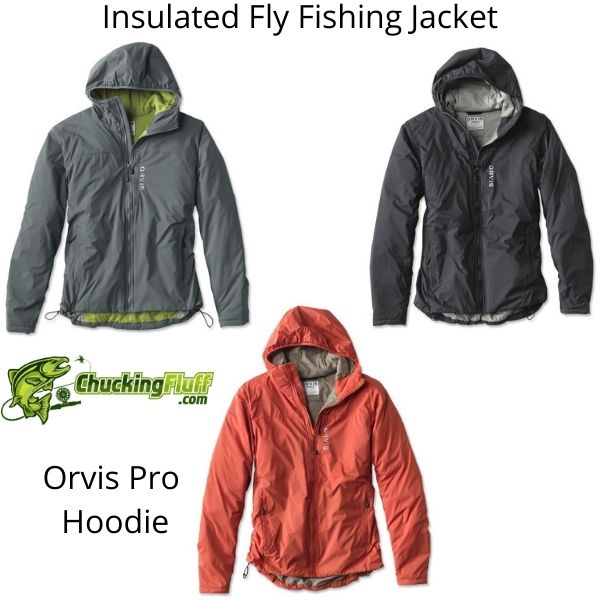 Most manufacturers are turning to synthetic choices and the Pro Insulated Hoody is what we had to review today. It breathes perfectly and this is attributed to its design.
Orvis uses the Primaloft Insulation to make this jacket and is specific for the core areas. The side panels make use of the Polartec Alpha. This is awesome for active anglers and those looking to achieve higher breathability.
Ask a Russian if bad weather exists and they will deny with their head up. Fervent winter anglers live by the same that is why you will spot these chaps in heavy wear.
We will not agree with our Arizona friends who claim that heat levels in their summer days observe of cold days in winters in the Midwest.
In summer, it is legal to take off as much reasonable clothing but pile it in the winter days until you get as much warmth as you need.
Michelin tire men at some point say that it gets overly bulky to cast. You have to keep waving your arms back and forth, often bend to net that guy. Orvis has tried to counter the bulkiness with the Pro Insulated Hoody.
We love how well the brand balanced the ratio of warmth to weight. The core, arm, and head areas use heavy insulation that again turns out to be lightweight after the product is made.
The hood properly molds around your head and you won't need a drawstring for clinching it tight. Don't be a goof to order the wrong size and whine about it. Most of its reviews online give a five-star rating which is superb.
If you will be fishing in stronger winds, the headwear stays in place. Orvis says that after the punchy reviews, they have been having a backlog on customer orders. Do you see what good problems are?
Orvis Pro Insulated Hoodie Web Price
---
Main Features of the Orvis Pro Insulated Hoodie
Construction Technologies
As technology advances, brands like Orvis are quick to experiment and get the best out of them. While it usually is a trial and error affair, this time it worked and worked extremely well.
Any angler who has used the Pro Insulated Hoody will agree to this. In the head, arms, and core area, the manufacturer uses the Primaloft Gold Active Insulation with a dimension of 80 grams per each meter squared.
The technology was launched by Primaloft in 2018 and uses 45% of post-consumer recycled materials.
This innovation makes use of special fiber structures that allows Orvis to build the hoody with a highly breathable lining and outer fabric.
Thus, allowing for excellent comfort and moisture management without getting in the way of its thermal performance.
Sweat and condensation escape through the hoodie's inner and outer fabric hence improving heat regulation.
The technology gives the hoody a four-way stretchy mechanism for maximum freedom of movement as you move and cast.
Primaloft Gold Active Insulation innovation contains a water repellent finish for perfect warmth even when the hoodie gets wet.
We love that the product is extremely soft and lightweight to be highly compressible and fit neatly inside your backpack.
In the underarms and side panels, Orvis uses the Polartec Alpha Insulation in 80 grams per meter squared. This technology regulates warmth and boasts advanced breathability.
The fabric is fast-drying, highly compressible, lightweight, and highly durable.
The outer fabric and liner are made from 20D stretchy nylon that is Ultralight and made with a unique coating for puncture resistance. The two are also wind and water-resistant.
This makes it ideal for use when the weather is dry though cold. It might survive backsplashes but not showers and storms.
Pockets – Handwarmer pockets are fleece-lines to help you toast your cold hands when you are doing nothing. They are accessed via YKK zippers that are water-resistant and will prevent the entry of water for a while.
These are perfect when wading in deeper waters. The chest pocket is also zippered and sizeable to fit a few fishing essentials. There is an inner security pocket for your personals and licenses.
Hood – The scuba style of hood is excellent and a perfect head covering for increasing thermal insulation when fly fishing in the cold. The elastic on the edge helps with giving a snug fit and improving visibility.
The hood can never get in your line of vision. It stays in place and can't bow to any winds regardless of the strength. It is a low profile design to allow for proper layering with a winter fly fishing hat.
Cuff Panels – Cuff panels on the Orvis Pro Insulated Hoodie are made woven and have a stretch mechanism to allow them to offer a snug fit and lockout any weather elements.
The material is also abrasion resistant and boosts the hoodie's durability.

Hem – The hem has an adjustable drawcord. Winter needs you to be all covered up to ensure that your body warmth is maintained. Any spaces that allow in cold air will make the thermal concentration lower.
The drawcord allows you to adjust to a proper tension that is comfortable but still locks out all the cold water and air.
Zippers – All zippers on the hoodie are the YKK type for functionality and durability. They are easy to grab via the pull tabs and operate smoothly. Their nylon material prevents rust and corrosion that could lead to breakage.
Coatings – Orvis uses a durable water repellent coating on the Pro Insulated Hoodie to ensure that it takes a while before the wetness can get to your underneath layers.
Remember this is meant to be worn under your wading jacket but can be used when it is very cold but dry.
Fit – This is an athletic fit that is true to size and accommodates the active outdoors life of an angler. You will enjoy the wearing ease
Sizes – Orvis designs the Pro Insulated Hoodie in small, medium, large, extra-large, and double extra-large.
---
---
Pros – The Good
Comes in various sizes
True to size fit
Excellent warmth
Uses the latest technologies
Highly packable
Perfect breathability
Abrasion and tear-resistant
Cons – The Concerns
Not quite a con but some anglers say that the hood style needs some getting used to especially if you are a fan of the stow-away designs with drawcords.
---
Customer Thoughts on the Orvis Pro Insulated Fishing Hoodie
Besides the winter season, this wading jacket has proven to work well in England's fall and spring days too. You can fish comfortably without worrying about getting cold or wet.
With the reinforced cuffs, you can be sure that the touch is excellent and the thumb loop will keep the sleeves down throughout. It can be a good companion both on and outside the water.
As an underneath layer, fishing in the wind, snow, and storm doesn't have to be a problem. Anglers have has long-sleeve t-shirts under this jacket and the protection is on another level. You will remain bone dry even after hours of rain.
How soft the hoodie is will amaze you. It is super comfy and packs down pretty well to fit in your small boat bag. Even for a backpacker, this layer is perfect.
It a perfect windbreaker and water droplets bead up extremely well.
An athletic fit is towards the slim structure. If you are an overweight angler, it might not fit very well and the XXL can be smaller for you.
You can't compare this to most competitor jackets because of unique features like the stretchy shell fabric, body mapping insulation, and breathability.
---
FAQ's – Questions about the Orvis Pro Insulated Hoodie
Q) Can you compare this Insulated Pro Hoodie to the Patagonia Nano Puff Jacket?
A) While the Nano Puff is also an incredible layer, the Pro is more versatile and very comfortable in as much as they share common features.
Q) Will this be excellent for Minnesota Fishing?
A) Minnesota experiences about 10 cold months in a year and this jacket's tough shell is the solution to the nasty weather. It is a highly recommended jacket.
Q) What underneath Orvis gear would you recommend for someone fishing in temperatures below 20 degrees?
A) You can choose the Dri-release long sleeve shirt from Orvis and their soft shell fishing vest.
Q) Is this for someone who is much built?
A) Checking the sizing chart is very important before buying the hoodie. It is an athletic fit- a little slim and going a size higher might be necessary.
Q) Can you use it alone in light rain?
A) We always advise that you pack a wading jacket as proper outerwear for when it rains. However, the weather can be very unpredictable. Very dry and cold in the morning yet raining in the mid-morning. Because of the water repellent coatings on the Primaloft, it will repel light showers.
---
Conclusion on the Orvis Pro Insulated Hoodie Jacket
Over your past years of fishing, you must have identified the best of the best gear for winter. The Pro Insulated Hoodie is one that has to be on the list.
From the Pro collection by Orvis, it will be a new way to welcome winter fishing this coming season. As an excellent piece, the warranty program in case of dissatisfaction is awesome.
The hoodie has everything it takes to keep you warm throughout your outdoor session.
Some anglers have tested it both as an underneath layer and outerwear. We are glad that the feedback is impressive.
Apart from a few whiners here and there on the new hood style and the improper fit for overweight and overly built anglers, we haven't noted any downsides.
Amazingly, its water repellence aspect takes longer than most of its rivals. This is one of its bonus points. The hoodie is as good as you'd expect other gear in the Pro Collection to be.
You will be very pleased with its features and performers in the winter. The weather might not be kind but the guys at Orvis are kinder to ensure that you feel confident to step out in this layer.
The mid-layer jacket is very light and you won't sweat yourself to death. Its weight allows it to lock in enough body heat to keep the wearer very warm.
The Orvis Pro Insulated Hoodie will never let anyone down and the design makes most anglers use it as casual wear.
Check our Winter List
Orvis Pro Insulated Hoodie Web Price