Disclosure:
Just to be open and honest the buttons and links you click on in the website will in most cases take you to another website where you can purchase the products I am reviewing. As an Amazon Associate I earn from qualifying purchases.
March 11, 2021
Simms Insulated Challenger Jacket and Bib Review
Before anticipating any fun, anglers seek excellent protection from weather elements. In this line of tasks, there is a dizzying collection of options.
Of them all, Simms has remained a gold standard. It has maintained its status in the fly fishing sector because of always opting for high-end designs and fabrics.
A few years back, their drifted their attention to bass anglers. The team was successful and other manufacturers sprung and are doing well in the same space.
Since the company is at a gold standard and most of its products are at the gold price, the company recognizes the need to give an affordable option.
This works well as the high-end Pro Dry collection – the Simms Challenger Suit that comprises of the Simms Challenger Insulated Fishing Jacket and Bib.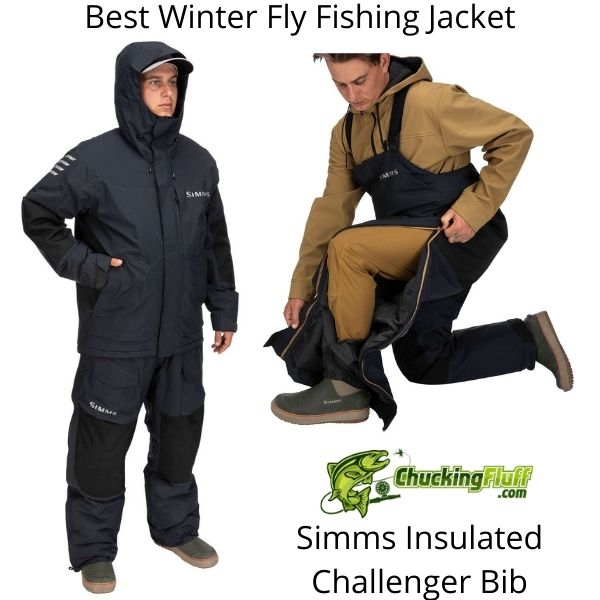 No challenge lacks challengers-at least even one must surface. Angling is a challenge, especially with the unpredictable weather and dynamic atmospheric elements.
Simms brought the cost of the Challenger bib and jacket down by designing pieces from Toray Fabric and not its usual Gore-Tex shell technology.
Gore-Tex is famous for its extremely high water shedding abilities. You need to understand that it isn't the only existing waterproof fabric in the angling world.
You will appreciate the water-resistance capabilities that the Toray fabric offers. The performance is similar to the Gore-Tex but minus the heftiness in price.
The feeling as you touch the Challenger Jacket and bib is different from their performance in the field. The inner lining is softer and something you'd love even if worn directly on the skin.
Some anglers love to wear T-shirts, or short-sleeved garments underneath their bib or jacket (when the temperatures allow for it). The lining is made from a nylon material that has been tightly woven.
You will love how well the Challenger suit has been tailored to suit an angler's movement. There is room in the right areas without having the jacket or bib with excess fabric for bulk.
Whether you are lifting your arms to oar your boat, bending to assemble your combo, or squatting to release that buddy, there are no worries of seam bursts or movement restrictions.
The legend of all times doesn't hesitate to outfit the bib and jacket with angler-relevant features like a storage system and warming factors.
We appreciate the availability of the Challenger Fishing Suit in various colors and sizes to suit the needs of most anglers in terms of fit and comfort.
The whole package of a bib and jacket comes at a reasonably affordable price. However, if you are on an extremely tight budget, it might be tricky to get hold of the two goodies.
If we were to praise the Challenger suit, it would take us a lot more pages. It will surprise you every time you reach out for it.
The ease of wearing and removal while protecting you from extreme weather is superb. We love that its packability is good and for an angler who is up for the challenge, have the Challenger as your companion.
---
Simms Challenger Insulated Fishing Jacket Review
What are your considerations in a proper fishing jacket? It could be style, the cut, sizing, weatherproofing aspects, etc.
At ChuckingFluff, our vital pointer at a well-made fishing jacket is how well it protects you from weather elements when you are out on the water.
Aspects of Mother Nature are dynamic and a jacket that can keep you warm while properly regulating body temperatures is a win.
That is what was done with the Simms Challenger Insulated Fishing Jacket. The fabric construction is from two layers. Sounds cheap, right?
Forget the number of layers being compared to quality because you will be in for a surprise.
Simms might have brought the cost of the Challenger down by using only two layers of fabric to build the jacket but the PrimaLoft Silver Insulation makes it the bomb.
The insulation is lightweight at 120 grams in the body area and 100 grams in the sleeves. This is what will keep you warm when casting or hiking in lower temperatures.
The change in the fabric technology used this time came as a surprise. We were used to Gore-Tex waders, jackets, and bibs.
This wasn't what we expected but are proud that it has proven to be a stiff competitor of the Gore-Tex fishing jackets.
Even with the change in the fabric technology nothing in terms of jacket care and maintenance has changed.
At least for the lazy buddy that can't keep up with laundering and caring for different fabric types, this is a relief.
Check Insulated Challenger Suit Web Availability
Key Features of the Challenger Insulated Fishing Jacket
Fabric and Technology
Simms uses the Toray Delfy technology on the fabric for breathability and waterproofness.
You can step out in a downpour and come back bone dry as long as the jacket is in proper condition.
The shell of the fishing jacket is from nylon material with a durable water repellent coating.
Overall, the jacket has two layers this includes the polyester lining with a water repellent coating.
Insulation
To keep you warm when the temperatures drop to a single digit, the PrimaLoft Insulation is added.
This, combined with proper underneath layering will be a reason for you to stay longer outside.
Hood
You can adjust your hood at the three given points to achieve comfort and function.
More hood features include full insulation, secure loops in the back area of the neck, and for safety, Simms adds reflective logos.
Pockets
The chest pocket is zippered and comes with a detachable sunglass chamois. There is an inner zippered pocket for your vitals.
Handwarmer pockets are zippered to prevent the entry of water that could wet your underneath layers.
Around the handwarmer pockets on the inside is a waist cinch that you can adjust for comfort.
Sleeves
Articulated sleeves come with abrasion-resistant elbow panels. The cut in the sleeves is generally enough to allow for underneath layers with longer sleeves without feeling restrictive.
Cuffs are adjustable to help you find the right fit.
Applications of the Challenger Insulated Fishing Jacket
The Simms Challenger Insulated Fishing Jacket has no limits to when and how you should use it.
Some anglers have used it in spring with a lighter base layer and they have been fine.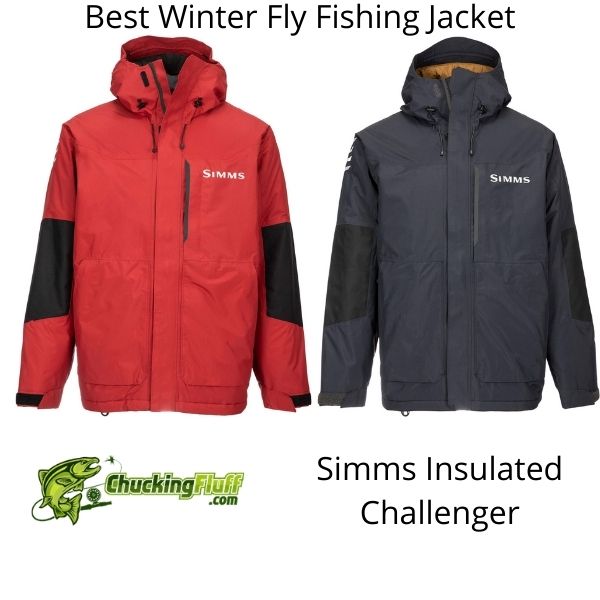 Others have commended it for keeping them warm and bone dry in the winter.
The PrimaLoft insulation has proven to work well and the Toray technology even perfect in regulating body temperatures.
Fly fishers of all skill levels and using any technique can use it regardless of whether they are wading, fishing from the banks, or drifting.
Pros – What Shines on the Challenger Jacket​
Highly waterproof and breathable
Adjustable storm hood
Central zipper with a storm flap
Enough pockets
Adjustable cuff and waist cinch
Warm enough for winter fishing
Does well in saltwater areas
Cons – The Concerns though not Deal-breakers
There have been no critics on the design, cut, features, performance, and durability of the fishing jacket yet. In case any comes up in the future, we will mention it here.
"Check out some of our other Buying Guides"
Simms Challenger Insulated Fishing Bib Review
We ought to remind you that some of the excellent fishing experiences hit when temperatures are volatile. But a fervent angler won't be stopped by the rains or cold.
It is the reason the last few winter seasons have been having a bigger turn out of anglers.
The Challenger Fishing bib has some of the paramount features of rain gear for fly fishing. You need to be in a bib that allows you to freely move as you cast.
Constantly being in motion makes your body generate heat. This, together with the warmth from underneath layers will increase your perspiration levels.
An insulated bib that can keep you warm while regulating body heat is the perfect one for winter.
We are always moved by what Simms does to ensure that the needs of the angler come first. The Challenger Bib had to undergo rigorous tests before being released into the market.
The team at Bozeman was looking out for the dry factor, breathability, movability, construction, comfort, fit, aesthetics, adjustability, packability, angler-friendly features, and value.
It is great to know that the Challenger bib rated highly in all these categories.
In a downpour, the bib was reported to leave you dry. No leaks and seepage could cost it points. As you cast heavy baits, you can move easily.
Take on any angler position and you won't feel like it hurts in the crouch, knees, or shoulders. It breathes so well courtesy of the Toray fabric.
Its construction is excellent from the overall cut to the type of fabric technology used, and how well the fabric stands up to scratches and scrapes.
The bib fits different anglers pretty well. And is roomy in the relevant areas to allow for underneath layering.
Aesthetics might not be a primary consideration to all anglers but to those that it concerns, this one looks cool.
The compaction of the suit is commendable as it packs down very well. It also takes less storage space in your backpack.
---
Main Features of the Challenger Insulated Fishing Bib
Fabric and Technology
The Challenger Series has winter wear made from Toray fabric for weatherproofing, breathability, and durability.
This bib has two layers-the outer shell is made from pure nylon with a durable water repellent coating while the lining is from pure polyester with a DWR.
Insulation
Simms Challenger Bib and Simms Challenger Jacket share the same insulation mechanism but it comes slightly different in the bib.
Here, Simms uses the PrimaLoft Rise. The legs have it in 100 grams and the upper body is 80 grams.
Overlays
You will spot overlays in the cuffs and knee areas for high abrasion resistance.
These are high wear and tear areas and the reinforcement works well to improve function and durability.
Zipper
The frontal access zipper allows you to easily wear and remove your bib. Also, it has a storm flap for weatherproofing in case you are fishing without a jacket.
Simms adds a 2-way side zipper that reaches your thighs from the leg cuffs to allow for quicker boot-wearing and removal.
Suspenders
Adjustable suspender systems are for the win. They enable you to get a proper comfortable fit while securing the bib to your body. The system has a high back for comfort.
Pockets
Bibs aren't as generous in the pocket system as fishing jackets or fishing vests. One or two pockets is usually enough.
This comes with handwarmer pockets for toasting your freezing hands to improve dexterity. There is a thigh pocket for a few accessories and a plier sheath.
Seat
The seat area is well reinforced using the high-abrasion oxford nylon. The quality of this material is for comfort, functionality, and durability.
Applications of the Challenger Insulated Fishing Bib
Fly fishing bibs are recommended for winter fishing because of their warmth levels.
A good number is built with insulation to increase temperatures in your underneath layers and cushion the wearer from the cold.
The Simms Challenger Insulated Fishing Bib has a good history of excellence in winter. It keeps you dry and warm while maintaining higher breathability levels.

Pros – What Shines on the Challenger Bib
Packs down well
Excellent dry factor
Highly breathable
Enough room for underneath layering
Reinforced in the right areas
Adjustable suspender system for comfort and a correct fit
Available in numerous sizes
Durable two-layer construction
Cons – The Concerns though not Deal-breakers
We haven't noted any downsides yet. Note that the sizing of the newer model isn't similar to that of the older model as we have spotted a regret by one angler who thought Simms retained the sizing chart.
FAQ's – Questions about the Insulated Challenger Jacket and Bib
Q) Do these Toray fishing bibs compare to those made from the Kevlar technology?
A) Both perform pretty well as the weatherproofing aspect has turned out positive and at higher ratings. Just like the Cordura and Gore-Tex technologies result in breathable, waterproof, yet lightweight bibs so do the Kevlar.
Q) Is the knee area of the Challenger bib ergonomically shaped? Does it restrict movement?
A) The knee area is ergonomically designed and allows for room for you to squat, bend or make any angler-possible knee movements. So this doesn't restrict movement. There are overlays in the new design for comfort and high abrasion-resistance.
Q) Do the jacket and bib have waterproof membranes?
A) These are two-layered products with the outer shell being made from pure nylon and the lining from pure polyester. Both layers besides having waterproofing features, they are finished with a durable water repellent coating to reinforce their capability.
Q) Does the bib come with a feature for assisted floating?
A) This one doesn't. Most bibs that are built with such features are for ice fishing as it is easy to lose balance, slide on the ice rocks, and dunk in water.
Q) Do the fishing jacket and bib have emergency drainage openings?
A) No, these are mid-priced suit tops and bottoms that don't have advanced features like the self-drainage openings. You might find this in higher-end options.
Q) Does the bib need re-adjusting once worn?
A) If you pick the right size, you won't need to readjust the bib as the elastic strap at the back is functional to give a snug fit.
Wrap Up on the Simms Insulated Challenger Fishing Suit
Well, you can agree that suits aren't only meant for the office and meetings. Anglers too get to rock rain suits and summer suits as they fish.
Overall, Simms outdid itself again on the Challenger series. The rain suit is lightweight yet very warm for use when temperatures are low.
Even when adventuring below freezing weather, the PrimaLoft Rise insulation sets the pace for warmth.
Your underneath layers will be cushioning you from the cold too. To counter overheating, the choice of fabric-Toray-keeps breathability levels at their best.
We love how well water droplets bead off to keep you bone dry. Note that this model is an upgrade of an older version that was on the market several years back.
We love the new reinforced seat area and the removable knee pads. The two are for comfort as these are high wear and tear areas.
The reinforcement helps to withstand abrasion and prolong the life and function of your bib.
Reflective logos on the jacket's hood is a bonus. You will often be out in a PrimaLoft jacket in the winter.
Sometimes it is foggy or misty and vision is affected. A reflective section allows you to be easily seen from afar.
Motorist will keep their distance and in case you have an emergency when fishing on the banks or drifting, it is easy to be spotted for rescue.
We appreciate the new back area and the suspender system. The upper back has been attached to the bib's straps to counter overstretching of the elastic and maintain functionality.
Paired as a rain suit, the Simms Challenger Insulated Fishing Bib and Simms Challenger Insulated Fishing Jacket work perfectly to keep you warm and dry.
We haven't put up much on bibs for you to compare but we have an entire section on fishing jackets that you can check out.
Check Insulated Challenger Suit Web Availability
"Check out some of our other Buying Guides"