Disclosure:
Just to be open and honest the buttons and links you click on in the website will in most cases take you to another website where you can purchase the products I am reviewing. As an Amazon Associate I earn from qualifying purchases.
December 24, 2020
Orvis Mens Pro Breathable Wader Review
Any fly fisher who is a gear junkie will love to review their equipment and apparel. For potential buyers, this is a relief as there are numerous customer thoughts online to help with product selection.
For the brands, this is a check-up point for improvements or overhauls. If you have fished longer, there is a certain quality and performance level that you expect from a few brands.
For us at ChuckingFluff, we rank Orvis so highly and the old guys have never disappointed.
We already had high expectations of the Orvis Men's Pro Waders after its release and the chaps at Vermont outdid themselves. The Pros have garnered immense acclaim straight after release.
This is similar to what happened to the Ultralight boots and convertible waders. Orvis is always increasing its manufacturing standards and the Pro waders have lived up to it.
Noticeable Evolution
The company's growth has been highly noticed and featured in most publications and online news. Fly Fishing Forums have been buzzing about the brand's progress and its unknown secret for a flourishing business.
Orvis is famous for its excellent angling and outdoor products. The company might have been slower a decade or two ago when fly fishing was changing.
Fishermen and women developed uniquely young energy, more enthusiasm, and a liking for tough gear.
Let's say that Orvis struck the iron just when it was hot and ready. The company sprung again and announced a reboot and began manufacturing new gear. Old ones also got revamped for the better.
Their headquarters often brought impressive innovations that anglers still bow to. The first advanced rod was by Orvis and while most anglers own its gear and equipment, a number say that they haven't tested Orvis waders.
If you think that this company isn't known for good waders, this will change today.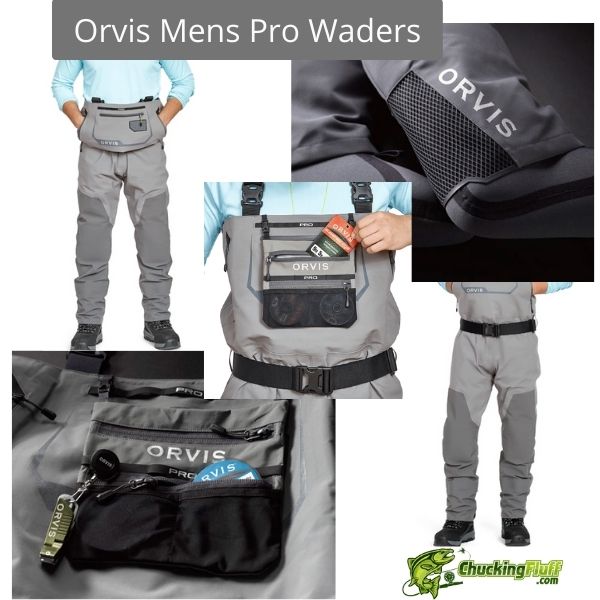 In October 2019, Orvis turned so many heads when it announced its new Pro Fishing waders. The company has been very transparent and immediately highlighted its research and development processes on the website.
What caught our eyes and fought our minds was when they said that it was designed for the angler and built for an athlete.
Only a broad thinker can demystify this. It took the company three years to develop the waders and more than 9,000 hours to rigorously test these waders.

The Build
Winter is here and we aren't giving a chance to the cold. Not this time when we have winter combat gear like these new waders.
If you are a high minimalist, you might give a snap on this one as it is built with a ton of angler-relevant features.
What amazes me the most about the construction is the change from the old durable water repellent coated nylon material to a good-quality Cordura fabric.
When you analyze all the Orvis waders, this is the only one made from the Cordura fabric.
We give credit to this type of fabric for the wader's puncture-resistance. So far the Orvis Men's Pro Waders is one of the highly durable winter waders that your bucks can buy.
Anglers have tested these waders and after several seasons, these aren't marketing claims but facts. These waders feel extremely durable than high-end Gore-Tex waders for winter that you too have worn.
The Simms G4 waders that had set standards in the industry seem to have gotten a stiff competitor.
These Pro waders are hefty but reassure you that the winds and cold got nothing on you.
Its layering is similar to that of the Simms G4 waders with four layers in the uppers and five in the lowers. This was an ideal consideration for anglers who know no tough conditions.
As we always say, the longer and frequently you use your waders, the better you assess their durability.
Fly fishers who have constantly fished in it say that it might take years for it to spring a leak if you properly care for it.
Key Features of the Orvis Pro Waders for Men
Material and Fabric Construction
Dropping the famous Gore-Tex for a new trial that won, Orvis designs these waders from a Cordura fabric. The uppers have a four-layer construction and the lowers boast five layers because they are the most exposed to extremities when you are wading or standing in water. Its shell is made from pure nylon and has a polyurethane membrane and a pure nylon tricot liner. This material is responsible for the wader's remarkable abrasion and puncture-resistance.
Fit
This one takes an athletic fit and is made with a relaxed shape through the seat area to the thighs and legs. It however has been designed to allow for proper and comfortable movement.
Suspenders
Elastic suspenders are adjustable and have opposing buckles to allow the angler to easily convert them from chest-high waders to waist-high waders and back. There are rubberized tabs on the suspender system for tool attachment.
Pockets
Orvis designs an external zippered chest pocket for your fly boxes and anything you need closer for easy access. The inner side has a large pocket made from four-way stretchable power mesh.
You can stash in larger gear like a rain jacket, your lunch box, and extra layers.
These come with kangaroo-style fleece-lined hand warmers to toast your hands. They are accessed via YKK zippers and you can pull the zippers when you are engaged to prevent water from wetting them.
There is a removable pocket for your accessories when you pack heavy and don't want to miss a tool. The inner side has a patch with hooks and loops where you can attach the Orvis waterproof pocket 8G3H which is a separate purchase.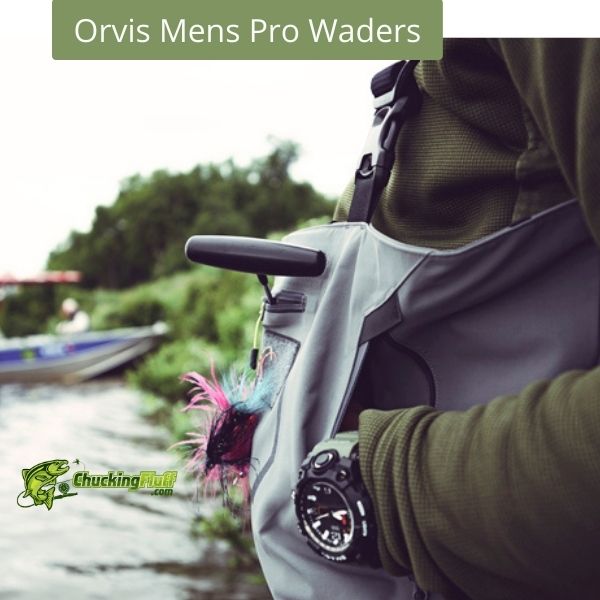 Attachment Points
Rubber tabs on the suspenders are the closest to you. The front pocket comes with a daisy chain for your tools and other essentials. This ensures that your tools remain in place to avoid loss and puncturing your waders.
Still on the front pocket is a fly patch for quickly changing your flies and drying the wet ones before storage in the box.
Wading Belt
Some waders don't come with wading belts. These Orvis Men's Pro Waders one has an adjustable one to help you get the perfect fit for comfort and security.
Knee Pads
The amount of comfort, flexibility, and convenience offered by the OrthoLite removable knee pads is incomparable. Orvis uses the same technology it does in the Pro wading boot insole to make the pads.
Kneeling to do the basics of angling like removing flies from the fish mouths or getting good angles for shots doesn't have to be dreadful. The pads are made from X-25 foam that doesn't compress with prolonged use.
Seams
A low profile construction on the seam areas allows for excellent comfort and enhanced durability and freedom of movement. As outerwear, you might not need any other layer on top of it so it should be crappy to burst and leak.
Crotch
The gusseted crotch in the waders is the little detail that makes these very flexible. It keeps your freedom of movement unlimited and your lower appendages will enjoy proper blood circulation.
Zippers
YKK Aquaguard zippers are another innovation that has proven to be very useful when winter fishing. We are trying to stay away from the cold as much as possible even if we are the most exposed to it. These zippers prevent the entry of water into pockets. Since they are made from durable nylon, they boast durability and ease of operation.
Booties
Neoprene booties will keep you warmer during the colder days. They are anatomically correct and take the shape of your feet while allowing for layering space if you will have winter socks under them.
The mesh gravel guards are well streamlined and reinforced for reduced bulk, preventing water accumulation and the entry of stones and pebbles that could puncture your waders.
Sizes
Orvis designs these waders in different sizes and variations. The variations range from regular, short to long, and extra-long in small, medium, large, extra-large, and double extra-large.
Pros – The Good about the Pro Waders
New functional fabric choice

Excellent abrasion and puncture-resistance

Great pocket system

Durable YKK zippers

Available in many sizes and variations

Comfortable booties

Great suspender and belt system for wader conversions 

Low-profile seams for comfort and freedom of movement

Handwarmers are available
Cons – The Concerns though not Deal-breakers
The gravel guards fit well though not so snugly as other waders do. They need reattaching to the D-ring on wading boots once in a while when in water. 
---
Customer Thoughts on the Orvis Men's Pro Waders
The rugged construction offered by the Cordura material is for the win. How tough it makes these waders be will give a winter angler assurance that they can fight the cold regardless.
Not a disadvantage but something worth mentioning is the knee pads that are stiffer thought does not hinder any activity. However, with prolonged use, this lessens.
Zippered hand warmers are becoming extra storage spaces since most winter anglers are getting used to fishing in gloves. Anglers are happy to store their fly boxes and blunt gear in them and there has been no damage reported to date.
The sizing chart has proven to be very accurate. Don't be scared by the athletic fit. They are less baggy and hiking to your mountainous rivers and streams won't be a problem.
Arthritic anglers approve of the knee pads' efficiency. They aren't scared to squat or kneel any more as the foam pads offer more support and comfort. 
FAQ's – Questions about the Orvis Pro Waders for Men
Q) I pack so heavily when going for winter fishing. Can the wading belt be a good tool docking station?
A) If you snug the belt up, it will hold your pliers, bear spray can, and a small hydration pack without sagging. Just ensure not to overload it for comfort and functionality. 
Q) Do the seams ride up the crotch? This can be so uncomfortable.
A) Orvis owns the proprietary sonic weld technology which it uses to design and finish seams on these waders. The seams completely lay flat for comfort, don't ride up the crotch, and offer more wiggle room. You could gain some more pounds and they'll still fit well. 
Q) What's the fit like in the chest area?
A) There isn't so much material here just more space-enough to allow you to have more layers underneath without the waders feeling constrictive. 
Q) Are the waders breathable?
A) Yes, these breathe so well and their rate is compared to the Gore-Tex technology waders. 
---
Angling gear often breaks down. A fact is that after some time, all waders leak. What should concern you more is the duration it will take before the worst happens.
Efforts by manufacturers are what will prove how long yours will sustain you before your first leak. It might be two sessions, one season, or a few years.
We would like it to take more time because what we feel when we use the Cordura Pro waders is heading in that direction-longevity! The praises these waders have received is worth it.
With all the features put together, an angler has every reason to have this on their winter shopping list. From the puncture-resistance to the convenience of the removable knee pads, and excellent storage system, you are set to go.
The fit hasn't been a primary issue as there are over 20 sizes of these waders. The variations allow each angler to get what is right for them without compromising comfort, and freedom of movement.
After analyzing customer reviews from different guides and anglers, the concerns are very minimal and not things that can hamper you from having a good time on the water.
Despite the Orvis Men's Pro Wades being solid, tough, and puncture-resistance, proper care and maintenance will be necessary to prolong their lifespan and performance.