Disclosure:
Just to be open and honest the buttons and links you click on in the website will in most cases take you to another website where you can purchase the products I am reviewing. As an Amazon Associate I earn from qualifying purchases.
January 14, 2021
Orvis Mens Pro Half-Zip Fleece Review – Traps Heat
Annually, the weather can get to its absolute snootiness. This isn't an exception in some parts of the world where the best fly fishing happens.
Self-proclaimed couch potatoes and indoor enthusiasts will be calling your phone to warn you of the single-digit temperatures and their effects.
''You can't dare step out to fish in such bad weather'' their statements would go like this.
Fervent anglers don't need to keep reminding you that it is their lifestyle and job. They are usually completely warm and comfortable because of their choices of clothing. Forget the long Johns quilted type of fleece for now.
The Orvis Men's Pro Half-Zip Fleece is what is causing a buzz among winter anglers.
Textiles have evolved and the technological advancements in the angling industry are immense.
There is gear for almost all conditions unimaginable that manufacturers design to block the wind, shed water, stretch, breathe, and make the wearer cozy when Mother Nature decides to be inhospitable.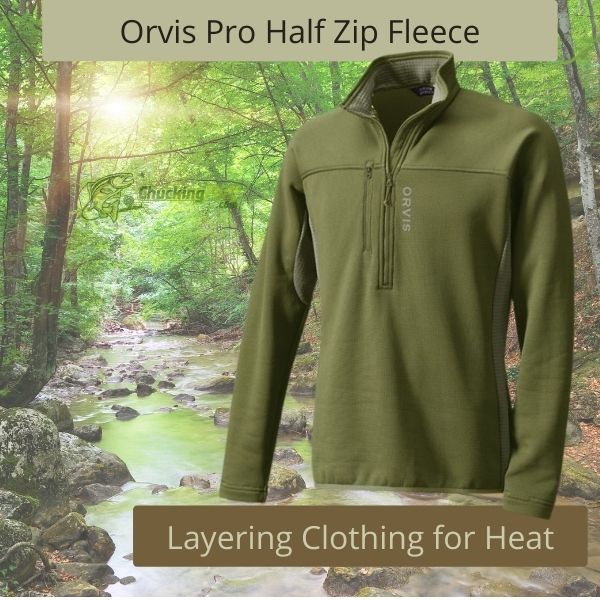 Check our Winter List
Orvis Pro Half Zip Fleece Web Availability
Fortunately, the Men's Pro Half-Zip Fleece by Orvis boasts almost all these properties.
The market is flooded these days and it can be daunting when selecting the best quality of fleece without compromising its weight as a Midlayer.
After creating the foundation of warmth in your core area with a proper base layer from polyester, you can have this half-zip fleece over it.
This one fits the bill and is generally breathable.
Most anglers prefer those that have windproof properties especially if the weather is fair and looks like it might get warmer in the day.
You can still strip off your outerwear and remain with the pullover when the winds are mild.

The Orvis Men's Pro Half-Zip Fishing Fleece Pullover is pretty slick and uses body mapping technology for breathability, freedom of movement, and temperature control.
The current layering systems are modest and don't require the angler to wear big and bulky mid-layers for warmth.
Orvis's new fleece pullover with the half zip is made from lightweight material and is an excellent option for the casual fisher and the commercial angler.
When you are guiding on the streams and rivers and temperatures are at their worst, maybe a downpour is highly expected, you can have proper outerwear over this pullover.
Winter anglers tend to love their onion rings. Pullovers are becoming a critical part of these systems. In western countries, temperatures and conditions vary greatly.
The weather isn't constant throughout the day. We have noticed that the Orvis Men's Pro Half-Zip Fleece is on the radar of most anglers.
The first aspect that might confuse anglers with a look from afar is how lightweight and thin it looks.
You shouldn't underestimate it until you have felt it and put it to the test. This is how the first mid-layers should be made.
Other properties will work together to see that you achieve warmth, dryness, and comfort. Orvis has used several technologies in this pullover.
Their delivery is a high warmth to weight ratio and is becoming a staple in the collections of fly fishers for frigid mornings.
---
Key Features of the Orvis Men's Pro Half-Zip Fleece
Fabric Technology – Orvis uses Polartec Fleece fabric to make this pullover. This technology has changed how anglers dress for winter fly fishing.
The thermal fabric is from polyester fibers that are durable and versatile. The pullover boasts greater resilience, less weight, more warmth, and quick-drying features because of the Polartec fleece.
Its pill resistance is on another level. Something that makes you achieve longevity and functionality.
Soft to touch, this pullover is very comfortable and highly breathable. However, it isn't waterproof hence recommended for use as a Midlayer. You can read more about this fabric technology on the Polartec website.
Using a blend of spandex, there is a slight stretch in the fleece. The manufacturer uses the Polartec Power Stretch Hardface to coat the body and arms of the pullover.
This surface treatment is fused in the polyester fibers to improve the fabric's water repellency and abrasion resistance. The coating doesn't compromise the breathability aspect but maintains the fabric's performance, quality, and prolongs its life.
Side Panels – Orvis uses the Polartec Power Grid fleece on the side panels. This technology patented by Polartec strengthens the performance and efficiency by greatly improving breathability and warmth without increasing the mass of the material.
The geometric patterns boost compressibility, moisture-wicking, and gives the pullover a technical style. We love how well the company uses the technology to reinvent thermal possibilities with a minimalistic approach.
Zippers – There is a center front zipper that runs a half-way through the pullover beginning from the top of the pull neck. The pocket access also features another zipper.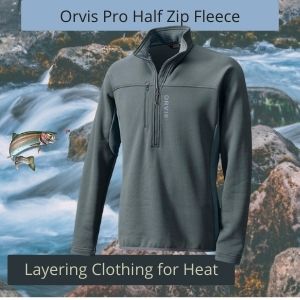 All of them are YKK and easy to operate with the help of pull tabs that are durable and easy to grab. Orvis chooses the YKK zippers for longevity since they are made from nylon and don't rust or corrode like the metallic options.
Patterning – Its fabric patterning is articulated and this comes in an athletic fit which is great for layering over with other mid-layers and outerwear. You can agree that it is a performance-based fleece pullover. The patterning increases the comfort levels and allows for freedom of movement when casting or hiking.
Sizes – The Orvis Men's Pro Half-Zippered Fleece comes in brindle, moss, and turbulence colors. Sizes range from small, medium, large, extra-large, and double extra-large. There is a sizing chart on the manufacturer's website to help you identify a size that fits right.
Pocket – The pocket system isn't as detailed as what you find in other gear. It comes with one chest pocket for your fly boxes if you will be wearing this as outerwear when the weather is warmer. If you will be having it underneath, you can stash in a few personals and valuables that you don't want to be damaged by water.
Neck Style – Taking a pull neck design though, with a mid-front zipper, the extended fabric allows you to cover the neck area when the temperatures are lower or when fishing in wind gusts. The fabric is thick in this area to create more layers for warmth retention.
---
Pros

– The Good about Orvis Men's Pro Half-Zip Fleece
Available in various colors and sizes
A female design is available
Highly breathable
Slightly water-resistant
Allows for freedom of movement
Functional and durable zippers
Excellent temperature control features
Abrasion-resistant
Excellent stretch
Athletic fit for layering
Cons

– The Concerns
Sleeves are slightly longer for men with shorter arms.
---
---
Customer Thoughts on the Orvis Pro Half-Zip Fleece for Men
If you are fishing in winter and have waders and a jacket over this, you will notice how breathable the fleece fabric is. Trekking miles to your fishing location will cause sweating and a proper Midlayer like this one will come in handy to prevent overheating and wetness in the underneath layers.
Thumb loops are a very excellent addition especially if you think that the arms are too long and will get into your palms. They also prevent your sleeves from riding up your arms.
While fleece has its downsides and care instructions that should be strictly followed to achieve performance and durability, its upsides are more than the concerns. We love that there are smaller sizes for brave teens who like to experiment with outdoor life in winter.
Side vents in the armpits downwards are the most real invention for when winter decides to be warmer in the afternoons. Body thermal regulation doesn't need you to remove all the layers you have on.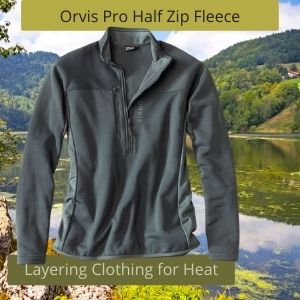 The colors are awesome. If you will be using this as an outer layer in winter when these buddies are spookier, they won't notice you even if you get within 30 yards.
Sleeve lengths are proving tricky especially for men with shorter arms. They are longer and could need folding or pulling back.
The outer side is tough, something you will admire in a fleece Midlayer. This makes it abrasion-resistant to counter piling that damages the performance and durability of your fleece wear.
Tits longer frontal zipper makes wearing and removing the pullover pretty easy. It also helps to maintain the right temperature you need as the conditions change during the day.
The water-repellent coating used by the Polartec technology helps to bead up water when in light showers. This is among the rare features of fleece mid-layers that give this pullover a bonus.
---
FAQ's – Questions about the Orvis Men's Pro Half-Zip Fishing Fleece Pullover
Q) Is this fleece pullover adjustable?
A) Yes. This comes with an adjustable hem to allow you to fasten it properly and restrict the entry of cold air into it. The cord at the hem also acts as a windproofing structure.
Q) Do the colors of the pullovers bleed?
A) We haven't come across concerns of bleeding. You can wash this with other clothes and there will be no damage.
Q) Does this come with a durable water repellent coating that needs touch-ups as the Gore-Tex wear?
A) This one uses the Polartec technology that improves water repellence but isn't clear whether it is a DWR coating. You can't use the sprays on it unless confirmed.
Q) Is the Orvis Men's Pro Half-Zip Fleece pullover waterproof?
A) No. The fleece isn't waterproof. However, because of the technologies used in the construction of this gear, its water repellence levels are higher than in other gear. This one beads water well but only light showers.
Q) Can I run this in a tumble dryer if I am in a hurry?
A) Fleece can't withstand laundering at high temperatures. Neither can it turn out well in a tumble dryer. Also, don't iron this pullover.
Q) Is there static electricity in this garment?
A) Because of its choice of material, it has more amounts of static energy and is prone to attracting pet hair, lint, dust, and other particles
---
Conclusion
Leaves are changing and the temperatures dropping. This means that winter is certain and in a blink, you will need to assemble your combos and waders.
Some areas have ever-changing conditions and finding the perfect pullover for this variance can be a problem. If it is extremely light and you have no proper outerwear, you will freeze.
On the flip side, if it is too thick and overly warm, you will be overheating and your fishing opportunities will be messed.
The Orvis Pro Half-Zip Fleece has been in most anglers' arsenals since its launch. From the customer's thoughts and reviews, we can confidently say that the pullover is becoming a winter and spring favorite.
We love how versatile it is for use in almost all seasons. In winter as a perfect Midlayer and in summer because of its generous side panels for ventilation. It is lightweight and boasts water-resistance.
This is a mid-layer that you should trust when going on other outdoor adventures too. Some anglers say that because of how functional it is, they are loving it as casual wear as it matches well with most clothes.
It will keep a smile on your face if you are looking for comfort, performance, and durability. The design is simple and doesn't break the bank.
Fleece isn't like cotton or other fabrics that are easy to care for and maintain. Ensure that you keep it away from very high temperatures and launder it properly.
Orvis has care instructions up on the site to prolong the life of your garment. While the Orvis Men's Pro Half-Zip Fleece is specifically cut for men, there is a similar version for women. We find this thoughtful as not so much fly fishing gear and apparel are cut to suit the female body.
Check our Winter List
Orvis Pro Half Zip Fleece Web Availability