Disclosure:
Just to be open and honest the buttons and links you click on in the website will in most cases take you to another website where you can purchase the products I am reviewing. As an Amazon Associate I earn from qualifying purchases.
February 4, 2019
Orvis Pro Wading Jacket Review – Made to Handle the Toughest Conditions
You know that Orvis minds your health when it launches excellent fly fishing wear like the Orvis pro wading jacket. Orvis is the world leader in fly fishing and has an assortment of both men and women's wear that are professionally designed and made to suit protect you from the weather extremities when wading or angling.
The jacket in this review is made from high-quality material that is breathable yet well insulated to keep you warm and dry at all times. The triple layer fabric design on the outer shell beats mighty storms and winds. Your fly boxes will have dry and spacious pockets to be stored in. the waterproofness capabilities are high and no matter how deep you wade, you are guaranteed dryness and comfort. Attachment points on this jacket allow you to hook your nets, zingers and other items on the D-ring that is on the rear side of the jacket.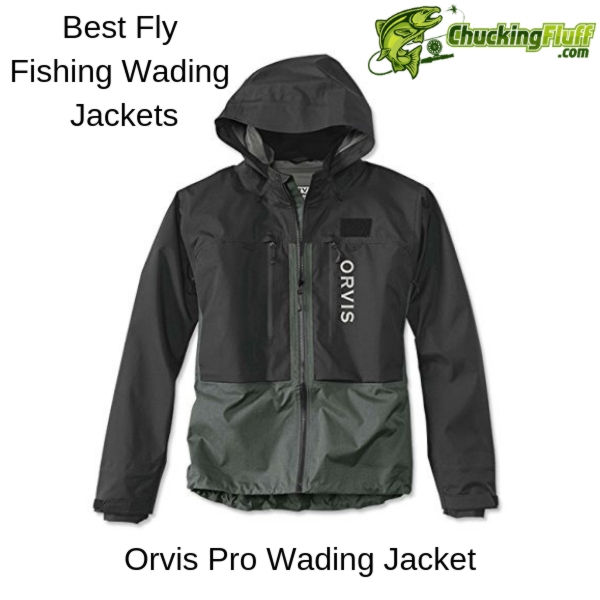 [button link="https://amzn.to/2MZ4FjE" type="big" color="teal"] Orvis Pro Amazon Reviews [/button]
---
Main Features of The Orvis Pro Wading Jacket
Waterproofness – Orvis pro wading jacket is made from a blend of polyester and PU lamination. The outer side has DWR treatment that increases its water resistant abilities. At 20K waterproofness level, you are guaranteed total dryness and warmth during the coldest winter season.
Pockets – The number of storage pockets on this jacket will amaze you. They are spacious enough to fit several personal items and accessories you need when going fly fishing. On the chest are 2 bellow pockets, two others-one on each side and have hand warmers to keep your hands warm when not engaged. It has an internal mesh pocket and an internal security pocket to store your valuables. All pockets have a fleece lining to keep your hands warm.
Length of the jacket – Orvis pro wading jacket has a reasonable length that covers your upper body fully. No matter how deep you wade, there are no chances or risks of getting your pockets wet.
Cuffs – The Dolphin Skin cuff system is incorporated in this jacket and keeps your arms safe from the effects of weather elements. The cuffs fully fit on the wrist area and cold or water cannot slip through regardless of the duration you take in water.
Hood – The storm hood is big enough and has a three-way design for adjustment. The brim of the hood is laminated to keep your head safe from cold and from getting wet with water. The size is enough to accommodate any hairstyle. A chin guard that is finely brushed with suede is integrated into the hood to keep you warm and comfortable.
Attachment points – On the rear side of the jacket is a back yoke with a D-ring that anglers can use for attaching nets and zingers. On the front side are two other attachment points positioned at the top side on the front pocket and a fly patch is located on the top left.
---
Customer thoughts on the Pro Wading Jacket
The Orvis pro wading jacket is highly waterproof and leaves you warm and dry. The three-layer construction on the outer side adds to the water resistant feature.
You shouldn't worry about the hood especially if you keep an afro or dreadlocks. It is big enough and has three adjustment points that you can use to find the right tension that is protective and comfortable.
Dry skin cuffs are something to die for because even in the extreme winters, your arms remain dry and warm.
There is no need to get another layer of clothing to keep warm. The construction is epic and undoubtedly warm.
Handwarmer pockets are a great feature and anytime that the hands are not engaged, you can catch some warmth in the fleece lined pockets.
The chest pockets are big enough to store in your fly boxes. Other valuables can go into the internal mesh pocket-keys, cash and cards.
Weather resistant zippers are superb and repel weather elements like wind, cold and water. Forget about getting cold-related ailments when fly fishing.
Breathability is a guarantee during all seasons. Especially during the summer season, the awful smell of sweat will not hit your nose and leave you disgusted.
---
Pros – Things we liked about the Pro Jacket
Available in all sizes
Three layered fabric construction
Custom woven material for breathability
Highly waterproof capabilities
Fully taped seams
Dolphin skin cuffing system
Chin guard with brushed microsuede
Handwarmer pockets with zippers
Rubberized tabs
YKK-Aquaguard zippers that are weather resistant
Three-way adjustable hood
Rear yoke D-ring
Integrated fly patch
Durable water repellent finish
Easily washable
Cons – Things not so good about the Jacket
Washing shouldn't be reckless. It is supposed to be done according to the instructions on the tag
There are price complains that is a highly priced jacket
---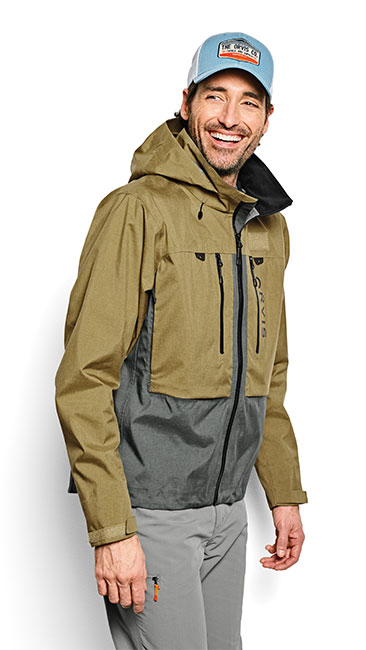 ---
FAQ's – Questions about the Orvis Pro Wading Jacket
Q) What are the available sizes for the Men's Pro wading jacket?
A) Orvis has this jacket in Small, Medium, Large, Extra-large, and Double extra-large.
Q) Which color options can I buy this jacket in?
A) You can buy this jacket in Black/ash or in grain/ash
Q) What is the chest and neck size of the XL size?
A) The chest is 46-48'' and the neck is 17-17 ½''
Q) Does the jacket come in one fit only?
A) No, there are three fits- classic, trim and active fit
Q) Are there any attachment points on the jacket?
A) There is a rear yoke that is a D-ring where you can attach your net.
Q) Is the jacket light in weight? How much does it weigh?
A) This jacket is very light in weight and weighs 660grams
Q) Is the fabric absorbent especially during summer when it is hot and too much sweating?
A) The material is 100% polyester not too absorbent but you can have a cotton vest or rather without because it has a high breathability rate.
Q) Does the jacket allow for tool docking?
A) Yes, there are rubberized tabs for this purpose.
Q) How good is the jacket in the NC Mountains?
A) Excellent I can say, with the three-layer construction you are guaranteed enough warmth.
Q) I want something that fits well but allows me to move around comfortably. Is it?
A) This jacket has awesome movement and is very comfortable just choose the right fit for you from the available three-trim, classic or active.
Q) I will be going salmon fishing in Alaska. How about its dryness and cuffs?
A) Good idea. The shell is very comfortable and will keep you very dry. The dolphin skin cuff system will keep your wrist area well protected from weather elements.
---
Final Verdict on the Orvis Pro Wading Jacket
This Orvis Pro Wading Jacket Review is ideal for those window shopping for men's wading jackets that are of high quality and long lasting. Among the features that you will love is the three-layered construction that adds to comfort and warmth during all seasons. You do not need to get another under clothing. To add to it, the high breathability levels allow for ventilation and keep you smelling fresh at all times.
Orvis products are loved by many anglers, waders and fishermen. In case you do not find this product in your online store, there are alternative wading jackets in the same price range of the Orvis pro wading jacket. The Simms G4 Pro Wading Jacket, the Simms G3 Wading Jacket or Patagonia River Salt Wading Jacket can be a good alternatives when you miss the pro jacket on the shelves. The quality, durability and performance is similar and considering that Orvis is a reputable sporting and recreation company and value customer satisfaction.
You will love how protective the jackets are. From outside, they are accessed via YKK Aquaguard zippers that are weatherproof meaning all the content inside are protected from weather elements like wind, cold and rain. Considering they are lined with fleece, you can enjoy warmth when taking a break off the shores. The unique style makes it remain fashionable always. Replacing it with incoming jackets will not be needed. Generally, the Orvis pro wading jacket protects your entire upper body from the head to the waist while offering maximum comfort when fly fishing.
[button link="https://amzn.to/2MZ4FjE" type="big" color="teal"] Orvis Pro Amazon Reviews [/button]
[button link="https://chuckingfluff.com/best-fly-fishing-wading-jackets-comparison-and-buyers-guide/" type="big"] Check out our Wading Jacket List[/button]