Fly fishing is beyond the rods, reels and lines. There is a wide range of apparel and protective gear that you must have to ensure you are free from the effects of adverse weather. You will learn more about features of a good wading jacket in this Simms G3 wading jacket vs. Patagonia River Salt Wading Jacket comparison review.
These are not your everyday jackets. The design is specific for water lovers and anglers who know that bad weather doesn't exist. Just bad gear and every piece of crap that is non-protective.
If you are an angler or a fisherman, you must have heard of Simms and Patagonia. The two manufacturers have a wide range of fly fishing products that you can choose from. Since Simms came out with the G3 Guide a couple of years ago, it has been a staple in many sports stores, shores, and river banks.
Even if old is gold, there is always an excitement with a redesigned gear. Simms took on an iteration journey of the previous G3 Guide wading jacket. It is better than what was before.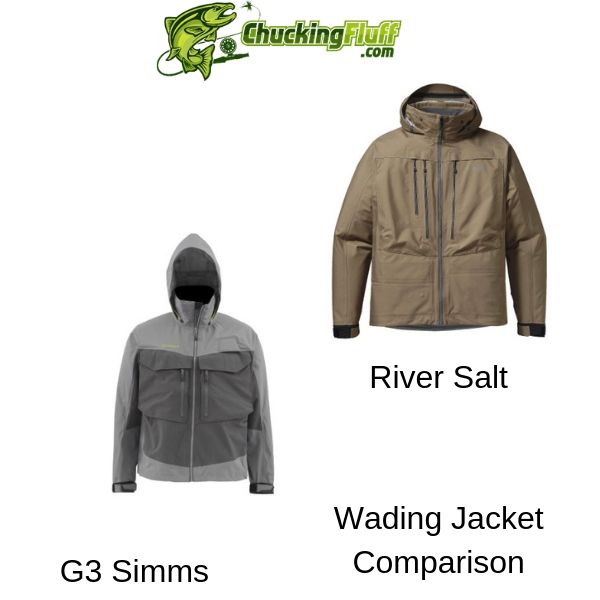 Patagonia is picking up very well in the apparel section with the Men's River Salt Wading Jacket. It is manly from the look and construction. Having a jacket that can protect you from cold and wind in any environment is economical and a good idea.
Well, you might not understand this until you are setting yourself for a fishing trip in different areas and need to purchase gear and pack them up. The River Salt wading jacket is suitable for salt water, warm water and fresh water use.
Now that you know this, it saves you financially especially if you thought of buying each jacket for each condition. I wouldn't want to talk about how much it saves on storage space.
Patagonia and Simms have invested so much in innovative designs, quality production, intense marketing strategies and dependable customer service in order to build solid reputations for their companies.
It could be the reason for mass buying once any product is launched. Fly fishing in the winter and autumn needs you to be well-clothed. There are anglers with health conditions aggravated by exposure to cold and wind.
Hypothermia, Raynaud's, Asthma, and norovirus patients will need extra protection to ensure they don't fall sick while on water. For them, this jacket is the real deal.
---
Simms G3 Wading Jacket Review
Now that you are casting for some hours on a small stream or looking to head on an extended fishing trip with some very nasty conditions, it is vital to keep dry, warm and comfortable. Wearing the Simms G3 wading jacket guarantees you all these and more.
I bet you will be stoked you made the right purchase once you find yourself in an epic fishing situation that presents itself when the weather is not ideal.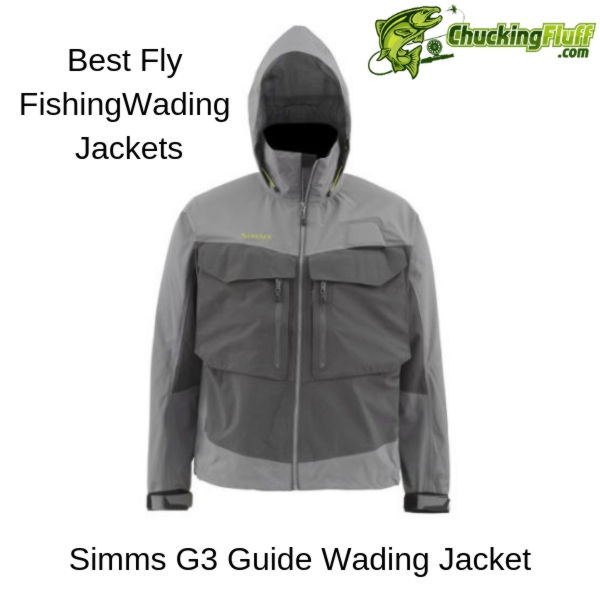 ---
Key Features of the Simms G3 Guide Wading Jacket
Not everyone loves feeling heavy with chest packs or sling packs with accessories or personal items. Especially men. They ensure that they carry very less. Thanks to this jacket, the pockets are enough to accommodate basically what a man needs while away on short sessions.
7 pockets, two are on the chest for a top load for your small sized personal items, 2 chest pockets with zippers, 2 hand warmer pockets lined with fleece and an internal stash pocket for your valuables.
Dry cuffs are well finished and have a good fit at the wrist area. They are effective in preventing water and cold from running up-sleeve when you are tailing or releasing fish. The bottom hem has a durable draw cord that is adjustable to fully protect your upper body as you wade deeper.
Even with a hat on, the spacious hood fully covers your head and extends to the forehead to keep your head area fully protected. With the 3 points, you can adjust to a comfortable fit. When not in use, tuck away the hood to prevent it from getting in your way as you cast.
Advancing from the previous design, the Guide 3 is made from 3 layer Gore-Tex that makes the outer shell high-performing with regards to weather and waterproofness.
It translates to the lightweight nature of the jacket, its breathability and durability. Nylon is 100% waterproof and long-lasting in very many conditions.
The jacket has a good fit and comes in different sizes from extra-small to 4XL. There is no worry if you wade deeper. Your pockets remain over water because of the jacket's good length.
Simms uses YKK AQUASEAL zippers that are very light and waterproof. This, together with the Vislon technology that creates a seal in between zipper slots, operation is smooth and you are sure of protection against wind, water and cold.
---
Application of the Simms G3 Guide Wading Jacket
This is a jacket designed for men and can be used in all weather conditions as long as you feel that you need cover. It is very warm and you don't need extra layering not unless you have a health condition that requires you to dress very heavy when outdoors.
It is usable in all environments including salt water and warm water. In fact, according to Simms Care instructions, exposure to warm settings reactivates the DWR coating.
---
Pros – What we like about the G3 Guide wading jacket
Easy to clean and maintain as per Simms's instructions
Highly waterproof construction
Enough spacious storage pockets
Hand warmer pockets
Protective and fitting cuffs
3-point adjustable storm hood
Breathable
Lighter and durable
Hem with an adjustable draw cord
Cons – Things that we don't like
Failure to adhere to the manufacturer's care and maintenance instructions, the jacket becomes useless
.
---
Patagonia Men's River Salt Wading Jacket Review
Another one for the men to look good and feel protected in. Since a very long time men weren't very conscious of their looks. As long as they had any cloth on, they felt comfortable. Times have changed and the fly fishing industry is also embracing this change.
Patagonia is among manufacturers with able and talented designers. From the waders, jackets, shirts and other apparel it manufactures you can confirm that it is style sensitive. Add this to their high-performance and durability and you have what you need for a good day on the water.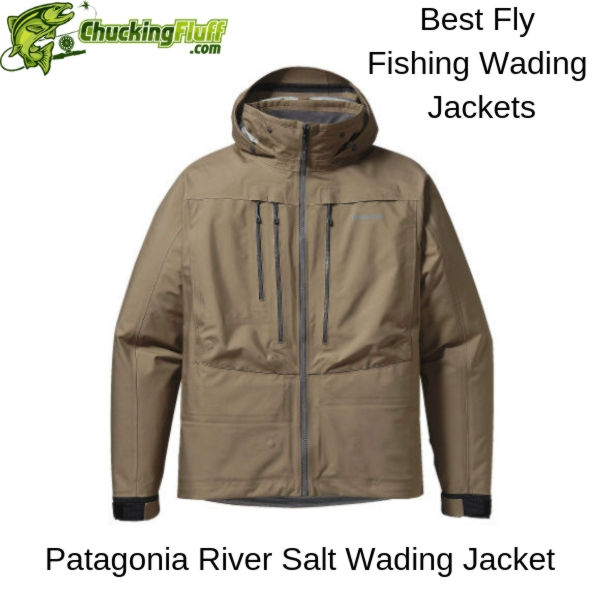 ---
Key Features of the Patagonia River Salt Wading Jacket
Polyester is known for its durability even if exposed to the toughest weather conditions. This Men's River Sal wading jacket confirms it. It is entirely weatherproof and dries quickly after getting wet. Incorporated with the Durable Water Repellent finish, water rushes down the outer shell leaving you dry and warm.
Breathability is key for every wading jacket. Angling is a sport that needs energy just like any other. It may not be as rough as rugby but you sure will sweat. The breathable technology allows the jacket's layers to have moisture wicking properties leaving you fresh and dry throughout.
Unlike the Simms, this one has a 4-layer construction meaning more warmth. You can have in an angler's vest or the light T-shirts. All the same chest protection is assured.
Watertight cuffs are what you need to keep your arms warm and dry. The tightness isn't extreme. It secures your wrist well and prevents up-flow of water when your hands get in contact with water.
There are two chest pockets that are large and can accommodate large and several small fly boxes. Coated with TPU, the pickets are water resistant. An internal pocket for your valuables and a mesh pocket for your cards and other small sized items.
The vented hood was a great idea by Patagonia to ensure that you keep dry and feeling fresh. The neck area is well reinforced with an extension of the 4-layer construction fabric to keep you warmer. The hood is very spacious and can be tucked away once you need it off.
Like the Simms jacket, the River Salt has YKK Vislon Aquaguard zippers that are weatherproof and corrosion resistant this translates to its durability and ease of use. Regardless of the conditions they are exposed to, they work well.
There is a draw-cord that is adjustable at the bottom hem of the jacket. Adjust the cord to a tension that is comfortable but don't leave space for weather elements to slip in.
The River Salt Wading jacket has attachment points on the right chest pocket. You can use it for zingers and nets.
---
Applications of the River Salt Wading Jacket
The River Salt jacket in this review is designed for men. Females interested in this jacket can get the Patagonia Women's River Salt Wading Jacket with similar features but designed for female anglers.
The jacket is an all-rounder and can be used in fresh and salt water environs. The zippers are corrosion- resistant and dependable in terms of durability.
---
Pros – What w