With swirling gusts, pelting rains, uncontrollable cold and pushes of angry steelhead, many rivers, lakes and oceans in winter make a great test environment for sampling and testing wading jackets for the feminine gender.
There is something about the Orvis Women's Pro Jacket and the Patagonia Women's River Salt Wading Jacket that will leave you in awe. Every aspect of these jackets from the fabric construction, cuff designs to the pockets and storm hoods, they all get a workout.
We have rounded up a few best wading jackets that comprise both male and female designs on the buyer's guide on our website. You can pass by and see how enticing everything is. We only pick the best of the best.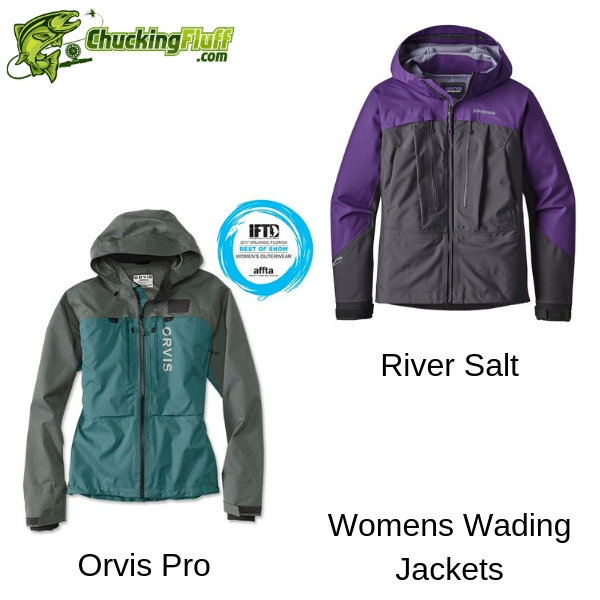 Not all rivers have a full-blown deluge on a daily basis. It depends on your geographic location anyway. Many women hate looking unsightly. This is the reason these jackets are striking and a thing to grab if you are a serious avid angler who minds your health and style.
Women aren't dumb and can list the features they look for when looking for the ideal wading jacket. If checking for water-tightness was possible they would have. Much of it is towards the protective side. How well are you safe from the effects of adverse weather conditions?
No doubt here. Patagonia and Orvis are companies that have scaled higher in the fly fishing industry with a motive of customer service and satisfaction.
Everything that leaves the production department is first checked for quality and successful passing of the relevant certifications before release into the market. I must say that so far the two companies have gained a reputation from their high-quality products and attention to customer feedback.
Superior rain and wind protection in an exceptionally smart design that is extremely angler friendly is what any female angler would want. This is what these two jackets offer.
Let's not bargain here. Having a properly selected wading jacket o enhances your angling experience. It goes beyond keeping you dry, comfortable and warm to having features for convenience when on water. There is so much to be gained.
Normally, women are heavy packers regardless of whether they are out for a few hours or going on a few weeks fishing trip. All these considered, choosing a featureless and low-performing wading jacket in very harsh fishing conditions becomes a burden rather than a benefit.
There are certainly a couple of pros to choosing either the Orvis Pro or Patagonia River Salt jackets for women. We are discriminatory as we'd like to give you a true picture of what to expect after purchasing either of these jackets.
We include cons from genuine customer feedback. If you find some time to research or embark on some DIY tricks here and there, the cons can turn out into pros. Make a wise choice and the time you spend on water will be more enjoyable.
---
Orvis Women's Pro Jacket Review
Women pride in award-winning brands and products. So do men. This one is a catcher and no woman would let it go not unless you demand so much from the manufacturer.
Winner of the Best of Show Women's Outerwear Category AFFTA International Fly Tackle Dealer in 2017, the jacket got an exceptional reception in the market and it has so far retained its glory.
A sample that is designed and made by women for other women, you can be sure of investing in the best of the best once you make a purchase.
It is loaded with awesome features, portrays durability of its own kind and targets lady anglers who don't want to row out whenever rough weather knocks in because of the seamless fun they are having. Check our exclusive review of this jacket on our website. Meanwhile, a brief on the main features is below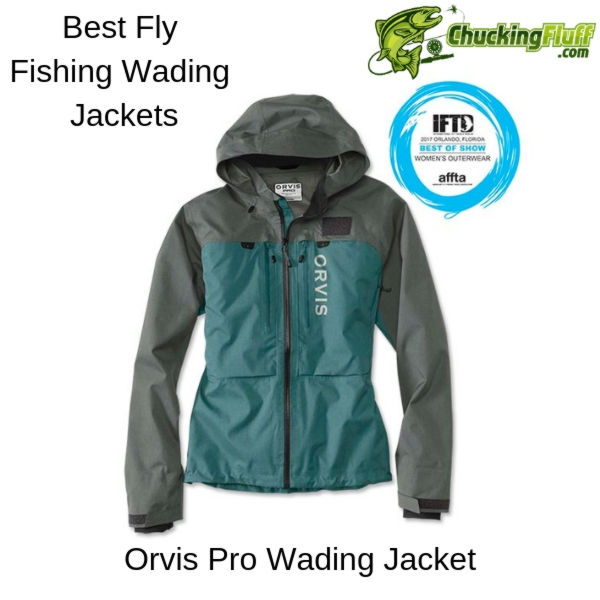 ---
Key Features of the Orvis Women's Pro Jacket
Weatherproofing features here are worth fully trusting. The 3-layer fabric construction is custom woven and tested for tightness. With 20K waterproofness and 15K breathability rate, you are guaranteed dryness throughout even when the heavens burst.
Orvis has maintained its DWR-Durable Water Repellent finish on all its jackets and this one is not an exception. The finish repels all water from the surface of the fabric. Still at it, Orvis tapes all seams to ensure there is no room for water entry.
YKK Aquaguard zippers are water resistant and durable. They are made from corrosion and rust resistant material that allows for use in warm water and freshwater environs. There are side zips for ventilation on the jacket and to access waders easily.
Pockets are a must-have in a woman's wading jacket and this one will draw you closer. Its outer pockets are large and can accommodate large and small size fly boxes. A security pocket in the inner side is accessed by a zipper. If you have valuables you badly need with you, you can keep them there and more in the power mesh pocket. With or without gloves, you will need the hand warmer pockets to keep your fingers warm.
These are what we call features of convenience- the rubber tabs for tool docking, an integrated fly patch, a back yoke D-ring for attaching your net. You will not need extra bags for storage. Unless you feel like you need to carry more items.
---
Application of the Orvis Women's Pro Jacket
Whether in a heavy downpour or in light showers, this jacket does very well in protecting you from cold and wetness. You can use it in fresh water and warm water fishing. It doesn't mean that it can't stand up to salt spray but you will need to launder it well or give a quick rinse.
---
Pros – What we like about the Women's Pro Wading Jacket
Contoured fit
3-layer fabric construction
Fully taped seams
Weather resistant zippers
Attachment points
Adjustable hood
Adjustable hem
Large storage pockets
Dolphin skin cuffs
DWR finish
Cons – Things that we don't like
Careful when laundering lest you damage it completely. No bleaches and softeners!
.
---
Patagonia Women's River Salt Wading Jacket
The spectrum of top of the line wading jackets spans a series of features, prices and qualities. Gear meant for days with extreme weather are prioritized to show their mettle and to prove that they are worth more than the gear you go out in the fair days. Let's face it, Patagonia is a reputable manufacturer and this shows in their line of products. This wading jacket with a focus on saltwater environs plays a big role in being an all-round jacket.
Saline environments are harsh and need an equally harsh jacket to keep an angler safe. It performs and translates very fast into a wading jacket that almost every female angler won't loathe- more time on the water. This jacket is not the same as the Patagonia 3 in 1 River Salt jacket. The 3 in 1 combines the River Salt and the Primaloft Nano Puff jackets.
---
Key Features of the Women's River Salt Wading Jacket
Made from 100% polyester, this wading jacket is highly waterproof and has a breathable barrier to leave you feeling dry and fresh when it is hot and you'd like to spend more time on the water. The 4-layer fabric construction is robust. The DWR finish keeps you very dry and warm. This means it isn't up to the weather-it is up to you to decide what time you will leave for home.
Patagonia pays attention to every detail. That is why this River Salt jacket for women is precisely and cleverly done. Making it with a streamlined design does away with unnecessary edges. You will not experience snagging of the fly line.
Waterproof YKK Aquaguard zippers are corrosion and rust resistant and keep water out. Patagonia uses a special type of plastic to make the zippers last long even when exposed to saline environments. Such details are music to an angler's ear. Especially if you go fly fishing often.
You need the necessary resources when on water. The large size pockets come in handy for this. The upper arm has a small pocket for your sunscreen tube, a lip balm and a sachet of wipes. The inner side has an internal pocket for your valuables and keys. Handwarmer pockets are for warming your hands when not engaged.
A hood that stays in place keeps your head covered and protected even on a speedy boat. It is vented to allow for free air movement and is adjustable. Velcro cuffs keep out snow, water and cold leaving you dry and warm. They are designed to be adjustable to your most comfortable tension. The hem area has an adjustable drawstring.
---
Application of the Women's River Salt Jacket
Like the Patagonia Men's River Salt Wading Jacket, this female design is applicable in any fly fishing environment. Having a tough construction and added features like rust resistant zippers and a Durable Water Repellent, it can serve you in saline, warm and freshwater environments.
---
Pros – What we like about this jacket
Highly weatherproof
Breathable membrane
Adjustable drawstring at the bottom hem
Hand warmers lined with fleece
Packable
Vented adjustable hood
Cons – Things that we don't like
We'd appreciate if it had a back pocket for exclusive storage
---
Similarities of the Patagonia Women's River Salt Wading Jacket and the Orvis Women's Pro Jacket