Disclosure:
Just to be open and honest the buttons and links you click on in the website will in most cases take you to another website where you can purchase the products I am reviewing. As an Amazon Associate I earn from qualifying purchases.
September 9, 2019
Redington Behemoth Fly Reel Review – Power in the Drag
Fly reels aren't cheap like other fly fishing components. At least most of them are expensive.
Not because the manufacturer is on a mission to rip you off your hard-earned bucks, but because they are intricate components that need to take a delicate path during designing to ensure that they perform reliably.
We can boldly see this in the Redington Behemoth Fly Reel. There are two important terms that many anglers believe always go at par with quality fly reels for big-game these days.
These are 'aircraft grade' and 'fully-machined'. A close look at these terms is what makes most 7-weight and other heavier reels cost more.
If you have never seen it and this is your first time, then take a pause. The Behemoth is a total stunner and will catch anyone's attention.
What seems like a home run is falling in love with its aesthetics, a great price together with a powerful drag system that creates very strong tension.
If Die-cast fly reels are never on your radar, this one will be different. For sure, it is one of the best fly reels for the money.
The Behemoth offers such a super value. Let's start with the drag. It is already a major selling point.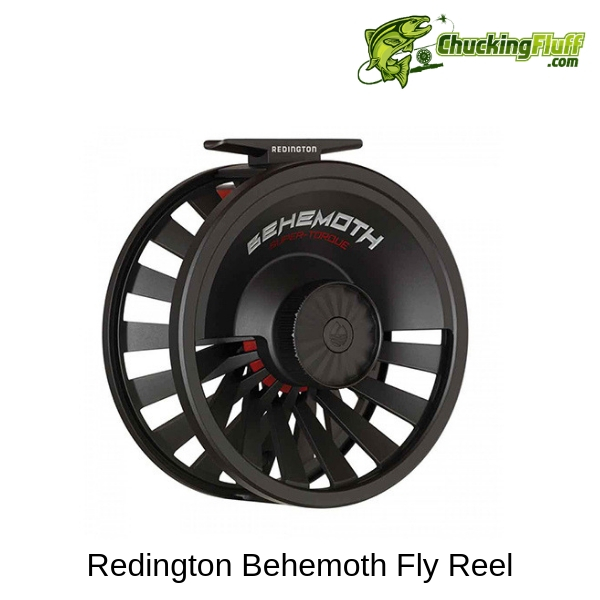 ---
Throughout the entire setting period, the drag system starts up instantly unlike others that do with hesitation. The silkiness and smoothness you will love.
To accompany the smooth operation, you will hear a mild click when the line pulls off the reel. To adjust the drag, there is a large knob that is easy to grab at the rear.
It gives soft clicks through the turning range.
Though it isn't fully sealed. The reel picks up the fly line pretty fast producing a mild yet pleasant click sound just like the drag output.
There are more cosmetics that make it appealing insight and in performance. The handle is a noteworthy feature.
Its colored inset made of rubber together with the integrated quick release spool and spool counterbalance makes the overall construction pleasingly crisp, clean, and smart.
You need to notice that the Behemoth targets anglers who have an interest in tangling with the big species of fish. Redington has gone further to price it affordably.
It prides itself on the un-machined die-cast construction. While most users have a reputation of these kinds of material being easily breakable, cheap, with really shitty drags and not worth it for serious anglers, it is probably because they got counterfeits or very low-quality brands.
Yes, the Behemoth is brittle but it isn't substandard. Regardless of the thoughts of delicateness, if you beat this reel up in some demanding conditions, you walk away without any complaints.

Redington Behemoth Fly Fishing Reel, Multipurpose Fly Reel for Freshwater and Saltwater, Large Arbor and Adjustable Drag, Black, 7/8
BEHEMOTH FLY REEL: Combines the most powerful drag in its class with stunning aesthetics that push the limits of fly reel design. Sized for your favorite 5-weight trout rod, and all the way up to saltwater ready, big-game sizes.
QUALITY DESIGN: The unique, un-machinable, die-cast construction is coupled with a durable, interlocking, large-arbor spool design that both looks and functions like a premium reel.
HEAVY DUTY DRAG: A super-heavy duty carbon fiber drag package brings the utmost in drag strength, reliability and performance to the family.
EASY RETRIEVE: The large arbor is designed for speedy line retrieval and reduced line memory. Twin molded handle with soft-tough ergonomic grip gives you great feedback when pulling in larger species of fish.
BACKING CAPACITY: [5/6] 125 yards / 20 lb, [7/8] 200 yards / 20 lb, [9/10] 200 yards / 30 lb, [11/12] 250 yards / 20 lb
---
Main Features of the Behemoth Fly Reel​

Drag System – Considering its performance, the Behemoth fly reel has its nucleus around the drag. It makes sense. The drag isn't stout. If you test the 30-pound strength claim by Redington, you will rule it as a fact. It smoothly engages the fish on the fly line and the stopping power to is great. The startup inertia of the Redington Behemoth Fly Reel is reasonable. Forget about rough stops, judders, and losing fish through the popped tippets.
---
Die-cast Construction – Aluminum is heated and cast into a mold. While most die-cast reels have imperfections and small blurs, this one has no blemish. When compared with plastic reels, these ones are more impact resistant but can't compare to the sturdiness of CNC machined aluminum reels. If you are a domestic angler who is cautious about your fly fishing kit, this one will serve you diligently.
---
Spool – Behemoth has a triangular spool and if you feel like taking on a mathematics session, you will have to find a formula to calculate line pickup and volume. Triangular spools pick up the line very fast unlike standard spools. This is because of the low volume near the reel's arbor. The backing fills the reel rapidly. The disadvantage is the wideness of the spool which means it experiences line pileup often. So far, its capacity is really great.
---
Finish and Durability – From our review and feedback from most anglers, the die-cast reels loath being dropped. The Behemoth isn't an exception. Aspects of durability will highly depend on the user's cautiousness and use.
---
Retrieve – With the twin-molded ergonomic handles that are soft to touch, you can easily convert to the left or right hand retrieve. If you are left-handed, it is easy to use it.
---
Drag Knob – Redington designed this one to have an oversized knob. It might be a disadvantage but is easily accessible and to adjust on a fly.
---
---
Other Aspects of the Behemoth Fly Reel​

Main Materials – The main material on the Behemoth is die-cast aluminum. Molten aluminum is poured into a mold and the crafting process goes on. Though not tough like the CNC machined aluminum, it still is dependable if you are an occasional angler.
---
Handles – Twin-molded ergonomic handles are fully functional and offer utmost grip and comfort. When cranking on big fish, the grip is unquestionably amazing whether you have fly fishing gloves on or not.
---
Drag System – The reel can catch both small and big fish. As you use the adjustable drag system, you will discover that it is easier to fight bigger fish. The heavy-duty drag system allows you to reel in fish of your choice. Its stopping power is great and the startup inertia is low.
---
Capacity – Different reel models of the Behemoth have different backing and capacities. There have been no complaints though on the capacity and line pickup.
---
Weight – The size 5/6 reel weighs 5.7 oz., 7/8 reel is 7.5 oz., 9/10 is 10.8 oz., and 11/12 weighs 11.4 oz.
---
Warranty – Redington issues a lifetime warranty to the original owner of the reel. In case of defects in material and craftsmanship, the service team will make a replacement. Other repair issues will have to cost you a few bucks. There is more on their website about the warranty terms and conditions, charges and duration.
---
Customer Thoughts on the Redington Behemoth Fly Reel ​
Behemoth has one of the strongest carbon fiber drag systems. Even though not fully sealed but capped, it performs its duty without any problems. From the startup to reeling in fish and stopping.
Two reels so far, there are no complaints other than the fragility of the reel. It is a head-turner but for an avid angler who has the energy to cast like there is no tomorrow, it should have been machined. Anyway, overall, it is a great reel.
With all the strength it has, the reel is able to manage a sleek look with a state-of-the-art design. The aesthetics are on point.
The large arbor design has an interlocking system that is dependable and gives a very fast retrieve and allows for minimal line memory. It is easy for the line to come on and off the reel smoothly.
Heavier models catch larger fish with ease. Thanks to the additional backing that is provided by the reel. Reeling in hard-to-lose fish isn't a thing to worry if you have the Behemoth.
---
---
Pros

– Things that shine on the Behemoth Fly Reel​
Powerful and adjustable carbon fiber drag system
Large arbor design to speed retrieve and minimize line memory
Oversized drag knob
Triangular spool to increase backing capacity
Twin-molded ergonomic handles
Lifetime warranty
Cons

– Things that are not so cool!
The capped drag system is susceptible to getting sand, oil, debris and other elements that will hinder its performance. However, if you always remember to keep them clean by rinsing after each use, it will help.
Die-cast reels like the Behemoth are very delicate and crack or break when dropped.
---
FAQ's – Questions about the Behemoth Fly Reel

Q) Can one use the reel for fishing in saltwater environments?
A) Though not recommended it can. The die-cast aluminum corrodes easily with exposure to agents of rust and corrosion. The reel is also not fully sealed for saltwater.
Q) Does the reel come with an extra spool?
A) No, if you need extra spools, you can purchase them as a separate order.
Q) Why should I have an extra spool?
A) It isn't mandatory but once in a while anglers would wish to switch the lines depending on the water conditions. You can have a sinking line and a floating line. Each spool for each line.
Q) Is it reversible for right-hand or left-hand use?
A) Yes, you can change the side to your convenience.
Q) Does it come with a spool or a reel only?
A) This one comes with one spool.
Q) Does the reel come with a hard case?
A) No, you might have to buy the case separately.
Q) What are the drag capacity and backing capacity of the 7/8 reel?
A) The 7/8 reel has a drag capacity of 30lbs and a backing capacity of 200 yards 20lbs
Q) Does the Redington Behemoth Fly Reel baulk when you engage the drag?
A) No, the reel doesn't hiccup and you can put fat fish on the reel
Q) Which type of spool does the reel have?
A) This one has a deep V-spool.
Q) Is the drag system compact?
A) No, the drag system is adjustable.
Q) Does it have a quick-release spool?
A) Yes, this one is quick release
---
Final Verdict Value for the Purchase
You will not imagine the stir that the Behemoth fly reel caused in the fly fishing industry after it was launched and a few months later. When put to test, the reel does an excellent job and is able to stand up to the abuse you put it through. Something any angler will love to hear.
With this reel, you are not breaking the bank and not going the cheap route as well. It is a mid-priced reel that offers more than it is worth. Its functionality is smooth with the powerful carbon fiber drag system, the dependable ergonomic handles, and large arbor spool design.
The look on the reel is sleek and is available in a variety of colors, you can choose any that complements your style and taste. Nicer aesthetics are evident in the die-cast aluminum. Although many have expressed their concerns regarding its durability, it is a punchy piece for occasional anglers or the cautious type that will handle its fragility.
Despite the concerns on breakability, the reel still provides reliability and functionality. Even if the market of fly fishing reels is endless, the Behemoth has proven to be resilient making it the best fly fishing reel for an angler with a mid-range option.
It isn't easy to slow down monster-sized fish but this reel does this effortlessly. If you go fishing often with this fly reel, chances are that you will land larger fish. You can experiment its ability with changing its drag during the runs you will discover that it engages smoothly with every setting. If it doesn't drop from a higher point, yes it might develop scratches but that doesn't alter its performance.
This one is a champ. While the manufacturer brags about testing it in all environments, it is recommended that you restrict its use to freshwater environs only. Its capped drag system isn't overly dependable in saline areas. If you have to expose it to saltwater, give it a quick rinse under tap water.
Nothing should stop you from trying out this reel. You can preorder for your next fly fishing trip. It is high in demand and if you find it out of stock, you can choose from our alternatives. All of them are in the price range of the Redington Behemoth Fly Reel and the performance, durability, and reliability is dependable.
Orvis Clearwater Large Arbor, Piscifun Platte Fully Sealed Drag Large Arbor Fly Fishing Reel, Sage 2200 Fly Fishing Reel, Pflueger Trion Fly Reel, and Orvis Battenkill Fly Fishing Reel are good options. Don't cancel that trip!
---
---
If you are still not convinced then we have a full list of reels under review here at chuckingfluff.
---
Last update on 2023-10-03 / Affiliate links / Images from Amazon Product Advertising API
This product presentation was made with AAWP plugin.