Disclosure:
Just to be open and honest the buttons and links you click on in the website will in most cases take you to another website where you can purchase the products I am reviewing. As an Amazon Associate I earn from qualifying purchases.
April 23, 2018
Orvis Clearwater Fly Combo Outfit Review – Create a Lifetime Experience
Orvis never goes out of style. This family company is at a par with trends in the fly fishing business and remains top of the list of other brands in the same business. Founded by Charles F. Orvis in 1856, this enthusiastic family took on research and begun engineering and selling fishing lines in 1971. Flourishing in business has seen Orvis open 11 outlet stores and hundreds of retail stores around the world with over 300 in the USA alone due to their impeccable products.
In this Orvis Clearwater Fly Combo Outfit review, the entire package beats all in quality and is affordable. The famous Helios technology is employed in engineering this super outfit that also contains the Orvis Clearwater floating fly line, Orvis Clearwater LA II fly reel, dracon backing, Cordura rod tube and tapered leader. Clearwater is very light in weight and its line control is exceptional. The 4-piece outfit has great features that make you an advanced fly angler in no time.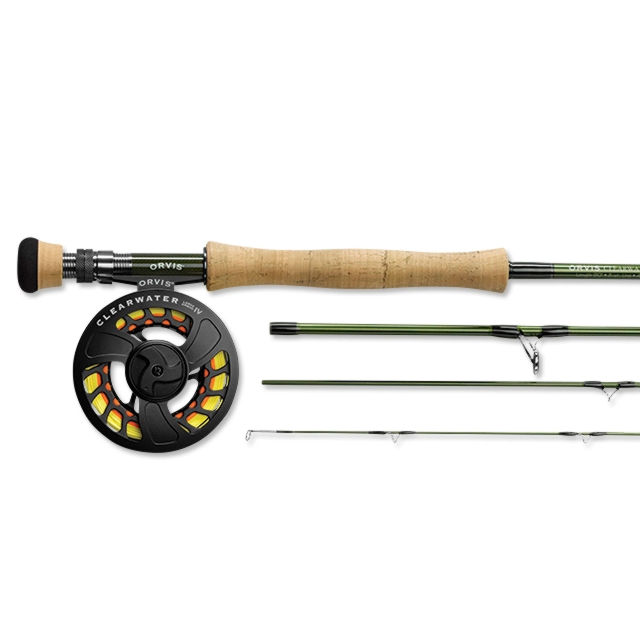 Clearwater Amazon Reviews and Price

---
Main Features of the Orvis Clearwater Fly Fishing Combo
The four-piece combo outfit consists of the Orvis Clearwater fly rod matching clearwater floating fly line and clearwater fly reel, dracon backing, Cordura rod tube and tapered leader. This Orvis Clearwater Fly Combo Outfit review will give you an overview of all its components and their features.
---
Orvis Clearwater Fly Rod key features
• Helios technology – Put together with carbon, the Helios technology the medium action allows accurate casting and is ideal for beginners learning the art of fly casting. 4 piece ideal for easy storage.
• Other Materials – Gunsmoke aluminum reel seat makes the fly rod light and withstands any conditions stripper guide and chrome snake guides.
• Cordura tube – The Cordura tube is long lasting with a divided interior to allow free air movement and the rod has a carry handle for easy mobility.
• 25-year warranty – Sporting till old age you are guaranteed a 25-year warranty in case of any major repairs or replacements.
---
Orvis Clearwater LA II Fly Reel key features
• Large arbor – Orvis Clearwater II Fly Reel has an ultra large arbor to greatly increase the retrieval rate of the reel in either direction. This is a boost, especially when fishing in salt water.
• Drag system – the reel in this outfit features a Rulon to stainless stacked disc drag system that can be continuously and variably adjusted.
---
Orvis Clearwater Fly Line Key features
• Environmentally fit packaging – The paper pulp spool, the newest by Orvis is made from purely recycled cardboard and high-quality craft paper. The entire thing is easily biodegradable protecting natural resources
• Orvis Line ID – you can easily identify your line because it is well printed with taper, functionality, and weight. No more guesswork.
• Braided core – the core is braided with multi-filament for out-performance in any condition whilst sporting in any waters.
• Welded loop – its welded loop is enhanced, durable and new and makes the leader quickly and easily attach. The loop allows for a better turnover.
• Tapered leader – Fully designed in Manchester Vermont, the tapered leader is of high quality and the tapers hardly wear off.
---
Other Aspects of the Orvis Clearwater Combo
Main Materials – The material used on the rod is aluminum and is anodized to result in a gun smoked appearance. The blank is made of green graphite and the wraps have a silver tipping.
Handles – The rod handle is grade AAA cork and reel handle is wooden and well finished to allow easy grip while fly fishing. The fineness favors your palms and prevents bruises from gracing them no matter how long you go fly fishing.
Rod Length – Long enough, the rod comes in different lengths but the 9 foot 5 weight we recommend for the best al-rounder. The reel seat made of Gun smoke anodized aluminum adds strength and anti-corrosion for those saltwater outings. . Engineering technology used is the Helios used in the more expensive Helios II range.
Drag system – the reel has a Rulon to stainless stacked disc drag system. This allows for variable yet continuous adjustment of the system. Drag system that will not let you down.
Capacity – The Clearwater Orvis reel has a capacity to hold the fly line and backing- of 20lb WF5 at 100 yards.
Weight – The fly rod weighs 3.25 ounces and the Clearwater fly reel weighs 5.5 ounces. Lightweight enough that will not fatigue you on long days fly fishing.
---
Consumer thoughts on the Orvis Clearwater Combo
The outfit is of high quality and comes at an affordable price which is a rare thing with similar outfits of different brands.
Its fly rod is light in weight and can withstand any conditions while sporting. It is regarded as highly durable
Casting is easy and fun because the accuracy, balance, and control are perfect and newbies can easily train and become pros in fly fishing with it.
A 25-year warranty that caters for all your major repairs and replacements is among the major highlights of this combo outfit.
---
Pros – Things that shine on the Clearwater Combo!
• 4 -piece set which is inclusive of a reel, line, rod, leader, and backing
• 25 – year warranty on major repairs and maintenance
• Lightweight rod
• Easy to use by beginners
• Price is affordable
• A high-quality combo outfit
---
Cons – Things that are not so cool!
• Good to use for beginners and intermediates only. Experts find it too slow to get distance.
---
FAQ's – Questions about the Orvis Clearwater Fly Combo Outfit
Q) Does this fly rod in the combo have a fast action or a medium-fast action?
A) None of the mentioned. It has a medium action that allows you to concentrate on one technique only.
Q) What is the size of the arbor of the Orvis Clearwater reel?
A) The reel has an ultra-large arbor to increase the rate of retrieval in any direction.
Q) What is the drag system like? Is it adjustable?
A) The Rulon to stainless-stacked disc drag system is adjustable.
Q) Which color does the fly line come in?
A) This fly line is fluorescent yellow in color.
Q) How many loops are on the fly line?
A) The fly line has one welded loop.
Q) I am told that it is light- how much does it weigh?
A) Its reel weighs 5.5 ounces and its rod weighs 3.25 ounces.
Q) Being an expert angler I would like to try it for speed. Is it as good?
A) This combo is perfect for amateurs and intermediate anglers it will be slower considering your level of expertise.
Q) How long will the warranty cover the combo?
A) There is a 25 warranty to cater for any repairs, servicing and replacement.
Q) What is the length of the rod?
A) The rod measures 9 feet long.
Q) What material is used to make the reel handle?
A) Wood is used to make the reel handle and it is well finished and gentle on your hands no matter the duration you take fly fishing.
Q) Is the fly line a floating or sinking fly line?
A) This one is a weight-forward floating fly line.
Q) Does the Cordura tube have subsections or it is a just a whole?
A) The interior of the Cordura tube is subdivided into sections to allow for air circulation and extra protection.
---
Final verdict – A Combo for Beginners but is it worth the Price?
Have you been meaning to go fly fishing? Superb! This Orvis Clearwater Fly Combo Outfit review will leave you wanting to check it out. Newbies anxiety gets drowned once they have an experience with this combo package. The four-piece outfit comes as a whole subsidizing on cost if you were to purchase each piece singularly. This translates to the affordability of this high-quality outfit which is a feature of the Orvis Clearwater Fly Combo Outfit that you will love for life.
Forget your fears in case your favorite fishing gear store has run out of stock of this exact outfit. Among other packages in the same price range as Clearwater Fly Combo Outfit is the Orvis Clearwater 9ft 6 weight 4pc Fly Rod Outfit. Its features are incredibly amazing and work just like the one in this review. Check out our page on the best fly fishing combos for more info.
Breaking the bank to have major repairs or replacements attended to is history when you invest in this combo outfit. The 25-year warranty fully caters for your misfortunes and lets you have great fun at the shores with your buddies new to fly fishing.
Beginners can use this combo outfit since they are new to the sport and need a simpler yet interesting kit to play with. Its simplicity is a plus since newbies don't need complicated items and the medium action allows for easy accurate casting. Take them out and let them have a moment with this Orvis Clearwater Fly Combo Outfit. Trust me they will love it.
Clearwater Amazon Reviews and Price