Disclosure:
Just to be open and honest the buttons and links you click on in the website will in most cases take you to another website where you can purchase the products I am reviewing. As an Amazon Associate I earn from qualifying purchases.
November 23, 2018
Redington Crosswater 4 Piece 9ft 5-6 – Budget Friendly Combo
If you are an amateur in the fly fishing field, coming to terms with the right setup to purchase can be very daunting especially if you are brand new to this and need to work it all out alone.
You should be grateful because rod and reel combos come in handy and make it a super easy affair to get your fears turned into excitement. An example is the Redington Crosswater 4 Piece 9ft 5-6. It has everything you need to start fly fishing.
Apart from the reel and rod that takes a totally new design, it comes with a durable and awesome looking rod sock and a reel case. In it is a high-quality Rio Mainstream
weight-forward fly line with a backing and a tapered leader.
It is excellent to know how good a combo is before investing in it. As for this one, you will not regret it. In fact, with proper maintenance, you can pass it on to your younger ones.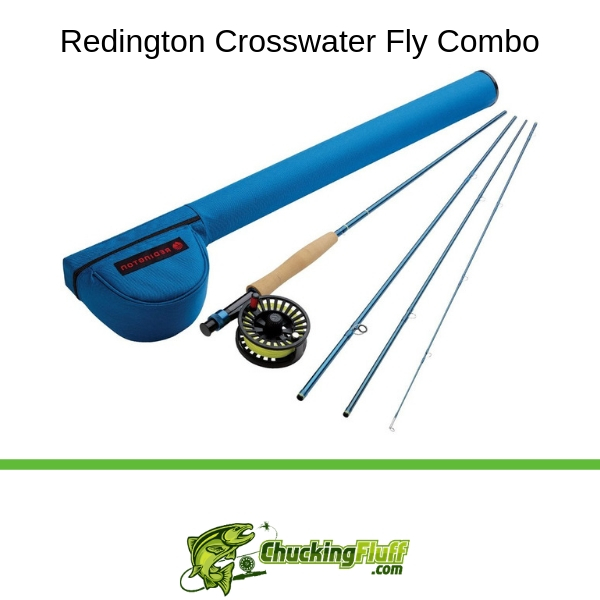 Main Features of the Redington Crosswater Fly Combo
Since it comes as a full package, all you need to do is unbox and begin casting. It comes with an all water Crosswater rod, a pre-spooled Crosswater reel and a Rio Mainstream weight forward fly line with a backing and a tapered leader. To keep your reel and rod safe, and for easy transportation, there is a cordura rod tube and a durable reel case.
Redington Crosswater Fly Rod Key Features
Action – This rod is an all water and has a moderate-fast action that allows an angler to try different techniques and types of fishing when using it. Quite a good way to learn without needing to buy different types of rod. It is cost saving too.
Reel Seat – The reel seat undergoes a special treatment, anodization which makes it a tough piece especially since its main material is aluminum. It makes it very efficient in different kinds of water.
Rod Sock – Redington packs the rod in a cotton rod sock which is durable and absorbent. You can place your rod in it directly from the water and you won't have to worry about it rusting. You are covered when it comes to storing your Crosswater rod.
Cordura Rod Tube – The combo package comes with a rod tube that encases the rod and reel together. It is divided into 4 section to keep the rod from smashing together when travelling.
Alignment Rods – The rod is designed with alignment rods to help make setup very easy. As a novice, you will not experience any difficulty.
Guides – The Crosswater rod has two different guides- stripping guides with a stainless frame and an aluminum oxide insert and Chrome snake guides.
---
Redington Crosswater Fly Reel Key Features
Spool – Its spool is very easy to change. To remove it, remove the screw on the center cap and pull apart the frame/spool. Reattaching will require you to re-seat the two and screw back the center cap.
Arbor – With a large arbor design, it makes the retrieval action quicker compared to the medium sized arbor.
Retrieve – The reel can easily convert to either the right hand or the left hand retrieve.
Reel Cloth – The package comes with a reel cloth that can be used for reel storage and protection from dust, sand and dirt when not in use.
Drag System – A disc drag system gives your reel an excellent stopping power and it is effortless.
---
Rio Mainstream Fly Line Key Features
Redington Crosswater 4 Piece 9ft 5-6 doesn't come with a fly line from the same manufacturer as many newbies in fly fishing would expect. Redington matches this Crosswater reel and Crosswater rod with a Rio Mainstream weight forward fly line which is still perfect to make it a full combo.
Loop – This line has a front loop that is neat, bulletproof and welded to ensure a fast rigging process and make casting a great experience.
Weight Forward line – Mainstream fly lines from Rio are designed to fully meet the needs of an amateur and an average fly fisher and is meant to optimize the performance of the rod with slightly heavier yet shorter head lengths.
Taper – Its taper at the front is short, very powerful to ensure excellent presentation and turnover.
---
Other Aspects of the Redington Crosswater Fly Combo
Main Materials – The Crosswater fly rod is made from graphite material and the reel seat is made from anodized aluminum and is black in color. Other parts of the reel are of durable polymer. Both the reel and the rod can be used in both fresh and salt water. In this combo, there are zero cosmetic blemishes.
Handles – The handle on the reel has a fine length and good thickness. There is also very slight taper to it. There is no texture on the handle surface and the rubber on it is soft to touch, is comfy and has a great and confident grip.
Rod Length – The rod measures 9 feet and this is just about the right length and starters in fly fishing will find it manageable.
Drag System – This reel comes with a disc drag system that has a great stopping power. Disc drag systems are the commonest and what most manufacturers love to use.
Capacity – The Crosswater 4/5/6 reel holds a backing of 100 yards 20lbs with a 5wt of 5.1 oz. at 3.5'' diameter while the Crosswater 7/8/9 holds a backing of 175 yards 20lbs with an 8wt of 5.5 oz. at 3.9'' diameter.
Weight – The line weight is 5 and the measured rod weight is approximately 3.41 ounces. The reel weighs 5.1 ounces.
---
Consumer Thoughts on Redington Crosswater Fly Combo
The reel came very loose and you will need to put a safety line on your reel otherwise it will go downstream. Could be just a problem on mine and not all but thought I'd mention it.
Crosswater combo is a great selection for starters in fly fishing. The quality of the combo at that price point is something to give a thumbs up to the manufacturer.
The fly combo looks awesome and is very light in weight. It feels very great in the hands and is very smooth to cast.
The zipper on the reel case came off after some time. However, with replacement, it still serves its purpose well.
This rod is excellent for panfish and trout and separates well between the second and the third section. The tip doesn't get so much extended and isn't exposed to breakage during transportation.
The lime color of the fly line makes it visible in the wee hours. No squinting or need of anti glares especially when fishing during bright afternoons.
The price of the Redington Crosswater 4 Piece 9ft 5-6 is inviting and compared to similar combos by other brands, it is among the most affordable.
---
Pros 

– Things that shine on the Redington Crosswater Fly Combo!
• Excellent value for money
• The rod is pre-rigged by professionals and you can use it immediately after purchase
• Durable reel
• Smooth casting
• Easy to carry and store the reel and rod
• Rod with alignment dots is easy to set up
• One year warranty for servicing, repairs and replacements
• Lightweight combo
• Good tip action
Cons 

– Things that are not so cool!
• A significant amount of memory and the line will require some stretching before use
• The line doesn't cast heavy flies very well
• Stripping the line is a little tough and sticks in your hands sometimes
---
FAQ's – Questions about the Redington Crosswater Fly Combo
Q) Does the Rio weight-forward fly line have a backing or it just has the line only?
A) The line comes with a backing
Q) What material is used to make the rod?
A) The rod is made of graphite
Q) Which type of leader comes with this combo?
A) The 5wt 9' rod comes with a 5X leader
Q) How long does the warranty cover the combo?
A) There is a 1-year limited warranty and even if the reel and rod are out of warranty, the manufacturer charges a small fee of $30 to do repairs and servicing.
Q) Which size of the line is efficient for use on this reel?
A) You can use the line in size 4/5/6
Q) I cast with my left hand. Can the reel be rigged for the right hand retrieve?
A) Yes, the retrieval conversions from left hand to the right hand and vice versa is very easy.
Q) What is the tested maximum drag of the Crosswater fly reel?
A) The tested maximum drag is approximately 5lbs
Q) How visible is the fly line especially during brighter days and in the night?
A) The Rio Mainstream line comes in lemon green color and is visible in sunny days and can be clearly seen in the night.
Q) What is the overall length of the fly line?
A) The fly line measures 80 feet. 10 feet shorter than the standard length but still works effectively.
Q) How stable and secure is the centre cap on the reel?
A) Very stable and it does not detach easily from your spool not unless you pull it off or unscrew so much.
Q) Is the drag knob adjustable?
A) Yes, the drag knob can be easily grabbed and adjusted since it is designed to protrude out from the frame.
Q) How do I achieve a full drag?
A) A full drag is achieved by making two full turns on the knob and throughout the rotation, there will be loud clicks.
---
---
Final Verdict – A Combo for Beginners but is it worth the Price?
You will be impressed by the aesthetics of every component of the combo. The level of refinement will move you. The cork grip on the rod is of excellent quality and you will love this feature. It has visible filler and is very comfortable and smooth.
The simplicity of the reel seat as it sports the CROSSWATER label on the top side of the barrel shows a level of class while you are in the company of your friends. The alignment dots and the hook keeper are some special features that other brands do not have.
Most of the Crosswater reel is smooth to touch however along the spool rim, the texture is not so refined. If you have a critical eye, you will notice this. However, this doesn't mean that it interferes with its performance. The reel winds in line and at a great rate.
Its spool does not have a very wide width and to this advantage, finger levelling the line is simple to do. If you are too rushy and are retrieving excess line, the spool is free and will spin severally when slapped or smacked. Can you see how effortless using this combo is?
Order this combo from your favourite online shop or if you are near a physical shop that stocks fly fishing gear and equipment, hop in. Sometimes, due to the excess love that many anglers beginning their fly fishing journey have, you might find this out of stock.
Check for the K&E Outfitter Fly Combo, Fenwick Fly Combo, Wild Water Deluxe Fly Combo, and the Maxcatch Extreme Fly Combo. All the alternative fly fishing combos are within the price range of the Redington Crosswater 4 Piece 9ft 5-6 and as good when it comes to durability and performance.
There is no doubt that this is a real investment especially when it comes to durability, performance and value for money.