Disclosure:
Just to be open and honest the buttons and links you click on in the website will in most cases take you to another website where you can purchase the products I am reviewing. As an Amazon Associate I earn from qualifying purchases.
January 14, 2019
Ross Evolution LT Fly Reel Review – Lightweight and Tough
Ross Reels is a name you must have heard of. The US-based company has been in existence since 1973 and is the mastermind behind the engineering of the Evolution LT reels. Mechanically designed for anglers who love outstanding function and art, you will never go wrong if you use it. Not for the excellence in the drag system and the precision of the retrieval rate and casting action, the workmanship of this reel is a total guarantee of value and worth for money.
Designed from strong anodized aluminum, you can bet that its tolerance in both salt and freshwater environments is top notch. Thanks to the special treatment aluminum undergo during groundwork. In this Ross Evolution LT Fly Reel Review, you will attest that it is not only about its good looks but the excellent performance and service. Every component of the fly reel is made to execute its function to the latter and for a long time.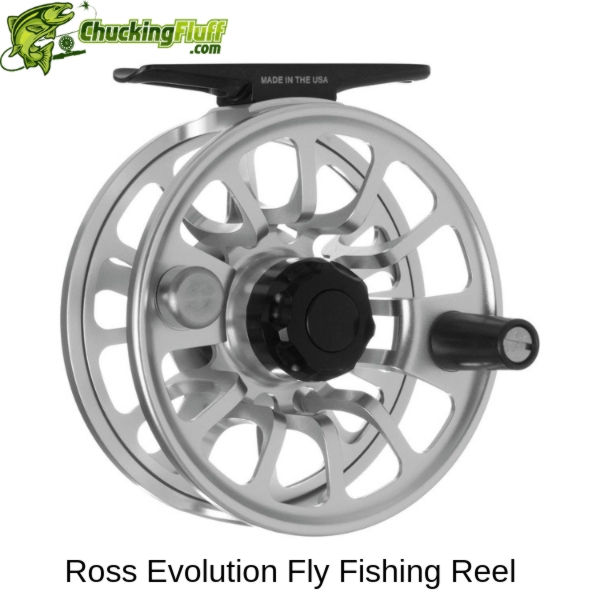 [button link="http://amzn.to/2Fbv0pG" type="big" color="green" newwindow="yes"] Ross LT Amazon Reviews and Price[/button]
---
Main Features and Specifications
Design – Ross Evolution LT Fly Reel is a fully machined one-piece frame and one-piece spool. Manufacturing has been done on automated centers for CNC machining.
Material – The spool and frame have been made from an alloy of aluminum to enhance its strength and durability. On the drag, the material used is Delrin 500AF that has been impregnated with Teflon polymer for heat resistance, self-lubrication, and free maintenance.
Drag system – This reel employs the conical friction system that has a triple redundancy centrifugal pawl engagement. As it works, there is a seamless transition between drag engagement and line-in.
Fly rod – The fly rod coverage is 1wt. to 9wt.
Durability – Aluminum is a strong metal and the anodizing it lengthens its lifespan allowing it to work in both fresh and salt water without any defects. Whether freezing or warm water, casting is not hindered.
Warranty – Ross Reels offers a limited lifetime warranty on this reel relieving you from the costs of major repairs and replacements within the clauses stated in the warranty.
Sound – Forget about the irritating noise produced by other reels. This one sounds great and isn't a threat to your eardrums.
Aesthetics and ergonomics – Its handle is fine but if it was made a little longer that would have been better. Soft to your palms, at no point will you complain of blisters when fishing for longer sessions.
Spool – Changing the spool is a one-touch affair. Simply release the button once. The drag knob is easy to grab and adjust.
Retrieval rate – The mid-arbor makes retrieval rate possible though not rapid as expected of a large-sized arbor. Direction conversion to the left or the right is however not difficult. The bushing is usually oiled and impregnated with bronze and rotates easily on the stainless steel spindle. This is possible with the locking spool that has a quick release action.
---
Other Aspects of the Evolution LT
Material Used and Treatment – The material used on the spool and frame is an alloy of aluminum. Aluminum is anodized for aesthetics, durability, and tolerance to any environment the reel is exposed to. The drag material is Delrin impregnated with Teflon.
Handles – Its handle is fine to touch though short. The smooth finish doesn't cause blisters on the hands no matter how long your fishing sessions take.
Drag system – Drag system used by the Ross Evolution LT Fly Reel is conical with friction. The system's engagement is redundant and has a centrifugal pawl and the transition between the drag engagement and line-in is free since there is no start up inertia.
Capacity – Ross Evolution LT Fly Reel has a backing capacity of (0) 35 yards, (1) 50 yards, (1.5) 65 yards, (2) 75 yards, (3) 100 yards, (4) 150 yards
Weight – Weighing 4.2 ounces, this reel features among the lightest fly reels.
---
Customer thoughts on the LT Fly Reel
•The reel's handle though fine to touch and harmless o the palms, its size is too small.
•Drag knob is now outdated and should be faced out or redesigned into one that is easier to adjust and quick to grab.
•The sound produced by Ross Evolution LT Fly Reel is great and safe for the ears.
•The arbor being mid-sized doesn't offer maximum abilities for high retrieval rate of the spool.
•Limited lifetime warranty cuts on costs of repairs and maintenance as long as they feature on the clauses of the warranty.
•The reel is durable and can withstand all environments including fresh, salty and warm water.
•Anodizing the reel made it look striking and is a plus to the reel's aesthetics.
---
Pros – Things we liked about the LT Reel
Lightweight
Perfect drag system
Quick approval rate
Great sound
High tolerance to adverse environments
Cons

– Things not so good
Mid-sized arbor doesn't offer maximum abilities for retrieval
Limited lifetime warranty only caters for repairs and replacements in the warranty
Handles are a bit shorter
The drag knob is poorly designed
---
FAQ's – Questions about the Ross Evolution LT Fly Reel
Q) What is the material used to make the frame and the spool?
A) The frame and spool are made of 6061-T6 proprietary aluminum material.
Q) How many pieces of the frame and the spool are used during manufacture?
A) For this, a 1 piece spool and 1 piece frame is what is used.
Q) How can you describe its drag material? Is it durable?
A) The material is Delrin 500AF with an impregnated Teflon. It has a space age polymer which is very durable, has a self-lubricating mechanism, is maintenance free and heat resistance.
Q) Which drag mechanism does it use?
A) It has a conical friction drag that has a three times redundancy radial pawl functioning and the transition between the line in and the drag is seamless.
Q) How is the spool rotation, conversion and connection?
A) Excellent rotation and the release action to lock the spool is quick. The retrieval conversion from the left to the right hand is easy.
Q) Which finish is used on the reel?
A) A type II Anodized finish.
Q) What is the fly line coverage for this reel?
A) The ranges are between 1wt. and 9wt.
Q) What colors can I find this reel in?
A) The reel is available in black and silver only.
Q) Does this reel have a medium or large size arbor?
A) This one has a medium arbor. Meaning it will hold more line but not retreive as quick.
Q) Are there any spaces in the reel?
A) Yes, this reel has ventilation in the frame and the spool.
Q) Does addition of material affect the weight of the reel?
A) If you mean adding material components to the spaces in the frame and spool, then there is no measurable increase in weight.
Q) Is the drag sealed?
A) Yes.
Q) What is the weight of the size 7-8 reel?
A) This size weighs 4.8oz.
---
---
Final Verdict on the Ross Evoluition LT Fly Reel
A good reel is not enough for a good and memorable time at the shores. Get the perfect reel from Ross Reel USA and you will have its excellent performance to brag about. From this Ross Evolution LT Fly Reel Review, you can confirm that the detailed description matches its superiority. With many people quickly having a thing for fly fishing, so many brands are cropping up and counterfeit products have flooded the market. Any reel with the authentic Ross Reel logo is what you should go for.
Loved by many anglers, you might find this reel out of stock. Send your worries packing by selecting any of these reels that are equally high performers and within the price range of Ross Evolution LT Fly Reel: Some other reels very similar to the Ross Evolution are the Hardy Ultralite MADD and Orvis Hydros SL both well manufactured reels in a comparible price bracket. If not convinced check out or full list for more options.
Mechanically engineered to withstand every environment, this reel is worth counting on if you live in areas with salt or warm water. You will love this feature of the Ross Reel Evolution LT Fly Reel. Its ergonomics is everything to die for. From the anodized aluminum and Teflon used on the reel to the black smooth finish, you have every reason to get this for yourself or friend as a birthday gift.
Nothing feels better than handling a lightweight reel. You don't need to keep sweating and panting from the unnecessary weight when you buy other brands. Using the Ross Reel Evolution LT Fly Reel gives you an experience on another level.
[button link="http://amzn.to/2Fbv0pG" type="big" color="green" newwindow="yes"] Ross LT Amazon Reviews and Price[/button]
[button link="https://chuckingfluff.com/best-fly-fishing-reels/" type="big"] See our Fly Reel List[/button]