Disclosure:
Just to be open and honest the buttons and links you click on in the website will in most cases take you to another website where you can purchase the products I am reviewing. As an Amazon Associate I earn from qualifying purchases.
December 7, 2019
Orvis Encounter Wader for Women Review – Dependable
By now, you must have realized that the Orvis Encounter line of products is well-favoured. From the reel, line, rod, combo, super slim tool set, to the boots, jacket, male and now the Orvis Encounter Wader for Women. How well do you know these female waders?
Not until you put them through the brutality that comes with angling journeys. Among the Orvis waders, these Encounter Female Waders fall as the cheapest. However, in the market, they are in the mid-price range. Still affordable and excellent value for the money.
Most potential buyers dwell on the asking price rather than what the wader offers. It is sensible but not always. With the much you get them for, they boast exceptional quality when compared to waders in their category.
What's their construction like?
The Orvis Encounter Women's Waders are chest waders with dependable breathability and waterproofness check availabilty at Amazon. Their material is high-grade nylon in four layers. We are looking towards functionality and durability to that effect. If you own any modern high waterproof jacket, the material feels the same as what Orvis uses here.
It locks out all water while offering maximum protection from punctures from bushes, thistles, and stones. It has a polyurethane laminate that locks out water. Despite looking great, the wader assembly is superb.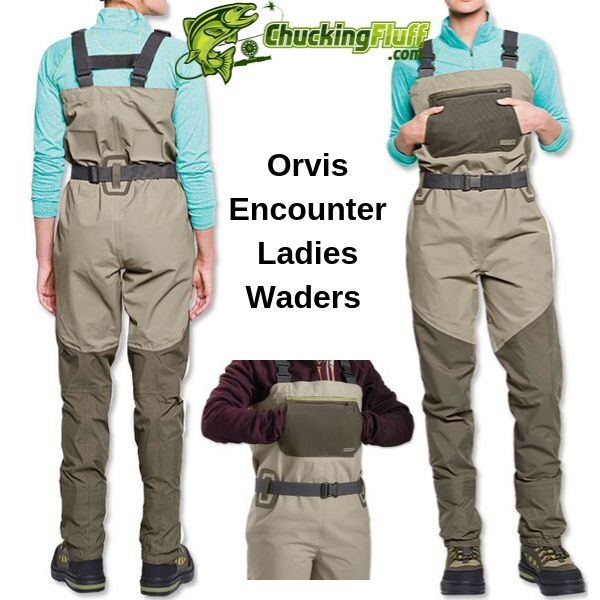 ---
Check Encounter Amazon Availability
---
Orvis enhances the wader's fit to ensure that female anglers get optimal comfort. In their product description, the manufacturer claims that the fit takes after its award-winning Orvis Silver Sonic waders. Not a doubt. Orvis is unbowed and we can confirm that they are true to its word.
On top of the new lady-sure fit, the waders come in Orvis's three variations: regular, petite, and tall. For the sizes, Encounters for women are available in small, medium, large, and extra-large. Waders in the price spectrum of the Encounter female waders don't come in a vast number of variants and sizes. It isn't a rarity when you knock on Orvis's door.
So who are they for?
Obviously a ladies' cut. Like in any great lady wader, this one comes with a bundle of welcome features. If you are a budget-minded fisherwoman, this one suits you. Maybe you don't want to break the bank but want to spend slightly higher than the lowest-priced waders in the market.
The waders are for novices, amateurs, and pro anglers. We can't give any skill limitations because sometimes the status of your bank account is a determinant. It doesn't have a significant sacrifice in performance and quality.
It comes as a value-mined package but flaunts the same features in the top-of-the-line waders.
The manufacturer was keen on wader engineering to achieve great service delivery. It might not be a wader for all seasons but in moderate weather, the Encounters stand tall. Breathability is beneficial since the fabric layers allow for speedy moisture-wicking. You hardly experience clamminess in warm weather. This doesn't compromise waterproofness. How well should we appreciate breathing waders? Maybe taking them out often will do.
Fishing outings can see you trekking for more than several hundred yards. You will appreciate the stockingfoot design since they optimize the fit of your boots. Thank heavens that they don't come in bootfoot options like the men's. Clunking isn't an excuse here and no more ill-fitting waders. Even if you feel you have a 'not very normal' body build, you will find a size and cut that is satisfactory.
---
Key Features of the Orvis Encounter Wader for Women​
Material – Do you know what it means for a wader to have a four-layer fabric construction? Well, you achieve a package consisting of performance and durability. The outer shell which is more important is made from 100% nylon fabric for high waterproofness. The polyurethane laminate is for both breathability and waterproofness. Its liner is from pure nylon. Orvis chooses the best material for a combination that leads to a reliable wader for fair to warm weather.
Fit – This review focus on the newly updated design that almost matches the famous Silver Sonic waders which are award winners and best-seller waders. It is strictly a feminine cut. It conforms to the body pretty well leaving enough room in necessary areas. There is no hindrance in mobility or bagginess in the bottoms. If you wear the unisex or men's waders, you know that this is among the ill feelings of fly fishing.
Application – There is no guarantee that it will serve you faithfully in the winter season. This isn't a Gore-Tex wader that will battle the chills in winter. However, we assure you that it will be your loyal servant when the weather gets fairer. For flat fishing and saline areas, it will do just fine. However, a proper rinse will be necessary to maintain functionality and durability.
Zipper – The zippers aren't YKK Aquaguard zippers. Neither are they metallic. They look like they are from a bio-resin material. It still is super because there are zero chances of rust or corrosion. There are no reports of leakages in the zipper area. You will love their ease of operation with one or both hands.
Suspender System – From the rear, the suspender system assumes an H-like pattern. It comes with durable buckles to allow for proper wader fastening. The system secures the waders and despite a snug fit, you have a guarantee of optimal comfort even for all-day wearing.
Pockets – Something that strikes your sight first when it comes to pocket systems is the handwarmer. It features a kangaroo style which is for warming frozen fingers. Dexterity is crucial when angling and Orvis wouldn't want you to cut short a fishing expedition because of icy fingers and hands. The frontal zippered pocket has mesh to keep your critical gear closer to the hands. Wading out of the water to pick what you could have stored in the pocket is pissing. Its inner pocket comes with a patch to attach your Aquapac. What is currently fits well on the patch is the Orvis Waterproof 8G3H Pocket.
Gravel Guards – Orvis calls them self-fabric gravel guards. What they do is the most crucial thing. They protect your waders and wading boots from damage by sand and gravel. A simple lockout prolongs your wading system's life to see more seasons to come.
Wading Belt – A stretchy wading belt is what Orvis offers in the Orvis Encounter Wader for Women. It comes passes through three bold loops to give a perfect fit and allow for wader style conversions when need be. Something impressive about the belt is that it doesn't lose its stretch even if you add on a few pounds.
Booties – Neoprene booties are superb unlike what other waders had. They are true to fit thanks to the correct anatomic engineering by the manufacturer. The stockingfeet are comfortable to wear for long and when the temperatures begin to drop in the late evenings, they cushion your feet and offer optimal warmth.
---
Customer Thoughts on the Orvis Encounter Women's Waders
There is too much talk on the web over these waders falling long or short in almost all the variations. It would be excellent and a suety if you call the Orvis customer desk for sizing inquiries and confirmation before placing an order.
Though not extremely lightweight like the Ultralight Convertible waders from Orvis, they still are reasonable. Whether bending over, squatting down, or lifting your legs, you will remain comfortable and confident.
To maintain a comfy feeling without any bulk, the Encounter wades strike the balance pretty well. There are no reports of seam bursts or leakages.
A few complaints on the booties. To some anglers, they run slightly large while in some sizes, they are tight. Again, contacting the manufacturer for size clarification is crucial to ensure that as you try to achieve functionality, you don't compromise comfort.
Though they are simple, they don't take on the universal style that looks like trash bags. The waders are snug in the right areas and have no excess material.
The waders are recommended for any angler who is looking to spend less but get the basics in terms of features. These waders mightn't be fancy but for the purpose they are meant for, they do it just right.
---
Pros

– Things that shine on the Orvis Encounter Wader for Ladies
Lightweight construction
Four-layer fabric waders
Kangaroo-style handwarmers
Self-fabric guards
Durable belt with bold belt loops
Patch for attaching a waterproof pack
Neoprene booties
Easy to launder
Available in various sizes
Cons

– Things that are not so cool!
Full benefits are evident in fair weather only.
Has the basic features only
The buckles need more effort to release
---
FAQ's – Questions about the Orvis Encounter Fishing Wader for Women
Q) Can these waders possibly fit little girls well without sacrificing comfort?
A) There are Encounter waders specifically cut for kids. You can check on the Orvis website for kid's Encounter Wader sizing.
Q) Do the gravel guards come with elastic or hooks?
A) The guards have good elasticity and no hooks. They pull over the wading boots easily and prevent damage by sand and grit
Q) Does it have a fly box pocket?
A) Not specific but the front zippered chest pocket can fit a few sizeable fly boxes.
Q) Are the Orvis Encounter Wader for Women available in extra-small?
A) No. The sizing begins from small to extra-large with variations being petite, regular, and tall only.
Q) Do the waders have true to fit stocking feet? Can you have thick socks as well?
A) As long as you get a good size, they fit pretty well and allow for layering using wool socks or any of your choice.
Q) Do the prices vary with size and specification?
A) Not quite. You spend the same amount for any size and variation.
Q) Does Orvis offer a refund on returning waders if they don't fit well?
A) Yes. You can ask for a full refund or an exchange for one that fits better.
---
Final Verdict on the Ladies Orvis Encounter Fishing Waders
Waders for your style of fishing will do you justice if you make the right choice. Breathable waders for fly fishing are high wear items and not every fisherwoman is willing to cough out much. There are a few options like the Encounter waders which are averagely priced but offer top-in-class performance like high-end options.
While it doesn't have premium features like what you will find in waders like the Redington Sonic Pro and Orvis Ultralight Convertible Waders, it still does the job to the best that it can. There are a few critics here and there but that shouldn't ruin your fishing trips. For those that don't fit properly, Orvis has a 100% satisfaction guarantee policy to help sort the problem. The rest will need some getting used to.
Wader care will be among the determinants of durability. There are anglers who have had these waders for over three years now and still going strong. Orvis allows for hand washing of the waders. Ensure that you follow the dos and don'ts of wader laundry and care to prolong the life of your pair.
For any repairs, the service desk at Orvis is ready to assist to ensure that you resume fish hunting as soon as possible. How about testing more products in the price range of Orvis Encounter Wader for Women? The Simms Tributary Waders for Women and Simms Soul River Waders are excellent options.
We don't mind hearing from you about your encounters with the Encounter waders in the comment section.
---
Check Encounter Amazon Availability