Disclosure:
Just to be open and honest the buttons and links you click on in the website will in most cases take you to another website where you can purchase the products I am reviewing. As an Amazon Associate I earn from qualifying purchases.
February 21, 2019
Patagonia Women's River Salt Wading Jacket Review – Style as you Fly!
Are you a woman passionate about fly fishing? Nowadays you don't have the obvious lame excuse of ugly male wading jackets that you may be forced to wear. Currently, more ladies are taking part in fly fishing and manufacturers and suppliers of wading gear and apparel are taking note.
It is true that a man's body isn't built the same as a lady's. There are many differences and they could be what keep one from feeling comfortable when in fishing apparel. For instance, there are major differences between the Patagonia Women's River Salt Wading Jacket and the Patagonia Men's River Salt Wading Jacket. Same manufacturer, different designs but same functionality and performance.
There are several renowned manufacturers offering the best quality wading jackets specifically cut and designed to suit a woman's shape. Wading jackets for women come in different sizes, styles and colors. You know how sensitive women are on matters fashion anywhere. It is undeniable that women include a degree of aesthetics.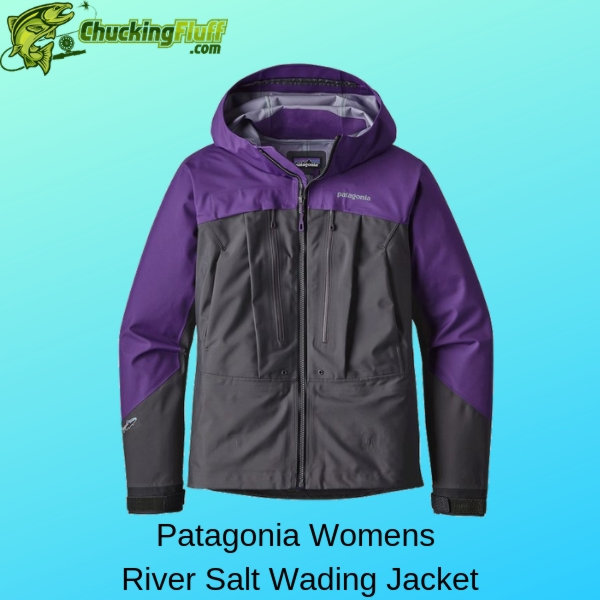 [button link="http://bit.ly/2G55BA0″ type="big" color="red" newwindow="yes"] Fishwest Salt Price[/button]

Most of the time, style is in the beholder's eye but what is crucial is packability and how weatherproof a jacket is. Patagonia has been an award-winning company that focuses on customer satisfaction and environmental sustainability. By all means, all their products are of the highest quality and performance.
The Women's River Salt Wading Jacket isn't particularly bulky and you can fold and toss it in your day pack or purse. It comes as a versatile jacket that can be worn even as a rain jacket. You will notice a big difference in quality when you compare it with entry-level wading jackets.
Its lining is less plasticky and doesn't clam when you start feeling warm. The hood is good-looking and thick. It can withstand storms and wind. Basically, all features have a trustworthy and premium feel. All zippers are burly and confidence inspiring.
Jackets are specially designed to serve in all environmental conditions and this one is among the toughest by Patagonia. Unlike some rods and reels that develop malfunctions in saline environments, this one can handle salt sprays and hard use. The fabric used is similar to that used in waders and you will be shocked at how well it stands up to big waves.
It is not your usual two or three-layer construction. Four layers! You now know how much Patagonia values your health. A two-layer wading jacket will not give you as much warmth as needed in incessant rainy days as a four-layer would. You might need a few layers of under-clothing.
As you select the best wading jacket for fly fishing, it is prudent that you analyze your samples by comparing features. Doing this is a step towards getting high-quality gear worth every dime spent on it. Stick around to know about the Women's River Salt Wading Jacket inside out.
---
Main Features of the Women's River Salt Wading Jacket
Material – Patagonia Women's River Salt Wading Jacket is made from rugged 100% polyester microfiber. From the characteristics of polyester. The jacket is resistant to most chemicals, has guaranteed durability and hardly stretches or shrinks. More of its features are resistance to abrasion, mildew and wrinkle.
Waterproofness – The DWR-Durable Water Repellent finish on the fabric repels snow and light rain. One side of the fabric is applied with an H2No waterproof coating for excellent waterproofness. The other side has Hydrophilic laminate which draws water or perspiration from the wearer's body and expels it to the exterior shell. A polyester tricot lining is applied on the hydrophilic laminate to protect it. The lining adds to lightness and great abrasion resistance
Breathability – When the Durable Water Repellent finish is combined with a breathable or waterproof barrier, the finish prevents the external surface from saturation allowing the breathable barrier to work effectively. This keeps you dry and fresh.
Cuffs – You won't like snow getting up your sleeves. The Velcro cuffs are durable and serve the protection purpose against snow, wind and water going up-sleeve. They are functional and prevent the sleeves from riding up the arms once you adjust them well.
Pockets – There are big-sized chest pockets on each side for fly box storage and other large gear. Access is via weather-repellent zippers. A small-sized pocket on the upper arm can be for your lip balm, hand oil and sunscreen. Hand warmer pockets are lined with fleece to warm your hands when you are not fishing. Internal pockets are for storing your valuables.
Hood – The hood is designed to fit and stay in place even in strong winds. It is big enough to cover your head and extends slightly to the forehead. Vents allow for good air circulation to reduce instances of sweating. You can adjust it to a tension you find comfortable.
Seams – There is absolutely no hope that your wading jacket will be weatherproof if it doesn't have fully taped seams. Stitches in the seam go through the jacket's waterproof membrane and are a good entry point for snow, and water. You are safe with this jacket on.
Zippers – YKK Aquaguard front zipper is weatherproof and prevents entry of weather elements. The remaining pocket zippers are plastic for durability and protection from corrosion when exposed to agents of corrosion or rust.
Attachment Points – Attachment points on the Women's jacket is at the same place as that of the Patagonia Men's River Salt Wading Jacket. Pass two fingers under the seam on top of the right-hand side chest pocket. There are points to attach your zingers.
Bottom Hem – At the hem is a durable draw cord for adjustment to prevent weather elements from getting up the jacket through the bottom. A mesh-lined casing allows for water drainage.
Sizes – Sizes are available in extra-small, small, medium, large and extra-large. For a fit guide, you can choose from the formfitting, slim, regular or relaxed fit. You can have the jacket in purple or forge grey.
Warranty – Patagonia has a lifetime warranty on the Patagonia Women's River Salt Wading Jacket and to the original owner only. Repair periods will range from 6 to 8 weeks. Besides the warranty, the jacket is backed by the Ironclad guarantee in case of dissatisfaction
---
Customer Thoughts on the Women's River Salt Wading Jacket
This is a bombproof rain jacket that holds up well when you are driving a launch while coach rowing as the rain pours.
Once you wear the jacket, you get impervious to the weather even if you are pelted with non-stop deluges that can be made worse by the high winds.
The level of dryness after a pour is incomparable. As long as the Velcro cuffs and draw cord at the hem are well adjusted, you have nothing to worry about.
You will love how well and fast the outside dries. It takes less than an hour when hanged at a place with room temperature.
The colors are lady-like and lovable. The fit too isn't something you'd hate. If you don't do baggy and bulky, this is the right wading jacket for you.
This jacket runs true to size and you shouldn't have any doubts when ordering. It has room for several under layers if you'd like to add. All in all, it gives full range of motion.
Even in the fiercest storms, it keeps you very warm and dry. The sleeves adjust well at the wrist, they are of the right size and don't run up the arms.
Chest pockets are very spacious to fit 2 to 3 medium-sized fly boxes, some tippet spools and other medium-sized gear. 
---
Pros – Things that shine on the Women's River Salt Wading Jacket
4-layered construction
Completely weatherproof
Breathable construction
Fully vented adjustable storm hood
Lightweight and easily packable
Fleece-lined handwarmer pockets
Available in different sizes
Adjustable hem with a draw cord
Attachment points available
Weather resistant zippers
Watertight Velcro cuffs
Cons –Things that are not so cool!
No back pocket to throw in your lunch pack but not a big deal
---
FAQ's – Questions about the Women's River Salt Wading Jacket
Q) Are zippers metallic? They easily corrode and become functionless.
A) Patagonia has a YKK Aquaguard front zipper and those for pocket access are made of high-quality plastic which is corrosion and rust resistant.
Q) Does it get wet with sweat when the temperatures outside change?
A) No, the fabric construction has a layer with Hydrophilic laminate that expels sweat to the outer side leaving you completely dry.
Q) Is there a fit that isn't slim and isn't oversized as well?
A) Yes, the regular fit suits this description and you can wear it over heavier mid-layers.
Q) How heavy is this jacket?
A) This is one of the lightest from Patagonia and weighs 652 grams.
Q) Are the cuffs Neoprene or Velcro cuffs?
A) These ones are Velcro cuffs
Q) Which Durable Water Repellent finish is used on the top layer?
A) Patagonia uses the NanoSphere DWR.
Q) Does the Patagonia Women's River Salt Wading Jacket have full range motion even with a sweater and waders under?
A) Yes, the drape is soft and supple and this will depend on the fit you choose too.
Q) Which fits are available for this jacket?
A) Those available are slim, formfitting, regular and relaxed fits
---
---
Final Verdict on the Women's River Salt Jacket
Patagonia has tried its best to solve the crappy women's wading jackets for a few years but the Women's River Salt Wading Jacket is still the company's best solution. The list of main features for this jacket is seriously impressive and you will love it. The manufacturer matches style, affordability, performance, durability and women's needs in the 4-layer fabric jacket.
Its silhouette is designed to ensure very easy wearing while giving space for mobility. Fits are roomy enough to allow for generous layering. When winter checks in, you can wear a base of wool and another thick fleece then a lightweight down jacket and still cast with ease, fiddle with your fly pack as much as you want and land a fish.
The fully taped seams are for optimal waterproofness making the jacket stand the test of time. It will treat any woman well through fly fishing in different weather conditions from the downpours in Pennsylvania to the winters in Utah. Whether freezing rain, hail, snow or gusting winds, it is reliable. This jacket seals out water completely and greatly reduces the wind chill.
You will love the comfort it gives in pretty harsh weather conditions. For storage spaces, a woman loves her personal items and wouldn't want them far. The idea of an arm pocket was generous enough. Compared with jackets from other reputable brands, you will still fall for the River Salt. There is information on care and maintenance on the jacket's tag. Cleaning polyester isn't rocket science like other complex fabrics.
You can't test its performance until you have it. Take time to pre-order to have the jacket delivered in time for your next fly fishing session. It sells like hot cake and you might find it out of stock. No worries. The Patagonia Women's Tough Puff Hoody Wading Jacket, Simms Women's Guide Wading Jacket and the Orvis Womens Pro Wading Jacket are alternatives to the Patagonia Women's River Salt Wading Jacket. Most alternatives after that are unisex. You won't have to cash more because they fall within the River Salt's price range. No gambles on performance and durability. Overall, it is a killer piece of loyal gear with high performance!
[button link="https://chuckingfluff.com/best-fly-fishing-wading-jackets-comparison-and-buyers-guide/" type="big" color="purple"] Check our List of Wading Jackets here[/button]
[button link="http://bit.ly/2G55BA0″ type="big" color="red" newwindow="yes"] Fishwest Salt Price[/button]