Disclosure:
Just to be open and honest the buttons and links you click on in the website will in most cases take you to another website where you can purchase the products I am reviewing. As an Amazon Associate I earn from qualifying purchases.
September 6, 2022
To Start Fly Fishing What Gear Do You Need?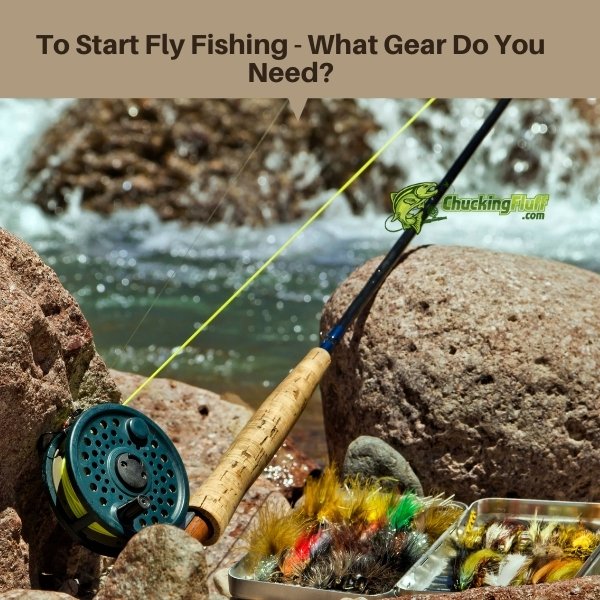 A novice angler will require a fly fishing rod and fly reel, a fly line and a set of flies as the basic tackle to get started in fly angling.
Of course, there are other necessities, but you can't do anything without the vitals.
Unlike sports like Equestrian and Formula 1 which can cost you your whole life's saving and still you can't afford it, fly fishing isn't.
Most novices and aspiring anglers will often worry about the funds before anything else.
Fly fishing tackle and gear are available in different price ranges depending on your budget, so costs shouldn't be bothering.
But first, you need patience, poise and precision for the sport to grant you a lifetime of exciting pursuits.
It might not be easy like your childhood beanbag games, but it is undoubtedly rewarding.
Fly fishing isn't easy and quick to romanticize but is a realistic style of catching many fish species but mostly trout.
Ask thousands of fly fishers why they indulge in it, and you will get hundreds of different answers.
For most, fly fishing is an exercise in getting a yoga-like state, peaceful and tranquil, while others take it as a surgical technique to unlock closer encounters with the world's most exotic and beautiful fish.
---
Things you need to Get Started in Fly Fishing
---
Locations identified and specific areas added to the list for travel, a rookie should be able to buy a complete beginner's gear selection for less than $300.
Brands like Orvis have made it easier and quicker for novices to get everything they need in one fly combo package.
While tons of options get nuanced with expertise, a starter's package should have a 9 foot 5 weight fly rod and matching reel, weight-forward 5-weight floating fly line, 2-3 3, 4 or 5X leaders, and corresponding tippet.
A fly box with universal flies will suffice in most waterways.
But what the heck are all these?
---
Fly Rod – Getting Started in Fly Fishing
---
Most people consider fly fishing a costly hobby, but they don't know what they say.
Solid fly angling combos are available at affordable prices online and in most tackle stores.
Rods are categorized by weight from 1 to 12 and are available in three primary actions with variations in between.
These are slow, medium and fast actions.
These fishing rods come in a wide range of lengths, but a 9-foot fly rod is common among fly anglers.
It is also a suitable length for almost any freshwater fishing area or condition.
With that in mind, a 9 foot 5 weight medium-action fly rod is the ideal all-round setup for small Bass, Panfish and Trout.
Beginners can step up to 6 weight fly rods if they chase more bass; the extra backbone helps deliver large Bass flies.
Heavyweight fly rods from 7 to 9-weight are best for saltwater fish, Pike, Steelhead, Salmon or large Bass.
For fishing in quarries, 9 foot 8 weight fast-action rods are the best.
---
Fly Reel – Beginner Gear
---
Your fly reel MUST match your rod's weight, but most manufacturers will have a weight category for their reels.
Reels come in different arbor sizes ranging from small to large.
The arbor size determines how fast you will retrieve the slack fly line.
Small arbors have been used for most bass and trout, with anglers embracing large ones for these species, too, even though they are best suited to stronger and aggressive fighters such as steelhead, pike and bonefish.
---
Fly Line – Starting out in Fly Fishing
---
Like with your reel, the line MUST match the rod weight.
Too light or too heavy lines don't load the fly rod correctly, limiting your casting.
Today, specific fly line designs cater to warm and cold climates, various casting types, species and water bodies.
Choosing a warm or cold water line is only crucial during extremities.
If you use a fly line made for cold freshwater, it won't flex well in the Caribbean heat.
Floating and sinking lines exist, and the latter is essential for fishing deeper and often used in large fast-flowing rivers, deep saltwater or lakes.
They are categorized depending on their sink rates and weight.
The most typical fly line is the weight-forward floating one as it is usable for almost any fish species and fishing style.
Piscifun Sword Fly Fishing Line with Welded Loop, Weight Forward Floating Fly Line, WF5wt, 100FT, Sky Blue
【Longer Taper and Bigger Diameter】 The extra weight and thickness of the fly line for the first 30-33 feet helps to load leader line quickly and delivers smooth casts at great distances, ensuring accuracy even in windy conditions.
【High Quality and Environmental Protection】 The braided core for lower memory bring you an excellent fly fishing experience in any weather condition. The 100% Phthalate Free PVC layer improves smoothness and strength of the fly fishing line and enhances environmental protection.
【Enhanced Welded Loop】The new sleek and enhanced welded loop helps make leader attachment quick and easy and transfers energy more efficiently to the leader allowing better turnover. The Two color fly line has two Exposed core loops which helps with fast rigging to the leader and backing line.
【Versatility】 The fly fishing line is corrosion-resistant which can be used in fresh water and salt water.Suitable for fishing trout, snook, Redfish, salmon, carp, steel head, bass.
【User Friendly Design】You can easily distinguish the front and end of the fly line with the hint label 'THIS END TO RELL'. The user friendly design and versatile line is a good choice for all around trout fishing-whether beginners or experts.
---
Leader and Tippet
---
You'll require a leader at the end of your fly line.
Modern ones are single pieces of extruded nylon tapering from thick butt sections to fine ends.
Leaders are also categorized by weight ranging from 0X to 8X and come in different lengths.
The lower the digit, the thicker the leader's gauge.
For a 5-weight fly fishing combo with a 5-weight, weight-forward floating line, a 9 foot 5X leader is ideal though you can use 3X or 4X leaders for feistier fish.
6X to 8X leaders are ultrafine and great for advanced anglers and catching smaller fish.
Add a tippet to the end of the leader; these resemble regular fishing lines and are fixed to leader ends in 8 to 12'' sections.
Tippets protect your leaders' ends from being snipped continuously when you get broken off or changing flies.
Like leaders, they are measured by gauges from 0X to 8X.
It is recommended for your tippet material to match or be a gauge smaller than the leader; hence 5X leader pairs well with a 5X or 6X tippet.
Using the same gauges strengthens your knots and aids in casting and presentation.
You will need to keep replacing your leaders and tippets as they wear off the fastest compared to the rest of your tackle.
Sale
Piscifun Fly Fishing Leader with Pre-Tied Loop, Tapered Fly Line Leader, Nylon, Clear, 7.5ft, 6 Pack, 5X
【Precisely Tapered Leader】 The thicker butt connected to the fly line provides excellent rigidity and strength. The supple tip has low visibility in the water which reduces glare and better displays your fly without scaring the fish.
【Durable Material】The tapered leader is made of a high-tech copolymer material which is high transparency, high tensile strength and high abrasion resistance.
【Pre-tied Loop】Each fly fishing leader has a pre-tied loop on the butt end for quick connection with your fly line.
【High knotted strength】Excellent knot retention with low memory make it perfect for catching big fish.
【Versatility】The piscifun fly leader line can be used in fresh water and salt water, so that every fly fishing enthusiast can enjoy the fun of fishing.
---
Flies
---
Your fly selection will heavily depend on the location, time of the year and species.
Some standard flies cover many variables, but consult with local guides or fly shop attendants to know what to use in your location and when.
Fishing reports have a rundown of ideal flies and ongoing hatches of common insects monthly.
BASSDASH Fly Fishing Flies Kit Fly Assortment Trout Bass Fishing with Fly Box, 36/64/72/76/80/96pcs with Dry/Wet Flies, Nymphs, Streamers, Popper
You can get excited about the premium items
The 64 pcs flies kit includes Mayfly dries, Streamers, Leeches, Wet Flies, Terrestrials, Miscellaneous dries, and Caddisfly dries in assorted sizes and (or) colors
Please refer to the pictures for the detailed fly patterns and sizes
The flies come loaded in a quality fly box with secure magnetic fastener for quick opening and closing
The flies included in this kit are the perfect tools for the job and are sure to get some attention, whether you're targeting bass, panfish, trout, or steelhead
---
Accessories
---
Now that you have the basics, you are ready to start and cast several sessions without accessories, but they make life easier and more enjoyable.
The list of accessories is inexhaustible as each angler prioritizes different things.
But, there are basics that you should have to ready yourself for a fully-fledged outing.
---
Forceps
Tippet Nippers
Zingers
Floatant
Gink
Hook Sharpener
Sunglasses (safety – eye protection)
Baseball cap (safety – head protection)
License and Permits
---
Gear such as vests and dry packs, garments, nets are personal choices and need to be tailored specifically to the type of fly angling you want to do.
If heading to the Florida Keys, a pair of comfy shorts, a light sun shirt, brimmed hat, sunglasses, bug spray and flip flops could be enough for a perfect day out.
Other quarries and climates necessitate more special gear such as wading boots, waders and rain gear.
If Steelhead fishing in Winter then underlayers fleeces and warm gloves are required.
Now that you have everything you need to get started fly fishing, what's left is to set out and start learning the ropes.
It might take longer to master a technique or style, but the rewards of your efforts and patience are worth it.
---
A Fishing Spot
---
Of course, you can't buy this, but you need it.
Where will you cast your fly rod if you don't have an excellent location to do this?
Opposite of the imagery you often see on TV or in magazines, you don't have to be standing on the banks of a slow slithering British chalk stream or be seated on a padded leather seat of a boat on the West.
You can fly fish in any water body as long as it holds fish.
This will need you to employ the right rod weight and type; also, you need a set of species-specific lures or flies to catch anything from northern pike, tarpon, salmon and brook trout to bass and carp.
But, most fly angling is done on rivers and streams for most trout species.
Even though trout live in most streams and rivers, supporting their life all year round, you will succeed more if you go after them in temperatures between 40 and 60 Fahrenheit.
In summer, tailwaters (rivers downstream of dams) continue to fish excellently, primarily if the dams are bottom-release ones.
Such structures release colder water from below the reservoir, maintaining conducive water temperatures for trout to feed regardless of the season.
We have reviewed different fly fishing destinations on the website for you to check and add to your bucket list.
Stillwater fishing on ponds and lakes can be highly diverse and fun.
While you can fly fish for pike and bass using topwater lures in the right conditions, some times of the year, see different trout species nearer the water surface.
At this time, they will feed on your small nymphs or dry flies.
Fly angling in saltwater can be tricky with lots of wind, the scorching sun and choppy seas.
But, it introduces exciting fights with powerful species like bonefish, permit and tarpon.
It is possible to wade in saltwater, and most excursions are usually done from small crafts or flats boats, and you might need the experience and help of a local guide.
For most anglers, saltwater fly fishing offers the much-needed warmth and sun when rivers and lakes are frozen and in its form can be a lifelong pursuit.
Last update on 2023-12-08 / Affiliate links / Images from Amazon Product Advertising API
This product presentation was made with AAWP plugin.