Disclosure:
Just to be open and honest the buttons and links you click on in the website will in most cases take you to another website where you can purchase the products I am reviewing. As an Amazon Associate I earn from qualifying purchases.
November 11, 2023
Do Rich People Fly Fish? A look at the well to do.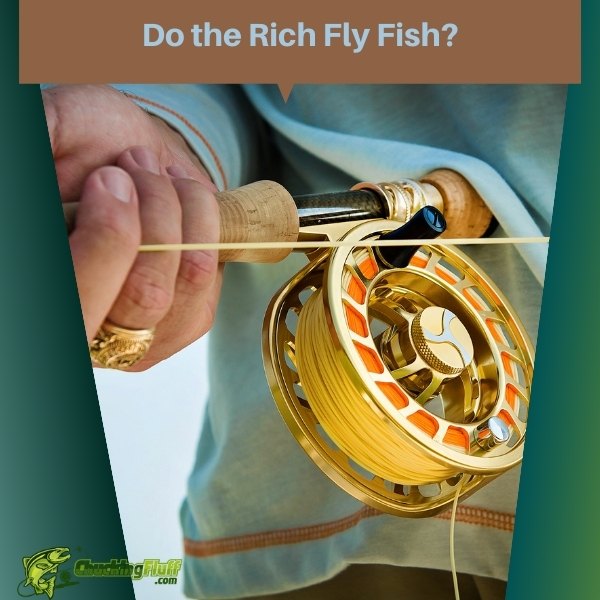 We tend to term the word rich as relative but in this case, we won't take that path.
I am talking about those who are 'living the life with zero struggle of how to spend and on what'; leaning towards the affluent in society.
What they do to pass their time is out of the ordinary that the normal human in this economy can afford.
Think of yachting, golfing, polo, birdwatching in exclusive places, ski resorts, and things like these.
So, do rich people fly fish?
Rich people fly fish and cycle just like you and I do but there is a massive difference in how they do it.
Get me right: I don't mean that the kind of fly fishing we do isn't fun or interesting enough, NO!
The difference is in the location, time, and gear they use.
Regulars will say as long as there is a rod, line, reel, and wading gear, it is all fly fishing regardless.
I'll let you have your meat.
---
Do Rich People Fly Fish?
---
Fishing is among the top pastimes for the rich according to research done by New World Wealth in coordination with Henley and Partners Investment Migration Consultancy.
We have these wealthy groups fishing in some of our favorite rivers scattered in the USA, New Zealand, and Scotland.
But a good number are adventuring in tropical holiday destinations.
They aren't undermining ocean fly fishing either with top spots including the Caribbean, Australia, South Pacific, the Seychelles, and the Mozambique Channel.
Let's see how the rich are approaching fly fishing as a sport.
---
Luxurious Fishing Vacations
---
It feels nice to wake up one morning and make a few calls to exotic holiday planners for some of the rarest fly fishing spots with the best yields.
That is what the affluent in society do.
They hardly tent and grill catches from portable barbeque equipment.
The rich are always on the hunt for luxury anytime they are going fishing and will reserve all-inclusive packages because they seek pleasure in rest.
For them, exotic locations upscale their trips and add interesting twists to their angling stories and it is something we love to hear because we are a hopeful lot.
Such packages give them access to very prime angling spots and luxury accommodation facilities with private pools and spas to elevate their trips a notch higher.
---
Private Boat Renting
---
Stillwater and ocean fly fishing are their new lovable and for them to get the best out of the locations, they rent private boats alone.
Some affordable options are available but for the love of style, class, and status, they don't limit themselves.
In their renting offers, the rich access exclusive, more comfortable boats and fish however way as they enjoy other activities like sundowners, dining, sunbathing, and Jacuzzi relaxing sessions on the same boat.
Sounds crazy but these need you to cough a good amount and in an economy where everything has blown through the ceiling, some of us are content with a good kayak or raft that can do the job for us.
---
Exotic Locations
---
Exotic fly fishing destinations cost an arm, a leg, a rib, a heart, and a whole soul.
Most anglers find pleasure in enjoying public streams, rivers, lakes, and beaches.
The downside is the angling pressure on most days whether the season is booming or not.
Some locations are reserved for the elite only with some owning sections of rivers, streams, and ponds for good times alone or with close friends and family.
Most streams in the USA with trophy trout are on private land restricted to the owners.
While some are accessible through memberships in exclusive clubs or hiring private guides, this comes with a high price point.
---
High-End Gear
---
Whatever can work for us is good to go!
But experiencing quality, greater performance, perfection, and utmost comfort is another feeling that only the rich experience because of the gear they get.
The wealthy prefer investing in limited editions of prestigious fly angling equipment and apparel because of their connection with top-tier quality.
Their brands are also enviable and the more gear they acquire the wealthier they are regarded.
For instance, a buddy would spend on the Hermes Fishing Rod which is the costliest model going for $13800.
I know this amount can change someone's life but it means a lot to the buyer too because it is an absolute beauty among the classing rods that have ever existed.
---
FAQs – Do Rich People Fly Fish?
---
It sounds like a rhetorical question but these buddies do it in style.
Check out some common questions and their answers around the topic of wealth and fly fishing.
Q) Do Rich People Fly Fish Anywhere?
A) Unfortunately, their worth isn't printed on their foreheads for us to identify them when we go spot combing.
However, studies show that they sometimes adventure in popular waters across the world but will prefer spending time casting in exotic and prime locations with little to no angling pressure.
Q) What Are Some of the Expensive Fly Fishing Rods the Rich Buy?
A) First is the Hermes Fishing Rod that costs a whopping $14,000, Oyster Bamboo Fly Rods, Orvis Penn's Creek Rod, and others that get into the 1000 mark for a single stick.
Q) Does It Mean That Fly Fishing is Only for the Rich?
A) No! Fly fishing is for everyone regardless of age, color, race, religion, gender, or societal status.
As long as you are fit to be on the water, go ye and have as much fun as you can but it is crucial to follow location guidelines with regards to casting gear and limits.
---
Last Few Words,
---
Do rich people fly fish?
Rich people fly fish just like any other person does but there is a huge difference in the gear they use and locations they adventure.
Because of their status, they can afford the most expensive gear and apparel dipping into the thousands mark for one item without feeling a pinch.
Investing in very quality stuff without regret is what they prefer and use this to churn locations I've probably never been to.
Their angling packages could pose huge differences from the kind of water vessels they use to the activities they can enjoy while fly fishing.