Disclosure:
Just to be open and honest the buttons and links you click on in the website will in most cases take you to another website where you can purchase the products I am reviewing. As an Amazon Associate I earn from qualifying purchases.
March 17, 2023
Why Do Waders Leak? Things to Avoid to Keep Dry.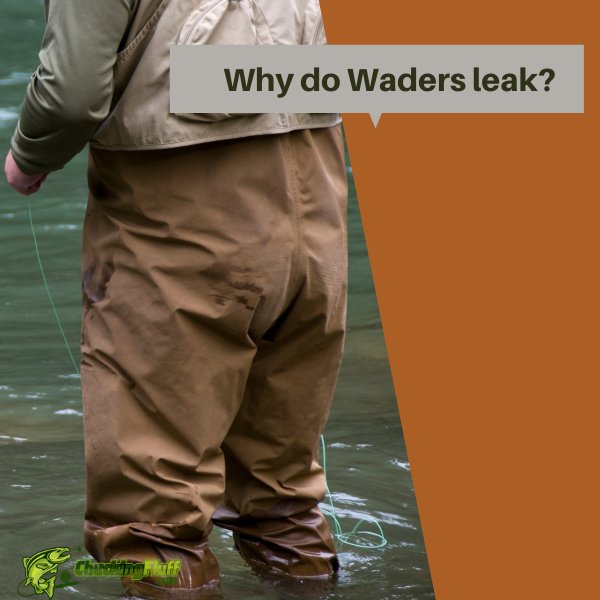 Wading is all fun until your waders start to leak and you have no extra pair to change and continue fly fishing.
Ask around and you will be told how leaks can ruin what was to be a very successful fly-angling day – worse is when you can hardly catch anything from the banks.
What else than to curse the day, be angry at the manufacturer (even though it mightn't really be their fault), and regret the whole trip?
---
Well, why do waders leak?
---
Your waders could leak because of manufacturing issues, improper storage, or user problems.
That is general enough to categorize the reasons but we explain each further in the article so you know how to identify the cause of leakage in case your pair is letting in water.
---
Why Waders Leak
---
Waders like any other sporting gear need proper care and handling to ensure optimal performance and longevity.
But, it is also crucial to know that even with top-notch quality control mechanisms manufacturers put in place for each wader, there could be one or two with defects that can cause leakage.
Some pass unnoticed hence why reputable producers back their waders with a warranty to cater to such issues.
Simms, Frogg Toggs, Redington, and Orvis are among wader makers who offer incredible after-sale services and warranty issues.
Here are some reasons why your waders could be leaking
---
Production Problems
---
The best quality fly fishing waders aren't as cheap as you'd expect, and for the manufacturer to produce them at a reasonable price, down costing will be mandatory.
Expensive waders have seams taped by hand using high-grade glue, thus most affordable designs use roll tape coated with dry glue.
The glued tape is heated before application on waders and works by melting, sticking, and drying in seconds.
Thermo glue is the most typical and works effectively in most applications, but these are brittle upon drying.
However, they are somehow flexible because of their thinness.
The tape might slightly gap and will only be noticeable with closer assessment.
Waters will go up the tiniest space and cracks in your gear and that is how your waders leak.
The same applies to the amount of stitching and the stitch hole sizes as sometimes, the needle could create double holes, which are bigger than the regular size and might cause water to pass through.
Manufacturers are finding better ways of producing waders and positioning seams in areas with reduced stretches and flexes, but so far, we haven't noticed major improvements.
---
User Problems
---
We are the victims of this because of improper handling.
Yes, John, I know you are exhausted and would benefit from a little rest, but should you sit on a thorny or rough ground and expect your waders to survive?
Avoid crashing through thickets of brambles and thistles because the puncturing will be your reward.
Besides, ensure you are careful with your hooks because your waders will not take a big salmon double lightly as the marks will be distinct.
---
Why do waders leak even without exposure to sharp objects?
---
It is primarily your sizing and dressing.
Never stand on your waders while dressing, whether you are on soft or rough ground – you will regret it.
Breathables don't need exposure to spiky stuff, the same way you wouldn't do it to a balloon.
Waders are designed to allow you to layer underneath for winter, so the cuts match their task and your needs.
Stepping a size or two lower strains the seams and bursting is a potential occurrence.
Strained seams can cause distinct leak areas and stretch the liner – the worse scenario is ripping the lining so don't strain them while putting them on.
Walking, kneeling, and bending as you head to your spot or while doing the basics of fly fishing need you to be in roomy waders.
Anything less than that is a potential hazard.
---
Storage Issues
---
Storage problems are a bit subtle.
Wader material shouldn't be creased or tightly folded for storage, even for shorter periods.
Otherwise, it causes long yet thin leaks along the calf or shins.
Storing waders in cold places where they can freeze and thaw often damages the material and could destroy them beyond rescue.
A single freeze might not make a noticeable difference, but regular cycles of freezing and thawing throughout winter are a menace.
Don't hang boot feet by their braces as this stretches them putting a lot of prolonged pressure on their seams, which is a typical leak area in boot foot waders.
Store waders far from sharp objects like nails, knives, razors, etc. to avoid the obvious, especially if the storage location is accessed by kids.
Mice are a disaster if they get your waders – you might be lucky if the damage is minor.
If it isn't, an online order will be necessary.
---
FAQs on Why Waders Leak
---
Check out some common questions asked by fellow chuckers on reasons for wader leakage.
Q) Does Adding Studs to Wader Boots Cause Leakage?
A) Adding studs to bootfoot waders, though helpful for grip and traction, might puncture the wader socks.
Once you wear them, the studs are driven deeper into your waders – check their sizes to prevent this risk.
---
Q) Can You Repair Leaking Waders?
A) Yes, and No depending on the extent of the damage.
Burst seams and stitch lines are easy to repair with aquaseal glue and waterproof tape.
Same to minimal punctures from thorns, hooks, and other sharp objects.
However, big tears from mice or excessive abrasion is impossible to rescue – you can patch it down, but the more patches, the higher the chances of unattended spaces which can cause leaks.
---
Q) Can You Fly Fish In Leaking Waders?
A) You can fly fish in leaking waders if you strictly remain on the banks, if you don't want to risk getting wet.
Boating in leaking waders is possible, but not recommended in case the worse happens and you dunk yourself in the water.
Wading wouldn't be a pleasant experience and depending on the water situation, you will be drenched and movement is tough in such a scenario.
---
Conclusion
---
Know that you know why waders leak, try as much as possible to handle and store your pair properly for the best performance – good ones aren't cheap!
We recommend buying waders from reputable brands to benefit from the warranty in case you get one with a defect.