Disclosure:
Just to be open and honest the buttons and links you click on in the website will in most cases take you to another website where you can purchase the products I am reviewing. As an Amazon Associate I earn from qualifying purchases.
January 8, 2023
Where are the Best Fly Fishing Areas in Delaware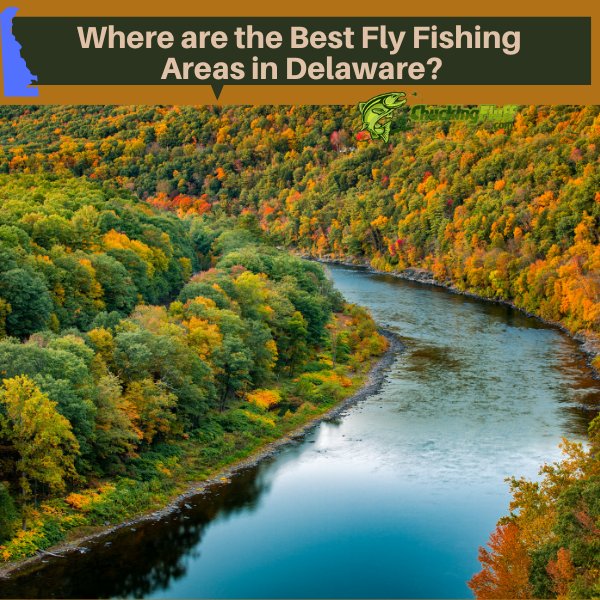 If you have devoured blue claw crabs before, then you know that they are delish.
This is what Delaware is popular for. It also means that fishing is nothing less than fun and worth it for a fervent angler who can go out to the best spots.
The pristine lakes are beautiful and rich in fish. Many anglers come here to pass peaceful hours.
The waters teem with healthy bass, trout, catfish, and perch. Even for those who enjoy coastal fishing, Delaware is the ideal state to adventure.
There are beach resorts offering a wide variety of options from chartering head boats and boats for deep-sea fishing to allowing you to join already organized fishing excursions.
You can hook a big and feisty game fish like tuna and marlin when on the deep-sea boats. For the head boats, they set hooks used for croaker and striped bass fishing.
Costly marshes, flowing creeks, and quiet ponds all welcome fishermen to play with their combos and flies. The lakes in this state never used to be stocked with any trout species.
Trout here were native to the state waters or self-sustained and kept on reproducing from a previous stock. Currently, they have to.
If you have been fishing trout for a while now, you can confirm that they are among the most difficult species to fool.
Anglers who intend to travel for fishing excursions are often faced with a series of challenges. The first is identifying a state and its best spots to comb.
Once they achieve this, the next hurdle is usually selecting the appropriate lures and flies for trout. You need to have the best ones to trigger strikes.
Delaware's state record for rainbow trout is 11lbs and 10oz. This isn't badly off even as some states have a record of 38 to 42lbs.
The state boasts of fine trout fishing spots like White Clay Creek and Christina Creek among others.
There has been a disastrous drought episode in the state which was followed by torrential rains for two years in the Mid-Atlantic region.
The drought dried up streams, rivers, ponds, and creeks. You wouldn't want to imagine the effects it had on the fly fishing sector.
The rains came with life and the dried streams now roar with clear cold water. The rivulets favor the reproduction and growth of different aquatic species.
The rebirth of these previously dead waterways wasn't an abracadabra scene. The transformation was gradual.
Once drought strikes a watershed leading to its destruction, it dries the water, kills the aquatic life-both fish and water plants, and finally, the insects shift to greener areas.
The rains led to a rise in the water tables, new fish stocks are introduced and food was supplemented because what was there to feed on was very little.
---
So Where are the Best Fly Fishing Areas in Delaware?
---
New stocking programs commenced in September 2009 in the Maryland region and this saw Delaware benefit from it.
A few years back, the state procured large 3 to 5-pound rainbows from West Virginia to stock in the Delaware trout waters.
Their spring season at that time saw the waters receive over 400,000 rainbows.
Delaware fully relies on the funds raised after selling trout stamps so as to stock the streams.
The state freshwater fisheries management is working effortlessly to provide anglers with excellent fishing opportunities within at least half a dozen streams.
However, it is proving to be a challenge.
The brown, rainbow, and brookies that are stocked in the Delaware waters are procured from the Pennsylvanian hatcheries.
Stocking is however done in specific streams two weeks prior to the opening date of spring fishing.
More stocking is done within a one-month period.
So far, the areas on the trout stocking schedule in Delaware are Beaver Run, Christina Creek, Mill Creek, Pike Creek, Red Clay Creek, White Clay Creek, Wilson Run, Tidbury, and Newton Ponds.
The stream temperatures here are marginal.
---
White Clay Creek
---
White Clay Creek is one of the most popular trout fisheries in Delaware.
Anglers sometimes don't love the limitations and special regulations on many watersheds.
However, it is for the good of the fishery and the continuity of the sport.
It will gladden their hearts to know that the stretch from Pennsylvania line heading downstream on Paper Mill Road is a put-and-take section.
They are free to fish with whichever tackle gear you have. You will often spot fly rods and spinning rods in this stretch and the bubbly anglers always never seem to get enough.
They keep elbowing each other because of the privileges here. So, if you are looking for more space and waters to yourself, head further from this stretch.
There is a restricted area for fly fishing only commencing from the Thompson Bridge on Chambers Rock Road down towards the Pennsylvania line.
The fish limit per day for each person is four fish and anglers are allowed to fish with artificial flies only.
You can only use single-point hooks here. Also, you are forbidden from using two flies on one fly line.
Using natural bait, plugs, lures, spoons, rubber, wooden, metallic, or plastic spinners is not allowed.
In the White Clay Creek State Park with proximity to this watershed are other freshwater offerings like the Cattail and Millstone Ponds with all-year-round fishing opportunities for crappie and bluegill.
You can also catch largemouth bass here though on the catch and release method.
---
---
Season: First Saturday of April to two weeks before opening the trout season
Main Species: In the creek: stocked brownies and rainbows. In the ponds: bluegill, largemouth bass, and crappies
Fly Patterns: Baetis, attractor dry fly patterns streamers of size 10 to 12, Hare's ear nymphs, PT, midges, San Juan worms, BWOs, little black stonefly
Nearest Towns: Delaware, Newark, Avondale
Nearest Tackle Shops: Sarge's Bait and Tackle, Orvis, Cabelas, A Marblehead Flyfisher Inc.
---
Christina Creek
---
Christina Creek has its origin in Maryland. It provides the Delaware residents with almost 5 miles of water to enjoy trout fishing.
Much of the stretch flowing through this state is in the parklands.
While being present on its trout open day is fun, you might not like it as much if you intend to utilize your time to the best on this day because of the crowds.
They are hectic. South of the SR273 is Rahway Park which is the most crowded section of the stretch.
The creek continues to flow downstream until SR 896.
You will often see throngs of anglers lining on either side of the stream on the open day.
The creek is slightly narrow and has several pools which are deeper and scattered with a few stretches of cold and fast-flowing shallow pools.
As you head downstream, the Persimmon Run Creek feeds the Christina Creek closer to the head of the Rittenhouse Park which is situated off 896 Route on the West Chestnut Hill Road.
When the temperatures on the opening are fair, you will see so many anglers a few meters from SR896.
It is ironic that a fortnight after the first stocking of the trout streams in Delaware, most anglers begin to desert the trout streams.
Only a few who aren't interested in diversifying continue fishing.
The desertion is because of the white perch runs that are happening at this time at the base of the milldam spillways.
In Delaware Bay, the striped bass run is just about to commence.
Anglers who come in days later after the trout opening day will have some of the best fishing opportunities with fewer crowds.
---
Season: June to October
Main Species: Brown, Brook, Rainbow trout, shad, bluegill, brown bullhead, catfish, chain pickerel, carp, largemouth bass, sunfish, walleye, bass
Fly Patterns: Baetis, attractor dry fly patterns streamers, Hare's ear nymphs, PT, midges, San Juan worms, BWOs, little black stonefly
Nearest Town: Newark,
Nearest Tackle Shops: Lewes Harbour Marina Fishing & Boating Outfitters, Cabela's
---
Delaware River
---
Take some love to the wild trout in the Delaware River. Do you know what pressure is like here?
Can you assess the waters and tell what they look like?
The upper section of the Delaware system has two tailwater rivers.
These are the West and East branches that meet in Hancock forming the Delaware River main stem.
Water flowing into the branches is from Pepacton, Neversink, and Cannonsville reservoirs.
And on the East Coast, the Delaware River System is among the best fisheries for dry flies.
The fishing season commences in April and continues through summer and fall.
Throughout summer, the waters on the West Branch remain cool as the water is released from Cannonsville Reservoir when very cold.
The diversity of insect life here is incredible making it offer some of the finest fishing opportunities on the eastern side of the Rockies.
Nymphing and streamer fishing also excel for the local rainbows and browns.
The river holds more than wild trout. Anglers can take a break from trout fishing and target walleye.
The rainbows are hard fighting and grow to over 16 inches and some even 20.
Brown trout average about 15 inches with a few going past 30 inches.
---
---
Season: April, summer, fall
Main Species: Brown, Brook, Rainbow trout, walleye, smallmouth bass, tarpon
Fly Patterns: Brown Stone, Blue Winged Olive, Little Black Caddis, Blue Quill, Quill Gordon, Mahogany Dun, Sulfur, Shad Fly, Pale Evening Dun, Grannom Caddis, March Brown
Nearest Town: Delaware City
---
Beaver Run
---
Stocking of thousands of rainbow trout takes place from the Pennsylvania line to the mouth of the creek which is at Brandywine River.
It is sad that you can only fish on half a mile but the shoreline here is very accessible to fly fishers.
The stocking program sees the waters receive trout from fingerlings, juveniles, to some that are 15 inches and more.
To target them, head to the tiny pools that are rock-strewn.
---
Season: Season opens in April
Main Species: Brown, Rainbow trout,
Fly Patterns: Parachute Adams, wooly bugger, elk hair caddis, bunny leeches, gold ribbed hare's ear, crayfish, pheasant tail nymphs, San Juan worms, muddler minnows, soft hackle
Nearest Tackle Shops: The Sporting Gentleman, Wellspring Tack Shop, A Marblehead Fly fisher Inc., Masterbaiter's Bait, J C Zimny Rod Co,
---
Tidbury and Newton Ponds
---
Newton and Tidbury currently the two ponds under the trout stocking program run by the Delaware Department of Natural Resources and Environment.
These ponds freeze when the temperatures are very low.
It isn't that bad to destroy the fish.
The ice mainly occurs in the fishing pier and on the main pond areas.
The sides are shallow and get clear very fast near the parking lot at the pier.
As the temperatures warm up, there is little to almost no ice.
Trout stocking is done prior to the opening day.
Anglers can also go after bluegill and bass though, for the two species, you only catch and release the fish.
You can decide to fish from a boat or by the shores.
The pond at Newton has a small boat ramp for anglers looking to fish from non-motorized boats.
There are nine more small ponds that are managed by the state's Division of Fish and Wildlife.
Novices and kids will love fishing in them as they are mainly for bank fishing.
The pond sizes range from half to about 10 acres.
The offerings here are pier or bank fishing, handicap accessibility, walk-in access, and gorgeous natural settings.
The main species that you can find in the ponds are bluegill and largemouth bass.
Others are black crappie, pumpkinseed, chain pickerel, and catfish.
Newton Pond which is near Greenwood is the only small-sized pond allowing anglers to fish fresh water trout.
The northern end of the pond has a T-shape fishing pier for wheelchair access.
Handicap access is available for access to Cathy Martin Fishing Pond.
The nine small ponds are Gleason Pond, Blackbird Pond, Cathy Martin Pond, Berman Pond, Edna Pond, Newton Pond, Redden Pond, Memorial Pond, and AREC Pond.
---
Season: Season opens in March
Main Species: Brown, Brook, Rainbow trout, bluegill, largemouth bass
Fly Patterns: Parachute Adams, Clouser deep minnow, wooly bugger, peck's popper, elk hair caddis, bunny leeches, Tequeely, gold ribbed hare's ear, deceivers, crayfish, pheasant tail nymphs
Nearest Town: Greenwood
Nearest Tackle Shops: Delmarva Fishing School, Red Mill Tackle, Lewes Harbour Marina Fishing & Boating Outfitters, A Marblehead Flyfisher Inc.
---
Other Prime Fly Fishing Spots in Delaware
---
Summer brings a lot of fishing at the Southern Market Street Bridge.
Especially night fishing enhanced by the beautiful lighting that sparks the Christina River drawing the insect life closer for you to enjoy catfish and striper fishing.
Stripers thrive to over 22 inches and fast-reeling flies like streamers and leeches will not disappoint.
Carry your depth finder to the Chery Flats which is in the northern part of Delaware Memorial Bridge.
It has a depth of 7 feet and homes big stripers and these chaps can grow to more than 52 inches.
White perch fishermen can try the Port Penn Spillway. You can choose to fish on the spillway or the Delaware River.
White perch, catfish, stripers, and blue crabs gather here.
South of the intersection point of the Christina River, Red Clay Creek, and White Clay Creek is the Hale Byrnes House.
Anglers can fly fish for bass, huge sunfish, and stripes.
Becks Pond is very large with numerous deep holes that are home to pickerel, bluegills, yellow perch, black crappie, white crappie, largemouth bass, and invasive snakehead.
You can choose to fish from the shore or from a boat.
Augustine Beach is found where Delaware River enters Delaware Bay and will be ideal for fishermen looking for rockfish at the shores or white perch, crabs, and catfish in the deeper waters.
Years back a state record largemouth bass of 13 pounds 13 ounces was caught in the Lums Pond.
So you can imagine the fly fishing potential in this place that can be exploited from the shores or a boat.
---
---
You can check other locations like;
Cape Henlopen State Park in Lewes,
Brandywine Creek in Wilmington,
Delaware Seashore State Park in Indian River Inlet,
Woodland Beach in Smyrna,
Moore's Lake in Dover,
Bowers Beach,
Ingram Pond in Millsboro,
Derby Pond in Woodside,
Silver Lake in Dover,
Andrews Lake,
Chipman Pond,
Concord Pond,
Coursey Pond,
Garrison Lake,
Griffith Lake,
Haven Lake,
Hearns Pond,
Horsey Pond,
Lake Como,
Masseys Mill Pond,
McGinnis Pond,
Millsboro Pond,
Moores Lake,
MidMill Pond,
Records Pond,
Silver Lake,
Wagamons Pond,
Waples Pond,
---
Tips for Successful Fly Fishing in Delaware
---
The trout fishing regulations in Delaware aren't as strict even with only a few watersheds with trout.
There is no minimum size limit for caught trout.
However, the bag limit per person is 6 fish daily except in the restricted streams which allow a maximum of 4 trout.
If in a day you possess the six trout, you are not allowed to fish for trout in any designated trout stream again until the end of the day.
After possessing the four fish which is the limit when trout fishing in trout-restricted areas, you can continue fishing as long as you catch and immediately release the rest of the fish with minimal or without injury.
There are designated stretches and fisheries for fly fishing only.
This means that there are regulations regarding the choice of flies and other tackle that you should follow to the letter.
Most access to trout streams is on and through private land.
All anglers are advised to respect the privilege of getting access to avoid being banned from fishing in the area.
No fishing is allowed in any trout stream in the first two weeks before the opening day of the trout season which is usually the first Saturday of April.
On the given opening day for trout fishing in spring, the starting time is 7 am.
From there, anglers can fish trout earlier before sunrise.
However, you are to stop fishing for trout an hour after sunset.
---
FAQ's – Questions on Fly Fishing in Delaware
---
Q) What is the age requirement for having a fishing license in Delaware?
A) Anyone, whether a resident or non-resident of Delaware who wants to access the state waters for fishing and is 16 years of age and above must have a valid fishing license before doing so.
Q) Must I have a trout stamp to fish for trout in the state?
A) Yes. This applies to both residents and non-residents from 12 years will need a trout stamp to fish for trout from the first Saturday of April to 30th June and or from the first Saturday of October to 30th November.
Q) How do I know that my trout stamp is valid?
A) A trout stamp is valid if it is signed in ink across its face
Q) Which fish are there in the Woodland beach?
A) You can catch white perch, yellow perch, and rock bass here.
---
Conclusion
---
Fishing in the First State will be a worthy experience.
The state like a few others might not be having very many trout waters to sample but the few that exist make the trout anglers here go after them in masses when the season opens.
We can also see from research done online that the state receives a good number of visiting fishermen.
This is a sign that in a few years to come with more stocking programs put in place, Delaware will match states like Alaska, Connecticut, and the likes that are havens of trout fishing.
The few that are in Delaware are majorly stocked with rainbow, brown, and brook trout.
It will be a good idea to challenge yourself and plan a trip to fly fish in Delaware for trout, walleye, perch, sunfish, crappie, bluegill, rockfish, and other fish species that reside there.
There are both opportunities for freshwater and saltwater anglers.
Once you have identified the places where you intend to wet your lines, know the right tackle gear that you need for a stress-free experience.
We have a buyer's guide section that educates anglers on the best tackle, equipment, clothing, apparel, and accessories that they can purchase.
The products are in different price groups meaning that there is something for everyone regardless of their budget.
Identify the best that you need and await a delivery prior to your journey.
Have you fished in Delaware waters before?
What tackle did you carry?
And the fish-which did you catch? What were your challenges?
Share with us your fishing experience in the first state and let us know if there are spots that deserve a mention but weren't included in the article.