Disclosure:
Just to be open and honest the buttons and links you click on in the website will in most cases take you to another website where you can purchase the products I am reviewing. As an Amazon Associate I earn from qualifying purchases.
February 1, 2023
Where to go Fly Fishing in Georgia – Best Spots for Trout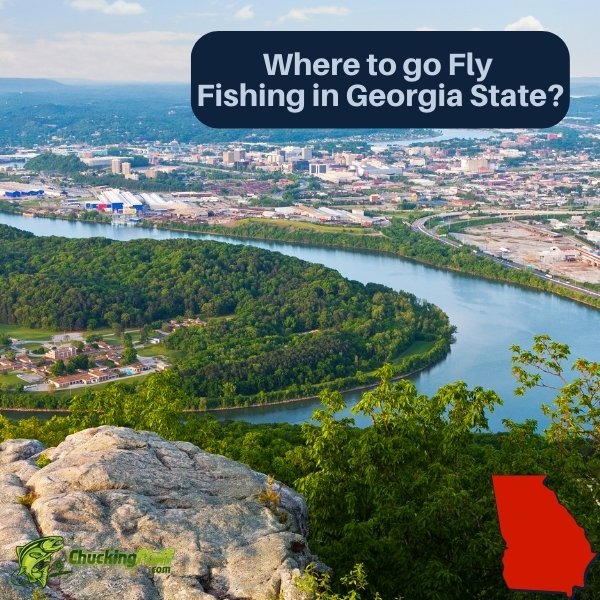 For many years, fly fishing has been primarily associated with trout.
It still is though anglers are beginning to embrace the diversity of the sport and chasing other species like catfish, bass, salmon, bluegill, and many more on a fly rod.
Fly fishing in Georgia takes different forms.
What matters for a successful session is choosing the best site to put your fishing tactics in play.
From simple and remote fishing venues to world-class spots, Georgia has them all.
If you have spent some time here, you will agree that anglers in the state are a skillful bunch with double intent and focus on all types of waters.
Be it peaceful lakes or mighty tailwater areas, they do it to their best.
Georgia is gorgeous. Its natural beauty is breathtaking and the watersheds snaking across the state assure any fisherman of a healthy aquatic life.
It has over 2000 acres which are public fishing waters, 1200 miles of rivers and streams, 500000 acres of reservoirs and lakes, 4000 miles of designated trout streams, and 6 hatcheries in warm watersheds.
What more can an angler need if not all approvals and more time to comb these waters?
In most waterways, fly fishing is all-year-round. However, a few have specific seasons.
The primary challenge is choosing where to go.
Northern Georgia is a stopping point for most of the resident and non-resident anglers.
Why? Fly fishing here is an all-year-round thing. You will spot fishermen on the Chattahoochee River almost weekly.
This is the same for the Toccoa River, Lake Lanier, and Lake Blue among others that are in this region.
The two rivers are among the best trout rivers in Georgia. They are also Tailwaters with opportunities throughout.
Trout anglers will tell you that temperatures ranging from 52 to 58 degrees are the best for trout to thrive in.
However, the seasons will detect whether there will be a drop in temperatures to something below 40 degrees in winter or over 65 in fall.
The two tailwater fisheries are known to have perfect conditions from mid-spring to summer as trout flourish and anglers often hook trophy brownies that are over 10 pounds.
We advise that if you aren't heading for the northern parts of Georgia, make proper timing and ensure that all circumstances are right before making your trip.
Most fisheries in Georgia are supplemented by stocks of brown and rainbow trout from the nearby hatcheries.
Also, the federal and state agencies come together to see over one million trout are distributed among the 30 counties in northern Georgia.
This ensures that any fisherman visiting the area for some rod and reel time has something to hook regardless of the waters they fish.
Stocking varies with the pressure a watershed receives, its location, and water temps.
Some are stocked weekly while others monthly.
A few in northwestern Georgia are stocked only until 1st July and the next stocks will be available the next year in March.
What influences this is water temperatures rising beyond fish tolerance. Others are stocked a few days prior to public holidays.
There are a few watersheds with special regulations. For instance, Noontootla Creek, Water Creek, and Dukes Creek.
Some of the special regulations are based on the types of flies and lures, creel and length limits, catch and release zones, types of hooks, and specific days when fishing is allowed.
Georgia has delayed harvest streams where anglers have the best of their time from 1st November to 15th May.
At the delayed harvest streams, anglers are restricted to catching and releasing fish using artificial flies with single hooks only.
These streams are Chattooga River from Highway 28 upstream, Toccoa River specifically at Dial in Fannin County, Smith Creek in White County, Amicalola Creek closer to Tate, and Chattahoochee River at the Paces Mill.
The state has several wild trout streams that are self-sustaining and hold brook, rainbows, and brown trout.
You can find the three trout species in one watershed.
However, rainbows and browns are the most prevalent.
Brookies are indigenous salmonids of the great Appalachian Mountains and are common in pristine waters that have no browns and rainbows.
Lakes that are often stocked with trout in this state are Black Rock Lake, Nancytown Lake, Lake Winfield Scott, Vogel Lake, Lake Conasauga, Dockery Lake, and Rock Creek Lake.
We feel like sharing a few popular sheds, lightly fished waters, and gems that anglers hardly talk about because of the value they hold.
Most anglers don't openly share their hotspots for fear of them being highly exploited.
We are a generous bunch that loves to see our buddies adventuring even more because of the recommendations we give. Stick around!
---
Chattooga River – Walker County
---
Chattooga River is very popular among residents and non-resident anglers because of its healthy and numerous trout prospects.
You will be surprised at the pressure it receives all-year-round.
Not only will you spot fishermen and women but also paddlers, kayakers, and other sportsmen who are there to take full advantage of the favorable water conditions.
It is scenic and in a remote location.
The bug life is more prolific than most of the watersheds in the state.
Everyone coming here enjoys the river and the surrounding wildlife that keep you company as you wet your lines.
If you would like to head to an area with the best fly fishing opportunities on the Chattooga, start at Ellicott Rock in the upper sections of the river.
The catches are bountiful. However, you can't fish from a boat in this section as it is prohibited.
How about taking a break from trout fishing and opting to chase redeye bass?
They are in plenty at the river's uppers.
Waders will enjoy fishing here but if you feel like you want to be less mobile, you can identify a very fine spot by the shores and fish from there.
Fishing is ongoing throughout the year. Egg patterns are a must-have when coming here.
We also advise that you match your flies with the happening hatches for more success.
---
---
Season: All-year-round
Main Species: Brown and rainbow trout, redeye bass
Type of Stream: Freestone
Recommended Tackle: 4-weight fly rod and reel
Fly Patterns: Egg patterns, blue-winged olives, grasshoppers, worms, beetles, zebra midges, little winter stoneflies, little Black Caddis, Hendricksons, March browns, sedges, crane flies
Nearest Town: Clayton, Mountain Rest
Nearest Tackle Shops: Chattooga River Fly Shop, Brookings Anglers- Cashiers, Chattooga Whitewater Outfitters, Unicoi Outfitters
---
Toccoa River – Union County
---
Like most rivers, the Toccoa is divided into portions.
This one has an upper and a lower section.
All of them are arguably awesome spots to try out.
The waters harbor a lot of fish in good sizes and most of them are feisty.
If you intend to fish here, know that a challenge awaits you.
The upper section begins from Union County.
The best way to fish it is from a boat.
There are a few rapids here that are moderate and not a hindrance to angling.
Wading is difficult in the uppers.
The prospects are excellent because it is the portion of the river that undergoes heavy stocking.
Ensure that you are aware of the stocking schedule before coming here.
The lower section starts at the Blue Ridge Dam until the river enters Tennessee.
The river situation here is shoals with numerous rocks.
There are a few deep pools here and there.
Generally, the section is very long.
You can choose between fishing from a boat or from the shores.
You need to be cautious when coming here and during your fishing sessions because water levels often rise to very high levels making the section unfishable.
The fishing opportunities are all-year-round with anglers chasing rainbows, brownies, and smallmouth bass.
---
---
Season: All-year-round
Main Species: Brown and rainbow trout, smallmouth bass,
Type of Stream: Tailwater
Fly Patterns: Blue-winged olives, little Black Caddis, mayflies, march browns, Hendricksons, beetles, grasshoppers, ants, terrestrials, crayfish, sculpins, sedges, cahills, eastern pale duns
Nearest Town: McCaysville, Copperhill
Nearest Tackle Shops: Toccoa River Outfitters Fly Shop, Unicoi Outfitters, Fly Shop Co, Cohutta Fishing Company, Tri-State Outdoors, The Lilly Pad Village, Big T Fly Fishing
---
Rock Creek – Fannin County
---
Rock Creek is a popular stream that lies majorly in Fannin County.
Precise location is off Highway 60.
It remains open for fishing all-year-round.
It is among the watersheds with the highest numbers of stocked trout in Georgia.
It is on Blue Ridge WMA and very accessible. If you have fished a larger part of this creek, you will see a federal fish hatchery.
There is a small impoundment above the federal hatchery which is stocked severally early in the trout season.
It offers Stillwater opportunities and it becomes an excellent spot for kids, teens, and novice anglers.
The water conditions are calm to allow these groups hone their skills and try out different fly fishing techniques.
It receives regular stocks of trout during the trout stocking season that runs from March to the end of summer.
Wild fish reside in the Little Rock Creek that empties into Rock Creek.
It, however, is a catch and release watershed. There is a section for fly anglers and another for bait fishermen.
---
---
Season: All-year-round
Main Species: Brown and rainbow trout, smallmouth bass,
Fly Patterns: Blue-winged olives, little Black Caddis, mayflies, march browns, Hendricksons, beetles, grasshoppers, ants, crayfish, sculpins, sedges, cahills, wooly bugger, hares ear
Nearest Town: McCaysville, Cartersville, Blue Ridge, Copperhill
Nearest Tackle Shops: Cohutta Fishing company, Orvis, Fly Shop Co, Bass Pro Shops, Tri State Outdoors, Sweetwater Creek State Park Bait Shop, West Marine
---
Chattahoochee River
---
Anglers in the Mountains and Atlanta hold this river deer to them because of the experiences they've had here.
It is full of wild and stocked rainbows and brownies.
The stretch of the Chattahoochee River from the upper section running through Helen and its mountains heading to the natural forest is a freestone stream and for this reason, it is heavily fished and crowded most of the time.
At the farthest end of the upper section of the Chattahoochee is an excellent spot to catch and release wild trout.
As the river proceeds upstream from Georgia Alt Highway 75 Bridge, it becomes seasonal.
It continues to flow until it enters the Lanier Lake and snakes through Buford Dam. From there, it gains the tailwater fishery title.
Guides at the river say that it is the largest trout tailwater in Georgia.
It is also easy to access and fish it.
Below the lake is a DH area and several miles with restrictions to using artificial lures only.
After a survey and research on this river, it has been discovered that it favors the natural reproduction of brown trout.
This made the department of natural resources in the state cease the stocking of brownies here.
Quality fishing for the large brown trout will force you to fish from a boat.
You need not worry because the tailwater is very productive.
Waders should head to the DH area at the lower part of the river.
The biggest of fishes in large numbers are in the area where you should fish with artificial flies only from Medlock Bridge to Highway 20.
We recommend using prince nymphs, wooly buggers, caddisflies, hare's ears, San Juan worms, hare's ears, and other terrestrials.
Be very cautious as you wade in the Chattahoochee as it has numerous deep ledges and holes.
Exploit the public access more and getting a wading staff will be ideal.
Since it is a tailwater, energy generation can disrupt fishing by rising water levels.
Ensure that you are aware of the power generation schedule before leaving for this location.
---
---
Season: All-year-round with an area that is seasonal
Main Species: Wild and stocked Brown and rainbow trout,
Fly Patterns: Blue-winged olives, little Black Caddis, mayflies, march browns, Hendricksons, beetles, grasshoppers, ants, crayfish, sculpins, sedges, cahills, crickets, wooly bugger, hares ear
Nearest Town: Atlanta, Columbus, Cusseta, Douglasville, Duluth, Fort Gaines, Franklin, Georgetown, Roswell, Helen, Sandy Springs, Johns Creek, West Point, LaGrange
Nearest Tackle Shops: Big T Fly Fishing, Hatch Camp Fly Shop, Fly Shop Co, Cohutta Fishing company, Unicoi Outfitters, The Fish Hawk, Jack-Em Rods and Fishing, LLC, Orvis,
---
More Prime Fly Fishing Spots in Georgia
---
Expert anglers will appreciate fishing on the McQueens Inlet for summer flounder and St. Catherine's redfish.
This inlet requires lots of fishing experience.
The entry points are sketchy and the breakers can be recipes for disaster.
There is a section of the St. Catherine's Beach that is for public fishing.
The Nottely River hails from Chattahoochee Forest and flows through the hill ranges of Union County.
It is gorgeous as anglers can spot gold remains flickering in the water when it is sunny and bright.
Trout are in plenty and the river is very accessible.
If you enjoy diversity when fishing, the SAV Artificial Reef will be an ideal sport for catching spadefish, amberjacks, barracuda, grouper, snapper, and black sea bass.
There are several spots on the Hiwassee River that are excellent for fly fishing.
They have great and easy access. Kids and novices will find the waters here comfortable for fishing.
It is state-protected water with plenty of brownies and rainbows.
Ossabaw Island Inlet is a haven of diverse wildlife and landscapes.
---
---
You cannot fish in the inland marshes so the only section left is the inlet where you can hook sea trout.
If you are new here or have little fishing experience, you need to go with a guide because the inlet is hazardous.
Visit St. Simons Island Pier for sharks, flounder, redfish, and trout.
It is near amenities and food joints that will ensure you have enough time fishing without traveling far to get a feed.
The 90 mile Conasauga River running through Northern Georgia and Tennessee boasts a wide diversity of fish. Currently, there are about 25 species making it an excellent fishing destination.
Have you been to R.B Baker Lake? If you haven't yet have kids who love the reel and rod game, you are wasting time.
It is a superb area with the Effingham County Fishing Rodeo event taking place on the Lake.
You don't need to pay for admission and allows kids from 4 to 12 years.
If you love deep-sea fishing, Tybee Island awaits you.
An excellent bass fishing destination is the 2800 acre Burton Lake located in Habersham Rabun County.
Lake Seminole is along the border of Florida and Georgia and homes monster largemouth.
The aquatic life here is abundant and hydrilla is the commonest vegetation.
You can spot numerous trees in the water which are perfect spots for these bass to hide in masses.
Saltwater fly anglers can explore the Golden Isles which are along the Atlantic Coast of Georgia.
They can go after saltwater gamefish like tarpon, redfish, and snapper.
You can choose to fish from the shores or from a boat.
South Carolina and Georgia residents share the Lake Hartwell for bass fishing.
The lake is deep with clearer waters. Spotted and largemouth bass thrive in the lake.
Clarks Hill Lake sits on more than 71000 acres.
It is full of blueback herring which can pose a challenge when fishing for spotted and largemouth bass.
It is a world-class striped bass fishery with anglers landing them at an average of 20 pounds.
There are bigger sizes that are more than 40 pounds.
Trophy striped and largemouth bass lurk in the waters of Lake Oconee.
Flint River flows southwards and drains into Seminole Lake.
It is a popular river in the state for shoal bass that attract anglers from all over the world.
The shoal bass is a crossbreed of the smallmouth and largemouth bass.
The legendary Lake Allatoona is famous for its prime spotted bass fishing opportunities.
The lake records the largest spotted bass that weighed 7 pounds and 11 ounces.
You can't compare this weight to the popular spots on the west coast.
To land trophy sizes, you need to use the topwater walker, jerkbait, and dropshot tactics.
Northcentral Georgia is where you find the Jackson Lake which boasts excellent bass opportunities throughout the year.
It is a small reservoir and has a power plant running on it hence warming the waters when winter sets in.
Lake Lanier is the ideal spot for spotted and largemouth bass fishing.
Bass fishing tournaments are held on this lake in hundreds all-year-round.
Jacks River is in a picturesque and serene area that you will love.
It is in Cohutta Federal Wilderness Area and its remote location is full of tranquility and the best angling experiences.
You might not land trophies here but will appreciate Natures offerings.
Accessibility is tough as you need to prepare for a lot of hiking.
You have to have waders on at the beginning of the hike because of the temperatures and conditions as you head to the river which is still best fished by wading to catch brook, rainbow, and brown trout.
The trout season here commences in April and continues until October.
Cooper Creek is near Rock Creek and is an excellent destination for family fishing.
Though it is a seasonal stream, it homes wild and stocked rainbows and browns.
The wild species are mainly in the stream's headwaters.
The stream's main stem is on natural forest land accessible to all anglers.
If you need a break from the Toccoa, try this stream and wade or fish from a boat.
Smith Creek is a small stream for DH fishing. Stretches of the watershed that are accessible to the public are in Unicoi State Park.
For you to fish on this creek, you have to pick a daily fishing permit at no cost.
Fishing slows in summer because of the water temperatures and reduced water levels.
It is crowded on weekends with anglers chasing trout.
Carry egg patterns, hare's ears, San Juan worms, and Y2K bugs to the DH area and baits to the upper sections of the stream.
Noontootla Creek feeds the upper Toccoa and most of it is accessible from Forest Road 58.
It is a versatile watershed as sections that need 9-feet rods and headwaters that need something lighter.
You are advised to fish using artificial lures only and keep only one fish that exceeds 16 inches.
It is a catch and release stream because you can only land fish of these sizes in spring and fall.
Otherwise, most of them are between 9 and 13 inches.
Common species caught here are browns and rainbows.
It has tributaries with southern Appalachian brookies and the size limit for these is also 16 inches.
Not all sections of the stream are wadeable.
---
Tips for Successful Fly Fishing in Georgia
---
Have a fly line of between 5 and 8 weight if you are looking to hook various species of trout.
Pair your fly reel and rod weight accordingly to ensure that you have the right amount of balance.
The length will depend on the lengths of casts that you intend to make.
This will also be determined by the size of the watershed you want to fish in.
Wider areas need a 9-foot or longer rod while narrower ones are ideal for an 8-weight rod.
As usual, match your flies with the current hatches happening at your choice of stream, river or lake to ensure that you don't spend so long before hooking a catch.
Depending on the way you intend to fish a river-either wading, fishing from the shore, or boat fishing, pack your gear accordingly.
Life jackets, waders, and wading boots are among the vitals if you opt to try the three.
If fishing in Tailwaters, ensure that you check with the power generation plant and confirm when they run their schedules to avoid going there at the wrong time and endangering your life.
Although there are a few watersheds with special regulations, you have to be aware of them all and adhere to the latter if heading to either of them.
Check the fly and lure types, special zones, and creel limits to avoid being banned from fishing in the location and the state.
If you really want to experience the best that Georgia has to offer then I suggest signing up for their guided services, hit the button below for more.
---
---
FAQ's – Questions on Fly Fishing in Georgia
---
Q) Which baits would you recommend for fishing in northern Georgia?
A) Mainly pack Luhr-Jensen Hus, Smithwick Rogues, Mister Twister crawfish, blue-fox vibrax, rebel wee craws, and trout worms.
Q) When is the peak season for trout fishing in the Blue Ridge Mountains?
A) The peak season starts in March and continues to 31st October. Otherwise, the waters in the region are fished all-year-round.
Q) Who needs a fishing license in GA?
A) Anyone who is 16 years and above must have a valid fishing license before accessing the state waters for fishing. It applies to both residents and non-residents.
Q) Do I need a trout stamp here?
A) Yes. Regardless of whether you are fishing trout or other species, you need a trout stamp.
Q) How many fly rods can I use to fish in GA?
A) The Department of Natural Resources in Georgia only permits the use of one fly rod per person.
---
Wrap Up
---
Most trout love to be in fixed positions. The size of the river, stream, or reservoir doesn't matter.
They love to do this to conserve energy and wait for the angry waters to carry food to where they are.
Some of the areas that you are likely to find them in groups are in bottom depressions, ledges, different sizes of rocks, water cushions, woody debris, and current seams.
Target these areas. Be very keen, observant and anticipate a catch. Nymphs or dry flies will work well here.
Along the perimeters, you can pull your streamers. Georgia is versatile as you can fish deeper, shallower, freshwater, saltwater, with smaller flies, larger lures, light rods, or small rods.
Choose your locations and match everything accordingly.
As you go on with pairing your tackle and packing your gear, it might get harder if you have no combos and apparel at hand or need new stuff for your travel.
Our buyer's guide has almost everything you require at any price. Feel free to cut your coast according to your cloth and have a few bucks to get in a grill or beachside bar.
We love hearing from our readers.
Share with us your fishing trips and experiences in Georgia and let us know the challenges you faced.
Give us a heads-up on the unmentioned spots in the comment section
Tight Lines!