Disclosure:
Just to be open and honest the buttons and links you click on in the website will in most cases take you to another website where you can purchase the products I am reviewing. As an Amazon Associate I earn from qualifying purchases.
July 2, 2019
Autumn Ridge Traders Fly Fishing Vest Review – Traditional Favorite
''Most of the current fly fishing vests are ugly, bulky, and boring to wear. I rather do without them.'' Complained Louis looking frustrated.
''Give the Autumn Ridge Traders Fly Fishing Vest a try and get back to me after the first session. If you regret this, you'll have a tot of the oldest whiskey on me.'' Said Brandon.
This is soothing enough and for sure it was the greatest savior for that fly fishing session. Louis had to buy the tots though.
What do you expect of a bet that he lost? Straight to it. This Autumn Ridge Fly Vest is the real deal when you are looking to balance aesthetics, class, and functionality.
Many anglers ask why it is important to purchase products like the fly vest from Autumn Ridge Traders.
Any angler regardless of the skill level must have a fly vest on when on water. It might seem like an ordinary outfit for angling but it does more than the ordinary.
As it protects you from a few incidents that could occur whilst fishing, it is another layer for warmth when the weather gets dull, and keeps all your items closer.
This fly vest is designed with an abundance of pockets. You will need quick access to your tools, gear, and accessory.
It takes a lot of time to wade out of the water and get what you need. The disturbance to the water during such movements will chase easily spooked fish away.
Better to have your tools, flies and tippet with you.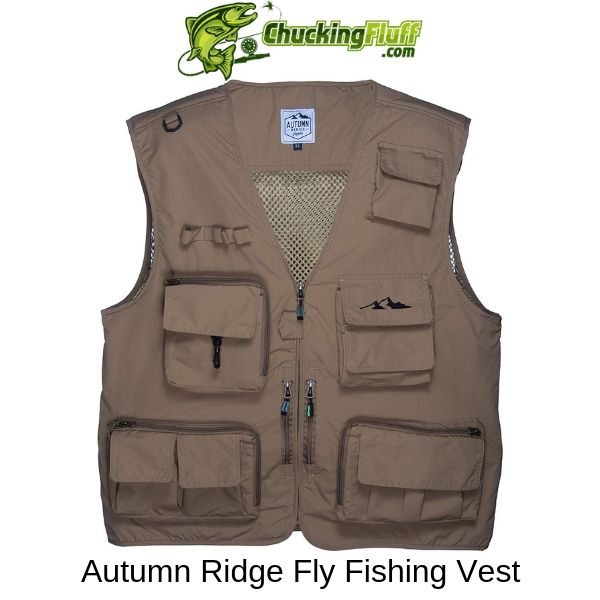 ---
Check Ridge Amazon Availability
---
As this fly vest gives a classic approach to carrying all your fly fishing gear along, it instills inspiration and encouragement to organize your essential gear. It makes a great gift for any new or old school angler.
There are more storage options in the market like waist packs, backpacks, and chest packs but most anglers prefer the functionality of a fly vest.
The Autumn Ridge Traders Fly Vest has an effective array of pockets that are well placed on the chest without looking cluttered like most vests.
You will love how fast it is to organize your stuff and master where it all is.
As we dwell more on the storage system, it is important to have in mind the safety of sensitive gadgets like electronics.
This one is water-resistant and dries quickly unlike most fly vests.
However, you will need a few waterproof pouches and bags for your phones, camera, keys, cash, and cards. Aesthetics were well thought of here. The back section has a high-quality mesh fabric on the inside.
To reveal it for breathability when the temperatures get high, unzip the back section, fold it back, and tack it into the pocket at the lower back.
There is nothing to worry about if you want to pre-pack it before the actual departing time.
It doesn't look complicated like most fly vests with dozens of pockets at the front. The blend in pocket sizes beautifies it. Get it in tan, khaki, gray, navy or green.
---
Key Features of the Autumn Ridge Traders Fly Fishing Vest
Material – Polyester is the commonest fabric used by most manufacturers to produce fly fishing apparel.
The fabric is very durable and highly resistant to stretching, shrinking, chemicals, mildew, wrinkles, and abrasion.
Since it is hydrophobic, it tends to dry very fast and retains its shape. These are among the reasons why it is common for outdoor clothing.
While there is no clarity on the exact type of mesh fabric, this one is worth counting on. It allows for maximum breathability and keeps the wearer fresh, cool, and dry throughout.
---
Pockets – 16 pockets are on the average. You can pack everything you need if going out for a few hours or a day. They come in various sizes from small, medium, and large. Access to pockets is via Velcro and zippers.
Having Velcro was a great idea to prevent water splashes from slipping through the zipper and wetting your gear.
It also gives a striking look. All pockets are easy to access and despite making organization easy, they keep your accessories and equipment safe.
There is an inner mesh pocket on the left and right side with Velcro closure. They measure 9'' by 8''. The back pocket with a zipper at the lower end is for extra storage space.
---
Closure – The front section has a zipper closure that reaches the mid-chest section. This makes the fly vest easy to wear and remove. All pockets on the front and back have durable zippers and Velcro. The zippers have tabs to allow for smooth and easy operation.
---
Attachment Points – If you have a lot of accessories to hang on loops, you will have to think of a better way to store them. This fly vest has very few attachment points. It is a bonus to its simplicity but comes as a disadvantage to heavy packers.
There is a D-ring on the right shoulder area and a rod holder slightly below it. Autumn Ridge Traders wanted this fly vest simple with minimal points for organization and to allow you pack light.
---
Design – Taking the design of a three-piece coat that dates ages back, the fly vest maintains its simplicity even in the look. The back side is superb with the larger section designed to be detachable for summer seasons.
The detached part is the well folded into the back pocket to prevent it from getting into your way as you cast.
---
Ventilation – Breathability is key in every fly fishing vest for hot weather. It prevents the wearer from getting clammy with sweat and smelling awful. The high-grade mesh is used in the vest's interior to keep you dry and fresh throughout. Unzip the back and enjoy your afternoon.
---
Recommended Use – This fly vest is a good choice for other outdoor activities such as traveling, camping, safaris, walks and races, archery, biking, and hunting. It holds your photography items well.
---
Available Sizes – The Autumn Ridge Traders Fly Fishing Vest is available in a wide range of sizes. Unfortunately, there is none that can fit very small-bodied anglers. Available in medium, large, X-large, XX-large, XXX-large, and XXXX-large.
There is a sizing chart on the manufacturer's website with measurements of each size. Ensure you confirm this before placing your order.
---
Customer Thoughts on the Autumn Ridge Traders Fly Vest
The fit is almost perfect especially if you match your measurements with those on the sizing chart. If you wear large for most vests or T-shirts, don't assume that the large size here will be the right one for you. Different construction, different measurements.
There are enough pockets for all the basic gear you will need outdoors. Ensure you carry a few waterproof pockets for your telephoto lenses, phones, and other valuables.
You are guaranteed secure storage by the two large pockets with zippers which extend to across the top of these pockets then down one side of the pocket. It becomes easier to access your items.
The fly vest's mesh fabric provides ventilation which has been recently appreciated by most wearers and more people who would like to have a fly vest like this one.
The rear solid cover is easy to lower and folds easily into its pocket at the rear of the vest.
The fly vest is fairly lightweight meaning you can wear it for longer periods without feeling exhausted. As long as you distribute your gear well in the pockets, you remain comfortable for a long time.
As far as material and construction are concerned, the fly vest is high-quality and the padding across the shoulders makes you more comfortable to wear.
---
Pros

– Things that shine on the Autumn Ridge Traders Fly Vest
Highly breathable

Numerous pockets

Water-resistant 

Fairly lightweight

Available in many sizes and colors

A versatile fly vest

Clever design
Cons

– Things that are not so cool!
Not recommended for winter use
Very few attachment points
The vest is longer and might be restricting for shorter persons
Overstuffing the pockets makes the fly vest heavier
---
FAQ's – Questions about the Autumn Ridge Traders Fly Vest
Q) Do all the pockets have zipper and Velcro closures?
A) Not all. There is a good mix here with some having both and others Velcro only.
Q) Is there a special pocket for water bottles?
A) No pockets but there are a few clips for your bottle. However, you are not supposed to carry a larger water bottle since it adds more weight to the fly vest.
Q) How heavy is the medium size?
A) This size weighs 14 oz. which is pretty fair.
Q) Are the sizes for men or are they unisex?
A) These are men's sizes. However, many women buy these vests for outdoor use as well. Ensure you check the sizing chart and compare with your measurements to get the right fit.
Q) How many D-rings does the fly vest have?
A) This one has two D-rings. One on the back neck and the other on the upper right shoulder.
Q) Is there a smaller size for very young anglers?
A) It depends on their height and other personal measurements. If you are looking to order a small size, there is none for this Autumn Ridge Traders Fly Fishing Vest.
Q) Can you machine wash this vest?
A) You can machine wash but dry cleaning will give better results. If you machine wash, ensure you drip dry to avoid damaging the fabric.
Q) Does the vest have waist cinch side buckles?
A) No. The manufacturer might consider this if they have intentions of redesigning this fly vest.
---
Final Verdict on the Autumn Ridge Traders Fly Vest
A good fly fishing vest like this one from Autumn Ridge is a totally classic gift that never grows old with age. A lot of fishermen regardless of the level of skill tend to get attached to gear.
There is no doubt that a men or women's vest is among the most personal items that an outdoors person should have.
As great as it is to own old gear and apparel that you know and love, you eventually get to a point where you will need an upgrade.
This particular vest is the ideal classic style vest that builds a new level of sophistication and functionality.
Its simplicity is something to behold and it is highly affordable. You will love its features.
Built with excellent craftsmanship, the fly vest projects a kind of old-timey that makes you remember the ranchmen of the '80s.
This fly fishermen vibe is very classic and has an awesome look which provides ample storage as it should.
It is simple yet effective and the schematic is appreciated by many outdoor lovers.
Anglers will agree that the fly vest has plenty of storage space for their gear and equipment without cluttering the front.
Temperature control in summer and spring is a good thing to factor and this fly vest gives you more than you can expect.
The ventilation at the rear is top-notch as the vest is able to be zipped down and expose the mesh interior to set yourself you for breathability on hotter days.
The available colors inherently have pretty tough looks and you will definitely catch everyone's eye in it.
Now that it has been selling like hot cake. You really need to be quick to get one or two. In the event that you find them out of stock at the nearest store or online dealer, no worries.
There are more in the same price category as the Autumn Ridge Traders Fly Fishing Vest. The Redington Blackfoot River Fishing Vest also has a slightly similar design like this. You can go for it as a substitute.
If you love adjustable designs, you can choose from the Lowpricenice Adjustable Mesh Fishing Vest, Piscifun Adjustable Size Fishing Vest Backpack or the Bassdash Strap Unisex Fishing Vest.
This is an already great value vest for quite a good deal.
---
Check Ridge Amazon Availability
---