Disclosure:
Just to be open and honest the buttons and links you click on in the website will in most cases take you to another website where you can purchase the products I am reviewing. As an Amazon Associate I earn from qualifying purchases.
March 3, 2023
Favorite USA Destinations for Summer Fly Fishing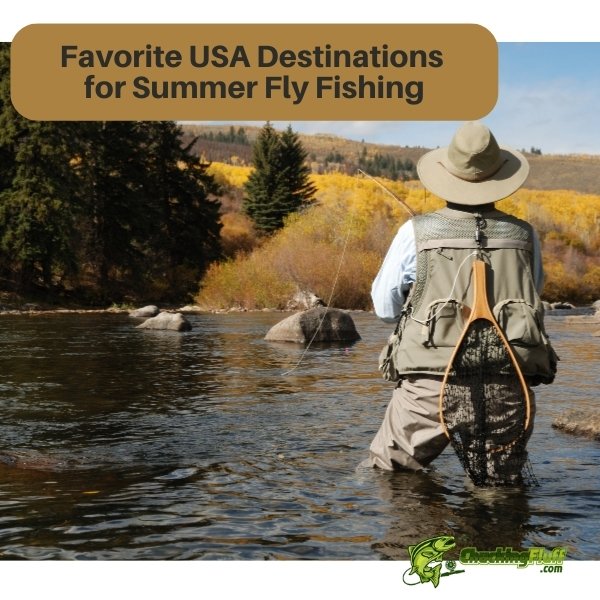 Fly fishing in the summer is like enjoying a chilled cola in the scorching sun.
Many anglers who prefer casting in the heat prefer to step out in summer because winter can be testing and unbearable.
Summer sees everything aligned for a fun day on the water – the hatches are plenty, no unpredictable weather, and the run-offs aren't there anymore.
Dry fly fishing takes the best shape at this time and we'd like you to experience the same, so we share some favorite USA destinations for summer fly fishing.
Here is a reference list as you plan your next trip.
---
Favorite USA Destinations for Summer Fly Fishing
---
Disclaimer: The list isn't in any particular order.
We discuss random locations that yield in the start, peek, and end of summer because different anglers have different preferences.
---
Mountain Fork River
---
The lower section of the Mountain Fork River stretches 98 miles through Arkansas as it heads to Oklahoma.
The government stocks the tailwater with trout, but other prospects to expect are walleye and smallmouth.
Come ready to comb the riffles, pocket waters, and pools because the skill testing class might embarrass you.
The place yields starting May through to mid-August.
---
San Juan River
---
New Mexico is underrated, but the avid angler thirsty to travel and cast will find it worth the resources.
The San Juan River is another tailwater with 20,000+ fish in every mile, and the average size of fish is about 16 inches.
Brown and rainbow trout are abundant here, but be careful about the levels of the water flow in case you are planning to wade.
Confirm if the Navajo Dam is on or off, because it can be tragic if you go off-timing.
---
Frying Pan River
---
I didn't intend to make this list a tailwater-only, but it happens that most favorites are energy-generating zones.
The Pan is a tailwater that will question your reason for fly fishing because it will take you time to hook that 10-pound species.
Trout here are picky, but frequenters to this location advise tying your own flies instead of buying them at the local fly shops.
Make them more haggard and unique to attract this species.
Fly angling yields throughout the river from the confluence where it meets Roaring Fork waters to Ruedi Reservoir.
Don't miss checking the Toilet Bowl (it isn't an actual toilet bowl, sigh!).
---
Yellowstone River
---
Yellowstone can never miss in a fly angler's destination bucket list – at least in their timeline.
The massive water body snakes through Montana down to Wyoming, and the offerings in both states are incredible.
The peak of summer sees a reduction in the water levels because of runoffs.
Quite a great thing for the adventurous angler, thanks to the easy access to pools, seams, and pocket water.
July is the best month to wade, especially in the west.
You will marvel at the gorgeous mountains and quality fishing.
Bring a combo that can catch cutthroat, brown, brook, and rainbow trout.
---
Westport
---
Westport is one of my favorite USA destinations for summer fly fishing because of its strategic location between the Pacific Ocean and Grays Harbor.
It is an established location in the fly angling circle, as salmon and halibut hunting yields best in the sunny season.
Summer unlocks the Albacore tuna bonanza among other tournaments in August.
Believe the hype about this region, and if you can, watch the Rusty Scupper Private Daze, an event for the little ones in the area.
---
Kennebec River
---
Anglers seeking tranquility and immersion into Mother Nature will love the Kennebec River.
The magnificent 150-mile stretch is divided into the east and west sections.
Water flowing through the upper valley is famous for its awesome trout streams in the entire east.
You can catch rainbows, brownies, brookies, and salmon.
---
Gros Ventre River
---
North or the Yellowstone is the Gros Ventre River, which is often overlooked.
There isn't a doubt that you will catch massive fish in the Yellowstone, but the pressure in spots here can be annoying.
Why don't you avoid the crowds and hook dozens of Snake River cutthroat living in the Ventre in the summer?
July is the best time to cast in these waters after runoffs subside.
The salmon fly hatch coincides with this and you can't stop imagining thousands of these flies roaming the air and a river with an abundance of cutthroat below them.
---
Au Sable River
---
Michigan is a golden spot in June, and most residents prefer staying home to fish because there's nothing better to do.
The water temperature in May is starting to get better for the summer fly angler but June sees the temperatures in their higher 50s and lower 60s.
Isn't this not a trout turn on?
Hatches at this time are popping throughout the day.
Brown trout will eat hex, carp wallowing in shallower coves will eat a nymph or crayfish, and brookies taking everything.
Explore the tiny stream in the northern branch of this river where abundant yet hungry brookies reside.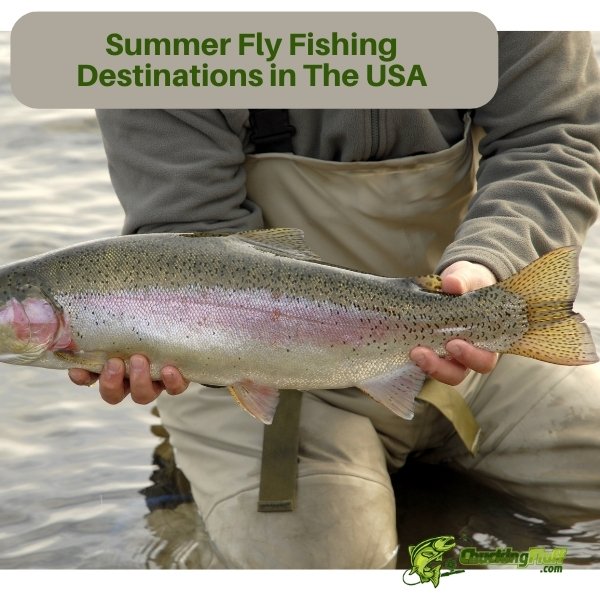 ---
Florida Keys
---
I made it broad because it is extraordinary area.
May welcomes a lot of fly fishing activity with tarpon swimming to the beaches.
Bonefish are also in plenty.
The temperatures are warm and fly fishing is hotter at this time.
Try the Florida Keys if you want to experience the best taste of saltwater fly angling.
Be ready to be overwhelmed because the location has dozens of fish species along the beautiful islands.
We recommend scheduling a long trip, and don't miss Islamorada for the redfish, tarpon, and bonefish action.
---
The Madison River
---
The Madison River is near Bozeman, and a cool place for the die-hard caster.
It is River Missouri's headwater tributary flowing 183 miles in Montana and Wyoming.
The onset of summer is superb to try its waters because of reduced runoffs to catch whitefish and brown trout.
It is divided into the Upper and Lower section.
The Upper section of the river snakes through many lakes, giving it extreme runoffs.
You can wade or float this river when situations are right, but most sections have silt bottoms.
Nymphing and dry fly fishing yields in the Lower Madison.
Overall, the Madison appears to be shallower and rapid, but its power can shock you.
---
Jackson Hole
---
Jackson Hole is another of my favorite USA destinations for summer fly fishing, as mountain run-offs begin slowing in early summer to allow for wading.
And if you know me too well, wading is one of my best things to do when on the right water.
Temperatures in the day are hitting 70s and the bites are turned on.
You can choose to explore more sections of the Snake River, where the Hole sits.
---
Manistee River
---
River Manistee flows into Lake Michigan before it flows through other sections in the Northern part of this state.
It is popular for its steelhead runs in early spring, but some prospects continue through early summer.
Trout fly fishing here is all-year round.
Trout will feed on your flies in the afternoon and sight fishing should be top of your list for monsters.
The river is another paradise for anglers and can be waded or floated.
Cut banks, deep pools, and gravel bottoms hold fish that you can catch using various techniques.
---
Fish Lake
---
Come to Utah's Fish Lake to clear your mind and recharge.
The freshwater haven is tucked in the woods.
You will fish as the birds sing and breeze cools your back.
Its water quality is enviable and the species an angler can catch are numerous.
Trout is the most popular target, with the waters holding tigers, brownies, splake, lake, and rainbows.
Kokanee salmon and yellow perch will be cruising the waters too.
You can fish from the shores, but the best yields are when floating since some species love depths.
---
Point Pleasant Beach
---
Point Pleasant Beach is one of the New Jersey Shore celebrities up in the East Coast.
The downtime life is vibrant, sandy beaches white as snow with premier fly angling spots.
Add the premium fly fishing spots and rich history to this and we are done with the brief description.
Manasquan Inlet is the most convenient place to fish on this beach.
The area connects River Manasquan to the Atlantic Ocean, making it a fantastic for an adventurous fly fisher.
Big game fish are here in plenty from marlin and tuna to fluke and striped bass.
And if sea fly fishing excites you, wait longer for September to attend the Annual Festival of the Sea.
---
Upper Colorado River
---
The Upper Colorado isn't your regular water body if you are a novice fly caster, as it can be intimidating to master.
Wait for mid-summer for the run-offs to reduce, preferably July.
The river is dam-controlled, meaning the flow of water is more manageable.
Be ready to catch cutthroat, rainbow, brook, and brown trout.
Come here to test your skills on the deep pools, pocket water, and riffles.
---
Wrap Up
---
I know I have briefly described some of my favorite USA destinations for summer fly fishing, but I know tons of incredible locations exist in this country.
What ticks your boxes might not be here, and we wouldn't mind you sharing in the comments – you never know, it might be my go-to!