Disclosure:
Just to be open and honest the buttons and links you click on in the website will in most cases take you to another website where you can purchase the products I am reviewing. As an Amazon Associate I earn from qualifying purchases.
May 23, 2022
Best Fly Fishing in Colorado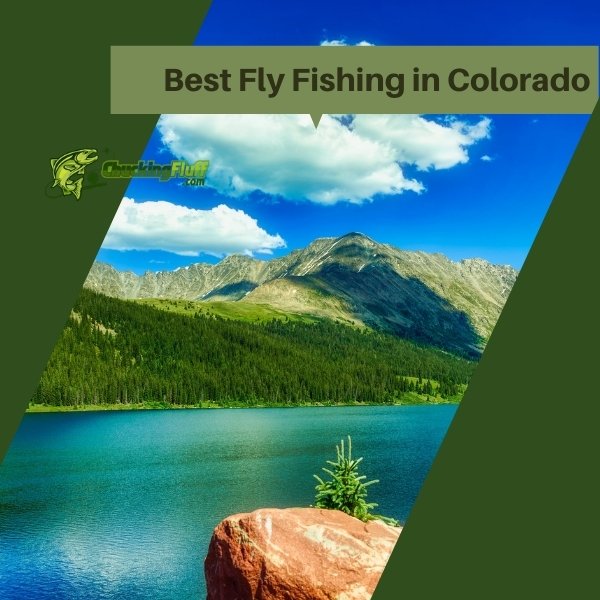 While ice fishing is also a thing in Colorado, fly fishing seems to be gaining popularity season after season. Ice begins to break in the waters here in February and opens the fly fishing season.
Thanks to the gentle snow runoffs, the waters aren't difficult to fish in. In most areas of Colorado, February and March are exciting times for trout fishing on the 9000 miles.
So what can you catch in Colorado? You can't expect the 'big' water fly fishing experience in the Centennial State. It isn't where to expect the steelhead catches of the northwest.
Neither are the river sprawling nor having wide mouths like what you see in the Big Sky area.
Most if not all the rivers and streams have their sources at the top part of the Continental Divide.
Thanks to their flow and temperatures of snowmelt, you can go after a variety of trout.
The major trout species here are brook, cutthroat, lake, and brown trout.
Others that can make you have a good time are mountain whitefish, kokanee salmon, wiper, northern pike, and largemouth bass.
Colorado has gone a step further to identify 322 miles that are set aside as Gold Medal Waters.
What do you think Gold Medal Waters are?
These are rivers, streams, and lakes that have trout thriving to over 60 pounds of these fish per acre.
They include Steamboat Lake, Spinney Mountain Reservoir, South Platte River, Roaring Fork River, Rio Grande, North Platte River, North Delaney Lake, Gunnison River, Gore Creek, Fryingpan River, Colorado River, Blue River, Arkansas River, and Animas River.
The pristine opportunities in this state put Colorado in its own league.
You can explore the Front Range and the Rocky Mountains and not miss a spot to wet your lines.
Such an area is home to rivers and reservoirs that harbor large fish that love to hide in the underwater structures.
Here is a scoop of the best areas to fly fish in Colorado.
There is no particular order of mention so don't assume that the last on the list isn't the best.
---
North Delaney Butte Lake
---
Colorado has this lake among its Gold Medal Waters.
It is a Stillwater fishery that is famous for large brown, rainbow, and a hybrid trout from cutthroat and rainbow trout.
The earliest and latest days of the season are the best to come here.
You will not be disappointed after the ice is out.
There are some areas on the lake that are closed seasonally.
Ensure to confirm where and when.
Also, be aware of all the fishing regulations on the lake and the streams that feed it.
You can launch a boat at the ramp section. In fact, fishing from a watercraft or a boat is the best way to get the most out of the Butte.
Cruisers feed in the shallow parts of the lake. You can walk along the banks to catch them.
The fall comes with healthy brownies.
Trout love to rise to the surface in spring and hide in the summer because of the warm waters.
If looking to come here in the warmer months, a sinking line will make it worthy.
---
---
Season: Summer, spring, and fall
Main Species: Brown, rainbow, and a hybrid trout from cutthroat and rainbow trout.
Fly Patterns: Midges, damselfly nymphs, and orange and olive crawdads
Nearest Towns: Walden
Nearest Tackle Shops: North Park Anglers
---
Frying Pan River
---
The FryingPan River starts as a small mountain stream.
It flows and feeds the Ruedi Reservoir.
As you explore the areas below the lake, you will marvel at the trout fishing offerings of this river.
They are some of the best in the country.
The river below this lake has plenty of Mysis shrimps which are delicious for the voracious trout in this area.
The tailwater as well boasts beautiful hatches that will make any dry fly enthusiast camp here until there is nothing to catch-this can never happen though.
Pale morning duns and green drakes will never go wrong here.
When there are no hatches, fish in the upper section won't resist midges.
Stick to the tailwater beneath the reservoir for something good.
However, you can also spend time above the reservoir.
The stretch below the dam towards where it meets with the Roaring Fork is an excellent spot.
Most anglers crown downstream or below the dam in the Toilet Bowl.
The furthest end downstream is less crowded and is perfect for anglers looking for alone time.
---
---
Season: Late winter, summer, spring, and fall
Main Species: Brown, rainbow, and occasional brookies
Fly Patterns: White or translucent Mysis shrimps, pinkish-tan pale morning duns, Baetis
Nearest Towns: Basalt, Carbondale, Meredith
Nearest Tackle Shops: Frying Pan Anglers, Taylor Creek Fly Shop, Meredith Frying Pan Store, Crystal Fly Shop
---
South Platte River
---
With a bend of rough canyon waters and meandering meadows, there is nothing that can put off an angler from finding out what the water here harbors.
The fish population is excellent throughout.
Anglers mainly target cutbow, cutthroat, brown, rainbow trout, and kokanee salmon.
However, the Denver area offers fantastic carp fishing experiences. Comb the reservoirs on the river and you will have a reason to return here.
Waders have everything to smile about because the river allows for wading from its uppers to the lower stretches.
If you are looking to catch more fish regardless of the size, work on the Elevenmile Canyon.
For a hiking experience to a more remote fishing spot on the Platte is in the Cheesman Canyon.
If you love angling as you interact with other anglers, try the Deckers.
It receives high pressure because of its closeness to Denver.
What if you'd like to come here in spring or fall and are looking for the best offerings?
The trout in the Dream Stream are huge.
You can easily land a monster here.
A beautiful tricos hatch happens on the river in the summer making dry fly fishing a thing to do.
---
---
Season: Summer, spring, and fall
Main Species: Cutbow, cutthroat, brown, rainbow trout, carp, and kokanee salmon.
Fly Patterns: Tricos, WD40s, RS2s, and small midges
Nearest Towns: Deckers, Denver, North Platte, Sutherland
Nearest Tackle Shops: Minnow Bucket, Big Eye Spinnerbaits,LLC, Freeze's Bait and Tackle, Sandbur Bait Co,
---
Colorado River
---
The Colorado River has its headwaters in the Rocky Mountain National Park.
The mighty river has fish in every mile as it flows downstream.
There's more to adventure here as it has small meadows for waders to big waters that require you to fish from a boat.
The main species here are brown, brook, cutthroat, and rainbow trout.
The upper sections of the river near Parshall and the stretches in the Gore Canyon are perfect spots for wading anglers.
Early summer and late spring come with beautiful salmon fly hatches.
Targeting these times is the best thing an angler can do.
You can pack more salmon fly nymphs and caddis pupa.
Hoppers will be your best bet in late summer.
The meadow water in the North Fork of this river is the best for anyone looking for solace.
Head to the Rocky Mountain Section if you'd love some time away from crowds.
The undercut banks hold more than you can think of.
---
---
Season: Summer, spring, and fall
Main Species: Brown, brook, cutthroat, and rainbow trout, largemouth bass, crappies, walleye, striped bass, channel catfish
Fly Patterns: Salmonfly nymphs, hoppers, caddis pupa, stoneflies, attractor patterns, Baetis, small midges,
Nearest Towns: Glenwood Springs, Grand Junction, Aspen, Breckenridge, Silverthorne, Colorado Springs, Frisco,
---
Gunnison River
---
The Taylor and East Rivers meet at a confluence in Almont and this forms the Gunnison River.
There are beautiful green drake and caddis hatches in the upper section of the river that see the trout here overly active.
Taylor River is home to giant trout. It has a few miles below the Taylor Park Reservoir that are strictly for catch and release.
You can check out Lake Fork which is one of the Gunnison River's tributaries.
Below the Gunnison River, there are several reservoirs that the river feeds before snaking through the Black Canyon.
You need to be in excellent health, strong, courageous, and patient enough to fish in this section of the river.
Getting here also needs more effort. However, the proceeds are worth it. You can catch large rainbows and brown trout in the Gunnison.
Any avid angler will target the great salmon hatch for a more thrilling fly fishing experience.
Caddis and stoneflies too hatch here and keep these chaps always rising to feed in the summer.
More great hatches are green drake, pale morning duns, and blue-winged olives that you shouldn't ignore.
---
---
Season: Winter, summer, spring, and fall
Main Species: Rainbow, cutthroat, and brook trout, kokanee salmon
Fly Patterns: Salmonflies, stoneflies, caddis, green drake, blue-winged olives, pale morning dun, mayflies
Nearest Towns: Gunnison, Glenwood Springs, Clifton, Canon City, Montrose, Grand Junction, Durango, Redlands, Alamosa, Almont
Nearest Tackle Shops: Gunnison Fish & Raft, Berfield's Stage Stop, Almont Anglers, Three Rivers Resort & Outfitting, Gunnison River Fly Shop, Western Anglers, Dynamic Lures, Western Filament Inc,
---
Animas River
---
The Animas River is 126 miles and part of the Gold Medal Waters of Colorado. It has its source in the San Juan Mountains.
From there, it snakes through Silverton, Durango, and into New Mexico where it joins the San Juan River.
There are plenty of spots to fish on this river. However, where the most success is, you have to fish in the areas around Durango.
There are 7 miles that are accessible to anglers.
You can launch a boat or choose to wade in the Animas.
Once you leave Durango, it becomes very difficult to access the river if you aren't on a boat.
A good stretch of the river is also not accessible by vehicles.
You need to come prepared for a good hiking session.
Towards the southern areas of Durango, the Animas flows through Ute Reservation and you will not regret spending time here.
However, anglers are required to get a special permit to fish in this section.
The Animas is an all-year-round fishery for big brown trout.
Carry your midges if you intend to fish here in the winter.
For summer, caddis will do well but have your midges too as option B.
---
---
Season: Winter, summer, spring, and fall
Main Species: Brown trout
Fly Patterns: Midges, caddis
Nearest Towns: Animas Forks, Eureka, Howardsville, Silverton, Durango,
Nearest Tackle Shops: Duranglers Flies and Supplies, The San Juan Angler
---
Cache La Poudre River
---
The Cache La Poudre River is among the few rivers that boast plenty of fish.
Some enthusiastic explorers got stuck in a snowstorm here many years ago as they combed the region to find out the goodness that it harbored.
The meaning of Cache la Poudre is hiding the powder.
These men carried huge powder kegs that they stored near this river.
There are lots of access points on this river.
Most anglers love to use the one outside Fort Collins.
Once the river reaches this point, it continues to flow through the corner of the town.
This river flows along Highway 14.
It creates another bonus to accessibility since you can take a short walk from the road and meet the river.
However, there are private properties surrounding the river.
Ensure to watch out for signboards indicating this.
There are a few open stretches on the river that allow for free entry to the public all year.
It might experience pressure but not as much because of the nearby reservoirs that attract so many anglers.
---
---
Season:
Main Species: Brown trout
Fly Patterns: Midges, caddis
Nearest Towns: Evans, Johnstown, Loveland, Greeley, Fort Collins,
Nearest Tackle Shops: Spring Creek Fly Fishing Nets, St. Peter's Fly Shop, Gander Valley Custom Calls, Garretson's Sports Center, Pyramid Fly Co, Elkhorn Fly Shop, St. Peter's Fly Shop – South, Laughing Grizzly Fly Shop, SCHEELS ALL SPORTS
---
More Fly Fishing Spots in Colorado
---
Yampa River State Park is another prolific fishery in this state.
Its eastern section is famous for fostering large brown, brook, and cutthroat trout while the western part has warm waters and homes catfish, northern pike, and smallmouth bass.
The Wolford Mountain Reservoir in the Colorado Plateau has a good number of rainbow trout.
You can launch a boat at the ramp area and try catching a 16 to 20 inch rainbow on your fly rod.
Trappers Lake though in the wilderness, is easily accessible.
There is plenty of native cutthroat trout that you can try to catch.
Since it is the state's second-largest natural lake, you have more waters to yourself even in the peak season.
Try fishing later in the evening when the insect life begins to emerge from their hideout.
A drift boat is crucial for accessing the furthest and deepest sections of the Steamboat Lake State Park.
It is a haven of active brook, browns, cutthroat, and rainbows that will not hesitate to play a hide and seek game with you.
However, it is easy to access the shoreline and those without boats can take advantage of this.
Visit the Grand Mesa Lakes that comprise over 100 reservoirs and natural lakes.
They harbor a wide variety of trout. Some lakes allow boat fishing while others don't.
You can enjoy solace here as you catch brown, brook, rainbow, and cutthroat trout.
Nothing beats a fishing experience in the high country pocket water.
It doesn't have trophies so don't expect any here.
But, more small wild trout live here.
There are plenty of alpine streams with more offerings for anglers craving adventure and solitude.
The Rio Grande National Forest is where the Rio Grande River starts from.
As it enters the South Fork Town, it owns its Gold Medal status for the 17 miles.
Huge rainbow and brown trout are common here.
You can catch cutthroat in its headwaters.
Find time for the Roaring Fork River which offers world-class fishing opportunities that no anglers should miss.
As a designated Gold Medal fishery, you know that there is more to expect in terms of fish sizes.
The Arkansas River has almost a third of its total miles flowing through this state.
The section from above Royal Gorge to Leadville is referred to as Gold Medal Waters.
It has plenty of trout in the deep pockets.
The river ceases to be a tailwater is early summer and spring because of the many kayakers and rafters.
Carry nymphs and streamers to the high waters.
The tailwater fishing experiences on the Blue River are super.
Although it a section of it stopped being a Gold Medal water in 2016, it led to better measures that have seen the fishery rise to what it is now.
The trout populations are impressive and you can still land trophies here with excellent skills.
The Blue Mesa Reservoir is the largest water body in Colorado and a playground for fishermen and women.
It boasts a shoreline of 96 miles with plenty of fishing opportunities.
As the rivers and streams join the reservoir, they create excellent spots for anglers.
Trout love these deeper areas with cooler waters. Rainbow and brook trout are in plenty in this river.
Check out the Spinney Mountain Reservoir for its scenic nature and plenty cutthroat, browns, and rainbow trout in huge populations and trophy sizes.
Accessibility is great and you can fish from the shoreline.
Gore Creek boats excellent prospects throughout the year and its solitude and seclusions are what makes anglers desiring these aspects run to it.
All the four trout species in Colorado cruise in this creek. Get to the Lower Gore Creek and the Upper Gore Creek if looking for the best opportunities.
The Dream Stream or the Charlie Meyers Recreation Area is frequented by anglers because of its trophy size brown, cutthroat, and rainbow trout.
You can cast with ease thanks to the desert prairie.
For a more remote fishing experience, the Indian Peak Wilderness is the place to be.
There are lots of Greenback cutthroat trout that are native to this area.
They are huge and in plenty. As you fish, enjoy the alpine views.
You need to prepare for hiking though.
Other areas that anglers can try are Big Thompson, Conejos River, Eagle River, Elk River, East River, Juan Juan River, Taylor River, and Williams Fork River among others
---
Tips for Successful Fly Fishing in Colorado
---
Colorado has plenty of large water bodies. You will need the best reel whose drag is smooth and strong.
This is very crucial to ensure that you can battle a fish tactfully even as it pulls off a lot of line.
One with a large arbor will be the best as you can reel in really fast.
Carry floating weight forward lines.
However, if you are targeting still waters, an intermediate line or sinking lines will be perfect.
Streamer fishing for large trout needs a 6 to a 7-weight fly rod with sink tip lines whether you intend to wade of fish from a boat.
These rods are relatively light.
A heavy rod of about 8 to 10 weight is necessary for pike fishing in Spinney Mountain Reservoir.
Pair it with big fly patterns imitating trout.
Have heavy fluorocarbon or steel leaders as a bite guard.
Fishing in small streams in the mountains needs a 2 to a 3-weight rod. Gold Medal Waters will have you packing a 5 to a 6-weight rod to allow you to cast through the wind.
Long leaders with 6x tippets will be ideal for technical fishing here.
Anyone who wants to access Colorado water bodies and is 16 years and above should obtain a valid fishing license.
This applies to both residents and non-residents.
However, persons between 16 and 17 years will only pay $8 according to the recent changes in the licensing costs by the state department.
We cannot fail to insist on anglers checking the fishing reports in the state to know the nature of the water, the behavior of fish, the hatches happening, and other basics that an angler needs to be aware of before leaving for your desired spot.
It is not everywhere in Colorado where you find signs put up by private landowners to notify oncoming anglers.
Research prior to your visit the legal places to fly fish to avoid trespassing and its repercussions.
Also, educate yourself on the fishing regulations in Colorado as they aren't similar to other states.
Know the bag limits, catch and release zones, and types of lures and flies to use.
---
FAQ's – Questions on Fly Fishing in Colorado
---
Q) What is the bag limit for trout in Colorado?
A) The possession and bag limit for trout in Colorado is four fish. None of them should exceed 16 inches. However, each area in the state has its own regulations that you should adhere to.
Q) Which trout species are native to Colorado?
A) There are three cutthroat trout species that are native to Colorado. The Rio Grande, Greenback, and Colorado.
Q) What are some of the trout flies that I shouldn't leave behind when coming to Colorado?
A) Pack terrestrials, midges, damsels, crayfish, shrimp, stoneflies, mayflies, sculpins, and caddis.
Q) Where are some of the places that I can fish salmon in Colorado?
A) Head to Williams Fork Reservoir, Lake Granby, Blue Mesa Reservoir, Green Mountain Reservoir, and Wolford Mountain Reservoir for kokanee salmon.
Q) Can one use live bait to fish in Colorado?
A) You are forbidden from using live bait at elevations above 7,000 feet in all waterways west and east of the Continental Divide apart from the Navajo Reservoir.
---
Wrap Up on the Best Fly Fishing in Colorado
---
Colorado boasts prized waters with world-class fishing experiences.
We have put up this informative article describing a few areas and listing others that you can explore and have a fantastic time fishing.
After applying for your fishing license and grabbing a collection of flies that we have recommended, get your tackle gear together.
This can be a daunting task if you don't know what to choose.
We have a special section with buyer's guides of gear, equipment, and apparel that will suit your needs.
You can now head out and explore Colorado all set.
We haven't exhausted the waterways in this state but mentioned the best that we can recommend.
If we missed your favorite and others, share with us in the comments.
Let us also know where in Colorado you have fished, what gear you packed, and your overall experience.