Disclosure:
Just to be open and honest the buttons and links you click on in the website will in most cases take you to another website where you can purchase the products I am reviewing. As an Amazon Associate I earn from qualifying purchases.
October 7, 2020
Best Fly Fishing in Missouri – Trout Heaven
Missouri opens the trout season on March 1st at Bennet Springs. As a norm here, the trout opener commences in four state parks. If you have been present during the opening days, you know its an amazing sight.
The air raid sirens produce soft soothing sounds to signal that it is all clear for the fly anglers to get casting. It is usually packed as the crowds are in awe of the trouty goodness that their state has to offer.
Taking a random year, the four parks have crowds swelling to over 10,000 anglers. During this time more than 25,000 trout and hundreds of lunkers have been stocked into the water.
You will be wanting a stiff battle with huge brownies or rainbows for your plate. Some of the Best Fly Fishing in Missouri satisfies all these and many more. Memorial Day is among the busiest on the state's waterways.
Anglers stand back to back along the dam's edge and trout are seen being caught with fly rods that are prize standard for many a river.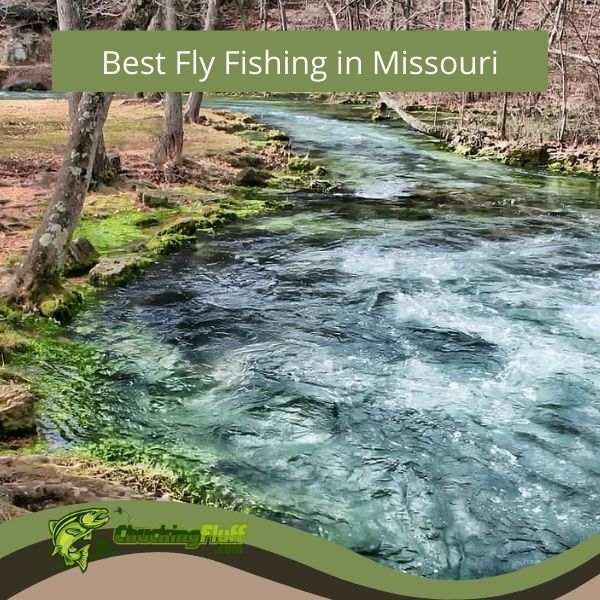 Missouri boasts some of the best trout fly fishing experiences in the world. We attribute this to the heavy conservation measures set aside by the state to see that sources don't run into depletion.
Until the 1880s, there were no trout in this state. The government has permit areas and special restrictions guarding waterways, countrywide fish hatcheries, stocking projects and has created several trout parks too.
All these are to make the state a one-stop point for fly anglers from all over the world.
There is a diversity of watersheds from streams, creeks, tributaries, and rivers to lakes and reservoirs all bubbly with healthy populations of fish.
Throughout the year, many waterways are stocked with brown and rainbow trout with some receiving hundreds of stocked fish on a daily basis from March to October.
The fish hatcheries in the trout parks are fantastic. Within the same parks, there are special zones and regulations on the choice of baits, flies, and lures, catch and bag limits.
A few trout parks such as Maramec Spring Park, Montauk State Park, and Bennet have their specific seasons for trout fishing.
You might not like the winter seasons in this state. Only the hard-core anglers can have fun during this time.
The state has White, Red, and Blue Ribbon trout waters. This makes it breezy for anglers to know where they can go fishing and the expectations there.
Red trout areas mean that the watershed is stocked with brown trout and you can only catch and release fish and use artificial lures. Trout in these waters thrive in huge sizes.
Blue ribbon waters basically support the breeding and growth of trout. White ribbon waters are the Coldwater streams supporting trout growth and are stocked frequently with lots of rainbows and a few brownies.
Fishing in some trout parks will require an angler to have daily trout tags while any other angler whether resident or non-resident must acquire a special trout permit.
Check out other destination in the USA
---
The Current River
A section of the Current River is considered a White Ribbon stretch and fishermen here catch smaller sizes of fish in the stretch compared to other trout fisheries.
Some of the other sections are designated Blue Ribbon waters and an angler can hook trophy size trout. The browns in these sections are healthy and thrive to more than 20 inches.
They home lots of wild and stocked rainbows. You can get to the Montauk State Park if looking for walk-in access. This is to access the Blue Ribbon areas of the Current River. How then do you identify the Blue Ribbon section?
There are well-worn paths and signs to show that you are now at or closer to the Blue Ribbon section.
For your fly collection, we advise that you have terrestrial patterns like hoppers, and the rest for summer months. In between the hatches are better with zebra midges.
Trout will not ignore a well-tied leech, wooly bugger or a small streamer.
Seasons: Year-round
Main Species: Wild and stocked browns and rainbows
Type of Stream: Spring Creek
Fly Patterns: Ants, Hoppers, terrestrials, small streamers, wooly buggers, leeches, midges, Tricos
Nearest Towns: Salem, Akers, Winona, Salem,
Nearest Tackle Shops: Current River Bait & Tackle, Montauk Lodge, Fitz Fishing Tackle & Supplies, Riverrun Outfitters, Bass Pro Shops.
---
---
The White River's North Fork
The North Fork section of the White River is popular among both residents and non-resident anglers in Missouri. The wild rainbow trout from the southernmost area live in this section and in huge numbers.
You will be surprised at the massive brown trout caught here by anglers. These brownies are stocked in this section yearly.
The stretch between Blair Bridge and Rainbow Springs has been designated by the Missouri Department of Conservations as a Missouri Wild Trout Management Area of this section of the White River.
There are some times that favor wading. However, fishing from a boat will most likely yield more. A major concern here is the water levels. This forces you to confirm with local fly shops here of any changes.
Over three-quarters of the trout species in the North Fork of the White River are wild browns and the rest are brownies that leave downstream for the upper section. Trout stocking on this river commenced in 1964.
Have light-colored caddis for summer months and the dark ones for transition seasons. As hatches go on, stoneflies will not disappoint.
If there is no hatch happening, carry your scuds, worms, midges, rubber legs, and pheasant tails. Articulates streamers will hook bigger brownies.
Seasons: Year-round
Main Species: Stocked browns and wild rainbows
Type of Stream: Spring Creek
Fly Patterns: Scuds, worms, midges, rubber legs, pheasant tails, articulates streamers, caddis, stoneflies, stonefly nymphs
Nearest Towns: West Plains, Mountain Grove,
---
---
Barren Fork Creek
As a Blue Ribbon area, the Barren Fork Creek favors the reproduction and growth of huge populations of wild trout. You can catch trophy trout here.
Thanks to the Missouri Department of Conservations for managing and maintaining this watershed. You are limited to using artificial lures and flies only. Soft plastics are forbidden.
The daily bag limit per person is one fish and shouldn't exceed 18 inches.
Novices who are just starting out their angling journeys will find these waters more challenging to handle. Once you hone your casting and presentation skills, it will not be a problem.
Solitude is found in the Barren Fork Creek which is in south-central Missouri. You can come here if you are an amateur or pro to test your fishing skills because of the nature of the trout.
Most trout are smaller in size but north to Vida Slab from Highway 63 is where you can catch larger trout. It has both blue and white ribbon areas that you can choose to fish in.
Highway 72 and Highway 19 allow you to get to County Road A-D where you can access this creek. On the first miles of the stretch beneath Twin Springs is where you should target as it has plenty of fish.
The section from here until the Sunklands Conservation Area is fruitful. Boat fishing may not be the best mode but waders will have a great time here.
The waters here are shallower and clearer and streamers will easily spook these buddies. Pack more caddis, terrestrials, basic nymphs, and smaller dry flies.
Seasons: Year-round
Main Species: Wild rainbows
Type of Stream: Spring Creek
Fly Patterns: Caddis, terrestrials, smaller dry flies, basic nymphs
Nearest Towns: Dillia, Ava
---
Lake Ozarks
Lake Ozarks sits on 54,000 acres and it isn't a place to be belittled. It boasts over 1100 miles of shoreline giving anglers an opportunity to fish from the shores without any problem.
If you are a fly fisher looking for diversity and experiment with other types of fish, head there and catch bluegill, paddlefish, walleye, hybrid stripers, flathead catfish, white bass, largemouth bass, channel catfish, spotted bass, black crappie, white crappie, and blue catfish.
The lake has easy access and you can enjoy the offerings here from the crappie beds to the dock fishing options.
Nature is variable and some areas of Lake Ozarks have more fishermen and women than others but it doesn't get crowded. It boasts year-round fishing opportunities from spring to winter and anglers won't miss a thing.
However, the best months of them all are January and February and you can land the biggest fish at this time. The deeper waters have more of these fish in the winter months.
Seasons: Year-round
Main Species: Bluegill, paddlefish, walleye, hybrid stripers, flathead catfish, white bass, largemouth bass, channel catfish, spotted bass, black crappie, white crappie, and blue catfish.
Fly Patterns: Minnows, caddis, cahills, pale evening dun, rusty dun, pale red fox, light Hendrickson, blue-winged olive, rusty spinners, stoneflies
Nearest Towns: Osage Beach, Sunrise Beach, Eldon, Linn Creek, Laurie, Montreal, Camdenton, Roach, Iberia, Saint Elizabeth, Versailles, Crocker, Russellville, Eldridge, Stover, Richland, California
Nearest Tackle Shops: Fitz Fishing Tackle & Supplies, Osage Beach Bait & Tackle, Bryants Osage Outdoors LLC, Minit Mart, Lake Ozark RV Park & Campground, Osage Tackle Co., SLINGIN LURE, Edgar's Outdoor Sports/Ozark Bait & Tackle, West Marine
---
---
Little Pinney Creek
It might be small and not to your expectation with the fly fishing opportunities. But, not everything small is actually small. This creek yields lots of trout in good sizes.
Its proximity to Rolla and Newburg allows it to have excellent access. You would love to fish this place in the fall and spring as they are the best seasons. It has campsites in the creek where you can pitch a tent and have a whole vacation.
The Little Pinney Creek has sections that are designated as White Ribbon and others as Blue Ribbon so you are sure that you have more to do and enjoy while here.
The water levels here are low in the summer months. This makes it harder to catch fish. Pack your nymphs and dry flies in size 14 to 18. The creek also has beautiful and large hatches happening in the summer.
Seasons: Year-round
Main Species: Wild and stocked browns and rainbows
Type of Stream: Spring Creek
Fly Patterns: Adams, blue-winged olives, elk hair caddis, midges, bead head nymphs, pheasant tails, renegades, crackle backs, big ants, small grasshoppers, marabou streamers, glo bugs
Nearest Towns: Newburg, Rolla
Nearest Tackle Shops: GameTime Outfitters LLC, Academy Sports + Outdoors, JCook Fly Rods, Fort Uranus Mission Outpost Outdoor Outfitters, Fitz Fishing Tackle & Supplies
---
---
Crane Creek
Crane Creek found outside Springfield City and isn't a big water body but will surprise any angler who has never been here. Those who have fished this creek know its potentials.
Its location gives it easier access. The watershed has been stocked with rainbow trout since the 1880s and is doing very well considering the populations of trout here.
Fishing here needs excellent presentation skills as the water is crystal clear. This seems to be the reason why anglers frequent this creek. You can see the rocky and pebbled bottoms some with grass to allow the fish here to feed and hide.
Summers are hotter here thus affecting the water levels. Not to worry, even if you still consider coming here during these months, head to the section of the creek that is lined box elder and sycamore trees.
The vegetation here helps to cool the water and protect it from a lot of direct sunlight. This is where trout rush to as they can't survive long in warmer waters. Access is open all year round.
Seasons: Year-round
Main Species: Wild rainbows
Type of Stream: Spring Creek
Fly Patterns: Springfield, Crane, Branson
Nearest Tackle Shops: Braden's Creek Custom Rods, Bass Pro Shops, Early Bird Bait & Tackle Distribution, J & R Sports, Plateau Fly Shop, Lew's Fishing, Cape Fair Bait and Recreation, Fin & Feather, Perfect Strike Tackle,
---
---
Other Prime Fly Fishing Places in Missouri
The Roaring River State Park has plenty of rainbows and brownies and will make an excellent destination if choosing to go out with kids or are a novice. Head to the White Ribbon section for lunker and have your daily trout tag.
Bennet Springs State Park attracts anglers from all walks of life. Early morning fishing here is the best bet because of the population of anglers that the area receives.
It has three zones and each has its special regulations that you must adhere to. Novices will appreciate the cool, clear, and shallower waters and catch more rainbows than they could anywhere else.
Head to the popular Lake Taneycomo with all-year-round trout fishing opportunities. The water temperatures are stable and the hatches allow for trout to thrive in large sizes. The lake has special regulations with regards to areas to fish.
One of the areas with a red ribbon is the Roubidoux Creek in Central Missouri. There are huge brown and rainbows that you can hook. It also has a white ribbon stretch which is a mile from the Roubidoux Spring. What follows is the red ribbon which goes on for the next 2.2 miles.
Though not as popular as the other state parks, the Montauk State Park has 2 miles of white ribbon water and is lightly fished so you can be sure to have a good time here if you are looking to escape crowds in the peak seasons. Fishing is excellent throughout the year though it has a catch and release period from November to February.
The 0.7 km of trout waters on the Meramec Spring Park is worth combing. The area is stocked annually with rainbows on a daily basis from March to October. You can imagine the trout population here. Its catch and release section is similar to the Montauk State Park. Fall spawn comes with the largest rainbows in this area.
Southeastern Missouri homes the Eleven Point River that snakes through Mark Twain National Forest. It is annually stocked with rainbow trout. Head to the Blue Ribbon section which is about 5.6 miles from Greer Spring Branch. You can also fish wild trout here with some over 20 inches. It also has a white ribbon area downstream.
---
Tips for Successful Fly Fishing in Missouri
Ensure that you don't use soft plastics as lures or baits on Blue and Red ribbon waters in Missouri. This should also apply to other fishing holes that include this in their special regulations.
You will be most successful in Missouri and other watersheds if you know when the fish are most active and when they are feeding. Late evenings and early mornings guarantee the best proceeds.
As you pack your flies, ensure that you match them to the hatches happening on the waters that you intend to fish.
Choose a 9 foot 5 weight rod and a fly reel with a single action and a disc drag. For the line, it should be balanced, floating, and tapered. If you carry two rods, have a 6 weight, a sinking, and another floating line.
The floating line will do well with nymphs and dry flies while the sinking can be for streamers if you are looking to hunt large brownies.
Any resident or non-resident who intends to access the waters in Missouri for fishing must have a valid fly fishing license that you can purchase from the department of conservation or any other authorized online stores.
For those coming in for trout fishing, you must accompany your license with a trout permit.
Wading gear and accessories are a MUST if you want to take advantage of some of the best fly fishing in Missouri.
---
FAQ's – Questions on Fly Fishing in Missouri
Q) Can you use also use live bait in Missouri?
A) Yes. However, you are only limited to using live bait in the White Ribbon areas and other locations that allow for this in their regulations.
Q) What is the harvest limit for trout in White Ribbon areas?
A) Missouri fishing state laws limit each person to four trout in a day. The brown trout can be of 15 inches or more while the rainbows can be of any size.
Q) How many trout can you catch in the Red Ribbon Areas?
A) You can only catch two trout in a day as long as they are or exceed 15 inches according to the Missouri fishing regulations.
Q) Can I harvest trout larger than 18 inches?
A) This is possible only in areas that are blue ribbon. Also, the daily limit here is one trout.
Q) What age should one be to acquire a fishing license in Missouri?
A) All residents and non-residents who want to fish in Missouri and are 16 years and over must have valid licenses.
---
Wrap Up
How you decide to spend time with your family and buddies is your prerogative. It doesn't matter if you decide to show up on the trout open days or choose your lone time to head to the wilderness creeks and have a vacation like no other.
Missouri has some of the best fly fishing offerings even with the introduction of trout fishing a few centuries ago. Exploration isn't limiting if you are an avid fisherman or woman since there are other fish species here that you can chase as you take a break from the trout.
We love to see all our readers and other anglers traveling the world to see what other waterways harbor. It is the reason we keep compiling pieces for different locations.
Once you have made up your mind on where to camp or fish for the day, get your licenses and permits. What could be more daunting is knowing the gear to pack.
We have mentioned a kind of setup in the tips section to help with this. If you'd love new tackle gear for this fly fishing expedition, check our buyer's guide for the best of them that are within your budget and order prior to your travel.
As usual, we reveal some of the deepest secrets held by anglers. For instance, the best fly fishing in Missouri. We, however, haven't exhausted all the spots.
Share with us what we have left out. Let us also know if you have combed the Missouri waters and what your experiences were.
Check out other destination in the USA