Disclosure:
Just to be open and honest the buttons and links you click on in the website will in most cases take you to another website where you can purchase the products I am reviewing. As an Amazon Associate I earn from qualifying purchases.
May 24, 2022
Best Fly Fishing in Oklahoma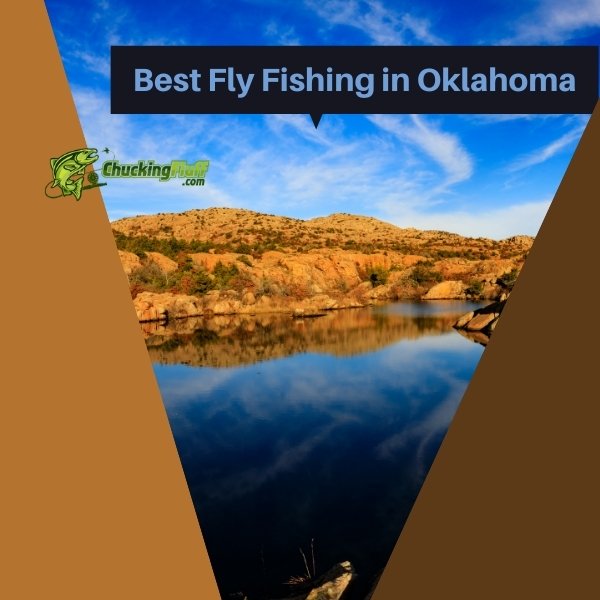 ''Where is the best fly fishing in Oklahoma?''
''I am new to the states and can't seem to know anyone who swears by their rod and reel as I do.''
''I might decide to take on a guided trip or adventure alone and see what it is like searching for waters and enjoying time with aqua life''
Greg is heard pondering aloud.
From my assessment, he is so blank about the Oklahoma fisheries but looks double determined to go back home a happy fisherman.
Apart from his fishing license and tackle gear, he has no map to direct him to potential fly fishing areas.
Buddy needed to know a few of the best places to fly fish in Oklahoma then maybe his session here will be incomparable.
We lend a helping hand and were happy to hear from him later in the season.
While many average anglers are trout die-hards, they will be baffled at the numerous fly fishing opportunities in this state that do not involve trout.
Do you know that the sand bass make their yearly spawning runs in the Upper Illinois and Upper Mountain Fork Rivers?
You have a greater opportunity to get hold of your combo, pair it with a white wooly bugger and reel in a 25-pound sand bass.
How lucky enough if it would go into the freezer waiting for the right time to be devoured?
Smallmouth bass, largemouth bass, and Kentucky are abundant in the Upper Illinois River just above Lake Tenkiller.
You will have a blast feeling them on your fly rod. It is even more thrilling to chase stripers in the Arkansas River, Red River, and Lower Illinois River.
For you to achieve it and feel fulfilled when catching stripers here, you need expertise in casting, a set of specific flies, and specialized equipment because of the large population of these fish in these waterways.
The Lower Illinois River records having some of the largest stripers in Oklahoma.
This river set a state record of a 47 pound and 8 ounces striper.
Annually, strippers of above 30 pounds are caught.
Oklahoma has more to brag about when it comes to fly fishing opportunities.
The winds blow down the plains making anglers here learn the tactful presentations and casting is never a problem for an Oklahoma angler.
In the USA, it boasts having the most number of man-made dam-created lakes.
One of the largest is Lake Texoma that sits on 88,000 square acres.
Roughly, the state has more than 167,000 miles of waterways and the majority are packed with fish.
Trout anglers have more to enjoy too. In as much as brown and rainbow trout aren't native to this state, the fishery stocking projects have seen trout thriving to more inches and pounds.
The Lower Illinois River and Lower Mountain Fork River are two-year-round fisheries where trout stocking is done weekly.
The Oklahoma Department of Wildlife Conservation also stocks six seasonal fisheries from November to March or April.
Anglers will have more fun fishing for trout in the winter when other species are hiding in underwater structures due to the weather conditions.
Trout thrive better in colder water. It is the reason why the heavy stocking program is working well in Oklahoma.
The conditions don't differ and an angler carrying one set of fishing gear shouldn't worry.
We recommend that you pack Ultralight tackle gear, 4 to 6-pound test lines, and small hooks for the best action.
There is something about Oklahoma that most states don't exercise.
The state has a Close to Home Fishing Program that allows trout anglers to fish in Veterans Park Pond and Dolese Youth Pond from 1st December to 28th February.
All trout anglers fishing here must have valid licenses and those fishing at Dolese Youth Park should acquire an Oklahoma City Fishing Permit.
But why choose the Sooner State?
You might be in the same shoes as the Sooners. Let's dig into its history a little bit.
There were so many settlers who came into Oklahoma to acquire unclaimed parcels of land before the officiated time which was 12:00 pm April 22, 1889.
These settlers were later nicknamed Sooners because of their impatience.
Somehow, the residents took after them although in a positive direction.
It is the reason you feel new and more enthusiastic each time you are in Oklahoma.
These guys are bubbly.
You could be feeling the same urge to get on the stream and fish it like it will dry in a few hours.
If you can be a fly fishing Sooner, then you will have an interesting angling story to tell.
---
Blue River
---
The Blue River boasts varied fishing opportunities as it has sections of cold and warm water.
Even if not an all-year-round fishery, the river is stocked with rainbow trout only from November to March.
This is done twice monthly. If you aren't here for trout, some species that are thrilling to catch are spotted bass, smallmouth bass, and channel catfish.
Fly fishing is nothing boring here thanks to the springs that feed this river with clear waters and the sections with waterfalls and plunges.
Summer comes with higher temperatures making most sections of the river warmer.
This is the perfect time for bass hunting as they are more active.
Adventure into its clear pools and granite boulders and see what your flies get to attract.
Wading anglers can comfortably walk into the Blue River as access is available from either of the sides.
You can fish from the banks in the trout stream which is 11 miles in the northeast of Tishomingo.
There are two miles of trails following the river where you can get many public access points.
Also, you can use the Blue River Campground and the Ruth Walker Landrum Wilderness Area to access the river.
---
---
---
Lower Mountain Fork River
---
The Lower Mountain Fork River is among the two-year-round fisheries in Oklahoma.
The Department of Wildlife and Conservation stocks this river regularly with rainbow and brown trout.
Apart from trout, more fish that you can go after when here largemouth bass, spotted bass, and walleye.
There are 12 miles set aside for trout.
But there are more spots on the river that receive less pressure and are uncrowded.
Oklahoma has the section of the Lower Mountain Fork River at Beavers Bend as its best Whitewater stretch even though there are more portions of the river with the same status.
Rainbow and brown trout stocking in the areas with cooler waters has seen anglers fishing huge trout in these sections.
On the river is a canoe and kayak rental section if you can't bring yours.
The river's lower section is divided into the Red and Blue Zones.
Each section has its own rules and regulations with regards to the type of flies to use, hook selections, trout lengths, and daily bag limits.
The commonest access point is at the Beavers Bend State Park.
Another that you can opt to use is the area near Presbyterian Falls.
---
---
---
Lower Illinois River
---
Like the Mountain Fork River, the Lower Illinois is the other year-round fishery and is weekly stocked with brown and rainbow trout.
This has made it one of the popular fishing areas in Oklahoma.
While trout attracts the majority of the anglers, some come in to catch striped bass, walleye, and white bass.
This river has five public access points and one that anglers love is the section at Gore Landing.
There is a campsite here where you can call home for the time you are on this river.
Other access points are the Lower Illinois Public Fishing Area and River Road.
The Public Fishing Area access point is strictly a walk-in way but the Gore Landing offers a boat ramp section.
---
---
---
Bluestem Lake Pawhuska
---
The fishy waters of Bluestem Lake Pawhuska are open to trout anglers from November to March.
Recently, the government stopped stocking this lake with trout and directed its efforts to Lake Perry.
It has been on a stocking program for 17 years which is considerably a long time to maintain the watershed.
However, nothing has changed as the trout populations are immeasurable.
The lake has both brown trout and rainbow trout.
Anglers can also catch catfish and striped bass here.
A few years back, there was a trout competition where the stake for the winner was ten thousand dollars.
This means that its proceeds aren't average.
The banks have plenty of access points after consideration and maintenance.
You can launch a boat at the ramp section.
A fishing dock is also available.
---
---
---
Lake Watonga
---
You can access Lake Watonga easily through the Roman Nose State Park.
It is unfortunate that you need to budget for boat services at the ramp section or carry your own since the lake doesn't have bank fishing.
However, boat fishing is superb as it allows you to reach the far ends of the watershed where the prospects are excellent.
The state stocks this lake with rainbow trout from November to March.
If you aren't into trout fishing or need to diversify, you can go after sunfish, crappie, channel catfish, smallmouth bass, and largemouth bass.
Lake Watonga is among the original seven state parks of this state and the offerings are incredible.
There are other recreational opportunities that it offers that any outdoor lover can enjoy.
As you float in the middle of the lake, you can see scenic mesas and beautiful gypsum outcroppings.
---
---
---
Quartz Mountain Nature Park
---
Among the original state parks in Oklahoma is the Quartz Mountain Nature Park.
It has a sad past but who fails to rise from a fall? Even the rivers do.
Some time ago, the fishery used to be under a weekly stocking program to increase and maintain the fish populations here.
There came two golden algae blooms that were deadly and rendered the fishery unviable for stocking.
The algae killed so many of the stocked fish.
The last bloom occurred before 2015.
However, the state is doing its best through the department of wildlife and conservation to see that the fishery regains its status.
Don't cancel your trip if you feel like you might not land trout.
There are lots of largemouth bass, channel catfish, sunfish, and bluegill.
It is a versatile park with campsites and other amenities to make you comfortable during your stay here.
You can launch a boat to reach the deeper waters of the watershed.
---
---
---
Other Prime Fly Fishing Spots in Oklahoma
---
Dolese Park Pond and Veterans Park Pond are among the designated areas for the Close to Home Fishing Program for all trout anglers living in the urban areas.
The areas are open from 1st December to 28th February and anglers can hook on decent-sized trout.
You are required to use only one rod and reel and its day limit is 6 trout per day.
You are forbidden from wading and culling.
However, there are specific regulations for each of the areas.
Medicine Creek is a gem that anglers can rush to get away from crowds and the urban hustle and bustle life.
It is quiet and very peaceful as you cast your lines to catch trout.
Head downstream to the designated trout area.
The section is between Gondola Lake Dam and State Highway 49 Bridge.
The creek undergoes regular stocking in winter.
Ensure that you are keen if fishing on the west bank because a lot of lands here are private properties.
Find time to visit the Robber's Cave State Park that boasts healthy trout populations.
Accessibility is easy and wading isn't much of a problem in this watershed.
The stocking period here is from 1st November to 15th March.
Lake Carl Etling is in the Black Mesa State Park in Kenton and is 30 miles from the City of Boise.
It is another remote location with stocked trout.
Stocking here commences in November and continues to April annually.
Head to the south bank berms if you are looking for the best proceeds.
Have you tried winter fishing in Lake Perry Park?
It is among the best experiences here.
As you learn to endure in the cold, the aftermath upon reaching the 32-acre lake here is worth it.
It is full of rainbows and is the closest trout lake in north-central Oklahoma.
Stocking begins in November through March.
Bank access is plenty and you can choose to fish from a boat.
If you didn't bring yours, launch one on the western side of the lake.
Baron Fork Creek is one of Illinois River's tributaries and matches some of the best small streams in Ozark Highlands.
It boasts more than 23 fish species among them black bass and sand bass that it is famous for.
As you enjoy fishing, Mother Nature offerings here are calming.
Glover River isn't dammed and is a freestanding river in the state that isn't commercialized.
Many anglers come here for smallmouth bass fishing. However, there are more types of bass, sunfish, and channel catfish.
The river has Class I and Class II rapids making kayak and rafting anglers stay on it longer.
The towering pines and steep bluffs that line the banks are beautiful.
Accessibility is via the USA Forestry Service Land.
Summer fishing here is tricky because of drastically reduced water levels especially if the temperatures have been higher in July and August.
When the September rains and the basin is refilled, you can adventure here.
Lake Texoma is on the border of Oklahoma and Texas and sits on 89,000 acres.
It indeed is a haven of fly fishing and it has one reservoir which is an all-year-round fishery.
Among anglers, it is popular because of its sheer size and its close proximity to Dallas Fort Worth Metroplex.
Anglers now call it the world's striper capital because of its healthy populations of Kentucky bass, largemouth bass, white bass, bluegill, catfish, crappie, gar, and carp.
Carry our deep minnow and half and half flies.
---
Tips for Successful Fly Fishing in Oklahoma
---
The key to trout fly fishing is matching the hatch correctly.
Your fly imitations should closely resemble the real prey or insect that fish feed on.
Some of the Oklahoma hatches are caddis nymph, caddis, mayfly nymph, mayfly adult, cream and black midges, Hexagenia mayflies, sulphurs, blue-winged olives, and gray dun mayflies.
Some hatches happen all year round while others are seasonal.
Generally, fall through spring will be the best time to hunt trout in most locations in Oklahoma.
If extending your fishing expeditions into the winter, you can go after bass too.
However, there are other locations that favor winter fishing. Getting a good spot is pretty easy since the pressure is less.
Summer, spring, and fall fishing will need you to pack typical gear because of the temperate climate in the state.
Some mornings are chilly and you have to consider this as you pack.
Otherwise, don't forget to include the necessities for a comfortable fly fishing trip.
Carry a 5 to a 6-weight fly rod as it will serve you for trout and striped bass fishing in most stocked waters and fisheries that aren't stocked.
This is for trout below 20 inches. However, if targeting huge striped bass or trout, have a 7 to a 9—weight rod.
For you to access any waterways in Oklahoma for fishing, you must have a valid fishing license.
This applies to all residents and non-residents.
The trout permit charges are inclusive in the license cost so you don't have to separately purchase it.
The fishing regulations in this state are very simple. You have to have them in mind to avoid violating them.
The repercussions aren't good as you risk losing fishing privileges in the state.
---
FAQ's – Questions on Fishing in Oklahoma
---
Q) What is the daily limit of rainbow trout in Oklahoma?
A) The daily limit for rainbow trout is 6. However, there are watersheds with their own regulations that you should adhere to for the fishery preservation.
Q) Can you use live bait here?
A) No, you are only limited to fishing with artificial flies and lures.
Q) Can you be sure if culling is allowed in Oklahoma?
A) Culling is forbidden in this state.
Q) What is the daily limit and size limit of brown trout in the state?
A) The daily limit for brown trout is 6 and there is there are no minimum size limits.
---
Wrap Up
---
Maybe you all should be 'Sooners' and take on a fly fishing journey to Oklahoma.
The offerings here are bountiful and you have no reason to return after a session without a tale of your experience.
Most trout species are stocked and thrive in huge sizes.
If you are taking a break from these cold water buddies, you can try your luck with bass, sunfish, crappies, bluegill, carp, walleye, and other species that fascinate you.
As you go through the fishing reports and regulations of the spots to visit, have time to also check our buyer's guide section for the best tackle gear, apparel, and equipment that will be necessary for a successful trip.
We have products categorized in all budget levels and what is left is making a choice.
For novice anglers who are new to the journey, our beginner section is insightful and will be of help.
As we wrap up our fly fishing areas in Oklahoma, we'd like to hear from you too.
Have you fished in any spots here? What gear did you carry?
What were your challenges?
What was your overall experience? Share with us in the comment section.