Disclosure:
Just to be open and honest the buttons and links you click on in the website will in most cases take you to another website where you can purchase the products I am reviewing. As an Amazon Associate I earn from qualifying purchases.
July 8, 2020
Best Fly Fishing Places in Wyoming – Home to the Big Horns
No angler would turn down an offer to go fly fishing in Wyoming. This state boasts over 27,000 miles of waterways. From the gin-clear trout streams to the wild rivers. Even as the state is sparsely populated, the meandering is an assurance of life.
The high mountain meadows and soaring peaks guard the sparkling trout lakes. The legendary Green River, North Platte, and Snake Pass here and resident anglers are familiar with the goodness they harbor.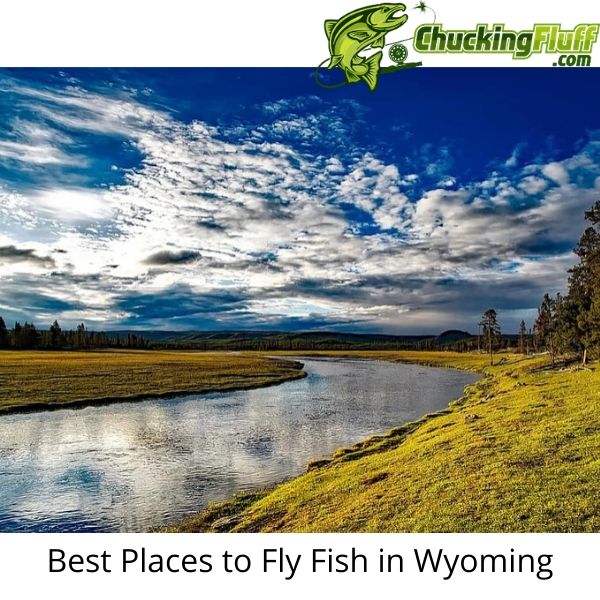 There are a few of the state's waters that are in the deepest wilderness. It is a surprise that besides them being hidden in the dense greenery, they are among Wyoming's best waters.
Yellowstone National Park in this state harbors the largest number of public streams and lakes here. Other homes to rivers, streams, and other lakes are the Bighorn Mountains, the Wind River Range, and the Grand Teton National Park among others.
As fervent anglers, we are proud of what Wyoming offers. There are over 22 gamefish species in the state's waters. However, its fame ifs from the abundant rainbow, lake, brown, brook, and cutthroat trout. The only native species to Wyoming is cutthroat trout.
You wouldn't want to know how much an achievement you'll have made if you manage to catch the 4 native subspecies. The Wyoming Game and Fish Department awards you a Cutt-Slam Certificate. Such an honor!
There is something vital to note as you plan to fish in these waters. If you are fishing in a waterway flowing through private property, ensure to remain in your vessel. For you to wade or fish from the shore, you need to get authentication from the owner of the property.
Also, arm yourself with the best bear spray as most of these locations are in strategic bear habitat. Remember to be safe and keep a distance from wildlife. Don't brew trouble with these masters.
Your angling dream in Wyoming must come true as you experience one of the life-changing experiences in a fisherman's life. There is a Continental Divide that splits this state allowing blue-ribbon trout streams in almost all corners of Wyoming.
We didn't make any rankings of the best locations. With the sheer number of trout-filled streams, it would be a daunting task. We have put together streams that will deliver the best to an angler.
Check out other destination in the USA
---
Best Fly Fishing in Wyoming
---
Snake River
There are plenty of Snake River Fine-spotted cutthroats in these waters that are willing to devour a good-looking fly. It could be yours. At the Teton Range base, this is the best place to float this river. The upper waters have numerous pools and riffles.
As the river flows into the Canyon, waters begin to roar wildly and give a good spot for pocket water fishing. As you throw your lures, enjoy the spectacular wildlife from bald eagles, bears, and moose to deer, elk, and bison.
The Snake River is known for float fishing but waders can make it here. It has lots of braids and small streams that become visible when the water levels drop. The braids aren't frequented or major targets by floating anglers.
This makes it an excellent option for wading fishermen. Fish guarding these waters are attracted to big dry flies. Pack your gear tactfully to ensure that you aren't missing on anything.
Have a 9 foot 5weight or 6weight fly rod that can easily cast and present big dries and cut through the winds that come from Teton. Access is excellent as the river passes through lots of public lands.
Most anglers use the Teton Pass Highway and drive to the River then walk upstream.
Seasons: Early spring, mid-summer through fall
Main Species: Snake River Fine-spotted cutthroat
Fly Patterns: PMDs, BWOs, Galloup's sex dungeon, Clouser minnows, Chubby Chernobyl
Nearest Towns: Tri-Cities, Clarkston, WA, Lewiston, Twin Falls, Burley, Jackson, Idaho Falls, American Falls, Blackfoot, Ontario
Nearest Tackle Shops: Westbank Anglers, Reel Deal Anglers,
---
---
Gros Ventre River
Hailing from the Gros Ventre Wilderness, this river homes splendid scenery, and top-rated trout fishing in the world. Gros Ventre is a French word meaning big belly. The name could have been given to it after the giver discovered the size of bellies on the fish residing here.
Water gets to a reasonable level in July and remains at the same throughout the season. Unless it has been a dry year, then fishing isn't interrupted. The Snake River Fine-spotted trout guard these waters.
These chaps have a tendency of marveling at circus peanuts and purple chubbies at any time of the day. You wouldn't go wrong if you make similar imitations. The fish here on average measure 8 to 14 inches.
The deeper pools harbor them until over 20 inches. So if you are looking for something longer, try the deeper pools.
Gros Ventre stretches for more than 70 miles. Follow this river up into the wilderness if you have an all-terrain vehicle and wouldn't mind the rutted narrow roads. The road leads you to the unique pocket waters below the Slide Lake.
However, you can follow the same road until the Goosewing Ranger Station. This leads you to the upper sections of the river surrounded by the beautiful and serene wilderness where solitude lies.
You can also try the lower stretch which is in National Elk Refuge. There are lots of rough bears in these areas. Have your bear spray with you for safety.
---
---
Flat Creek
The west has the Flat Creek as one of the most challenging spots to fish. However, if you are up for a giving, it is ten times worth it. The creek stays open from 1st August to 31st October. NOTE: You can only use artificial flies only.
Thanks to this and more regulations in the Flat Creek, we can confirm a larger population of the Snake River Fine-spotted cutthroat and a good number being more than 20 inches.
You can find them in the cutbanks. These buddies here are among the toughest. Forget the grizzly bears you meet as you head here. These ones are the real battle maniacs.
This is not one of those creeks that you can wade carelessly waiting for a striking from your prey. Lots of insects have this river as part of their home. You need a ton of patience, soberness, and a pack of lunch. As you slowly and silently meander along, you will find a lazy fish aiming at bugs closer to the surface.
Match your 9 foot 4 weight rod with a 5x fluorocarbon tippet. The hatch should match as well. Head over to the lower Flat Creek if you don't want to access the lake via the Elk Refuge. There are several parking spots directly off Highway 26.
---
---
Wind River Range
The Wind River Range is a big river filled with lots of fish species. Mountain peaks here are over 13,000 feet and give you a remote setting to have the solace you need for a spectacular fly fishing experience.
Get away from everything and have your life begin anew here. Come here in spring and fall if you are looking to be more successful. However, the peaks are snow-capped and can make it daunting to come here until late or after summer.
Most lakes here are in the highest elevations. There are so many rugged rocks and ice. You need to exercise caution and safety as you transverse this terrain. You can explore all sorts of lakes.
A one day trip won't be enough for an angler looking to comb these ranges thoroughly. It can get overwhelming. There are lots of cutthroat, brook, rainbow, and golden trout in the waters here.
Seasons: Fall and spring
Main Species: Cutthroat, brook, rainbow, and golden trout
Fly Patterns: Parachute Adams, Crystal Stimulator, Parachute Ant, Black Foam Beatle, Black Foam Cricket, Mohair Leech, Tellico Nymph, No-see-um, Scud, Power Bait
Nearest Towns: Jackson, Teton, Idaho Falls, Dubois, Casper
Nearest Tackle Shops: Lander Fly Shop, Wind River Canyon Whitewater and Fly Fishing
Guide Services: Jackson Hole Fly Fishing, Wind River Fly Fitters
---
---
Green River
Hailing from Bridger-Teton National Forest, the Green River harbors brown, brook, cutthroat, and rainbow trout. Lots of miles of this river flow through the private property making access a little bit tricky.
However, the other areas flowing on public land have plenty of access points. You can choose to wade, float of shore-fish the Green River.
On Highway 191 North of Warren Bridge and the tailwater beneath Fontenelle Reservoir are some of the best sections as they home monster rainbow and brown trout.
Above Warren Bridge are boulder fields that are very productive. Get yourself a good drift and take time to move through the boulders.
Use big streamers here. PMDs and BWOs will be specific for cloudy times when the monster fish begin to rise to the surface.
Seasons: April to early May, Mid June to July, September to November
Main Species: Cutthroat, brook, rainbow, and brown trout
Fly Patterns: PMDs, BWOs, Big streamers
Nearest Towns: Reliance, Farson
Nearest Tackle Shops: Two Rivers Fishing Company
Guide Services: Green River Fly Fishing, Reel Deal Anglers
---
---
Tongue River
The Tongue River is located in the Bighorn Mountains in north-central Wyoming. It is one of Yellowstone River's tributaries. It is unknown to many anglers and a secret.
If you spend enough time here, it is a yielding river in a lush setting. Its source is the Bighorn Natural Forest which is in the west of Sheridan. The river was named by the Crow Indians who lived here.
They thought it resembles a bison's tongue. Quick and easier accessibility is from Bighorn Scenic Byway. Brownies, brookie, and rainbow trout are majorly in the Southern parts of this river.
The place is full of pocket waters, pools, and runs. Thanks to the clear waters, novices can hack this place without any trouble. The northern parts have larger fish and some cutthroats, brook, and brown trout are over 20 inches.
These ones pose a greater challenge to hook. Above Bull Creek's mouth, all the trout species apart from brookie can only be caught and released. The area can be accessed on foot.
Seasons: Fall and after runoffs in early June
Main Species: Cutthroat, brook, rainbow, and brown trout
Fly Patterns: Midges, Caddis, Baetis, PMDs
Nearest Towns: Ranchester, Sheridan, Dayton, Miles City
Nearest Tackle Shops: Fly Shop of the Bighorns
Guide Services:
---
---
Flaming Gorge Reservoir
The Flaming Gorge Reservoir stretches southwards from the Green River town flowing through the border of Utah and Wyoming. It is known for its diversity of fish and big sizes too. Water from the Green River enters this reservoir.
As it meanders in the red-walled canyon, it carries rainbow, Mackinaw, tiger trout, kokanee salmon, channel catfish, burbot, carp, and smallmouth bass. In the 70s and 80s, the German brown trout that broke the world record then was fished here.
Others that made state records were rainbow, lake, and brown trout. People still hook trout over 20 pounds.
Trout and salmon species are best caught in early spring. When the water warms up in summer, feel free to catch bass here. June is the best time to go sight casting for carp in the shallow waters.
You can access this river from Highway 191 at Rock Springs or Highway 530 via the Green River.
Seasons: June, summer, and early spring
Main Species: rainbow, Mackinaw, tiger trout, kokanee salmon, channel catfish, burbot, carp, and smallmouth bass
Fly Patterns: Jigs, Gulp, Nightcrawler, Mealworms, Crayfish, Squid,
Nearest Towns: Dutch John, Vernal, Manila
Nearest Tackle Shops: Green River Fly and Tackle Shop The Flaming Gorge Resort, Anvil Draw, Western Rivers Flyfisher Guides and Shuttle, Trout Creek Flies, Dutch John Resort
Guide Services:
---
---
More Fly Fishing Hotspots to visit in Wyoming
Grey Reef, a tailwater fishery on the North Platte River, is an excellent fishing spot. It is fed by five dams hence the consistent fishing in the area. You can even fish in the spring runoffs.
Waters are cold and have plenty of leeches and scuds making it an excellent home for browns, rainbows, and cutthroat trout. Statistics have it that there are over 3,000 fish per mile on this reef. You can catch trophy size fish here.
Still, on the North Platte is the Miracle Mile. It homes occasional cutthroat, brown, and rainbow trout. The deep pockets, runs, and riffles make it superb for fly fishing.
Check the weather conditions of all areas around this location because high waters and heavy downpours make the roads impassable.
Visit the Yellowstone National Park has alkaline waters that are crystal clear and favorable for trout to thrive in larger sizes. Besides the rainbow, brook, brown, lake, and cutthroat trout, you can fish grayling and mountain whitefish.
May through October are the best months to visit this park. You won't miss a spot. Carry an effective bear spray.
One of the lightly fished areas because of being unknown to the majority is the Teton Wilderness. You can hook lake and cutthroat trout here. It neighbors the Yellowstone National Park.
Come here in summer when cutthroat are in plenty and shore-fish or fish from a drift. This is a prime bear area so take note as you plan and pa k for your trip.
Fremont Canyon is a trout hotspot named after explorer John Fremont. You can access it on foot. If you are a pro angler and want to test your mettle, try these waters for a challenge.
Anglers who love to be in serene areas as they fish should check out the Saratoga which homes the Hobo Pool hot springs.
Regardless of your level of fly fishing skills, you will find a spot for yourself in the Jackson Hole. It boasts beautiful scenery and great angling opportunities for everyone. In this area, you will spot the Snake River among others.
New Fork in Pinedale is a great drift boat fishery and perfect for waders too. It is possible to fish from the shore too.
If you are an expert angler, this river calls for time with you on your next visit. Mountain whitefish, brook, rainbow, brown, golden, and the native Colorado cutthroat stay here.
You can try your luck on the Two Ocean Creek which drains into the Pacific and Atlantic Creeks. Lots of cutthroats guard these waters.
Brown trout are the main species in the Big and Little Laramie Rivers. The area remains uncrowded even in the prime seasons. The place is great for wading apart from summers because of high water levels.
Beginners can fish rainbow trout in the Big Laramie while experts can level up to the Little Laramie for a challenge. May to July is the best time to visit this river.
Sand Creek is lined with limestone and though it is slow, meandering, with grassy banks, and fed by several springs, the cold waters and nutrients in the area make it have lots of trout.
You need to be stealthy and have the best fly presentations to come out successful.
The upper section of the North Platter River offers freestone angling experiences. Waters aren't fully reliable but areas around Medicine Bow National Forest and Saratoga are floatable from spring through fall.
There are many access points to the reaches.
Slough Creek and Firehole River offer typical Western angling experiences. You can cast near the geothermal features and geysers along the Firehole or choose to head to the Slough Creek meadows and sight fish cutthroat.
Buffalo Fork is scenic and prides in some of the best angling experiences you can have in Wyoming. The ideal spot for more success is in the North Fork after it has cleared.
Carry terrestrial patterns, traditional patterns, and stoneflies to this river as the fish are voracious just after the runoff. You can access this area via hiking up the river into Bridger –Teton National Forest or from the Turnip Meadow Ranch.
Thermopolis is a remote tailwater with plenty of fish in every mile. Carry a 6weight here and match with BWOs, PMDs, midge nymphs or tricos. You can choose to streamer fish when dry fishing gets low.
Leigh Lake formed after glacier action is perfect for early fishing when the other rivers in the area are blown out. Have big baitfish patterns in early May to catch big lake and cutthroat trout. You will enjoy sight-fishing here.
The Hoback River is in a spectacular setting and has a lot of access points which are Highway 191. It offers great dry fly fishing opportunities for the Snake River Cutthroat that are about 6 to 16 inches.
You will love the salmon fly hatch here and throwing them at the right time will mesmerize you.
---
Tips for Fly Fishing in Wyoming
Anyone who is 14 years or older, whether a resident or non-resident, must have a valid license to access any fishing waters in Wyoming. Licenses vary from day to annual licenses which come at different costs for residents and non-residents.
You can purchase them in stores across the state or online.
Ensure to ask and be aware of all the fishing regulations of the areas in Wyoming that you intend to fish in. some are exclusively catch and release waters while others only allow for bagging in a certain section of the river, stream, or lake.
There are bag limits too. So ensure you don't go against any rules.
Weather reports are vital for any travels to this state. Snow and ice affect some waterways and passages making accessibility impossible and fishing a risk. Check if the river or lake you intend to visit is open during your scheduled period.
For gear, a 4 to 6weight line will be ideal if fishing in the Yellowstone National Park. Pair it with an 8 to a 9-foot rod. If you intend to streamer fish during fall, carry a line with a sinking tip. The same line applies to when fishing in a lake.
To take full advantage of the shores, have a pair of good-quality chest waders to protect you from adverse weather. Wading in colder months needs more layers.
Wyoming is a bear country. Carry a few cans of the best bear spray to keep off these masters.
---
FAQs – Questions of Fly Fishing in Wyoming
Q) Generally, which flies should you carry to Wyoming?
A) Have big bugs, PMDs, BWOs, super beetles, purple chubbies, and black, olive and white streamer patterns.
Q) Can you fish yellow perch in Wyoming?
A) Yes, yellow perch is among the 22 species of fish that you can find in the waterways across this state.
Q) How many poles can you fish with in this state?
A) The Wyoming Game and Fish Department only allows two rods whether you are ice fishing or fishing in open waters.
Q) Which bear spray is the best to deter bears in Wyoming?
A) There are different manufacturers of this product. A manufacturer like SABRE Frontiersman among others makes some of the best bear aerosol sprays.
Q) Can a resident purchase a lifetime fishing license in this state?
A) Yes. Residents can buy lifetime fishing licenses at $311. However, you can accompany it with a lifetime conservation stamp making the total cost of the two $497. These are details as of 2019.
---
Conclusion
Have a conversation with a well-traveled angler and a conversation on fly fishing in Wyoming will surely come up. Anyone who has sampled the waterways of this state knows that it is a small paradise on earth.
With more than 27,000 miles of streams and rivers and 4200 lakes, this state has endless opportunities for casting your lines. Whether you are a winter lover, a novice angler, or a pro in combos and lures, this Cowboy state has something for everyone.
While some areas are recommended for expert anglers, many are favorable for beginners to hone their skills.
All aspects considered we are sure that what can be the next daunting step is packing for a fly fishing trip to Wyoming.
Well, it shouldn't. Following the weather reports and regulations of the areas that you'd like to visit, you can read our best buyer's guide to identify and purchase the right gear that will ensure that you have a memorable fishing experience here.
Let's keep the conversation going in the comment section. Share with us the areas that you think deserve a mention and we didn't include in our article.
Also, let us know the places you have visited and fished or those in your next bucket list.