Disclosure:
Just to be open and honest the buttons and links you click on in the website will in most cases take you to another website where you can purchase the products I am reviewing. As an Amazon Associate I earn from qualifying purchases.
November 1, 2021
Redington Fly Fishing and Tackle – Quality Gear
Have you seen how admirable blazing red hot charcoal balls are? That is the exact thing that Redington has been imitating since its birth. Its first core principle of product manufacture is creating fun-more fun that any angler will not forget in a short while.
Time spent on the water has never been the same since the company began focusing on designing new affordable and high-performing gear.
Is it another old one like Orvis?
Well, Orvis is a legendary brand and in terms of the duration the company has been in business, you can't compare it to any angling manufacturer. Redington was established in 1992 slightly over two decades and a half ago.
Even in this short time, the company has done more remarkable things. The company's main headquarters are in the Pacific Northwest.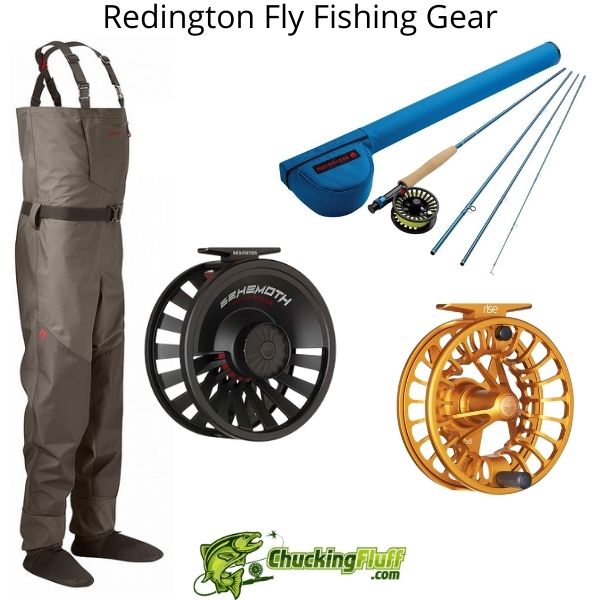 In a Hurry Check out the Amazon Redington Store?
Why such a Strategic Location?
Quite strategic indeed! Redington chose such a location to ensure most of the angling resources were at its disposal. This brings a major save in expenses in such of these resources if they had been far.
For this reason, the company ensures that all its manufactured products undergo all the rigorous quality control checks.
Before releasing anything to the market for consumers to purchase, the guide team puts them to test on the waters in the Northwest to ensure that performance is top-notch and durability isn't a gamble.
A Change of Ownership
Sage purchased the Florida-based fly fishing tackle company sometime back between 2002 and 2003. The purchase price has never been disclosed since then.
The Far Bank Enterprise Inc. is the parent umbrella of Sage, Redington, and the RIO Products Company. Briefly, the company is under the ownership of Don Green, a renowned rod designer, and builder. Don is the founder and owner of the Far Bank Enterprise Inc.
From a comparison before Redington was sold to what it is now, there is a huge difference. The purchase was the greatest turning point. Considering Sage's unbeatable experience in tackle manufacture, it was an excellent thing to make Redington the best value brand in the fly fishing sector.
Some expert anglers say that their new focus on waders came as a shocker. The company has revolutionized the market's value end with its durable and affordable waders.
---
Redington's Product Line
The award-winning company manufactures most of the basics of fly fishing. What they purchase from other companies are the fly lines. Mostly, this is when they want to complete their combos.
The company pairs its combos with the RIO Products Fly Lines Below are some of the tackle and gear that the company produces.
Rods
Reels
Combos
Wading- Waders, Wading Boots, Fishing Vests, and Wading Belts
Apparel – Wading Jackets, Hoodies, T-shirts, Pants, Gear Head Truckers, Caps,
Accessories – I.D Reel Decals, Hemostat Scissors, Nippers, Zingers, Game Rods, Fly Boxes, Rod Tubes, Rod Cases, Rod Bags, Redington Logo Stickers, and Redington E-Gift Cards
---
Conservation Efforts
There is no fly fishing without conservation. Since Redington is under the Far Bank Company Umbrella, the parent company's intentions of conservation trickle down to their merger companies. The sequence of the conservation process is briefly put in three words-PROTECT, RESTORE, and CONNECT.
Redington's business is highly dependent on cleaner waters, healthy and thriving fisheries and excellent public access to the wild. Redington manages to secure and preserve excellent fly fishing opportunities and then puts in more effort to manufacture high-grade equipment and gear to satisfy the anglers' demands.
Both directly and indirectly involved, the company supports all the efforts put in to clean the waters and ensure safe habitats for fish. Also, public access to these waters is what the company gears to improve always. Redington under the Far Bank Umbrella partners with various organizations that are into scientific research, educating the public, advocacy, and stewardship to ensure environmental conservation to ensure that fly fishing blossoms from generation to generation.
Some of the organizations that the company supports are:
Bristol Bay River Academy
American Rivers
Backcountry Hunters and Anglers
Trout Unlimited
Wild Salmon Centre
---
Some of the Awards won by Redington
Redington Eco Grip Rubber Sole Boot won the Dealer's Choice Award in the Fly Fishing at the World Trade Expo in 2009
Pursuit Fly Rod bagged the Gray's Best in 2012 and the Best of the Best in the Field and Stream Awards in 2011.
Sonic Pro Waders won the Kudos Award in the Fly Rod and Reels Contest in 2011.
Winner of the Youth Product in the IFTD 2013 Contest was the Redington Ruckus Youth Wading Boot
The best saltwater fly rod in the 2013 IFTD was the Redington Vapen Rod
In the EFTTEX Awards of 2013, Redington Vapen Rod won the Best New Products Award
Awards in the Fly Fisherman 2014 Gear Guide Contest was- Redington Super Dry Fly Fishing Waders for the Best New Technology
A Few Redington Products that we have reviewed on Our Site
We have a buyer's guide review up on our website where we review fly fishing tackle and equipment. There are both mini-reviews (for brief information on products) and full reviews (detailed info and features) that you can check out before making an informed choice to click on the product purchase link.
---
Redington Fly Reels
Redington Behemoth Fly Reel Review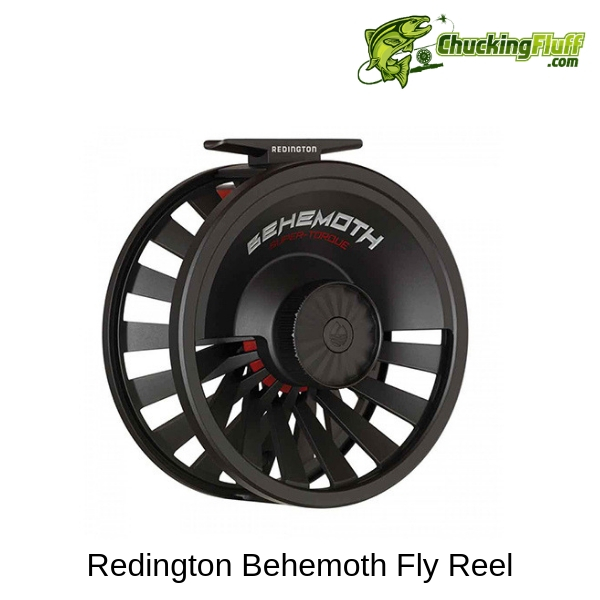 A closer look at it makes us give it a thumbs up for aesthetics. Again, Redington has done exemplarily well in the design of the reel. It boasts an extremely powerful drag system that competes with most of the reels in its class.
It comes with a well-crafted carbon fiber drag that is adjustable to ensure that reeling in and out isn't daunting like it was in the older reels.
Redington goes the Die-cast route with this reel and doesn't machine it. If you have fished such reels you know that they need some TLC and a little more cautiousness when fishing than their machined sisters.
However, for the price tag, we give it a higher rating in performance. Durability will highly depend on your handling and care.
The large arbor ensures quicker retrieves and will do as much as possible to reduce line memory. We love how oversize the drag knob is to get a good grip on it and make adjustments pretty easier.
Conversions can easily be made from either of the sides. With the twin-molded ergonomic handles that are soft to the touch, you are sure of utmost comfort. Redington backs the reel with a lifetime warranty and includes a nylon reel case for storage.
Check Behemoth Web Availability
Check Behemoth Amazon Availability
---
Redington RISE III Fly Reel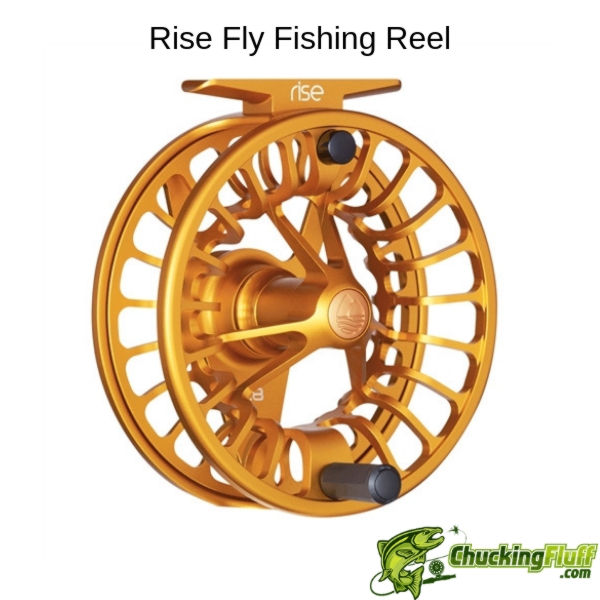 Unlike the Behemoth, the RISE III is CNC machined from anodized 6061-T6 aluminum for more strength, stability, durability, and higher performance.
This one features a quick release spool that is less stressful to use. Though programmed for the left-hand retrieve, you can alter conversions depending on the fishing situation.
An ultra-large arbor greatly improves the features of a large arbor and in this case, the retrieves are quicker and smoother. Also, line coiling isn't an issue to worry about.
Other ergonomics aren't different from what the Behemoth has. For instance, the drag knob has the same design-oversized. The handle too is twin-molded and very soft to touch. You need not worry about getting blisters from prolonged use.
The RISE III sports a carbon fiber drag system that is compact and smooth with excellent fish stopping power when the ally strikes a battle and wants to bolt off.
At about 0.5 pounds, you can agree that the reel is very lightweight to ensure you can fish longer without feeling fatigued. You also get a warranty and a nylon reel case.
Check Rise Amazon Availability
Check Rise Web Availability
---
Redington Fly Fishing Combos
Redington Crosswater 4Pc 9ft 5-6 Fly Fishing Combo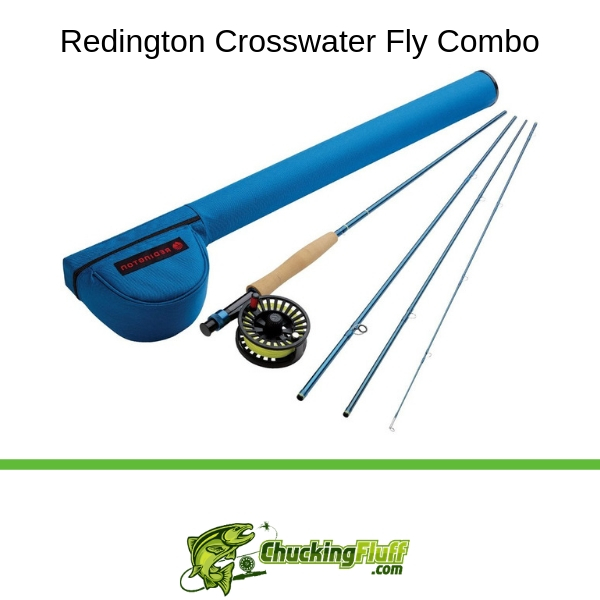 Combos are an excellent way to save a few bucks especially if you are starting and don't know what to pair your fly rod with.
Redington makes it easier for you with the Crosswater Combo that contains a Redington Crosswater 4 piece 9 foot fly rod, a Redington Crosswater Fly Reel that comes ready with a RIO Mainstream Weight-forward Fly Line.
Added to the package are a limited one year warranty and a Cordura rod tube.
The Crosswater fly rod boasts a medium-fast action that has proven to be very versatile to any angler with regards to fishing and timing techniques.
In short, we can say that it is an all-rounder fly rod that can work well with indicators, buggers, and nymphs. The accuracy and sensitivity are right on another level.
It has alignment dots to allow you to set up the rod pretty fast and ensure that it is very secure before throwing a fly. There is a cotton rod sock to store your magic stick and make transportation and storage easier.
We can call it an all-water combo as the reel seat is from anodized machined aluminum to ensure that it can withstand the brutality of salt flats and other saline environments.
For novices, the Crosswater fly fishing combo is an excellent addition to your arsenal.
Crosswater 4 Combo Amazon Availability
---
Redington VICE Fly Fishing Reel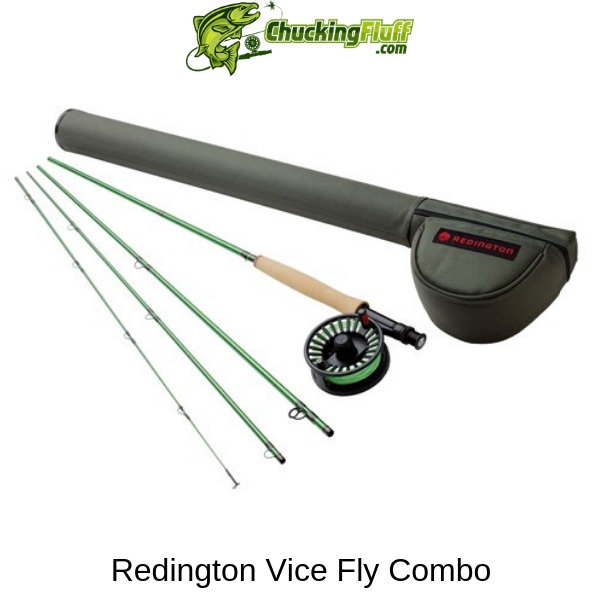 Ready to attach your fly and toss that guy in the pockets, the VICE fly fishing combo comes fully set for an angler to commence fishing. This is the pro side of outfits that the fly fishing industry did well to invent.
The VICE combo consists of a Redington VICE Fly Fishing Rod, a Redington i.D Fly Reel, a RIO Mainstream Fly Line, a reel case, a rod case, and a Cordura rod tube.
Unless you are a daring starter up for a challenge on day one, the VICE combo will fascinate amateur and pro anglers more because of the fast action. It is more intense and with their levels of skill they can manage.
You can dare it if you are the new master. It helps you master your timing techniques.
Featuring a reel seat from anodized aluminum, this one will be your go-for stick, especially for its versatility when it comes to fishing areas. You can toss it in fresh and saltwater and it is unshaken because of the tough finish on the seat.
Set the stick up quite easily with the alignment dots. To identify the rod, master your model reference that is laser etched on the reel seat. It comes with a lifetime warranty in case of any defects in material or artistry.
Vice Combo Amazon Availability
---
Redington Path II Fly Fishing Outfit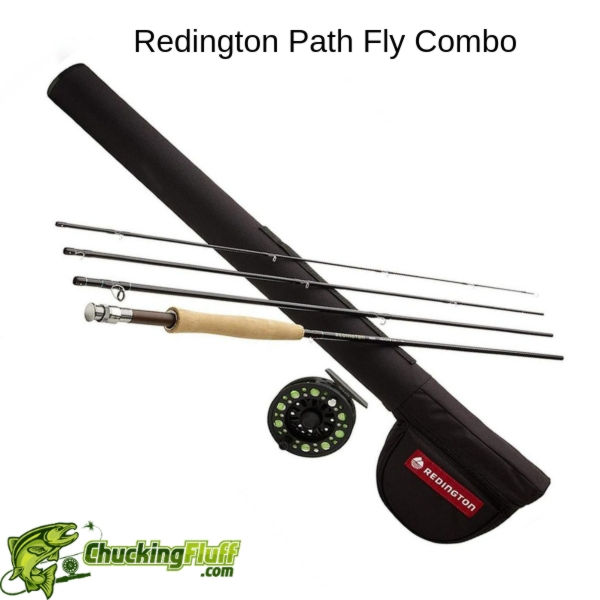 If you don't love combos, then you are missing out on the bomb deals that Redington has. The outfit collections had us check out the Path II from this brand for its craftsmanship and paring.
There is a slight difference in how Redington pairs the combos in weights. All combos to the 7 weight come with a RIO Mainstream Weight-forward fly line.
The 8 and 9 weights come with a RIO Saltwater floating line. Otherwise, other parts are the same- the Redington Path fly rod, Redington Crosswater fly reel, and a Cordura rod tube.
The combo is another all-water design with a medium-fast action rod to ensure that you can practice various fishing techniques, cast in the wind, and have the best experience.
All combos with Path fly rods below to 6 weights have wooden reel seats which we find aesthetically pleasing. Those that are 7 weight and higher feature anodized aluminum reel seats because of their areas of fishing which are mostly saline.
Redington maintains its alignment dots on the PATH rods for easy setup. Also, the package includes a durable Cordura rod tube with sections for rod storage.
There is a limited lifetime warranty on the rod only in case yours develops a problem.
Path Combo Amazon Availability
---
Redington Minnow Fly Fishing Outfit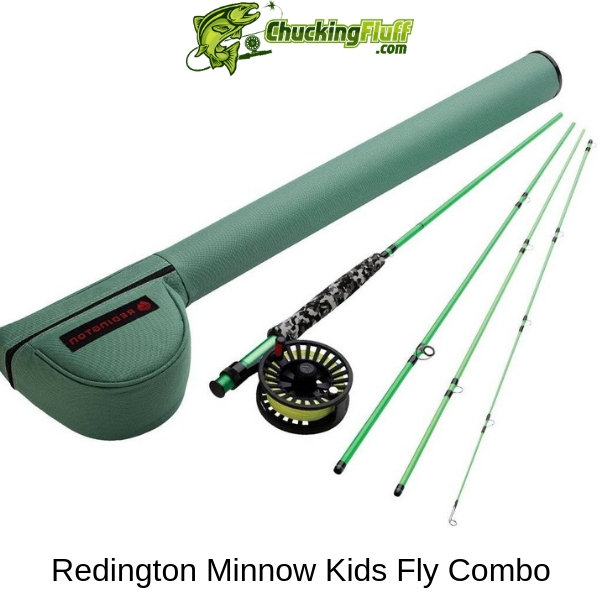 Angling knows no age or gender. We are moved by what Redington did in recognizing the need to make a fine-tuned fly fishing combo that the young fly fishers will enjoy. Not all manufacturers do this.
It comes in only one size to suit the youngsters, the rod is 8 feet and comes as a 4-piece and 5weight in terms of line size.
Young anglers will enjoy its versatility as it can work well with various flies. Because of the shorter length, the swing weight is lesser to make casting easier for these guys.
The package consists of a Redington Minnow fly rod, a Redington Crosswater fly reel, a RIO Mainstream weight-forward fly line, and a Cordura rod tube.
The rod is a medium-action one for easy casting and makes the anglers learn the casting aspects as they learn timing skills.
The four pieces have alignment dots for quick setup and with the cotton rod sock, these guys can learn responsibility and how to store and carry their rods. Redington backs it with a one year warranty in case of any defects.
Minnow Combo Amazon Availability
---
Redington Fly Fishing Rods
---
Redington VICE Fly Fishing Rod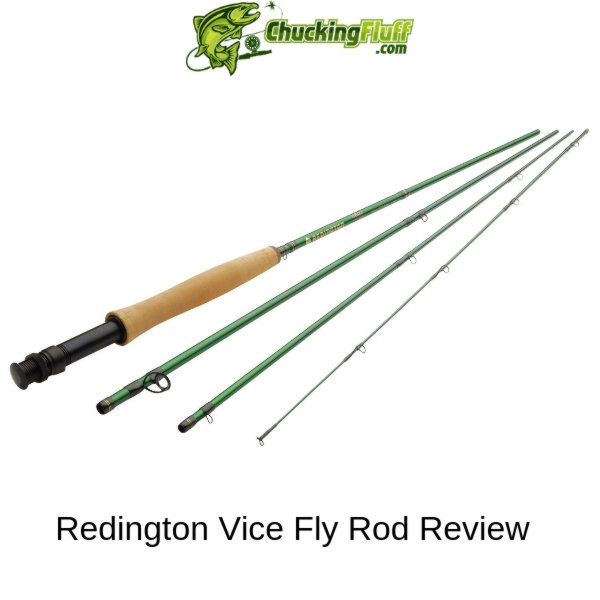 Your assistant here comes in about 18 sizes which are commendable and allows an angler to choose sizes that are best for them.
The VICE carries class and style with itself and the construction from multi-modulus carbon fiber gives it the perfect sensitivity that a fly fisher needs to detect a strike or know whether it is the rocks he is tapping onto.
The control and accuracy are on another level and this helps with recoveries.
More aesthetics are evident on the snake guides that are anodized and black to camouflage on the water. The lines are almost silent as they pass through them.
There is a laser-etched reel seat for easier rod identification when out with your buddies. Still, on the reel seat, it is machined and anodized from high-quality aluminum to make it unbowed to salt and any agent of rust or corrosion.
All components are saltwater-grade making the reel an all-rounder in terms of environs for fishing.
Redington is making it a norm to include either a rod tube or a cotton rod cloth in all its packages that have rods. Sometimes, other packages like combos come with both at no cost which is excellent and cost-relieving to the angler.
This one has a Cordura rod tube with dividers to store the rod pieces securely. The manufacturer backs it with a lifetime warranty to cater to problems in material and craftsmanship.
---
Redington Waders
---
Redington Crosswater Fly Fishing Waders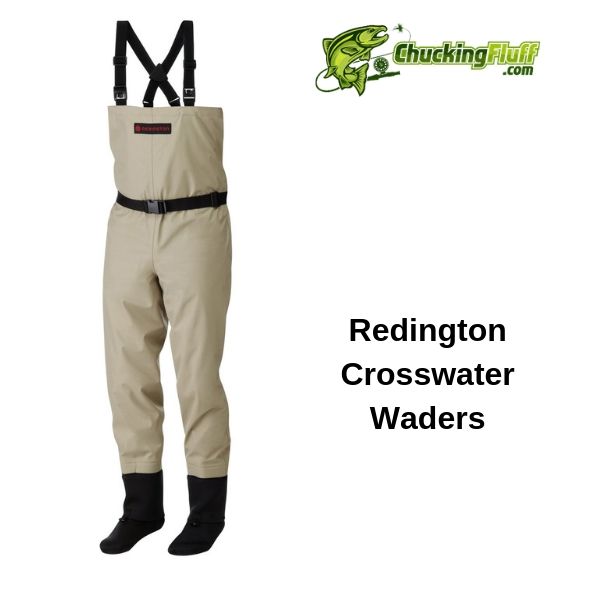 No other style of fishing apart from fly fishing allows you to enjoy time in your waders as much. Waders are essential gear if you will want to comb waters and have the best experiences.
They cushion you from adverse weather elements and come in slightly handy when you need to store a few necessities you need when on the water.
The Crosswater is superb and is made from pure nylon in a three-layer fabric construction to ensure breathability and waterproofness at the same time. You will remain fresh and dry unless you decide to join your buddies underwater.
You can convert the chest waders into waist-high pant-like waders with the help of opposing buckles. Get them up right away when you feel that the water levels are increasing. At the feet are neoprene booties and neoprene gravel guards to keep out sand and gravel.
The chest pocket comes with drain holes to ensure that there is no accumulated water to add weight to your waders and make it uncomfortable to move. More storage space is in the flip-out pocket for a few essentials.
Don't worry about sogginess as the pocket is accessed by a YKK zipper that is waterproof. If you are still skeptical about the safety of your vitals in this pocket, you can buy a waterproof bag and place your items in it before putting it in the pocket.
Check Redington Crosswater Waders Amazon Price
---
Redington Sonic Pro Women's Waders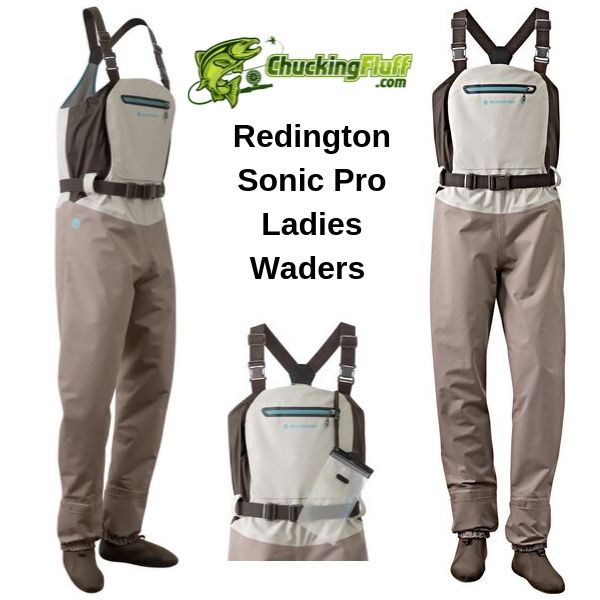 For the longest time, lady anglers have been sharing waders with men because there were no specific feminine cuts for them. Thanks Redington for the relief! This one is indeed a pro with its 4-layer fabric construction from pure nylon that is both breathable and waterproof.
To complete the weather safety, it has a durable water repellent coating. The fabric at the side panels is waterproof and stretches easily to give a good fit.
The bash has mesh fabric to stretch easily and give you the utmost comfort and easy mobility. There is a chest pocket accesses by a YKK zipper.
For your icy fingers when not engaged, place them in the fleece-lined hand warmers to maintain dexterity. It has a drop-in stretch pocket on the inner side and has a key clip too.
For extra storage, there is a removable pocket with water resistance capabilities. You can attach a few accessories onto the slim wading belt. Neoprene booties are antimicrobial and offer more comfort in the feet area.
Check Sonic Pro Waders Price on Amazon
---
Redington Wading Boots
---
Redington Prowler Sticky Rubber Wading Boots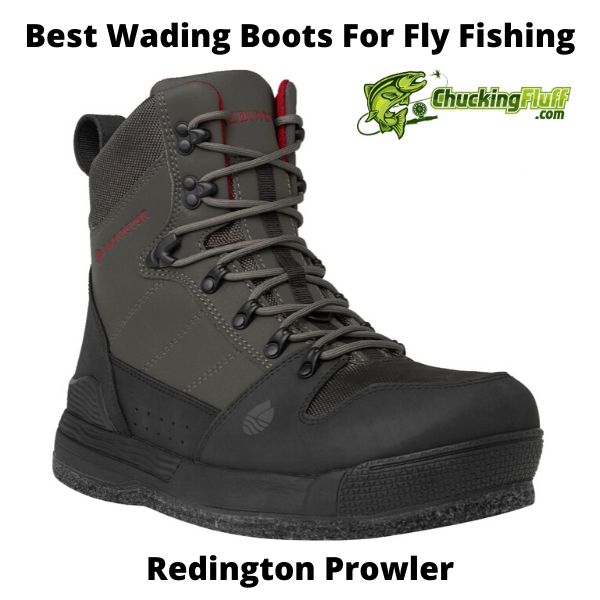 Comfort and safety are of the essence when selecting wading boots. These Prowlers have wider soles for comfort, durability, and stability. Despite the sole size, they remain lightweight.
The EVA midsole is shock absorbing and the nubuck upper with rugged abrasion resistance is for durability. High wear areas have been reinforced with rubber rand to boost abrasion resistance, increase durability, and protect your feet.
The liner is padded with neoprene to improve comfort and make ankle support top-notch. To further maintain the lightweight design, Redington designs the boots with a drainage mechanism to release all the water and make mobility easier.
Hardware is corrosion resistance for durability. The locking lace hook closure allows you to secure the boots to your feet.
Webbing pull loops are rubberized to allow you to wear and remove the boots pretty fast. Kick these buddies off like superman with the help of the heel step after a long casting day.
Check Prowler Amazon Availability
---
Our Final Thoughts on the Redington Brand
We are completely sold to this brand. What draws us completely is the affordability and range of fly fishing tackle gear and equipment. The company might not have produced much yet but those that exist are winning already.
From our brief reviews, our take away impression is from the MINNOW combo that is such a gem for the little chaps looking to start as early as possible. How well Redington fine-tuned the combo is amazing and a sure fun bet for youngsters.
Any angler with kids out on the water will agree that very few manufacturers include the interests of kids and teens in product manufacture. We hope that Redington products fascinate you as much as they do to us at chuckingfluff.com.
"Check out some of our other Buying Guides"