Disclosure:
Just to be open and honest the buttons and links you click on in the website will in most cases take you to another website where you can purchase the products I am reviewing. As an Amazon Associate I earn from qualifying purchases.
September 5, 2019
EFTTEX 2019 Best New Fly Fishing Products – Award Winners
The fly fishing season typically peaks in the spring season and goes on to early summer. It tones down I late summer to the year's early time and once again dwindles in winter and in early spring. During this time, there is more than fly fishing that goes on.
By now, you must have read our post on the 2019 ICAST New Product Showcase in the Fly Fishing department, if not, head over and see what you can sample. Forget the blah-blah-blah! EFTTEX did it again this year. As an initiation by EFTTA and having been in existence since 1982, you can say that this sport is here to stay. The exhibition is now a premier trade show in the industry as it attracts thousands of brands, partners, and anglers.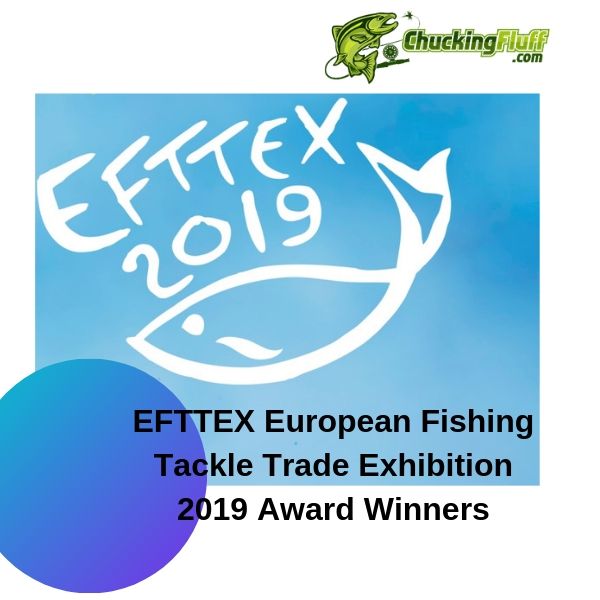 After 5 years, the EFFTEX 2019 returned to Brussels for the 3rd time since its formation and lasted from 13th to 15th June 2019. After a product launch in Europe early in the year, international press members scrutinize and judge each product without bias before compiling the Best New Product List.
We have taken time to compile this review of 8 products that got a lifting to the top position. Stick around to read the mini-reviews, make a purchase decision and judge if they deserve the awards. Share your thoughts, compliments, and critics with us in the comment section.

---
Fly Rod Winner: Winston Air TH
Winston rods, took to their website to celebrate the victory at the 2019 EFTTEX. The new Air TH rods give a new meaning to casting. The company uses its patented boron technology and super silica resin system to ensure that these magic sticks are extremely lightweight, powerful, very responsive, excellently balanced, and memorable to fish with any time.
All these in a fly fishing rod allows for exceptional casting performance. If you love a great mix of functionality and versatility, the medium-fast action rods are the real deal. There is deeper flex into the rod in these Air THs than in fast action rods. You can comfortably switch to a different technique depending on the situation.
Punching light loops even in greater winds is a common thing about these rods. The protection levels against breaking off a fish are high. It has quicker recovery rates and if you love to hit the waters often for salmon or steelhead, you will be making the right choice with this rod. Specific grain windows allow for two-hand application which is a plus to it.
Grips have smaller diameters to ensure that you have a good hold of it without feeling fatigued. It builds your confidence to cast longer and be in more control of your stick than bigger grips. The rod features hard chrome snake guides and stripper guides with a satin finish and a silicon nitride ring.
As a 4-piece fly rod, storage and transportation isn't a bother. Winston besides the rod includes a logo rod sock and a premium rod tube for safety and portability to and from your fishing points. The down locking charcoal grey reel seat is made from anodized aluminum allowing it to withstand hard use and abuse, especially in saline conditions. Rod weights are available from 5w through 9wt. and lengths from 11ft 6in as the shortest to 14ft 6in as the longest.
---
---
Fly Reel Winner: Hardy Ultralite MTX-S Pure Fishing
By this time, early August, the MTX-S is yet to be released by Hardy into the market for sale but from the awards feature, it seems to be full of expectations. This is a slight upgrade of the Hardy Ultralite MTX fly reel. When you compare the construction and features there is not much of a difference but we appreciate the modifications hoping they'll manifest greatness when put to test.
Taking on an industrial design, the fly reel light in weight to ensure it isn't a burden to scare you from spending more time on the water. Its strength is incomparable as the manufacturer says. It reels in fish pretty quick and even with far distance drops and falls, there are low chances of deformities. We are patient to witness this sturdiness and see if it will be a reel for seasons.
An alloy main frame could be the reason for the said impeccable strength. Usually, alloys are stronger than pure metals. Featuring hybrid carbon fiber, this could be another game-changer like its predecessor to-be. We can count on this for now. The sealed carbon fiber drag system works fantastically in freshwater environs and for its sealing, it comes as a bonus.
The seal locks out oil, scum, sand, grit and any potential inhibitors of the system's performance. It also makes cleaning less a task. Fully adjustable, the drag system comes with a drag regulator with color codes which is 340 degrees. Identifying how your drag is set is easier.
The fly reel features a greater line capacity and a captive spool release. For now, the reel is set to come in 3 models. Sizes being 3/4/5, 5/6/7, and 7/8/9 with weights of 4.30, 5.00, and 5.90 respectively. Fly line capacities are WF4F+45YD, WF6F+80YD, and WF8F+115YD in that order.
---
Fly Reel Runners-up: Snowbee Geo S Fly
Snowbee Geo S Fly and Sage Trout is another upgrade of the Geo fly reel. We love new versions for their advancements and tweaks. The good thing is that most of them turn out better than the older ones.
The S features a similar drag system as in the original XS fly reels but the difference is that this new stacked disc drag system has some locked discs while others have the freedom of rotation and at their preferred speed. The result is an extremely smooth start-up without any inertia for salmon and saltwater fishing, you can bet on this one.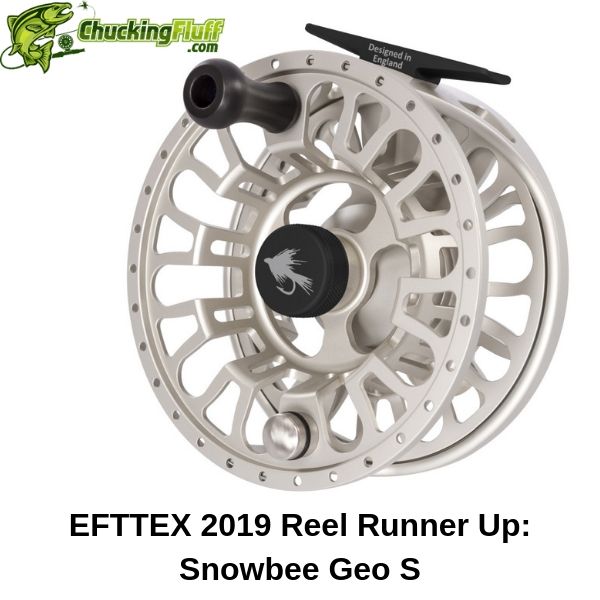 It comes in two models: 810 and 1012. The 810 stands as an excellent option for the lighter line salmon. If you tour the home saltwater holes, it will surprise you with its ability to handle jacks, bonefish, permit, and smaller tarpon well. You can use bigger flies for your monster pikes. At 10.4oz, you will be appreciative of the light weight.
The model has a 105mm diameter. 1012 leads in class when it comes to line capacity. The reel comfortably copes in the tropical mangroves for monster tarpon, blue oceans for tuna and sailfish and more Atlantic salmon in the fast rivers because of its immense power. It has a diameter of 114mm and weighs 11.5oz. with a drag of 14 lbs.
---
Fly Reel Runners-up: Sage Trout Fly Reel
The new trout reel was out for the 2019 spring and falls in the Modern Classic Family which resembles the 500 series which is the company's older click model. Romantically, it appeals to colors and designs which reflect a very classic feel of the old yet full of performance features that ensure to dot let go your fish of a lifetime.
It honors the angling heritage with totally full-frame design, classic styling, and a narrow profile. Its backbone is the proven one revolution carbon drag system which is sealed.
The series' heart is the 4/5/6 reel that perfectly balances with many of the trout rods.
For small trout rods, the 2/3/4 does it while the 6/7/8 is for the larger trout setups or very light steelhead and salmon duty. The one revolution drag knob is made from machined and anodized aluminum while featuring detented and numbered settings. Line pick-ups are fast because of the large arbor. The concave arbor provides greater capacity and strength. You can make conversions from the right to the left hand.
---
---
Fly Line/Leader Winner: RIO Technical Trout
Rio and fly lines are inseparable. What else do you know them for? The Technical trout has an overall length of 90 feet. Quite long. It features a fine front taper to ensure it delivers ultra-light presentations maintaining utmost delicacy to avid breaking tapers.
You will love its versatility and if you don't get your hands on it ASAP, you will be missing a lot. It works well with soft hackles, dry flies, and nymphs. The line's head and back taper are long to double loop control as you carry on longer lengths. The length allows the angler to make precise casts as the fish rises. Turning long leaders is made easy by the excellent weight distribution.
RIO has this fly line in double taper and weight forward options. The line's construction takes into account a cold water coating to prevent it from freezing and shrinking. A slick and supple coating ensures that the fly line remains free from memory in all conditions. Something that the XO and Airflo fly lines do as well.
---
---
Fly Line/Leader Runner-Up: Snowbee XS Plus-EDR-FHV
There isn't much yet from Snowbee about this fly line for 2019. However, we can pick a few features from the product picture. The fly line is long enough. Longer than the standard line length but we will love it as it comes.
At 120 ft. overall length, the front tapper measures 40ft, rear tapper 20ft, and running line at 60ft. The line profile is great and putting it to test will determine if it suits an award or otherwise. The colors are Hi-Viz yellow for the running line and Hi-Viz orange for the head and front tapper. Snowbee has this fly line in size 6, 7, and 8.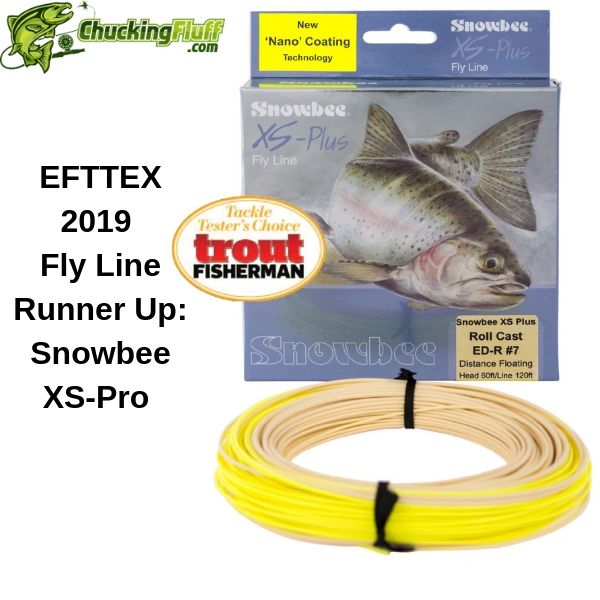 It is a true floating roll cast that is appreciable and from the FFI casting instructors who took it to the waters, it is extraordinary. The head and front taper are longer to result in a perfect roll-cast fly line. We will be patient to learn the technologies that Snowbee used to come up with this fly line.
---
Accessory Winner: Snowbee Ultralite Chest Pack
Snowbee seems to have shone brighter this time in the EFTTEX after scooping several awards among them the new Ultralite chest pack which is superb if you want to carry your angling gear without traveling heavy. It provides ample storage in a compact form factor. There are 2 large pockets for fly boxes. Internal flap pockets are for your accessories and leaders.
In front of them are two small pockets with zippers for small fly boxes, small accessories, tippets, and spools. On the right-hand side of the wearer, just in front of the small pockets is a pocket with high-quality mesh for other small accessories. The left side has a convenient and durable fly patch with ripple foam and fold down capabilities. You can see that the main purpose, storage, has been well-covered.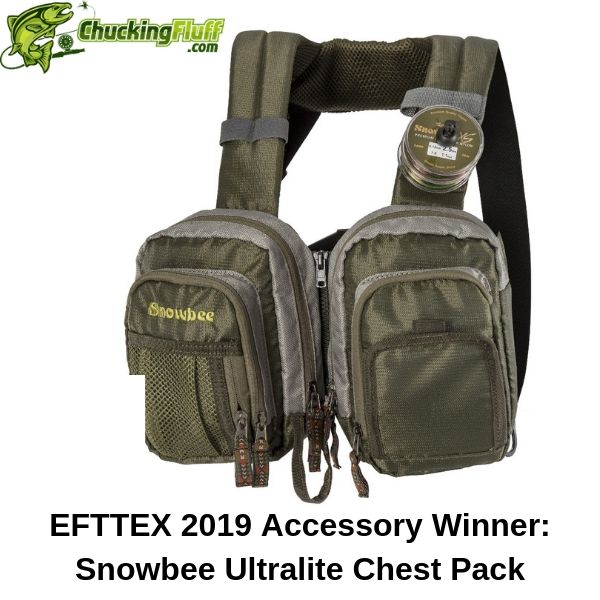 On either side of main pockets, right below are two sturdy external coil retractors. They come with extremely neat covers for your nippers and forceps. They drop decently into loop-side clip attachment to avoid swinging aimlessly and catching the fly line. An inbuilt rod holder secures your fly rod as you interchange your flies.
Main shoulder straps have two elastic loops on the sinkants and floatants and on the novel tippet spool-holder. It can hold 4 or 5 tippet spools but of small sizes. The backside, across the shoulder, is a durable D-ring to attach your landing net.
The main compartments at the chest zip together at the center. There is an elastic strap to give freedom of movement when it is hot. The shoulder straps and pockets have mesh lining for air circulation ensuring that you remain cool and dry when the temperatures begin to shoot. The elastic side straps are easily adjustable making it a universal fit.
The material construction is from high-grade 840D ripstop polyester for optimal strength and reduced weight. It features a PU back coating for total waterproofness.
---
Sunglasses Winner: Wiley X, WX Compass
The Wiley X WX Compass is from the Wiley X collection. The sunglasses are fabulous and exciting with a compelling combination of features. The lenses brag of polarization which does away with almost 100% of reflection, surface glare, and refraction from the surrounding around you.
You will love their effectiveness since they are a perfect choice and recommendation for outdoor activities like fly fishing. The temple pieces measure 120mm. if you are a big fan of masculine sunglasses, these ones have your back. Wiley designs these frames specifically anglers who know the value of their sight and would like to keep returning to the shores often. As a pair available for men and women anglers, you have every reason to test these ones this season.
The mirror coating pairs with polarization to ensure it has high reflective properties. The coating reflects glare, heat, and will enhance your visual comfort. The edges are fully rimmed to make the sunglasses look complete, give them more lens security, enhance the style, and increase toleration.
Their crafting is from high-grade plastic making them an excellent choice for all-around fishing. Normally, saltwater anglers love sunglasses with frames like the Compass for their durability and corrosion resistance abilities. They have a stylish flair and display a very bold look. The sunglasses are available in gray, gold, and black. They fit superbly and can be used without retainers.
Sunglasses specifications are eye size 67, bridge size 16, and temple size 20. X Compass reveals all the excellent qualities in water life and outdoor sunglasses. Wiley backs these sunglasses with a 1-year minimum warranty for any defects in material and workmanship. For the price it goes for, there is no doubt that these sunglasses are premium quality. We will give them a few seasons to hear from users and reviewers if they are up to standard and if we can highly bank on them for durability.
---
---
Electronic/Application Technology Winner: Cyberfishing Smart Rod Sensor
Technology is advancing even in the water. Cyberfishing is trying to make an impression that with time, rod sensors like these Smart option will be essential equipment for anglers looking to make more catches. This one transforms your normal rod into a smarter version of itself.
Early in the year, it was shortlisted in the year's innovation awards as an Honoree at the annual function in Las Vegas. One feature that makes it stand out is that it doesn't replace equipment that is non-smart but rather upgrades them. It does this through attachment to the pole of the rod using heavy-duty rubber bands.
The device has an accelerometer and comes with rechargeable batteries. It is extremely lightweight at 9 grams only. For this, it doesn't affect the performance of the fishing rod. The gadget is extremely waterproof and anglers don't have to worry about any wet hands or wayward splashes.
Once you attach it to your rod, it records every activity. It captures all data automatically including surrounding weather, ambient temperatures, number of casts, wind speed, precipitation, pressure, and wind direction, once you catch a fish, you simply touch a button and everything is saved instantly. Your location isn't left out.
After your session, connect the sensor to your smartphone via Bluetooth and save all your data. With time, the application creates a map of all the fishing hotspots with more success. It records species, weights, the date, and time of your catch and allows any user to customize their profile with the Cyberfishing pages. You can then join the Cyberfishing online forum where you can share your data and images. Want more information check out our full review here
---
---
Wrapping Up
We have given you a glimpse of what was in the 2019 EFTTEX awards. The products are from common brands and with some taking more than one awards. This is a big deal to feature in such exhibitions. Join in the online conversation on our website's comment section and let us know what you think about these products. Most importantly, making a purchase will be another good one.