Disclosure:
Just to be open and honest the buttons and links you click on in the website will in most cases take you to another website where you can purchase the products I am reviewing. As an Amazon Associate I earn from qualifying purchases.
August 14, 2019
2019 ICAST Best of Show Winners – New Fly Fishing Products
It came back BIG and BETTER! ICAST is the largest and most spectacular sportfishing trade show worldwide. It brings on board premier showcases of the latest and newest innovations in all aspects of fishing, apparel, accessories, and gear.
As it remains the cornerstone of fishing as a sport, even those in for business pride in the showcase. The ICAST 2019 was held from July 9th to 12th in Orlando and drew buyers, manufacturers, and media globally.
American Sportfishing Association is still the producer of the ICAST Show and in 2019 the event brought together over 15,000 people from 71 countries. The gathering had big brands, growing names, and start-ups.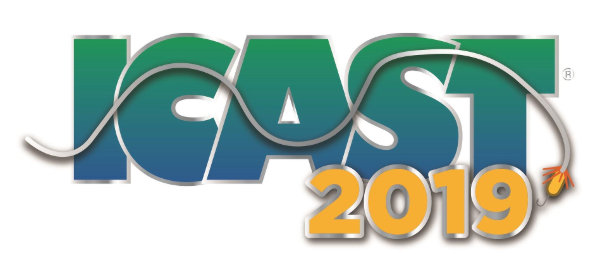 The next ICAST Conference and product showcase are scheduled for July 14th to 17th 2020 with the exhibition running from 15th to 17th 2020 in Orlando Florida.
The countdown has already begun on the ICAST website. Many products that debuted at the 2019 showcase are available in the market for sale. Many more are being launched each day.
We advise you to keep checking on our site for product reviews and insights. Learn what customers and guides are saying about them and more.
We put together this piece to cover the Best of Category awards of the New Product Showcase. As usual, the media attendees and credential buyers vote after which the winners are selected.
See what we had for this year's crowns. Stick around to see if your favorite brands are featured and which new manufacturers you would like to take on a trial. There is so much to learn and think of experimenting with this spring from the categories below.

Best Category Eyewear: Costa Del Mar WaterWoman 
Costa is not gender-biased. As it shines yet again, the WaterWoman is designed for passionate female anglers who swear by the rod and reel.
A water-based life isn't active with a fantastic pair of polarized eyewear like these glasses. You know how much disaster eyestrain can cause, Costa saves you from these predicaments by ensuring you enjoy greater visual clarity, color, and light balance.
There is vitality in having the best eye protection to counter the adverse effects of reflection and UVA, B, and C rays. 580 Glass lenses are the real deal for style and performance. A little care is crucial to prevent lens breakage.
Identify it by its narrow fit and larger frame. Something superb about larger eyewear frames is their aesthetics and the fact that they can look striking on any face shape.
Angled temples are very prominent to add to a great fit and more pomp to the sunglasses and the blue lenses are just the right match for such pretty frames and for the waters outside.
Hydrolite accents ensure that the sunglasses stay put always to prevent slippage and the risk of dropping in water. The accent also prevents the exertion of a lot of pressure on the temple areas countering the chances of pain, press marks, and unnecessary headaches.
Fly fishing is an adventure and another adventurous companion like these WaterWoman sunglasses makes a good pair. Costa recommends the Bowline silicone retainer for use with these sunglasses to ensure that you reduce the risk of losing them.
Here are the frame's specifications: Frame Width-138mm, Bridge Width-18.7mm, Lens Width-54.7mm, Lens Height-44.6mm, and Temple Arm Length-131.0mm. Cross-check your measurements to ensure you don't get loose or overly tight sunglasses.
Best of Category Lifestyle Apparel: Yurei Air-O- Mesh Performance Shirt from American Fishing Tackle Company
Breathable tech in the fly fishing industry is soon becoming a norm in most apparel. AFTCO takes this to another level with the Yurei Air-O- shirt for men and women.
As you cast with the wildest agility and your body responds with more perspirations, you need a high-quality mesh performance shirt to ensure that you maintain dryness and freshness throughout until you decide to take a swim with the fish.
We come to another sensitive feature of this shirt which is moisture-wicking properties. The shirt wicks away all the moisture from your skin expelling it to the exterior of the shirt without resulting in wetness.
New to the market, the manufacturer plans to roll out over 2000 pieces in spring. There intends to be a hooded design which we are looking forward to.
Sun protection is well-covered by the incorporated UPF40. The Ultraviolet Protection Factor is reasonable and its effectiveness in blocking Ultraviolet Radiations is on-point. What a health concern it is!
Do you know the kind of glamour and functionality in a Samurai shirt, this Yurei is second in class and you will love it for the bright weather. Antimicrobial properties are a bonus to its construction. You are sure to be free from any microbes as you throw your flies.
Afguard 3M stain-resistance is safe for outdoor use. As you step out, you brush against inhabitants of Mother Nature that can decide to make you colorful at will. What if you don't feel like being a rainbow or a shade darker?
This shirt does it all by resisting any stains giving you an easy laundering time. Thumb loops to insert your thumbs. Besides being a funky fashion, they prevent the sleeves from running up as you cast.
Best Category Technical Apparel for Cold Weather: Simms M's G4Z® Stockingfoot Wader
Simms doesn't get enough of pulling surprises and building anxiety among anglers. After the Product showcase, Best Category winners of the ICAST 2019 were announced, the legendary brand took to its Facebook Page to celebrate their win with their die-hard fans for scooping two awards.
Among them, is the M's G4Z® Stockingfoot Wader. Specifically designed for men, the wader in unique fabric technology with the upper being a 3-layer GORE-TEX Pro Shell and a 4-layer layer in the legs and seat.
You will be needing more cushioning against the cold when you wade in deep water. There is a YKK Aquaseal zipper at the front which is entirely waterproof.
Handwarmer pockets have a fleece lining to warm your icy fingers when not engaged. Built with durable zippers, you can decide to throw in sizeable accessories for easy access.
There are zippered chest pockets, one on each side for fly boxes. They come with retractor docking stations as additional storage. The fit is superb and comes in a convertible design from a chest wader to waist-high waders and back.
Thanks to the 2-inch nylon belt with inbuilt low-profile loops. Simms maintains its patented seam structure in the back and front leg since they are among the potential wear zones.
As the manufacturer struggles to offer unbeatable performance, it ensures durability for any owner to experience great value for money.
The suspender system is something for keeps. They are adjustable to ensure you maintain comfort throughout your fishing sessions.
Air mesh material on the system allows for breathability when the temperatures begin to rise and your body perspires. Neoprene stockingfeet are anatomically engineered to ensure they conform to your feet and fit in your size of wading boots.
Inbuilt abrasion-resistant gravel guards are to lock out sand, gravel, and stones preventing them from damaging your waders. If you are looking for a men's wader that is appreciative of your health and has a greater concern for your comfort as you cast your favorite, G4Z has it all.
Best Category Fly Fishing Accessory: Simms Dry Creek® Z Sling Pack
Gear safety and organization are mandatory to save you time as you cast and ensure you maintain the utmost focus for high scores. The Dry Creek Z sling pack had the most votes in the showcase and its features tell it all.
Its material choice, 500D double-sided textured nylon coated with TPU is exemplary in ensuring high performance and durability at the same time. It boasts of a rugged appearance which is a plus to riverside aesthetics.
Scratch resistance allows it to take a thorough beating while remaining intact as new. The design is welded and entirely waterproof to lock out all moisture reducing the chances of gear damage.
Unlike YKK Aquaseal zippers that we see on most packs, this one comes with TIZIP zippers which are equally reliable. They are smooth operating, rust and corrosion-free hence a great choice for submersion.
There are interior mesh pockets that are stretchy for your valuables. Exterior lash points are for extra storage and equipment attachment. For wet storage, the stretch cording does the job pretty well. Shoulder straps are extremely comfortable to have on because of the thick cushioning.
The back panel has high-grade breathable and water-resistant foam to ensure that besides comfort, you achieve product durability.
At 17 oz., this pack is extremely lightweight and allows for all-day wearing. You can fill the pockets without it weighing you down in the course of your session. Taking a capacity of 732 cu. In., anything past that is an overload and you risk reducing the lifespan of your sling pack.
Best of Category Fly Reel SEiGLER Small Fly Reel
Seigler Wes made an impression after launching the SF reel. This comes after the MF and BF had an overwhelming reception and are still the bomb for anglers.
If you are in pursuit of a variety of saltwater fishes, this reel is the absolute deal. With keen attention to details, from research on what principally fails in other reels, he designed a reel that puts to a halt those anguishing trip-ruining situations.
The construction is durable and if you drop that beast or bend its foot, the reel comes with some extra parts for those bad times. It happens so it isn't a drawback.
The small-system lever drag is unique and allows for adjustments to suit the type of fish you intend to fight.
Its speed lever is handy and with a customized dial maximum and minimum drag setting, the impossibilities are null. If you are that buddy that loves the saline environs, this reel is of your choice. 7.2 oz., is light and allows you to reel without feeling burdened.
SEiGLER has this with a capacity of 300 yards at 40lbs with an 8-weight WF fly line. Rod choices range from 6 to 9 wt. There is a probability of 10 wt. rods being compatible as well.
Saltwater usability means that the construction is tough and sturdy to tolerate the brutality of saline waters. The treatments and finish prevent the build-up of rust and corrosion.
100% USA means that material selection is upbeat, industrial processes are highly monitored and followed to the latter to ensure that the reels produced are high-quality and without defects in material or craftsmanship. Quality control is well on point.
Best of Category Fly Fishing Rod: St. Croix of Park Falls Imperial Salt IS908.4
Imperial Salt fly rods feature SC III Carbon graphite blanks with the IPC mandrel technology. The result is a very lightweight fly rod with fast action.
Its strength is immense to ensure that it can conquer most of the toughest saline fishing environments. The rod is punctuated by a clean and stealthy look with seaworthy components. Ferrules have a slim profile.
Stripper guides are Sea Guide PVD coated and have zirconia rings. Snake guides have a similar coating as the stripper guides. The three parts work hand in hand to ensure optimal fly line shooting and very smooth casting.
Made with an up-locking reel seat that is machined, the part doesn't allow for any chances of rusting or corrosion.
The cork handle is premium grade and together with the fighting butt for heavier models, you are sure of comfort all through the battle. The hook keeper which is coated with Sea Guide PVD will secure your fly at the end of the day.
Until this point, the Imperial Salt and Mojo Bass Glass seam to share much in common. The fly rod is very impressive. For a 4-piece rod, the rods are very powerful and incredibly smooth. Their versatility also speaks loud.
St. Croix accompanies the rod with more goodies. With every single purchase of an Imperial Salt fly rod, you get a 15-year warranty which is transferrable.
You can sell it off without any troubles of the new owner worrying of repair and replacements. Defects in workmanship and material are sorted unquestioned by the Superstar service team. More is a rugged fly rod case that has a carrying handle.
This makes portability and transportation to your fishing hole an easy and effortless thing to do. Before this, disassemble your fly rod into 4 different pieces and place them in the polypropylene liner which is dived then into the case and voila!
Last Few Words
There is so much to try on the ICAST 2019 award winners' list in the fly fishing category. We did research on the above products to keep you in light of what the product features.
The field performance is left for you to take on. Share with us to let us know your thoughts on quality, cost, durability, and performance.