Disclosure:
Just to be open and honest the buttons and links you click on in the website will in most cases take you to another website where you can purchase the products I am reviewing. As an Amazon Associate I earn from qualifying purchases.
January 24, 2019
Sage Bolt Series Fly Fishing Rod Review – A rod with high line speed
If you have many fine fly fishing rods in the past, you will persuade others to spend their hard earned bucks on high-quality fishing gear, equipment, and accessories. It is certainly is the right way to go and Sage Fly Fishing Company should be among your crème choices. Sage has been in the fly fishing industry since 1980 and without a doubt is scaling higher in building some of the world's finest and high performing fly rods. Thanks to the use of world-class material, great innovations evident in the Sage Bolt Series Fly Fishing Rod and many years of experience. The many reviews from satisfied users show that Sage has revolutionized the fly fishing world.
Once you have treated yourself to this bright and beautiful Sage Bolt, you can confirm that by no means is it a cheap rod. The blank uses the Generation 5 Technology which has by far been better than the Konnetic used the previous series. This rod is designed for anglers who are passionate about every cast they make. In the hand, it feels stiff and handles the fly line perfectly. Even to greater lengths, it allows a fly fisher to hold great lengths of the line in the air. It holds a tight loop when throwing the line and is less forgiving. An intermediate or advanced caster will love it to bits.
The rod is self-proving in crazy conditions and you can throw long lines, back cast low and tight, and turn over flies extremely well. Quite a dependable bonefishing tool to say the least. Bolt rods are available from size 4 to 8 and all of them measure 9 feet. They are ultra-fast action rods and generate very high fly line speed. The recovery speed is terrific and anglers who value performance end precision don't have to think twice about these rods. For line selection of the freshwater rods, most trout lines will be compatible and work well with these rods.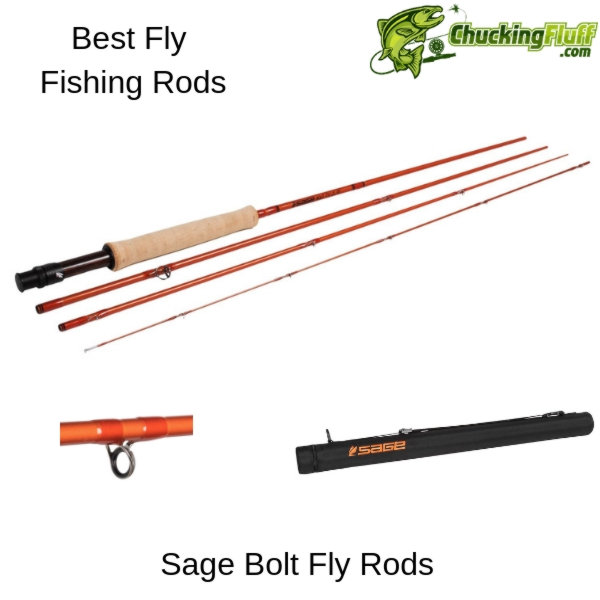 [button link="https://amzn.to/2HZxlGU" type="big" color="green"] Bolt Amazon Reviews and Price[/button]
Main Features of the Bolt Series Fly Rod
Rod Specifications – This review covers the 9 feet 5 weight fly rod. Its overall weight is 3.1 oz. while its swing weight is 11.5 oz. Others are available from 4wt to 8wt with the same rod length and number of pieces.
Rod Action – Built with an ultra-fast action, this rod is sensitive and has a quick response when manifesting the blank's natural power as it fights fish, the stiffness is commendable. It gives a very high fly line speed and throws some of the tightest loops.
Materials – Generation 5 Technology is part of Sage's innovation to create high performing fly rods. Here, the blank construction is enhanced. The main materials are graphite hoop combined with carbon composite minimal glass scrim. This creates lighter, stronger, and more responsive fly rods.
Guides – Stripping guides are made of Fuji Ceramic to increase durability and performance. The guides greatly reduce drag and last a lifetime. Snake guides are hard chromed and have been the standard type for most fly rods. Their look and performance are incomparable.
Sections – All Bolt fly rods including Sage Bolt Series Fly Fishing Rod have four pieces. It makes it easier to store the rod in its rod tube and for transportation especially when going very far for your sessions.
Handle – Half Wells high-density cork is used on the handle. It is durable and well finished to ensure it gives utmost comfort when fly fishing. Unlike other rods that cause blisters on your hands, you will not need gloves for protection. The larger sizes of the rod-in terms of weight have fighting butt to fight the fish during a tackle.
Reel Seat – The single up-locking anodized aluminum seat is gloss black. The freshwater rods have rosewood inserts. Anodizing makes the rod usable in freshwater for long without the aluminum getting corroded. Saltwater rods still in the Bolt series have anodized reel seats with Full Wells. The up-locking model is dual construction for you to reel in fish not fishing for the reel.
Tube – A black ballistic nylon rod tube is inclusive of the package upon purchase. It has a liner or a rod bag which is divided into sections to ensure that the four-piece rod fully fits in. to remember the rod you are carrying, the Sage logo is accented on it. The tube performs its storage and protective function well.
Warranty – All Sage rods are covered by a lifetime warranty to the original owner only. The warranty is among the finest and caters for defects in workmanship, material, malfunction resulting from mishandling, normal wear, and tear or negligence. Check with the manufacturer on the charges for processing and time taken for replacement or repairs.
---
Customer Thoughts on the Sage Bolt Fly Fishing Rods
The 9 feet 5 weight Bolt rod is an all-rounder for every angler who wants to get something exquisite that lasts longer. The rod is lively and has a great backbone for dries, nymphs, and streamers.
This rod is such a wind cutter and is very easy to form very tight loops. As long as you have a standard matching fly line in terms of weight, it shouldn't be a problem.
Stiffness is reliable and you might feel like you don't roll cast a lot at cruising bonefish yet you actually do.
As a caster, you must try harder to finish your cast a little high above the surface. The fly will then plop. Quite a good solution if you get to drive a cast in the downward direction and it is like you are about to pound the fly into the water.
The Bolt has excellent power and accuracy even at a greater distance despite its swing weight. You don't have to guess where your fly will land.
When casting at shorter distances, you can feel the rod bending, loading, and unloading. It feels an unwieldy and a little heavy though.
The extra weight is a problem and it is killing the feel and sensitivity of the Sage Bolt Series Fly Fishing Rod. Especially if you are used to very light fly rods, you will need some learning time to get used to it. However, it still does well.
Durable rod tube that comes in handy when traveling for fly fishing sessions. Not so many come with divided lining but this for Sage was a good move.
A lifetime warranty is a good deal. With all the factors being catered for, it is a great investment. The processing fee is very reasonable considering the rod's worth.
---
Pros – Things that shine on the Bolt Fly Rods
Great for all levels depending on ability
Lifetime warranty on all defects
High-quality rod tube and lining
Durable construction
Good recovery time
All-around rod
Strong guides and reel seat
Available for freshwater and saltwater environs
Comfortable Half Wells grip
Casts well for distance
Works well in the toughest conditions
Handles the line well
Cons – Things that are not so cool!
The rod swing weight is heavier than many rods affecting the feel and sensitivity.
Ultra-fast action might just be too fast and unmanageable for a beginner.
The price is high but when you compare it to its performance, it is worth spending on.
---
---
FAQ's – Questions about the Sage Bolt Fly Rods
Q) What is the type of handle on the 4 and 5 weight Bolt fly rods?
A) The 4 and 5 weight have half wells cork handles with a snub nose.
Q) I am new to the fly fishing field. Do you think this rod will suit me?
A) If it is within your budget range and is open to putting your skills to test with speed, then this action might be an easy one to handle. But if you would like to take time and learn slowly, get a slow action rod from Sage.
Q) How much does the Sage Bolt 9ft 5wt 4pc rod weigh?
A) This one weighs 3.1 oz. as the usual rod weight but the swing weight is 11.5 oz. It is among the heaviest swing weights.
Q) Are 9 and 10wt rods available for this category?
A) The Bolt series rods are available from 4wt to 8wt only.
Q) What are the applications of this fly rod? I want something versatile.
A) If application here means what it can be used for, then streaming, dry flies and nymphing are the available ones that this rod does well. If you are referring to conditions, it is a wind cutter and a great rod even in the toughest situations.
Q) Is the aluminum rod tube made of a double construction?
A) First, the rod tube is made from a nylon rod tube. It is durable and comes with a liner that is divided to fit all the four pieces of the fly rod.
Q) What is the processing fee if a buyer wants to sign up for the Sage Bolt Series Fly Fishing Rod warranty?
A) The fee is about $75. You can confirm from the website if there are other charges involved although the warranty lasts a lifetime.
Q) Can the saltwater rod be used in freshwater if I don't have the specific model for freshwater?
A) Yes, you can use it. The reel seat is made of anodized aluminum and it will have no effect on performance.
---
---
Final Verdict
You might be intimidated by the ultra-fast action fly rods. If you are a trout guy and a small stream freak and are comfortable using a slow or medium fast action, you might opt for a change. The 'salmonfly' blank makes the Bolt a very handsome rod. This high-end hardware is a great wind cutter even in the heavier models. Unlike other rods of the same flex that need more sophistication to cast well, this one is self-made. While accuracy is a practicing thing, it casts well in mid-range and long distances.
It is such a complementary tool and helps an angler with enough ability do what their intentions are. You will love how well it functions in the wind no matter the angle it blows from. An angler can enhance their skills in this manner and put their fly where they want it to be. As you tackle the basic skills, this rod takes over the rest. Swing weight might be an issue for casters who are used to ultra-light fly rods but with time it becomes a great friend of the water.
At slightly lower than 4 ounces, this is an all-day rod that will not tire an angler with the second or third cast. Something on the fly lines makes it go well with Rio Grand and the Scientific Anglers GPX line. It is non-discriminative and will amaze you in all water and flats.
It is not convincing until you feel it in your hands. Pre-order the Bolt rod for your next session. In case of unavailability in your nearest store, the G Loomis NRX Trout Fly Fishing Rods, Hardy Zephrus FWS Fly Rod, Orvis Helios 2 Series Fly Fishing Rod, Scott Radian R905/4 Fly Rod, Hardy Fly Fishing Demon Single Hand Fly Rod, and G Loomis IMX-PRO FW Fly Rod – 6wt 9'0″ 4pc will serve as alternative rods. The price range of these rods is within that of the Sage Bolt Series Fly Fishing Rod. So is performance, durability, and ability. There might be a difference in ranges of sizes but you can choose what suits your needs. Be bold with the Bolt!
[button link="https://amzn.to/2HZxlGU" type="big" color="green"] Bolt Amazon Reviews and Price[/button]
[button link="https://chuckingfluff.com/best-fly-fishing-rods-comparison-and-beginners-guide/" type="big"] Check our Rod List[/button]