Disclosure:
Just to be open and honest the buttons and links you click on in the website will in most cases take you to another website where you can purchase the products I am reviewing. As an Amazon Associate I earn from qualifying purchases.
July 5, 2018
K&E Outfitters Fly Fishing Combo Review
Fly fishing as a sport has brought about the rise of companies that produce and commercialize necessary gear, tools and accessories' to make this activity fun to do. You must have heard about the K&E Outfitters, a US base company owned by a couple who love fly fishing. While other brands struggle to maintain their status and position in the market, K&E Outfitters remains top in the list of famous and most selling brand.
Well known for having the cheapest yet high quality products, this could be the reason behind their success in business. Testing all fly fishing gear and equipment is a rare thing done by manufacturers. In this company it is a norm. Customer satisfaction is what they value most.
In this K&E Fly Fishing Combo Review, we shall give an in depth analysis of this package, its content and how it functions. You will love it for its unique features.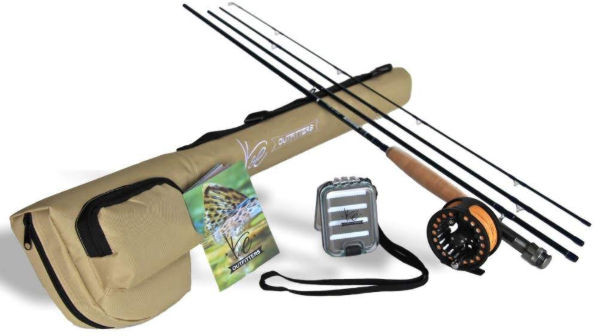 [button link="http://amzn.to/2C8pS8u" type="big" color="green"]K&E Combo Amazon Reviews[/button]

Main Features of the K&E Outfitters Fly Combo
Fully fledged, the package consists of a medium fast action Carbon rod, aluminum fly reel, fly line with backing and tippet, rod tube with a shoulder strap and a waterproof fly box.
Tested package: The entire package is keenly put to test, equipment by equipment, before being released to the market for customers to purchase. This is to determine the performance, durability and efficiency of this product. You can see how K&E puts strategies into maintaining its top position in the fly fishing business.
Waterproof fly box: Portable fly boxes that easily fit in any of your pockets and the pouch in the rode tube is a good feature of this combo. When in the water, fish and splash without fear. The box is waterproof. Drop it in the sea, it remains intact. The box is also transparent so you can see your flies without having to open it. Great on windy days when you don't need to open to locate the fly you need.
Durable rod tube: Cordura is a material known for its high quality hence used by this brand to make rod tubes for their combos. For easy transportation, everything in the package perfectly fits into the tube and has sturdy and adjustable straps that is attached to the accessories' pouch and rod sock. This tube prevents your fishing tools from contacting moisture, dirt, dust, sand and grit.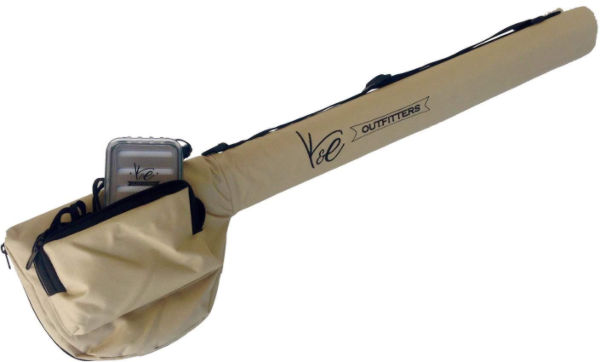 Complete fly line: No making separate purchases of accessories', this fly line comes whole. The line backing of 150 yards is durable and comes in a honey like color. With it is a pre-loaded 4X tippet. Fish on in style.
Reel: Artistically made from aluminum, this reel has an ultra large arbor spool that is removable that allows easy cleaning after use. Maintenance is nothing to worry about. Adjusting the reel is a speedy affair. Thanks to the big drag knob. No strain, no stress. Having a perfect drag that translates to a smooth action is a bonus of this combo outfit.
Medium-fast action fly rod: Its cork handle is smooth and friendly to your palms regardless of the duration and frequency of fly fishing. Made from SK Carbon, trust its durability and rust free aspect. Rod guides on the fly rod allow you to cast with very little energy in a medium-fast action. You can use it in both fresh and salty water and to catch big fish too.
---
Material and Treatment Used in Manufacture 
The fly rod is made of SK Carbon while the reel Aluminum. The aluminum is anodized to enhance durability and allows use in both fresh and salt water areas. The rod tube is made from Cordura material which is waterproof to safeguard the contents of the package.
Reel – For the arbor, it is ultra large to ensure retrieval rate is high and takes whichever side-right or left easily. The arbor being removable makes cleaning and maintenance very easy. Anodized aluminum used in reel manufacturing make it anti-corrosive to any environmental conditions.
Handles – Cork handles are sturdy enough and allow for easy grip. The smoothness is a plus because however long you take fly fishing you don't get blisters.
Rod length – The fly rod dissembles in four pieces and is compact enough for easy storage and transportation and measures 9 feet.
Drag system – Draw back disc drag system is what is used by this reel to control and apply pressure to the fly line.
Capacity – WF8F plus 200 yards 20 lbs. is the capacity of this combo.
Weight – K&E Outfitters Drift Series 8wt Fly Fishing Rod and Reel complete i its cordura tube is very light and weighs only 2.4 pounds so you know the rod and reel are going to be light to fish with.
---
What Customers Thought about the K& E Combo
The high grade carbon used on the body makes the rod durable and the handle's quality is safe for use even for long hours.
Since the package comes whole, you do not need to separately buy accessories' saving you on excess costs you could have incurred.
The cordura rod tube allows for easy transportation of the combo to the venue. You carry in everything you need to use at the banks.
The four-piece package needs assembling and some beginners found this difficult. However, it is the same for every combo and a skill a beginner needs to learn.
For those starting up, this package may be a little higher cost wise.
---
Pros – What we Like
-Quality cork handles
-Package inclusive of all accessories'
-Medium-fast rod casting action
-Efficient and reliable drag
-Waterproof rod tube for protection
-Lightweight
Cons – What we don't Like
-Difficult to assemble for beginners
-The cost is a bit high for those starting off this sport
---
---
FAQ's – Questions about the K&E Outfitters Fly Fishing Combo
Q) Are there any accessories that I have to purchase to make the combo full and fit for use?
A) The combo comes with a medium fast action Carbon rod, aluminium fly reel, fly line with backing and tippet, rod tube with a shoulder strap and a waterproof fly box. All you need are a few flies.
Q) What is the capacity and backing of the reel in the outfit?
A) The reel has a capacity and backing of 200 yards 20lbs with a WF8 floating fly line.
Q) How efficient is the drag system?
A) The draw-back disc drag system is reliable and works efficiently to apply the required amount of pressure on the fly line.
Q) Is the combo perfect to use in environments with saltwater?
A) The reel is made from anodized aluminum making it usable in both fresh and salt water environments, just make sure to rinse with fresh water afterwards.
Q) How wide is the reel's arbor?
A) The arbor has a width of 30mm or 1 1/8 inches.
Q) Can you reel with the right or left hand?
A) Yes, you can reel in any of the directions despite it being set for right hand casting and retrieval on the left side. You just need to switch it before fishing.
Q) Does the package come with an extra spool?
A) The package comes with only one spool. If you need extra ones you can make separate purchases.
Q) Is the rod tube easy to carry or do I have to customize mine?
A) The rod tube comes fully equipped with a built in rod sock. It has a shoulder strap for carrying and has an accessory pouch.
Q) Is the fly line visible from a distance?
A) The fly line comes in a honey color and is easily visible from a far distance.
Q) What is the material used to make the fly rod?
A) The fly rod is made of SK Carbon which is durable, flezible and very strong.
Q) What is the action of the rod?
A) The rod is of medium-fast action and allows an angler to easily switch from one technique to another.
---
Final Verdict on the K & E Outfitters Combo
Fly fishing is a sport everyone should give a try. Before this, you need to brace yourself with the necessary equipment and the K&E Outfitters Drift Series 8wt Fly Fishing Rod and Reel Complete Package is exactly what you need to take on this journey. Its lightweight aspect is a feature you will love about it. this makes it easier to carry along when going out to the shores. It never gets exhaustive.
This K&E Outfitters Fly Fishing Combo Review has every basic thing a starter needs to know. The major highlight of this combo is that it comes inclusive-with all the necessary accessories' needed to make a cast and enjoy fly fishing. Isn't this a good thing? Saving you on bucks, you do not need to make separate purchases.
You check online and seems this specific combo has run out of stock. Oops! Don't cancel your plans. Pick up the 3wt fly fishing reel and rod combo or the 5wt fly fishing reel and rod combo from the Drift series by K&E Outfitters. The performance is the same and you will love any of this just like if you found the 8wt fly fishing reel and rod combo package.
Despite being viewed as a little complicated to assemble, if you are a starter, do not hesitate to ask for help while fixing. Once you see someone do the assembling, it is easy to learn. Enjoy your fly fishing sessions with this complete package from K&E Outfitters. Everything you need to start is here!
[button link="https://chuckingfluff.com/best-fly-fishing-combos/" type="big" color="purple"] Still unsure? More Combos Here![/button]
[button link="http://amzn.to/2C8pS8u" type="big" color="green"]K&E Combo Amazon Reviews[/button]