Disclosure:
Just to be open and honest the buttons and links you click on in the website will in most cases take you to another website where you can purchase the products I am reviewing. As an Amazon Associate I earn from qualifying purchases.
December 8, 2018
Wild Water 7/8 9ft Freshwater Fly Fishing Combo Review – Gets you started quickly
Wild Water has all the fly fishing needs for a beginner well sorted. I think this manufacturer knows how overwhelming it is for a starter to choose equipment and accessories separately on their own. It could be the reason for Wild Water to introduce the Wild Water 7/8 9ft Rod Freshwater Fly Fishing Combo. The rod is very light in weight and anglers will find it highly portable for travel fly fishing missions. Assembling and disassembling is pretty easy and a sharp novice will not need training here. The rod's length is good and at 9 feet you are assured great casting for distance. An angler will not need too much movement to cast.
The starter package offers a durable reel that is designed for use in freshwater but can work well in salt water environs. You get a high-quality rod sock and a casing for safe reel and rod storage. A spare leader is inclusive of the combo saving you the expense of buying one when you need a replacement. Quite a good deal, right? Its comprehensiveness allows you to head to your fly fishing spot without worrying.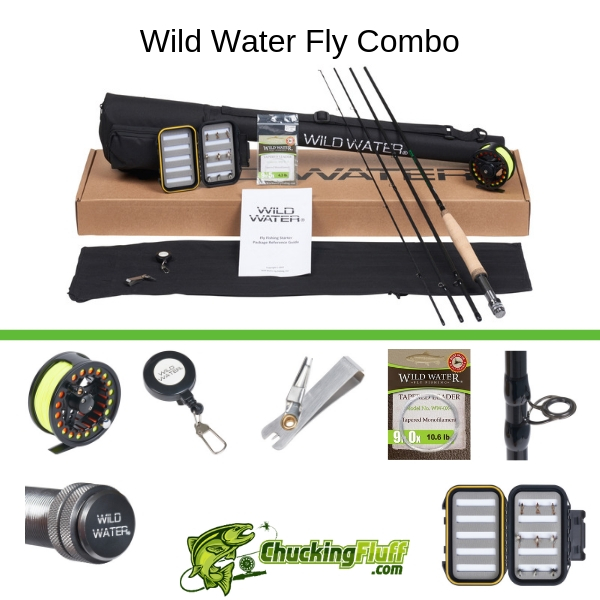 [button link="http://amzn.to/2EGul45″ type="small" color="green" newwindow="yes"]Check Fresh Combo Amazon Availability[/button]

Main Features of the Wild Water Freshwater Fly Combo
Get to know what more components are in this package. The manufacturer offers a Wild Water 9', 7/8 Wt. 4 Piece rod, a durable rod sock, a protective case, a Wild Water Small Fly Box and fly assortment, Wild Water 7/8 Die Cast Aluminum fly reel, a fly fishing reference guide for starters, a monofilament leader, line nipper tool, and a retractable zinger.
---
Wild Water 9' 7/8 Wt. 4pc Fly Rod Key Features
4 Piece rod – The rod easily disintegrates into four pieces of equal length each 28.75'' to make it easy for storage in its rod sock and case. It also makes transportation easy.
Slow Action – Designed for slow action, amateurs will find this rod easy to use since you can learn one technique at a time before advancing to medium or medium-fast action rods.
Reel Seat – Made from machined aluminum, you can be sure that this reel seat is durable. Its anodized finish makes it good for fishing in both salt and fresh water environs.
Rod Sock – The cloth rod sock is sectioned into four equal compartments to allow for easy rod storage.
Protective Case – Wild Water provides a high-quality case with a zippered pouch. Its exterior length is 32'' and the rod perfectly fits in.
---
Wild Water 7/8 Die Cast Aluminum Fly Reel Key Features
Retrieve – The Wild Water 5/6 Die Cast Aluminum reel is designed to have a left hand retrieve but converting it to the right hand and back to the left is easy to do.
Drag Knob – This adjustment knob is designed to be large in size for fine drag adjustment.
Versatility – There are stainless steel components by Wild Water on the reel that make it efficient for use in both fresh and salt water.
Spool – You can use the quick release tab to remove the spool from the frame.
Large Arbor – This attribute is important to greatly increase the retrieval rate while ensuring less reeling.
Drag System – The reel has a disc drag at the center to regulate the reel's speed when the fish tries to run away and take the line off the reel.
---
Wild Water Weight Forward 8 Floating Fly Line Key Features
A size 7 or 8 weight floating line will compliment this rod. Its length is 9 feet less than the standard length of light lines. It measures 81 feet but that doesn't mean that it is not reliable. The line comes with an extra leader with a test of 10.6lb. Count on it anytime you go fishing steelhead, pike, redfish and largemouth bass. The line has very little coil memory and is easily straightened by stretching.
More to Carry Home – As a combo pack for starters, Wild Water makes it exclusive so that you don't get a hard time sourcing for these components one by one. Read more on what else you will get in the package after purchase.
Wild Water Small Fly Box – The fly box is made from durable material and to ensure everything inside remains safe from environmental damage, it has a waterproof seal. You can pick it up in confidence if it drops in shallow water or mud. The foam inserts are modified to store your flies well without them getting squeezed and damaged.
The small fly box comes with five different flies that you can use. This saves you the high cost of purchasing them separately. You will get 2 red and white deceivers of size 2/0, 2 bead head wooly buggers that are black in color and of size 10 and a deer hair frog popper of size 2/0.
Reference Guide – While many starters can think that fly fishing is rocket science, Wild Water simplifies the basics in this starter's reference guide. There are diagrammatical instructions on how to set up your fly rod and reel and more valuable information on knot tying techniques that all novices should learn and practice. For your combo to last longer, you need to maintain it in the right manner and you can find highlights in this guide. If you need to be sure about any step during setup or maintenance, refer to the guide.
Line Nipper Tool – The combo comes with a line nipper tool that you can use to trim your line, leader or tippet. You do not have to rush it to your repair store. You also get a nail knot tool and a needle to clean the hook eye.
Retractable Zinger – A retractable zinger will come in handy when you need quick and easy access to your forceps or line nipper tool.
---
Other Aspects of the Wild Water Freshwater Fly Combo
Main Materials – The reel seat is from machined aluminum and has an anodized finish that makes it usable in any environment. Die Cast Aluminum is used to make the reel. Snake guides and some components of the reel are made of stainless steel while snake guides are from silicon carbide. The 7/8 9' fly rod is made from Graphite.
Handles – Rod handles take a Western-style in design especially the cork grip. It has cork trim rings that have been compressed very well to ensure that the handle is very comfortable to grip for longer hours. Those with delicate skin on their palms can use this rod without getting blisters.
Rod Length – This Freshwater rod measures 9 feet which is the standard size. For safe storage and transportation, it is designed to break into 4 equal parts measuring 28.75''. This makes it fit well in the cloth rod sock and the protective case.
Drag System – Wild Water matches this combo with a Die Cast reel from its A-Series. The reel has a disc drag system to provide the right amount of resistance when the reel spool revolves thus solving the fly line's speed as it is being taken off reel by the running fish.
Capacity – The capacity and backing of the reel is WF-8F 120yds 30lbs.
Weight – The Graphite rod weighs 6.1 ounces and the line is size 8 Wt.
---
Consumer Thoughts on Wild Water Freshwater Fly Combo
The rod is excellent especially for bluegills, bass, and largemouth. If you are out on trips, the hard case is perfect to protect your combo.
This is one of the exclusive packages at the most affordable price you can never find elsewhere.
One user's reel broke. This is unfortunate but that doesn't mean that the reel in all the starter packages will. Could have been mishandled.
This is a great package for a starter who loves to try different environments and for that matter traveling to fly fish.
---
Pros

– Things that shine on the Wild Water Freshwater Fly Combo!
Versatile combo
Great travel 4 piece rod
Lightweight
Pre-spooled reel
Great castability
Exclusive starter package
Great value for money
Cons

– Things that are not so cool!
The rod isn't sensitive enough like single piece rods
It is used only in its fish target scope
---

FAQ's – Questions about the Wild Water Salt Fly Combo
Q) Do I have to install the line by myself?
A) The reel comes pre-installed with a line, a backing and a leader.
Q) How long does the warranty cover my combo?
A) Only your rod will come with a lifetime warranty for all the repairs and replacements that will be needed as stated in the terms and conditions section.
Q) How many flies can the small-sized fly box carry?
A) The Wild Water small fly box can carry a maximum of 372 flies whether of the same type or an assortment.
Q) Does the retractable zinger have an attachment point for my nets?
A) This one is designed to hold lighter items like forceps and line nipper tools attachment points for nets can be found on your wading jacket.
Q) Does it come with an extra set of spools?
A) No, there is only one spool the extra item here is the leader only
Q) Can this reel be used in areas with salt water? I intend to relocate to another area of residence but I am worried if I will be able to use this combo again.
A) No worries about having to give away your combo or let it lie unused. This combo was designed for freshwater use but the special anodization treatment on the reel and the stainless steel components make it efficient for use in salt water environs.
Q) Is the case and the rod washable?
A) Yes, if you feel that they are dirty for your liking, you can wash them and leave to dry.
---
Final Verdict – A Combo for Beginners but is it worth the Price?
This starter combo does well for novices but intermediate fly fishers will find it useful too. Keeping this in mind, the kit comes ready to use and it is very affordable. It provides the buyer with great value and all these are things to take into account. You will love how less you spend while getting more and high-quality equipment. The rod is the heart of fly fishing and this one is very stable and easy to use. Flexibility is a guarantee and provides very easy casting opportunities which are more reassuring and convenient.
All in all, the whole package is well rounded and there are no blemishes on any of the components. Despite one complaint from a user on a broken reel, this combo is worth grabbing. It is designed for novices and if you are looking for a professional combo then you do not have to look elsewhere. You can find more of them on our site. You will not have to spend much time wandering and researching different options.
Starters love it simple and quick so if you are one, you can pre-order this combo to get it delivered in good time. Otherwise, you might find it out of stock. If you do not get the exact one and need a starter combo pack urgently, you can settle for Wild Water 7/8 9' Rod Saltwater Fly Fishing Complete Starter Package or the Osage River Prospect Complete Fly Fishing Package. You can make your fly fishing sessions very fun without it costing you an arm and a leg.
[button link="http://amzn.to/2EGul45″ type="small" color="green" newwindow="yes"]Check Fresh Combo Amazon Availability[/button]
[button link="https://chuckingfluff.com/best-fly-fishing-combos/" type="big" color="purple"] Check our List of Combos for more Options![/button]