Disclosure:
Just to be open and honest the buttons and links you click on in the website will in most cases take you to another website where you can purchase the products I am reviewing. As an Amazon Associate I earn from qualifying purchases.
January 5, 2019
Orvis Clearwater Fly Combo Outfit vs Orvis Encounter Fly Outfit – Beginners Comparison
Spotting the Orvis label by the shores is not a rare thing. The love that anglers have for it is immense. It starts from the durable construction, exemplary performance and affordability. You can see all these features in the Orvis Clearwater Fly Combo Outfit and the Orvis Encounter Fly fishing combo. These two outfits from Orvis are so far among the best as per reviews from users and quite high ratings.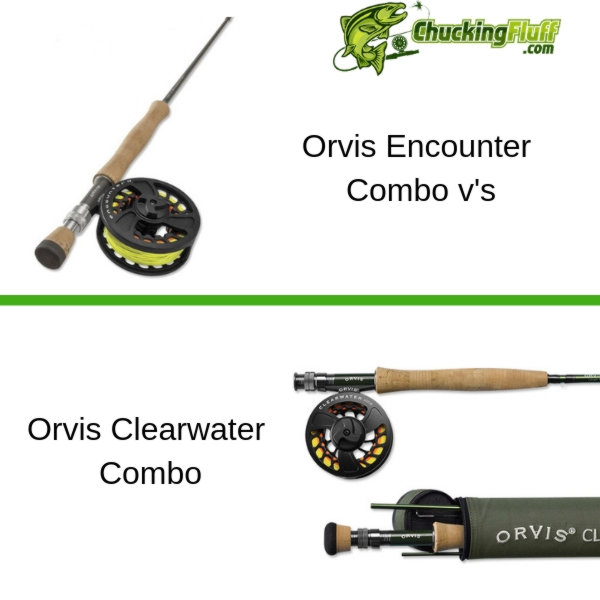 This comparison review has the two products discussed in detail. While selecting a good fly fishing combo, anglers are sensitive about some features while they really never dwell on others. Of much concern may be the functionality in different environments, the materials used during construction, the types of handles and grips on the rod and reel, the weight of the combo, what accessories a combo comes with among others.
What may not be dwelt on is the warranty, the color and design in general although some anglers might want to check on the type of warranty available on a combo. We will make the coverage of the review intensive. Not to see which one outsmarts the other but to get the similarities and differences all round. This will be good when identifying the combos by features not by name alone. Stick here to find out more!
Orvis Encounter 5-Weight 9' Fly Rod Outfit
Orvis Clearwater Fly Rod Outfit - 5,6,8 Weight Fly Fishing Rod and Reel Combo Starter Kit with Large Arbor Reel and Case, 5wt 9'0" 4pc
Orvis Clearwater Fly Combo Outfit Review
The Orvis Clearwater Fly Combo has all the basic gear an angler will need to start fly fishing. First, you get the Clearwater fly rod, a Clearwater fly reel, a Clearwater fly line a tapered leader, a backing and rod tube. Count on it for some of the fantastic trout fishing experiences.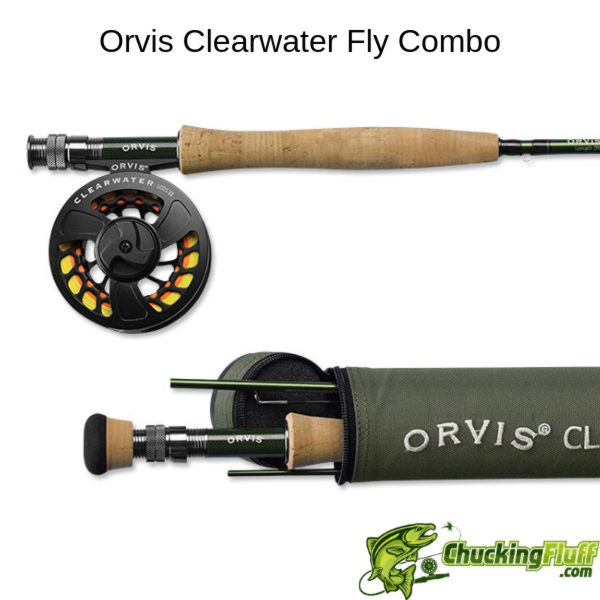 Check Amazon Clearwater Price
Key Features of the Clearwater Combo
The rod is a beautifully designed 4-piece and comes in a deep metallic green color. Primarily, it is designed for trout but can handle most species of fish. Its tip is stiff and the medium action makes it easy to control the fly line even at a distance.
Snake rings on the rod allows for an easier passage for the line. The four sections each have alignment dots to put the rod in order easily without aligning the rod eyes manually. A good way to save on time and get on water faster.
Cork handles are of high quality and very comfortable on your palms even when fishing for many hours. The reel seat makes the rod usable in saline environments. Gunsmoke aluminum is a corrosion and rust resistant metal.
The Orvis Clearwater Large Arbor reel is a lightweight and performs way more above the price point. Its Rulon to stainless stacked disc drag gives it the smoothest performance. The positive click drag knob is perfect for consistent setting.
Large arbors increase line retrieve speed so does this one. Retrieve can be interchanged with ease. The design is sleek and stunning with an easily accessible spool.
At 90 feet, the Clearwater fly line does well and both experts and inexperienced anglers can use it. It is half size heavier to load the rod easily. The head is designed to be compact for greater leader turnovers. A welded loop allows for quick energy transfer to the leader. Line visibility is made possible by the Orvis Line ID. You can bet me that fluorescent yellow is bright enough despite the time and weather condition.
---
Application of the Clearwater Outfit
This Orvis Clearwater Fly Combo outfit is specifically designed for trout fishing. That doesn't limit it to trout only. It can handle more species of fish. You can use both big and small flies. The rod can be used anywhere even in the wind and in salt water.
Pros – What we like about the Clearwater Fly Combo
Versatile rod
Visible fly line
Accurate casts
Easy packing for travel
25-year warranty
Handles large fish well
Large arbor fly reel
Affordable combo
Cons – Things that we don't like
The reel will need more greasing so you will need reel lubricant for this purpose.
---
Orvis Clearwater Fly Rod Outfit - 5,6,8 Weight Fly Fishing Rod and Reel Combo Starter Kit with Large Arbor Reel and Case, 5wt 9'0" 4pc
FULL CLEARWATER FLY ROD AND REEL COMBO includes Clearwater Large Arbor fly reel, Clearwater fly line, backing, leader, and rod/reel case
BLACK CHROME BLANKS with white accents and quick rod identifier
CHROME SNAKE AND STRIPPING GUIDE with a ceramic insert
BEEFED UP FULL BLACK NICKEL ALUMINUM REEL SEATS to handle a variety of fishing grounds and big fish with fight
READY-TO-FISH PACKAGES built around 5-WT 8-foot 6-inch, 5-WT 9-foot, 6-WT 9-foot rods with Size II Clearwater Large Arbor reels; and 8-WT 9-foot rod with Size IV Clearwater Large Arbor reel
---
Orvis Encounter Fly Fishing Combo
When it comes to fishing, fly fishing is undoubtedly the best and most interesting things you can do. Here, the rod and the reel are crucial than anything else. This combination is what will ensure your sessions are all successful. If you don't have the knowledge and are yet to do an extensive research to identify the best outfit for your skills, read more here. Another one from Orvis which will melt your heart is the Orvis Encounter Fly Fishing Combo.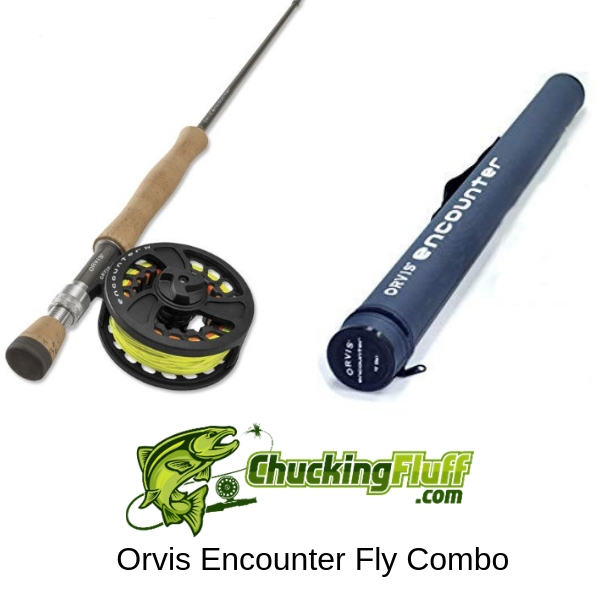 Work becomes less hectic if you settle for a set that is already assembled and comes ready to use. This is where convenience starts. What does this combo constitute of? An Orvis Encounter 8wt 9 ft. fly rod, an Orvis Encounter fly reel and an Orvis Clearwater Fly Line with a leader and backing.
---
Key Features of the Encounter Combo
The 9 feet rod determines the action, power, sensitivity and balance. It has medium heavy power and normally, it bends from half onwards. This feature guarantees flexibility and stability. Medium-fast action is a good way to practice and perfect on different techniques. With a well-rounded balance, the tip system makes sensitivity a major concern.
You can choose between the Encounter Large Arbor II reel and the Encounter Large Arbor IV reel. Both are very lightweight. The Rulon to stainless stacked disc drag system is one of the most powerful in the price class that these reels fall.
Right and left hand conversions are easy. Drag settings can be done using the positive click drag knob.
The reel comes pre-spooled with a Clearwater fly line. As a weight-forward fly line, is heavier by half size and allows for easy rod loading. This is quite favorable for new anglers. Its head is smaller in size for efficient energy transfer to the leader resulting in good turnovers. Rookie anglers and pros who use this line identify it easily because of the fluorescent yellow color.
A welded loop allows for easy loop to loop connection. The line is made of braided multifilament core for greater general performance. Guide friction is reduced by the inbuilt slickness additives.
---
Application of the Encounter Fly Combo
This fly line is excellent for individuals who are weary or afraid of scouting for fly fishing equipment online. You can use it for trout and light bass fishing either in lakes, ponds, small or large streams. While newbies are highly recommended for this Orvis Encounter Fly Fishing Combo, any other angler will find it useful and performing. It is suited for powerful casts and you are at high chances of landing large fish.
Pros

– What we like about the Encounter Fly Combo
Quite affordable
Lightweight
Easy to cast
High rod sensitivity
Durable Cordura rod tube
Good for rookies
Cons

– Things that we don't like
Easily breakable rod tube
The 25 year warranty doesn't cover this combo but a few replacements can be made by the manufacturer following the terms and conditions in the limited warranty.
If overworked, it can break because it is not heavyweight
---
---
Similarities of the Orvis Clearwater Fly Combo Outfit and the Orvis Encounter Fly Fishing Combo
Both combos have 4-piece rods that easily breakdown into equal portions to allow for easy storage in the Cordura rod tube and for transportation especially when packing for travel.
The two combos come with durable Cordura rod tubes for rod storage.
Fly rods in both combos measure 9 feet which is the standard length for fly rods
Both combos come with a fly rod, fly reel, rod tube, and fly line with a tapered leader and backing. Basically what you need to start fly fishing.
The two are lightweight combos and make it easier for amateurs to make casts.
Both combos come with reels that have large arbors to allow for quicker line retrieve and reducing the chances of coil memory.
The Rulon to stainless steel disc drag is used in both the Clearwater and Encounter reel to stop large fish with ease and for provision of wide operating ranges of the drag settings.
Both combos are recommended for use in freshwater environments.
Both combos come with the Clearwater weight forward floating line from Orvis that can cast large flies and be used in the wind.
---
Differences between the Clearwater Fly Combo and the Encounter Fly Combo
This has been tabulated to show the difference in features and other aspects of the two combos from Orvis. 
| | | |
| --- | --- | --- |
| ASPECT | ORVIS CLEAWATER FLY COMBO | ORVIS ENCOUNTER FLY COMBO |
| Rod action | Moderate | Medium-fast |
| Reel seat | Gunsmoke Aluminum | Aluminum reel seat with a wooden insert |
| Rod handle | AA Cork | Grade A Cork |
| Reel material | Anodized Aluminum | Composite Plastic |
| Accessories | Tapered leader, backing and rod tube | Leader, backing and rod tube |
| Alignment dots | Yes | No |
| Warranty | 25 Years | Limited to manufacturers defects |
| Rod usage in Water | Freshwater | Fresh water, Saltwater |
---
Wrap Up on the Orvis Clearwater and Encounter Combos
All in all, the obvious is that the legendary Orvis brand has some of the highest performing yet affordable fly fishing outfits you can find. It is difficult to combine the two features in one product most of the time but Orvis did. Affordability comes in when you by the outfits as a package rather than single pieces.
You can confirm that from the pricing section of each product above. Performance can be depicted from the features, and the pros and cons section. There is not so much to complain about considering that the combos are designed for anglers who are just starting off.
Orvis is known for manufacturing top line gear and equipment but the Encounter and the Clearwater are outstanding by providing performance at a reasonable budget. In as much as both the reels are functional. One can be counted on more in terms of durability.
Die cast aluminum in the Clearwater reel makes it last longer. However, this doesn't beat machined aluminum reels because they can withstand some of the brutal and toughest conditions. The Encounter has a composite plastic fly reel which can still perform its function but need more care when handling. It is very tough but can feel a bit cheap for some anglers.
While choosing a combo, some anglers might prioritize the warranty. This is quite a good thing especially when repairs and replacements come in. However, it is not any form of damage that will be attended to by Orvis. The Clearwater Combo comes with a 25 year warranty in case you need repairs and replacements of the rod.
The Encounter combo on the other hand doesn't have the 25-year warranty. It comes with a limited warranty that will cover defects that occur in the original workmanship. Not a bad thing-it is better than having none anyway.
While we have highlighted the main similarities and differences between the Orivs Clearwater and Encounter Combos we would like to say that for us the Clearwater is the clear winner although at double the price of the Encounter it does feel and fish a lot better and will overall last you that much longer.
That plus the 25 year warranty will keep you entertained for a long time. If you don't have the budget then the Encounter is a decent second setup although the reel is composite plastic and doesn't appeal to many fly anglers it will still fish well.
---
Check Amazon Clearwater Price
---
Check Amazon Encounter Price
---
"Check out some of our other Buying Guides"
Last update on 2023-06-03 / Affiliate links / Images from Amazon Product Advertising API
This product was presentation was made with AAWP plugin.